After being unabashedly trolled on social media, Gyan Dev Ahuja, a BJP legislator from Rajasthan, still hasn't learned his lesson. After he told us about JNU students being 'anti-national' and 'vulgar', he has now come up a stunning statistic about them.
In an interview to Hindustan Times, Ahuja said that 50% of rape and molestation offences in Delhi were committed by students of JNU.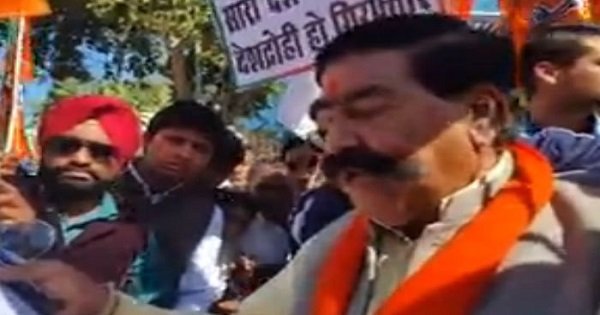 Wondering what his source of information is? Well, according to him, the statistics are from the annual report of the Delhi Commission for Women (DCWA).
On February 24, Ahuja had made a full list of awesome claims about JNU students which went viral on social media.
The MLA had said...
"More than 10,000 butts of cigarettes and 4,000 pieces of beedis are found daily in the JNU campus. 50,000 big and small pieces of bones are left by those eating non-vegetarian food. They gorge on meat... these anti-nationals. 2,000 wrappers of chips and namkeen are found, as also 3,000 used condoms — the misdeeds they commit with our sisters and daughters there. And 500 used contraceptive injections are also found."
When asked about his source of information after he was seen reading these stats from a piece of paper, Ahuja said his source was a secret -- but pointed out that there was a condom vending machine at the JNU campus.
"I fail to understand why an education campus should have a condom vending machine. I have pictures of the machine," he had told Hindustan Times -- and also added that he was collecting information for more revelations about the institute.
Meanwhile, after he made his research public, the comments made the BJP trend on social media with the hashtag #BJPCountsCondoms.
Anyone find out whether BJP mla gyandev ahuja runs a condom recycle factory or something ? pic.twitter.com/AwJI5VtAL8

— Vinay Dokania (@vinaydokania) February 23, 2016
The ensuing criticism had prompted BJP party chief Amit Shah to summon him to Delhi to explain his "irresponsible remarks", NDTV reported. But clearly that didn't deter him to make another irresponsible comment which is bound to tarnish the image of the reputed institution.
Feature image source: Twitter