"I was promised a salary of 1200 Saudi Riyals when I applied for the job but I was given only 900."
This was almost ten years ago when Abdul Rahim* went to Saudi Arabia for a better livelihood. A security guard, Rahim, was promised a salary of 1200 Saudi Riyals (around 15-17000 rupees Indian rupees then) in his contract. For the same job in India, he wouldn't be earning more than 7000 rupees.
At a time when more than 10,000 Indian labourers in Saudi Arabia have been deserted by their company and left without money and food, Rahim's story throws some light on the darkest corners of abuse and maltreatment workers face, not only in Saudi Arabia but in the entire Gulf region.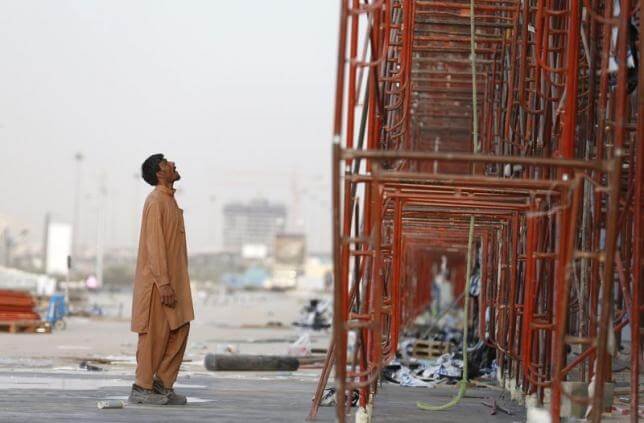 While the Indian government has taken notice of the matter and has sent supplies to the money-less workers, Rahim says he had to tolerate whatever came his way because of "good money."
Here's Rahim's experience in Saudi Arabia in his own words.
I spent 8 years in Saudi Arabia working as a security guard. The dream of good money and chance of saving for my family back home had led me out of my country. I must confess I was excited to work in a foreign country.
But the excitement faded with each passing day. Long working hours, irregular dates of salary payments, deplorable living conditions and lack of empathy shown by the company officials became a norm. Many might not know that there's a rule by which an employee's passport is seized on the first day of his job. I have seen employers treating their workers as slaves. Some owners also use it for blackmailing workers and using it as a tactic to threaten them with criminal charges.
I was promised a salary of 1200 Saudi Riyals when I applied for the job but I was given only 900. It was after a period of 8 months I was finally given my promised salary.
Still, the salary was good as compared to India but no money is worth the inhuman treatment and indifference expressed by your fellow human beings. The financial condition of my family back home was not good. I had to repay a loan taken by my late father. I just tolerated whatever came my way. Many others caught up in the struggle of earning a livelihood are dealing with the same situation. They are there by compulsion.
The saddest part of the whole story is that everybody thinks whatever is happening is normal. it doesn't happen with Indians only. In Gulf countries, all Indians, Pakistanis, Bangladeshis and Indonesians are treated the same. Those South Asians who work at top levels don't get the same treatment as lower level workers.
I work as a security guard now and I make 15-18,000 a month. I am happy at home.
Feature image source: Representational Image/Life In Saudi Arabia Blog-spot