There are movies, and then there are cinematic milestones. Those rare movies that stay in your memory long after you've watched them. Like Sholay, like Mr. India, like Gunda (you know it's true). And then there are also characters who become larger than the movies. Like Gabbar Singh, like Kabir Khan, like Bulla (you know it's true. Again.)
And that's why, we gave these characters their very own stand alone movies. How 'bout giving them a backstory; a 'how it all started' movie. So check out the list.
1. Ramgarh: Gabbar Naam Hai Mera
Let's face it. Over the years, Gabbar has become synonymous with Sholay. And that's why, we'd love to know how he became such a notorious dacoit. What kind of a childhood he had. We'd love to see his evolution.
Add to that a parallel track of Thakur & his family & you've got a hit.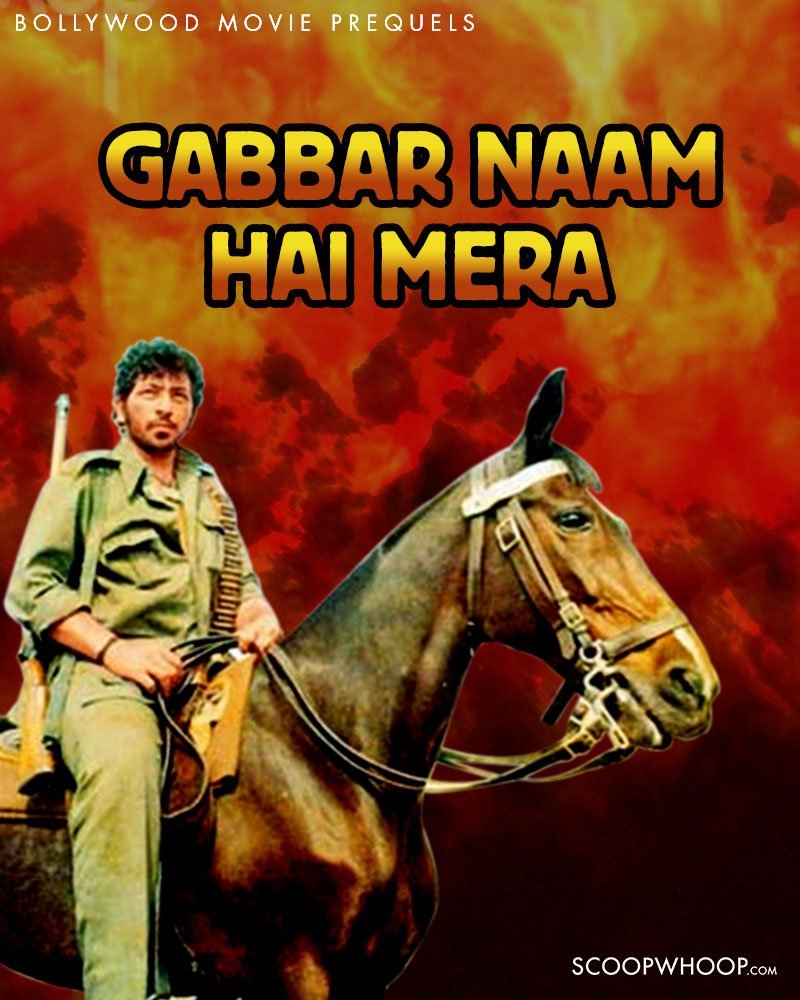 2. Taare Zameen Par: An Artist With A Heart
We all remember art teacher Ram Shankar Nikumbh from Taare Zameen Par. You do remember him, right? He was the art teacher who understood Ishaan Awasthi. Actually, the only guy who understood him.
So we'd love to know his life story. How he started painting. Was he also misunderstood as a child? Does his compassion come from his own experience as a misunderstood artist? We'd love to know.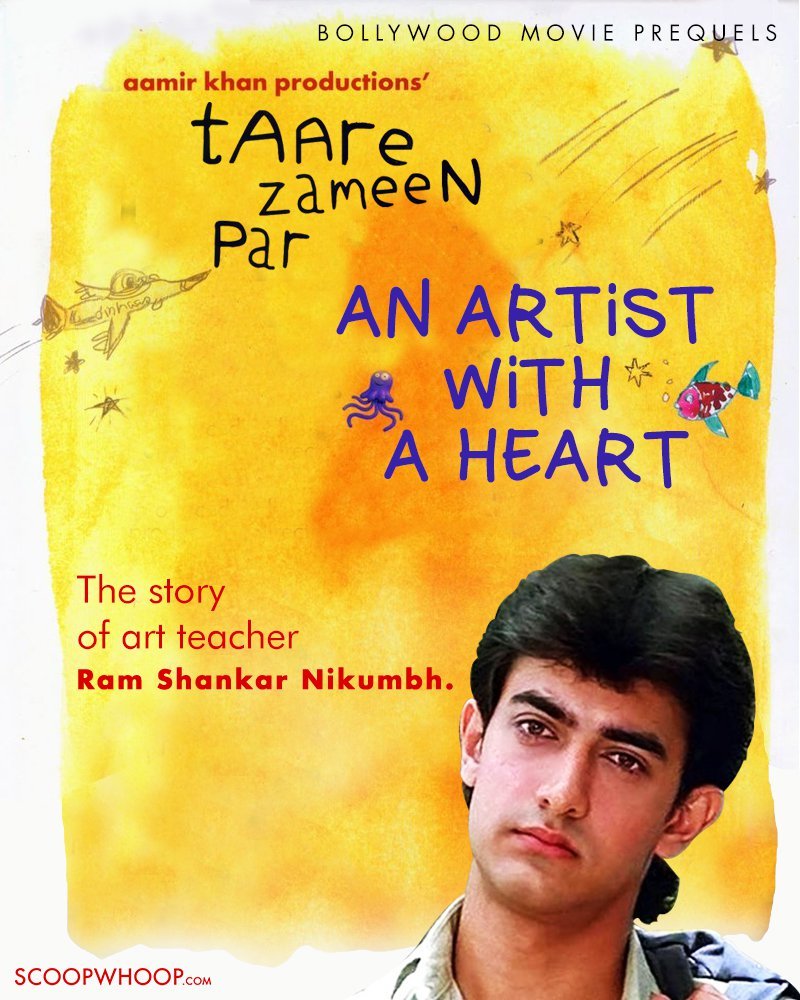 3. Mr. India: Enter Mogambo
Another charismatic villain after Gabbar Singh, Mogambo still manages to fascinate us. Hence, it'd be great to see his rise to power as a crime lord.
Also, maybe we could get to know ki Mogambo itni jaldi khush kyun ho jaata hai?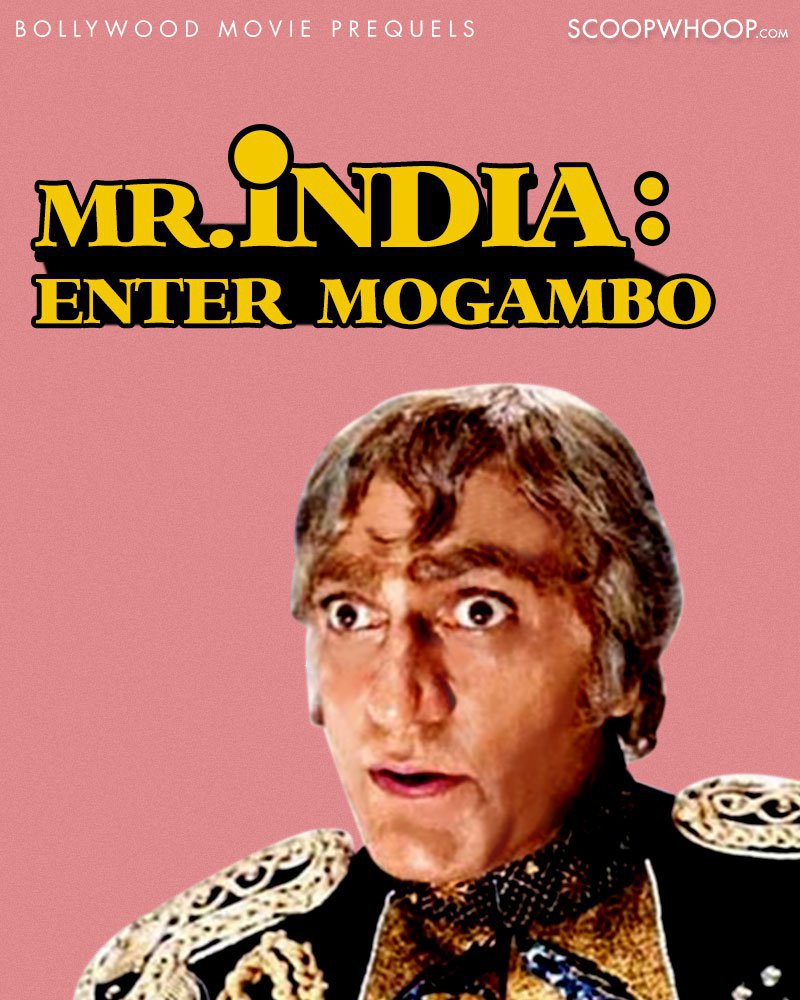 4. Chak De! India: Hockey, Accusations, Redemption
Before Kabir Khan coached a women's hockey team to victory, he was national shame; thanks to the accusations he faced of cheating in the Hockey World Cup.
Hence, it'd be great to see his beginnings as a young hockey player. How he got into the game, and what his life was like after the match fixing accusation.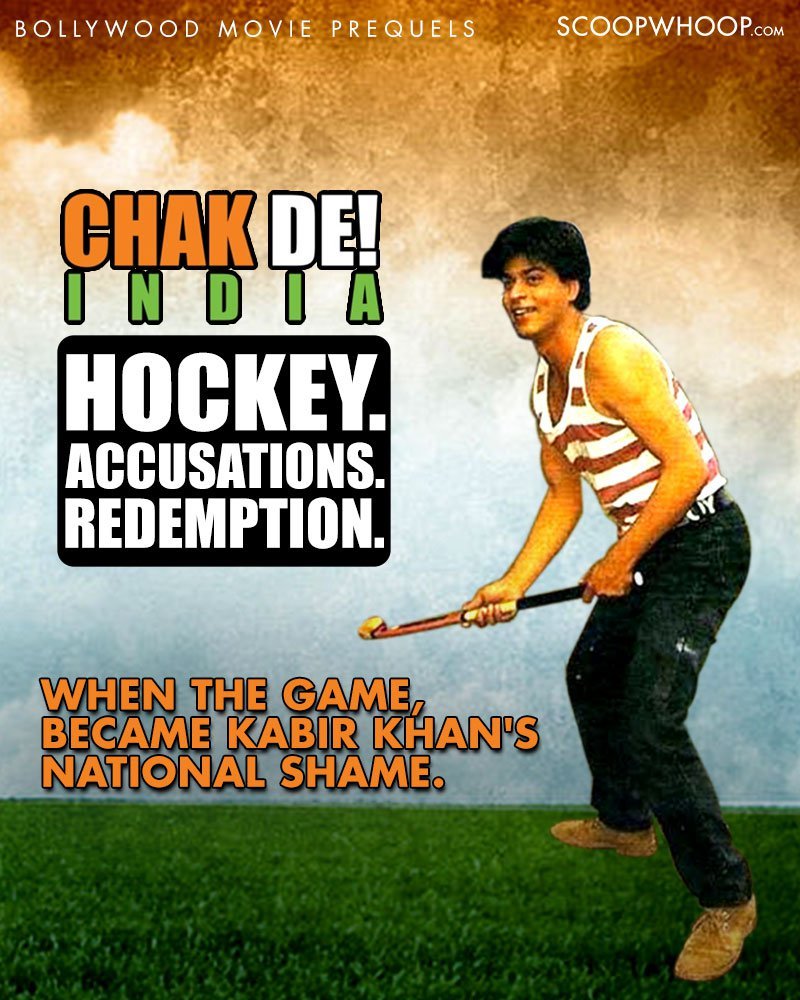 5. The Lunchbox: A Story Untold
Anybody who's seen The Lunchbox must remember Irrfan Khan a.k.a Saajan Fernandes' grumpy demeanour. But we cannot blame him since his wife had passed away leaving him alone.
So, it'd be great to see Saajan Fernandes' and his wife's love story. How they used to be when they were together and what his life was like after she passed away.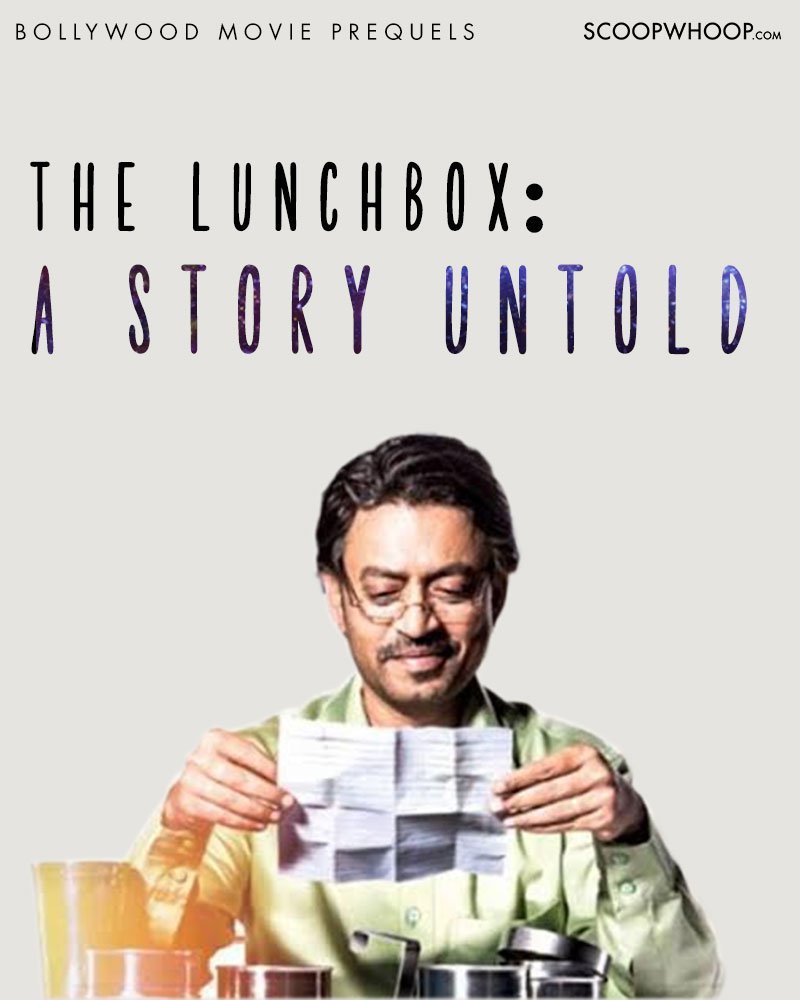 6. Mohabattein: The Man Behind The Principles
The story of Gurukul principal, Narayan Shankar. He doesn't allow his daughter to marry the love of her life. He's cold. He's withdrawn. He's a stickler for rules.
Why is he like the way he is? Had he also not gotten the love of his life? We'd love to find out.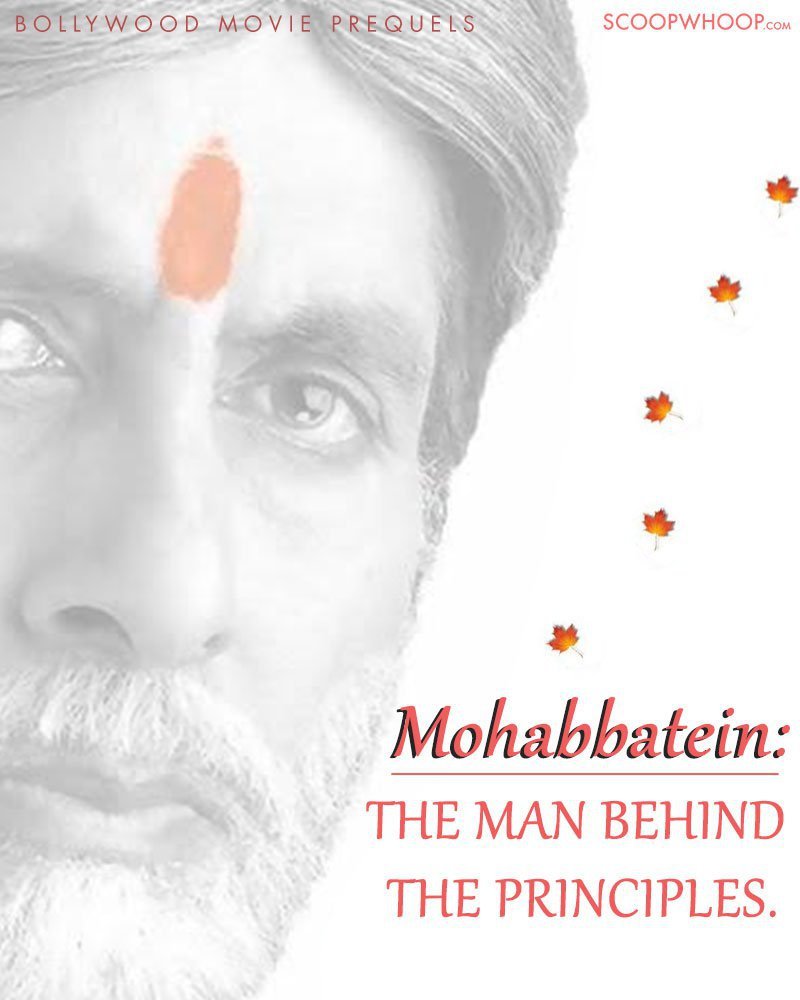 7. Udaan: A Father's Agony
Why is Bhairav Singh (Ronit Roy) so curt? Why is is so angry? Why did all his marriages fail? How did his first wife die?
Too many questions. Only one answer. A prequel.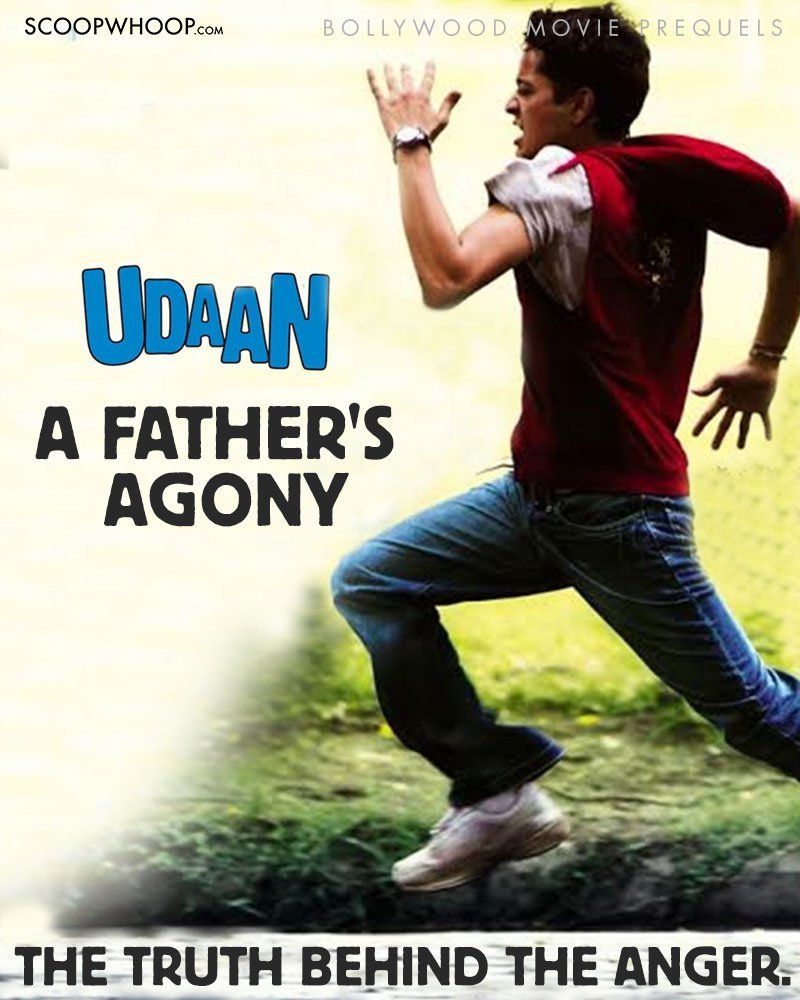 8. Dilwale Dulhania Le Jayenge: A Migrant In London
What were Chaudhary Baldev Singh's initial days as a migrant in London like? And why does he hate the western culture so much? Was he a victim of racist attacks?
Maybe this prequel will answer the questions.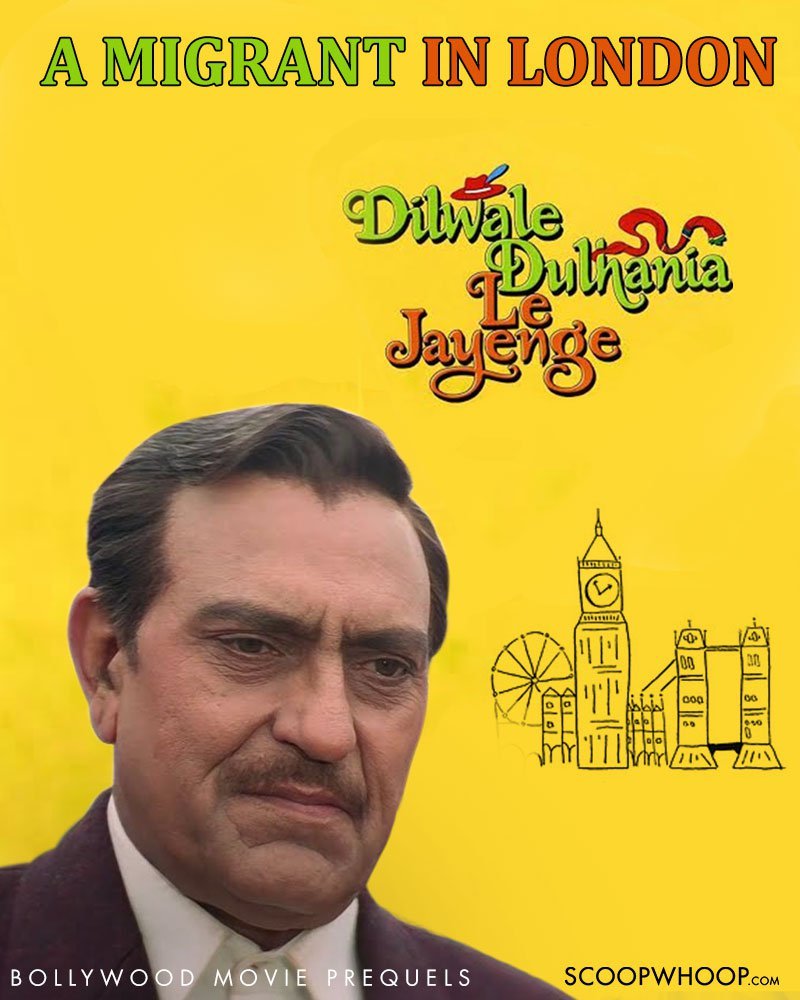 9. Khosla Ka Ghosla: A Partnership Gone Wrong
How did Vinay Pathak & Boman Irani become partners to con people? And why did they subsequently split? The story will come full circle in this prequel.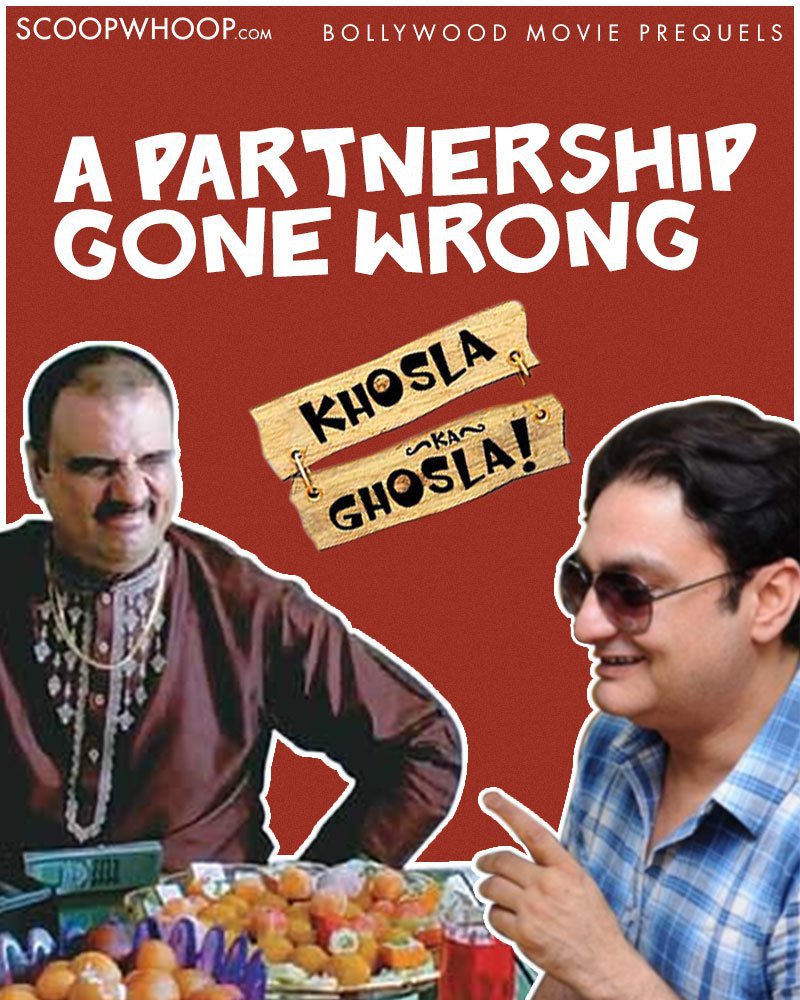 10. Don: The Beginning
It can be a story of 2 identical brothers separated at birth. One goes on to become a dreaded don. Other becomes a street musician. And how their lives finally collide. Awesome!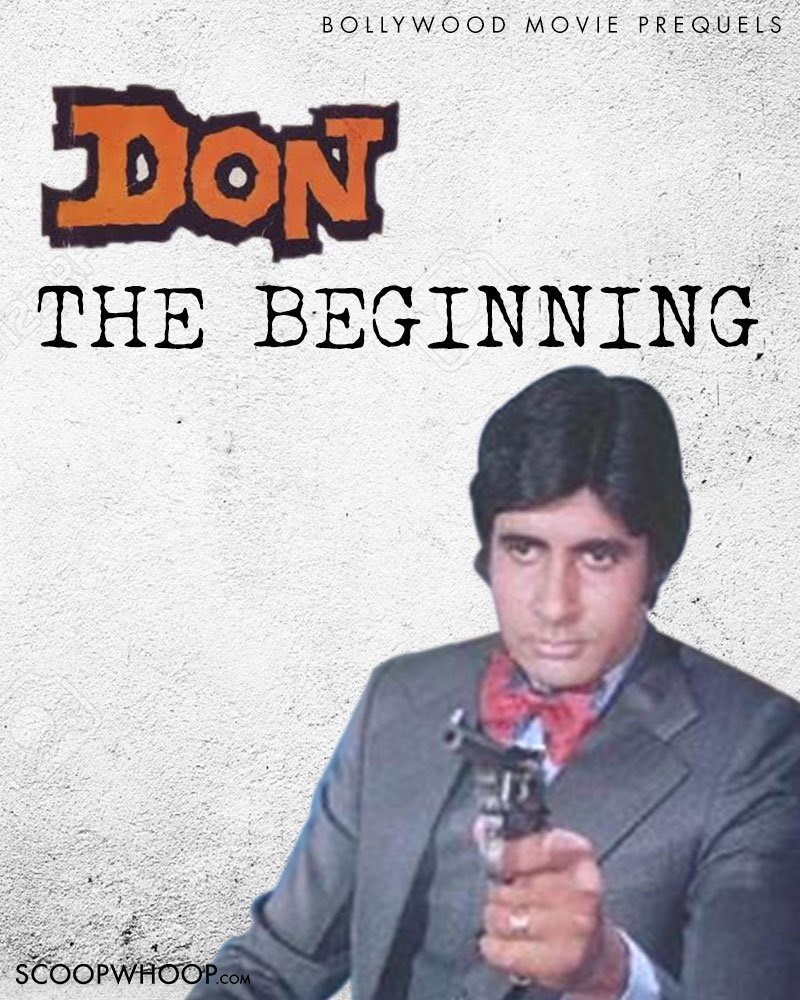 11. Gunda: Daastaan-e-Bulla
Why do all the villains only talk in rhymes? And how did they become such big dons? But above all, why does Bulla always like to keep it khulla?
Only a prequel can answer these questions.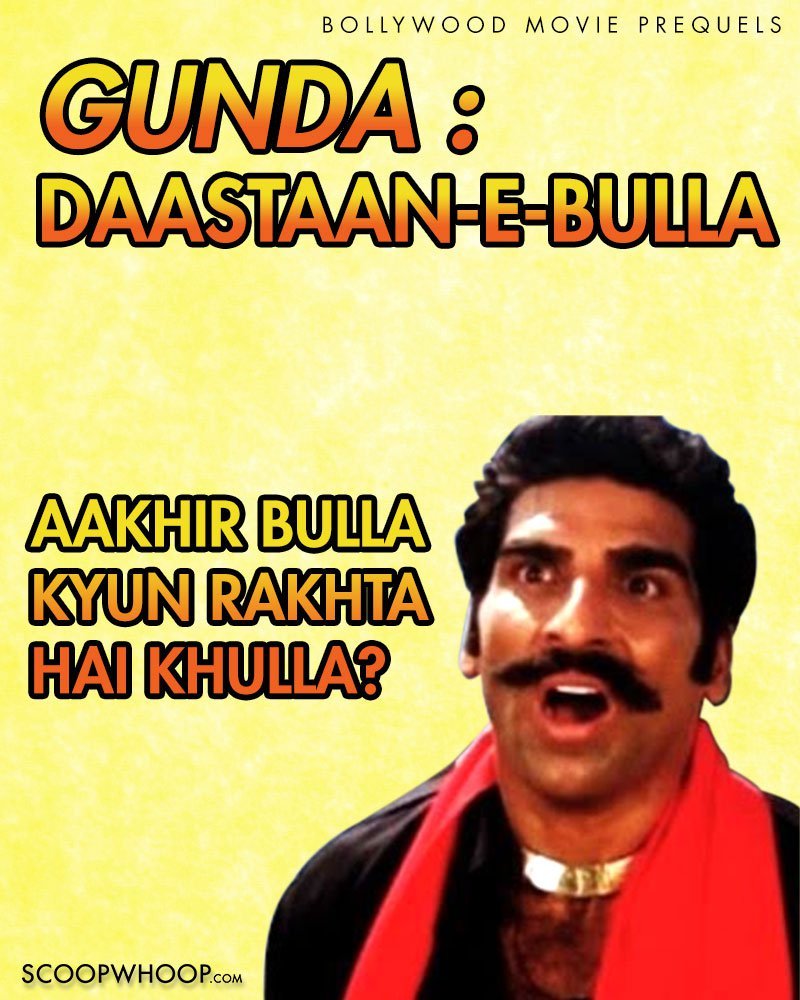 12. Munnabhai M.B.B.S: Munna Chala Mumbai
The movie can chronicle Munna's life in the village with his strict dad. And why he decided to run away from the village and how he became a don.
It can also include how Dr. Asthana came to Munna's village, discovered a new drug to get high, and now has fits of laughter.

#JustSaying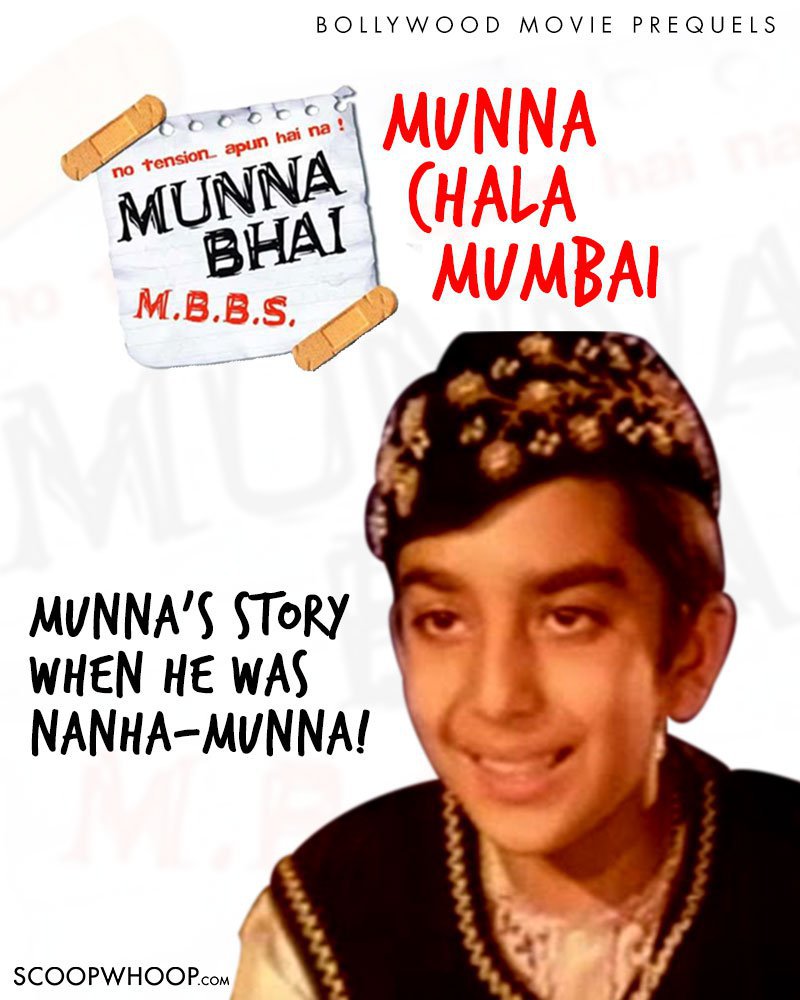 13. Sarkar: The King Of Mumbai
We'd love to see Subhash Nagare's accession to power. How he became Mumbai's undisputed king. Pretty much like The Godfather Part II.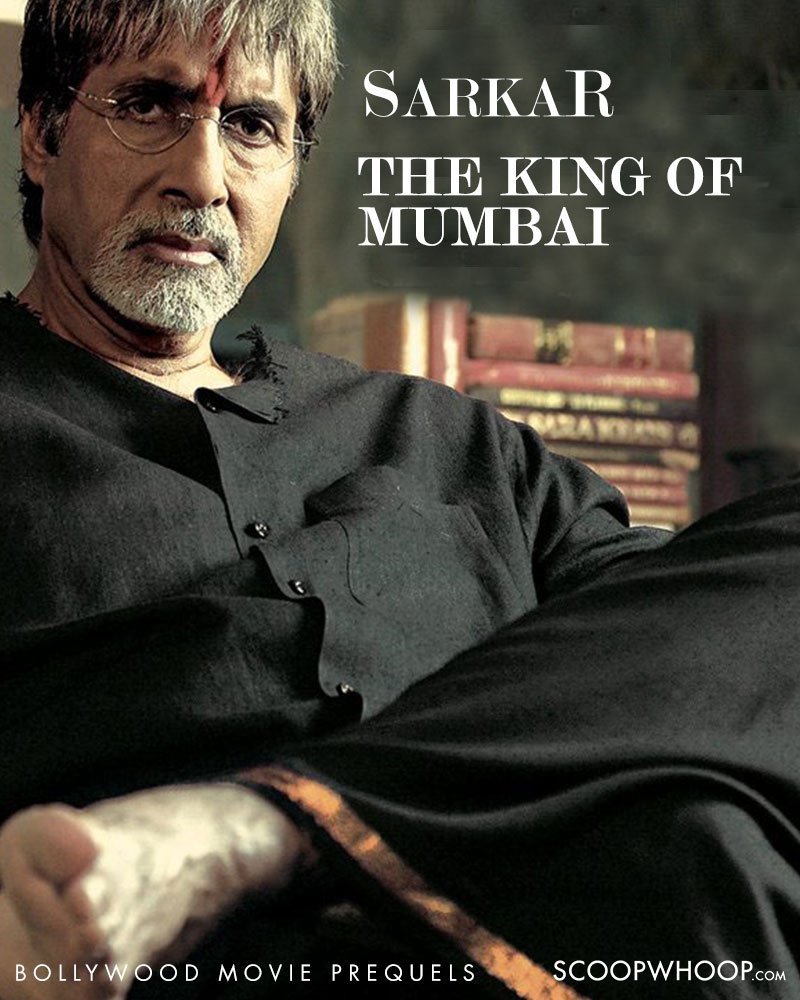 14. Hera Pheri: Mi Baburao Apte
One of the funniest characters in a Hindi movie, Baburao Ganpatrao Aapte still manages to tickle our funny bones.
Hence, we believe that he totally deserves a stand alone movie that can chronicle his journey from a small town to Mumbai city.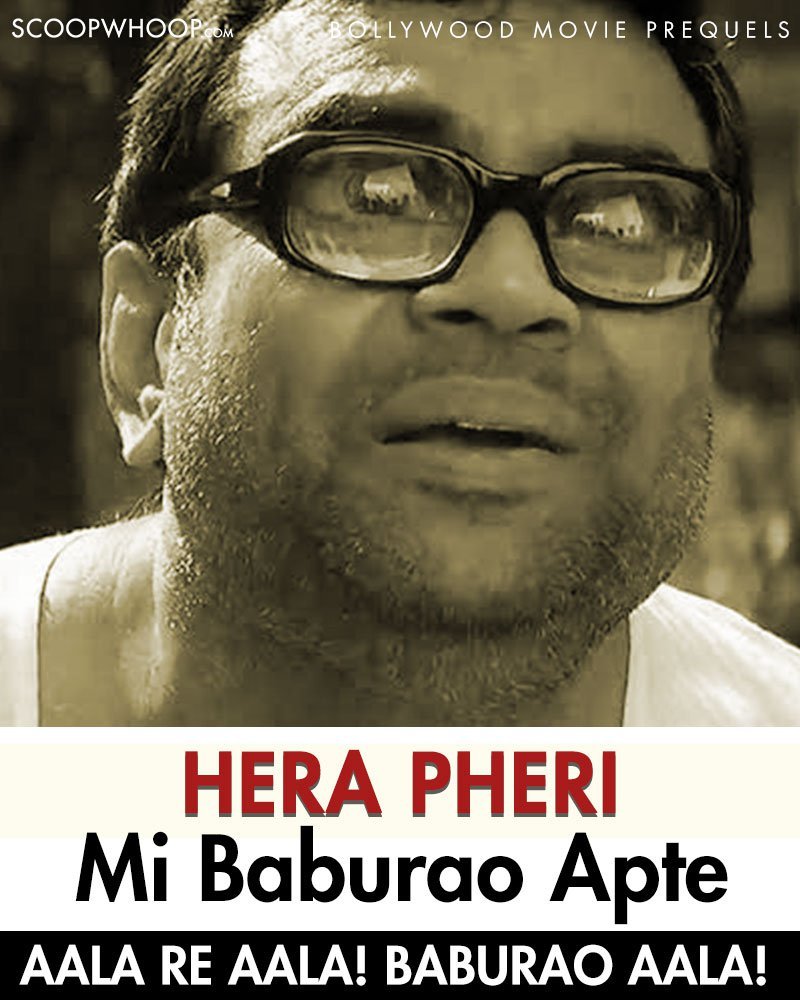 15. Shool: Bahubali Bacchu Yadav
Sayaji Shinde had done an exemplary job in Shool as bahubali Bacchu Yadav. Thus, we'd love to see his rise from a local goon to such a powerful political figure.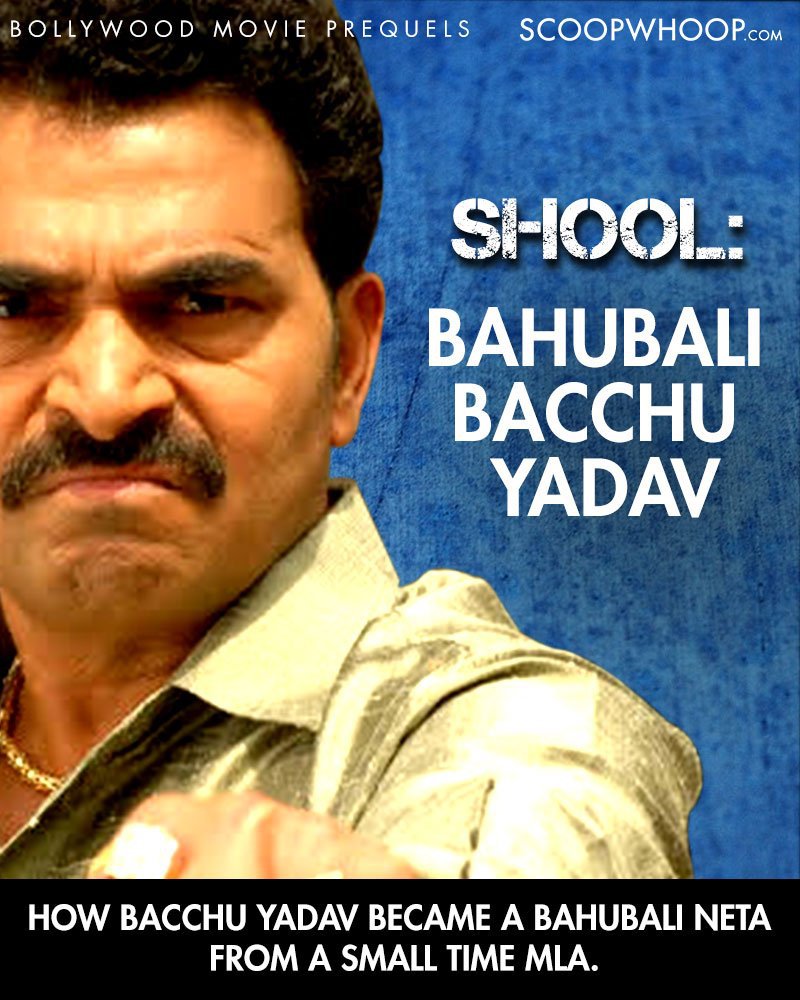 16. Titli: The Beginning
Maybe a separate story about the brothers' father. Why is he a silent witness to his sons' criminal activities? What crimes had he done in the past? And how did he raise a family of criminals?
We'd love to see the answers on-screen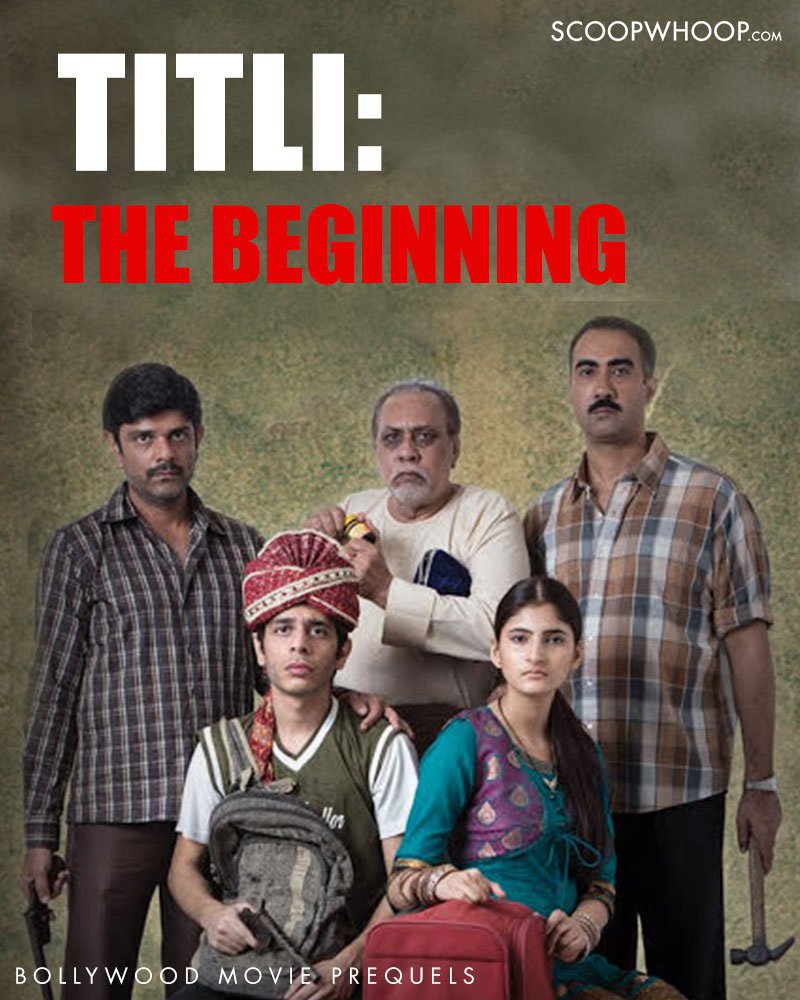 17. Satya: Bhikhu Mhatre The King
"Mumbai ka king kaun? Bhikhu Mhatre!". Manoj Bajpai's proud announcement still resonates in our ears.
So while Satya was all about the transformation of Satya the immigrant to Satya the don, we'd love to see Bhikhu Mhatre's rise in the criminal underbelly of Mumbai.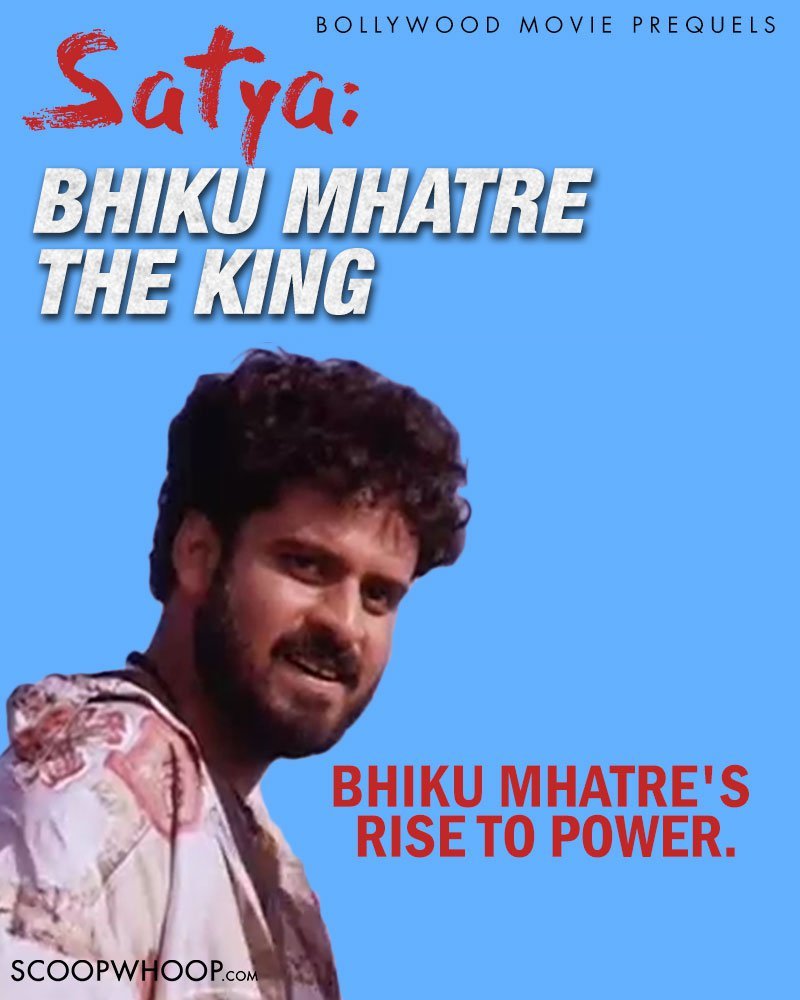 18. Tanu weds Manu: Kahaani Raja Ki
Before Manu, there was Raja. While we loved Tanu and Manu's shaky love story, we'd love to see Tanu and Raja's love story as well. It'd be great to see a love story of two volatile personalities.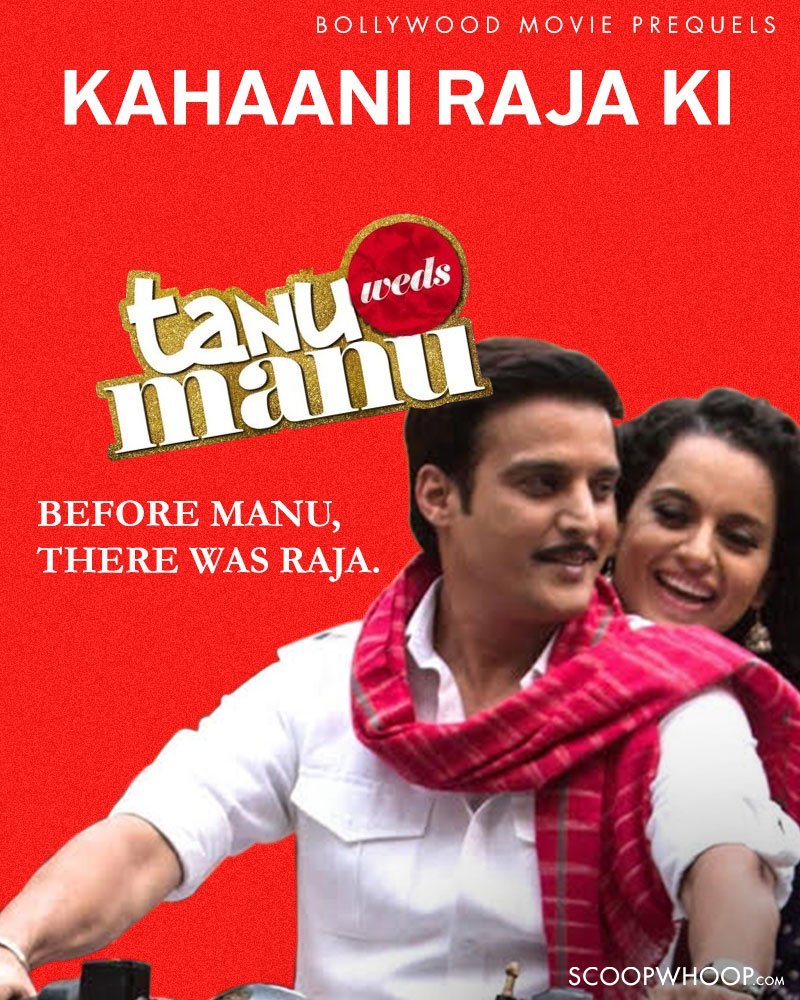 Awesome designs made by: Aroop Mishra
Know of any other movie that deserves a prequel? Let us know in the comments section.