A bull pulled off a 'Veeru' from the Bollywood classic 'Sholay', when it climbed atop a water tank at a height of almost 60 feet in Ratangarh town of Rajasthan's Churu district on Monday.
The picture went viral on social media and people were in utter disbelief wondering if the image was photoshopped. Even the local administration refused to believe it and laughed the matter off when people called for help.
The police, after dismissing it several times for a prank, finally showed up only to find the animal up on an adventurous trip, told Times of India.
"Initially, the constable at the control room thought somebody must be joking. However, when the phone kept ringing for the same complaint, a team of senior officers rushed to the spot and were taken aback after spotting the bull on top of the water tank," police told TOI.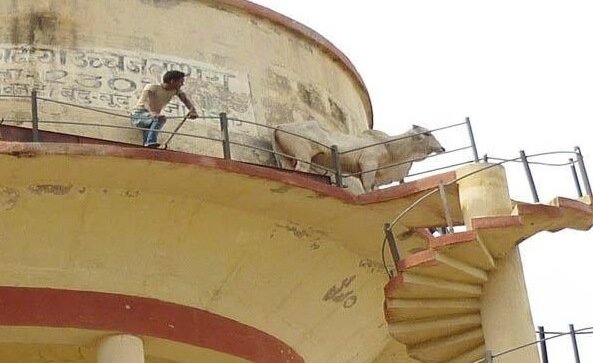 The task of bringing the bovine down took about eight-hours which saw many failed attempts. At last, the State Disaster Relief Force (SDRF) devised a way that worked!
"We tied a wire rope which is used in digging bore well from where the bull was stuck. It was stretched upto the ground. Safety belts were tied on the body of bull which was a bit difficult task. Finally, wire was passed under the four-legs of bull and he was left hanging between them and came down. It took us almost 8 hours to rescue the bull," Ratangarh's sub-divisional magistrate told TOI.
Meanwhile, Twitter has gone nuts over this story.
@RoflGandhi_ pic.twitter.com/Pec3ErrnvJ

— Swagata (@office_swag) July 14, 2016
Cow: neeche utru kaise?

Public: uppar chadha kaise? pic.twitter.com/vlHkeOHxAW— Keh Ke Peheno (@coolfunnytshirt) July 13, 2016
Libtards: Come down! We don't eat beef!

Bull: I don't trust hypocritical libtards! pic.twitter.com/iCpjafhhBC— Ankur Singh (@iAnkurSingh) July 13, 2016
To err is human, to climb water tanks bovine. https://t.co/CRtu7wpjBu

— Manas (@Spooferman_) July 13, 2016
Proud to say that this Bull is from Rajasthan getting to new heights. pic.twitter.com/LQyhUWWWc5

— åb (@abnvx) July 14, 2016
Fight for gender equality

Why should cows have all the importancehttps://t.co/tBbPEbHHgG https://t.co/efvTN7zrEw— Soham Sengupta (@SohamSen) July 14, 2016
Guys, this bull is actually trying to find Free Wi-Fi signals in Delhi. 😂😂😂 pic.twitter.com/vVBIfnwsGP

— Antique Chhori (@AntiqueChhori) July 13, 2016
Cow trying to do suicide after getting to know what all is being done in this nation in its name!! pic.twitter.com/ymPQphnEVw

— Cryptic Mind (@Vishj05) July 13, 2016
What now? Even this cow wants to marry Basanti!?? pic.twitter.com/DiylgfzO6y

— DaaTanchiTaai (@runjhunmehrotra) July 13, 2016
Ashutosh trying to figure out whether it's a 'COW' or a 'BULL'.

. pic.twitter.com/LZIH6r5RAI— PhD in Bak*****! (@Atheist_Krishna) July 13, 2016
Well, one hell of a bull-adventure that was!