Who doesn't love desserts? The sweet, sweet sin of that piece of chocolate melting in your mouth is no less than an orgasm. But we wish making a dessert was as easy as hogging on one. But what if we told you it is?
Yes, you don't have to be a Masterchef to make a dessert. Not just that, you can make extremely delicious desserts with absolutely no-baking process involved. Yes! And you don't even need 100 odd ingredients that you've never heard of, for it. Already on the edge of your seat, eh? Well, I have some really good news for all you dessert-loving folks. I have found some easy-peasy no-bake dessert recipes that you can make at home all by yourself!
Here are 10 no-bake dessert recipes for you to try at home:
1. Salted Caramel Popcorn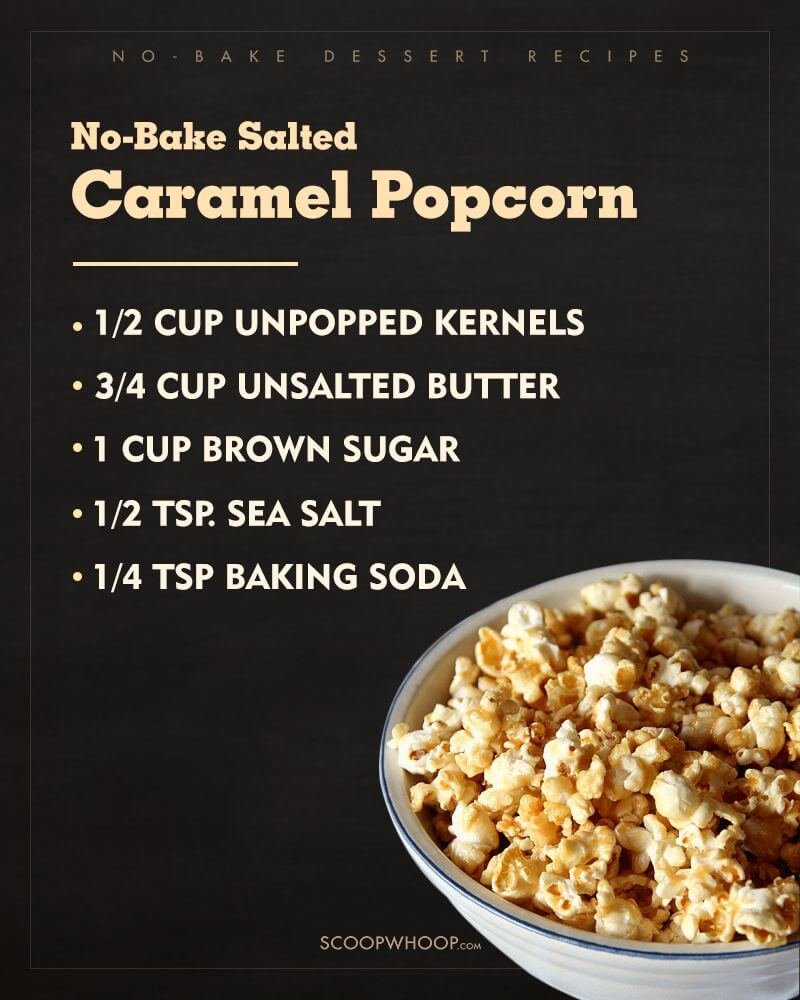 Steps to make Salted Caramel Popcorn:
Pop the kernels in a pressure cooker with an inverted lid. Set them aside in a bowl.
Heat the butter in a saucepan until completely melted and add brown sugar. Let it boil for 3 minutes.
While the caramel boils, mix together the salt and baking soda. After 3 minutes of boiling, add the mixed salt and baking soda and stir well.
Take the pan off the heat and pour it in batches on the popcorn. Stir the popcorn each time after pouring the caramel.
Let it cool slightly.
Voila! No-bake salted caramel popcorn are ready to be enjoyed with a movie.
2. Turtle Cookies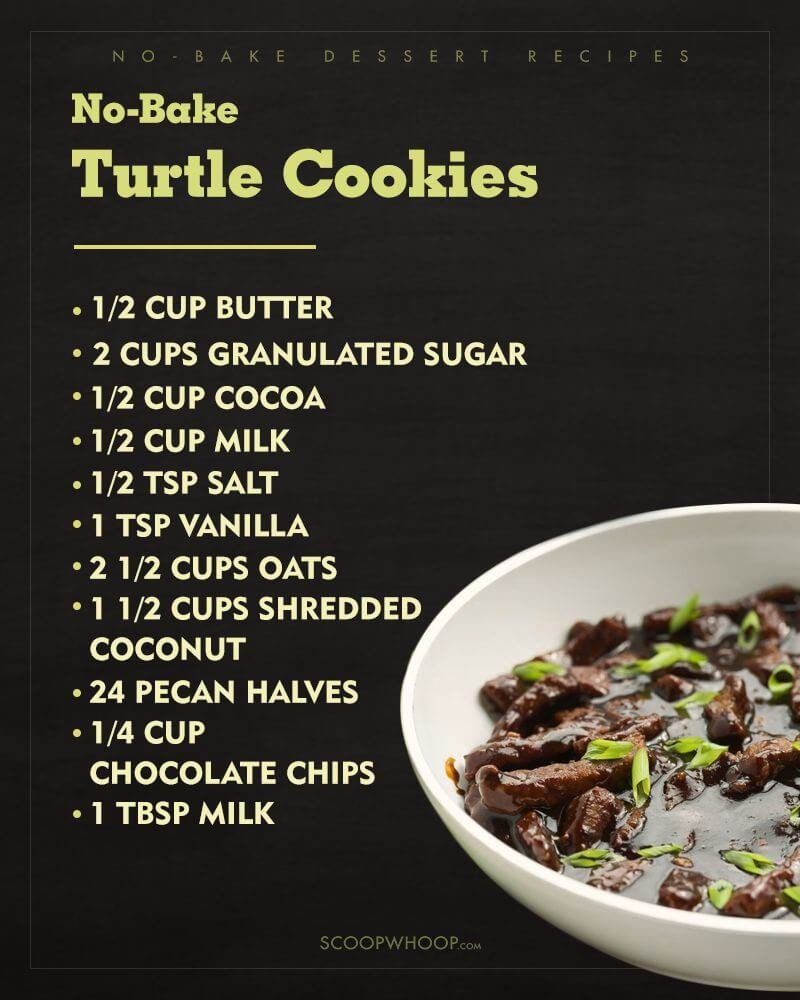 Instructions to make Dulche De Leche:
Take a can of sweetened condensed milk, remove the label and place it in a pan.

Fill the pan with water until the can is fully immersed in it.

Bring it to a boil and simmer for 3 hours.

Remove the water from the pan and let it cool completely before using.
Steps to make Turtle Cookies:
Line two baking sheets with wax paper and set aside. (You can also use aluminium foil if you don't have any)
Combine butter, sugar, cocoa, milk, salt and vanilla in a large pot. Bring to a boil over a medium-high heat, whisking often.
Let it boil for 1 minute and then add oats and coconut to the pot. Stir until combined.
Drop the mixture using a tablespoon on the prepared baking sheet and flatten the tops slightly using the back of the spoon.
Let it cool and set. (To speed up this process, keep it in the refrigerator or freezer)
Spread each cookie with generous amounts of dulche de leche and put a pecan half on top.
Melt the chocolate chips with 1 tbsp milk. Keep stirring until it becomes smooth.
Drizzle the melted chocolate over the cookies and let it set.
Yummy No-bake Turtle Cookies are ready to be served!
3. Chocolate Covered Strawberries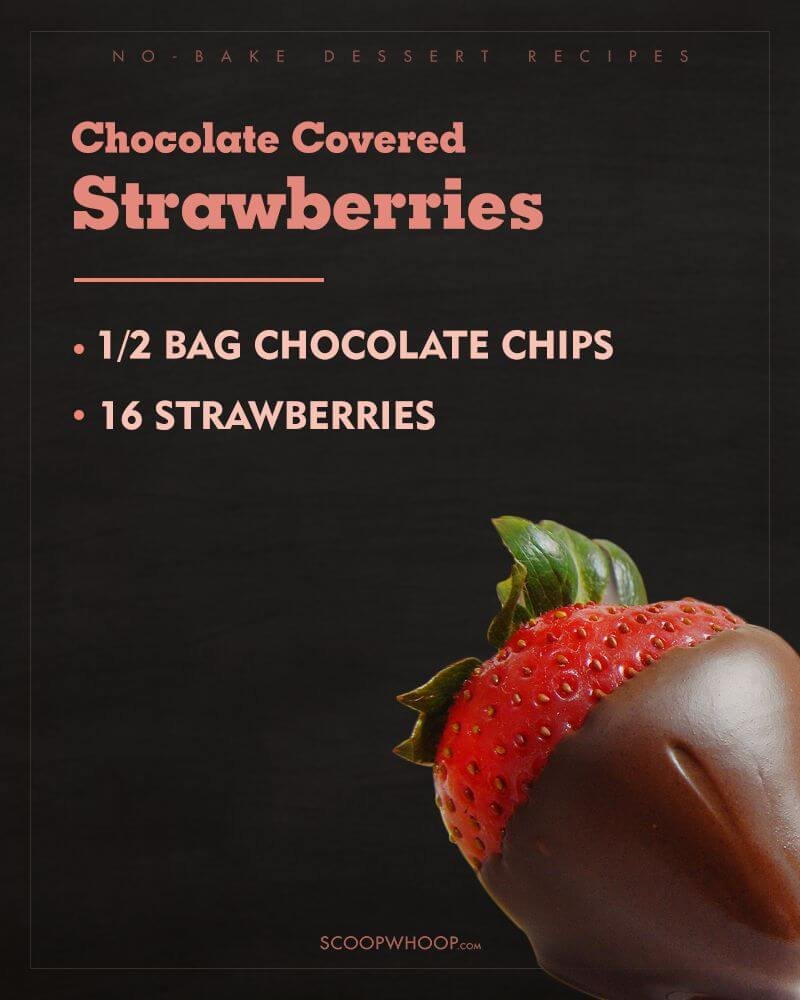 Steps to make Chocolate Covered Strawberries:
Wash and refrigerate the strawberries to prepare them for dipping.

Pour a cup of water in a pan and bring to boil. Place a heat-proof bowl on top of the pan and empty the packet of chocolate chips into it.
Stir gently until the chocolate is completely melted. Remove the bowl from the pan.
Place a piece of wax paper on the baking sheet.
Hold the strawberries by their stem and dip them into the melted chocolate. Make sure they are evenly coated on all sides.
Place the dipped strawberries on the wax paper and let them sit for 10-15 minutes.
Place the tray of strawberries into the refrigerator to ensure the chocolate is hardened.
Enjoy this yummy delight on a warm summer day!
4. Cherry Cheesecake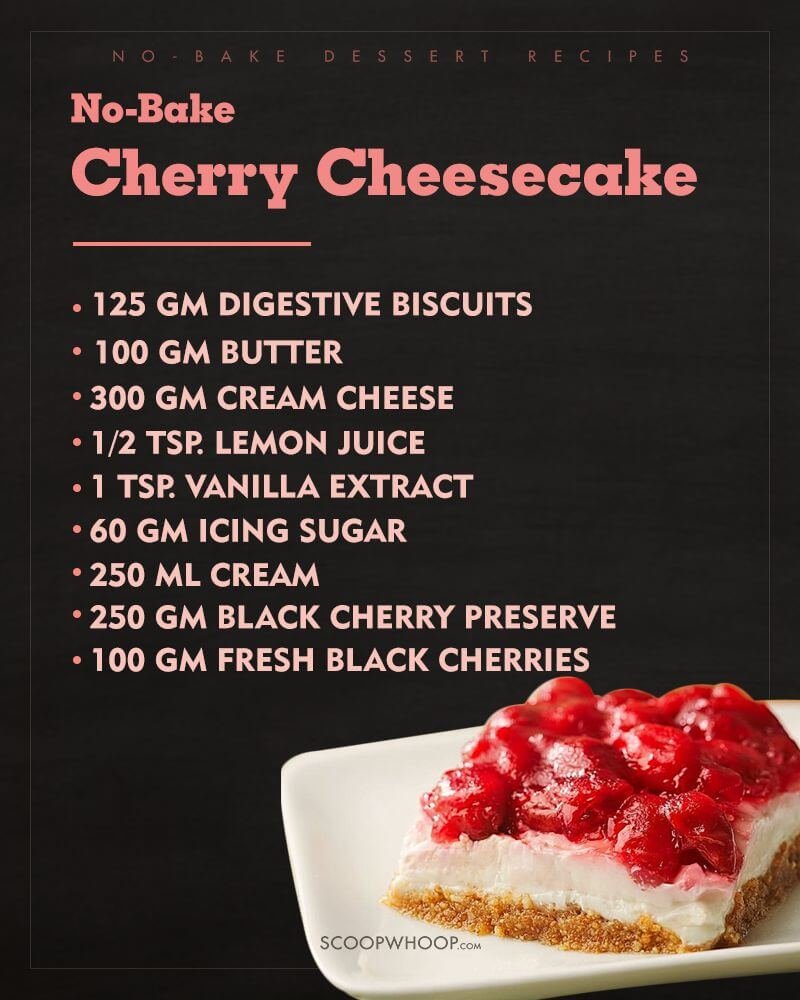 Steps to make Cherry Cheesecake:
Mix the digestive biscuits and butter in a food processor till you achieve a crumbled texture.
Press the crumble mix in a spring form tin to form the base of the cheesecake. Let it set in the refrigerator.
Whisk cream cheese, lemon juice, vanilla extract and icing sugar together in a large bowl.
In another bowl, whip the cream.
Gently fold the whipped cream in the cream cheese mixture.
Layer the biscuit crumble base with the cream cheese mixture. Be generous.
Let it set in the refrigerator for 6 hours.
Once it's set, evenly spread the black cherry preserve on top of the cheesecake.
Decorate the cake with fresh black cherries.
And your very own Masterchef-quality cheesecake is ready to be devoured.


5. Chocolate Almond Cherry Crisps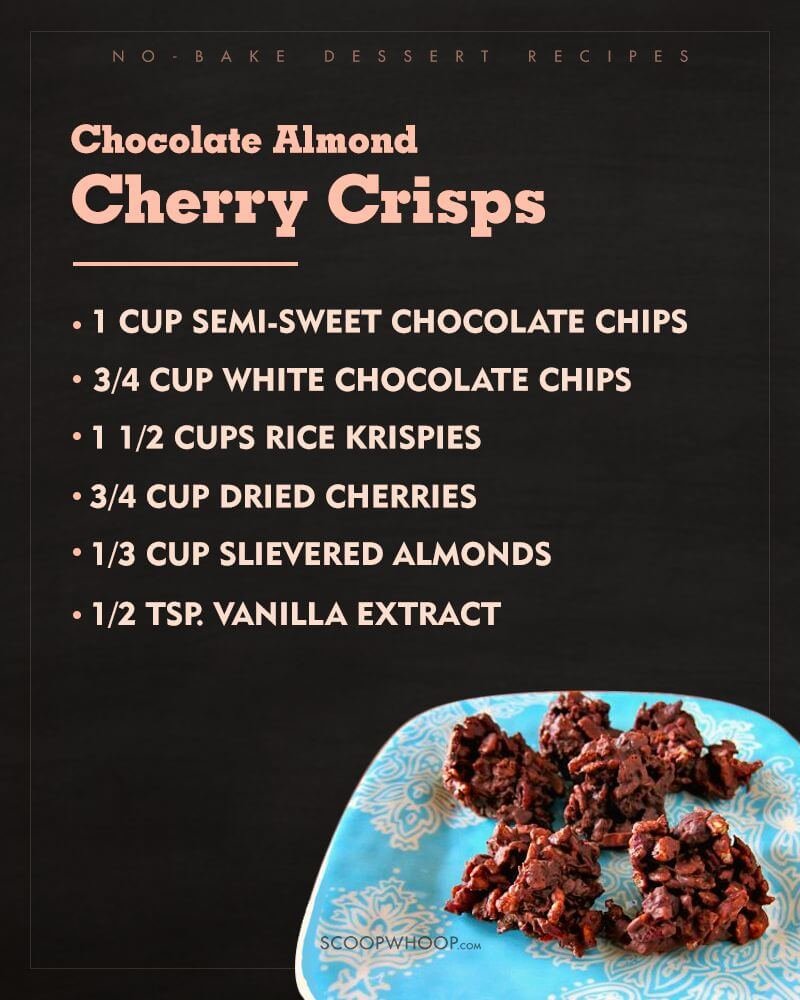 Steps to make Chocolate Almond Cherry Crisps:
Cover a large baking sheet with wax paper.
Pour a cup of water in a pan and bring it to boil. Place a heat-proof bowl on top of the pan and empty the semi-sweet and white chocolate chips into it.
Stir gently until the chocolate completely melts. Remove the bowl from the pan.
Add Rice Krispies and remaining ingredients to the melted chocolate. Stir quickly to combine.
Drop the mixture onto the baking sheet using a tablespoon and let it set in the refrigerator until firm.
Perfect for a late night snack!
6. Coffee-Drenched Ice Cream With Banana And Peanuts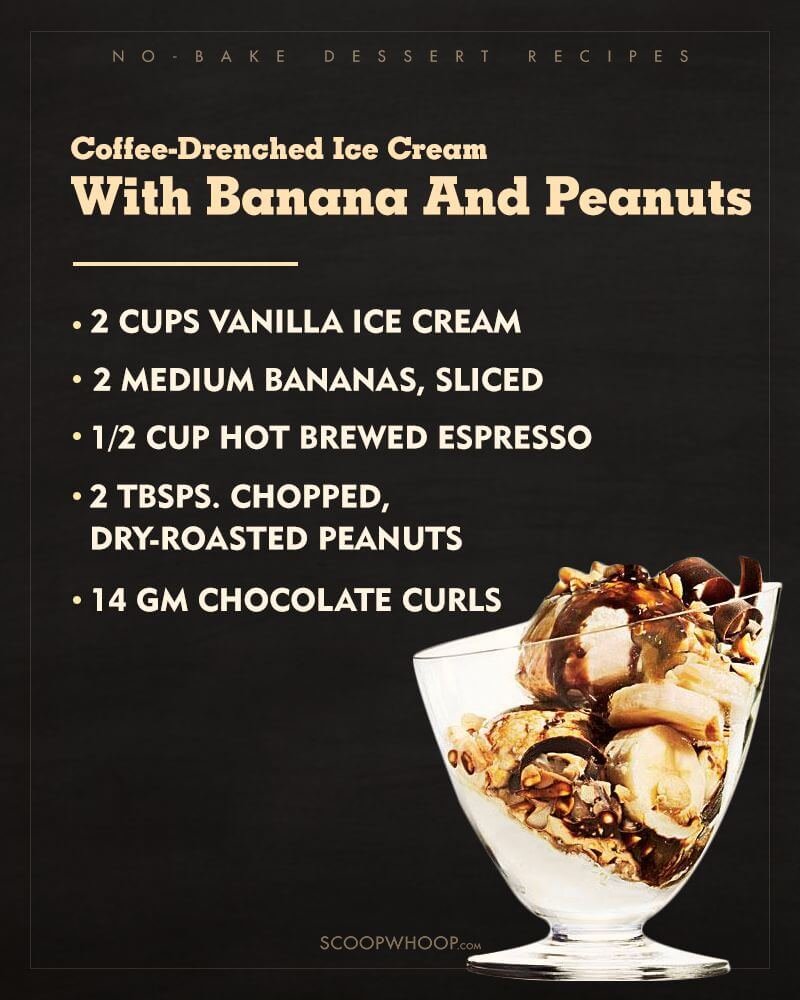 Steps to Coffee-Drenched Ice Cream:
Scoop half-cup ice cream into 4 bowls.

Top each bowl of ice cream with half a banana.
Put two tablespoons of espresso over the bananas and ice cream.
Add 1 and half teaspoons of peanuts to the bowls.
Top it all off with some chocolate curls.
Vanilla Ice Cream never tasted better!
7. Cookies And Cream Cups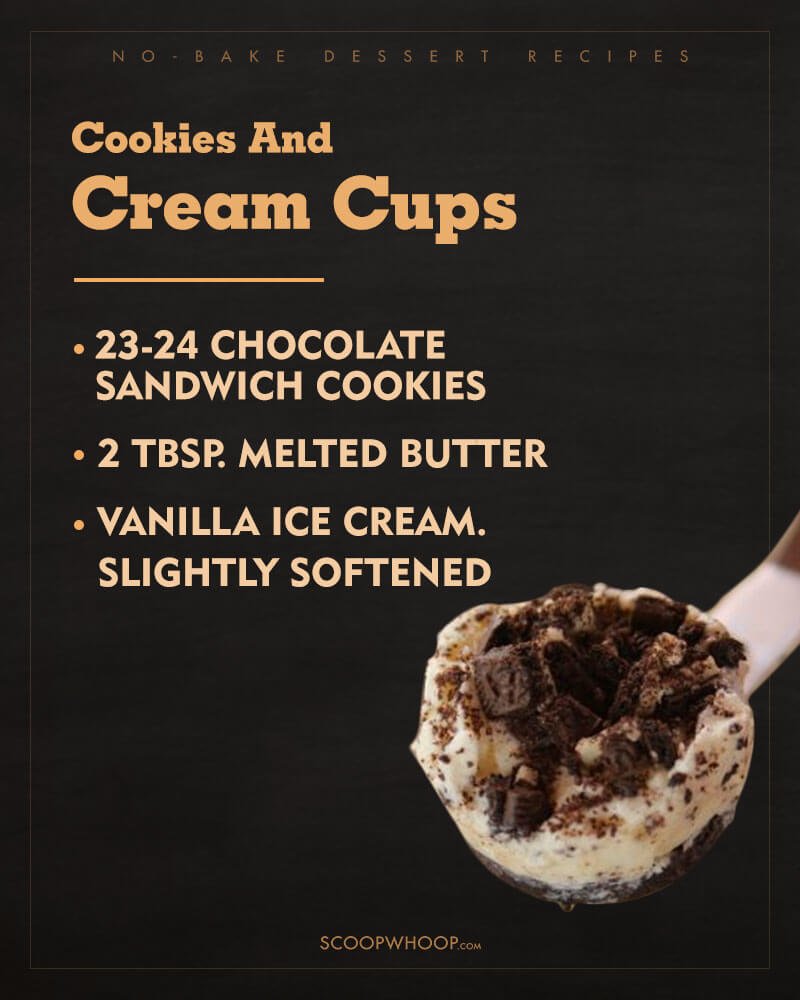 Steps to make Cookies and Cream Cups:
Crush 15 cookies into fine crumbs. Combine them with melted butter.
Take a 12-cup muffin pan and press the crumbs into each cup.
Break 6 more cookies into chunks. Mix them with the softened ice cream.
Spoon the ice cream mixture into each muffin cup.
Crush the remaining cookies and sprinkle them over the cups.
Put the tray into the freezer and let it set until firm.
Remove them from the muffin cups tray.
Your very own scrumptious muffins with a twist!
8. Oatmeal Chocolate Chip Cookies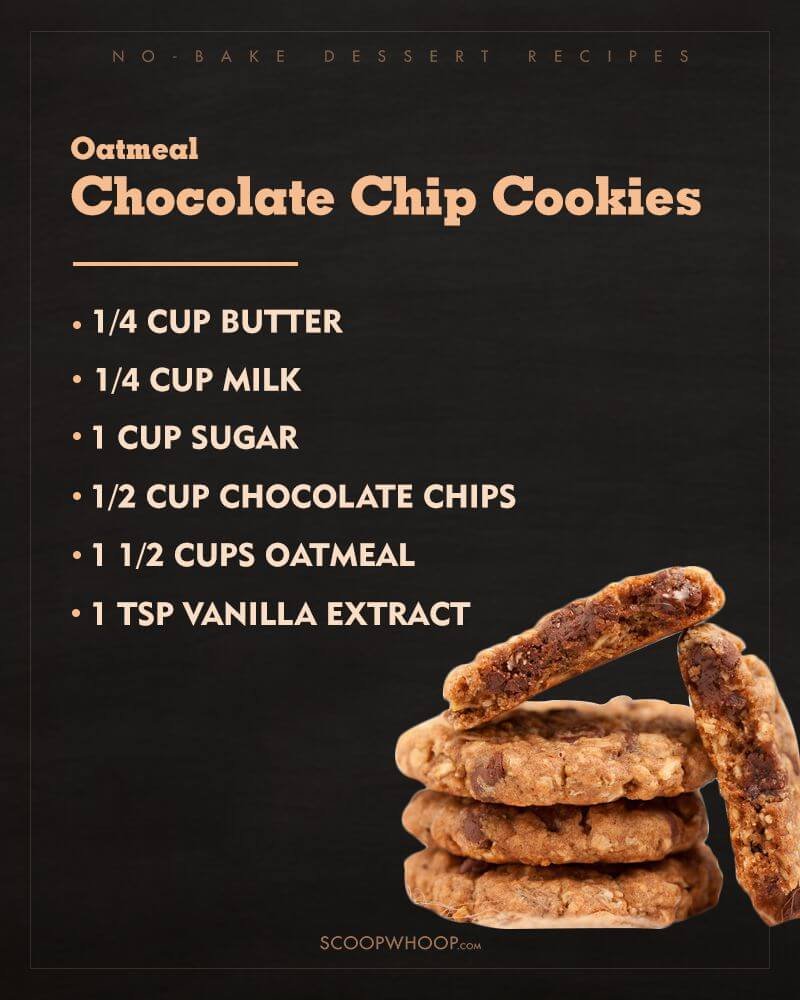 Steps to make Oatmeal Chocolate Chip Cookies:
Put oatmeal and chocolate chips in a bowl.
Combine milk, butter and sugar in a saucepan and boil it over a medium-high flame. Let it boil for 1 minute.
Pour the hot milk mixture into the oatmeal and chocolate mix and stir well.
Drop spoonfuls of it on a wax paper and let it harden before eating. To speed up the hardening process, put them in the freezer.
Perfect to eat with a steaming hot cup of tea!
9. Chocolate Fudge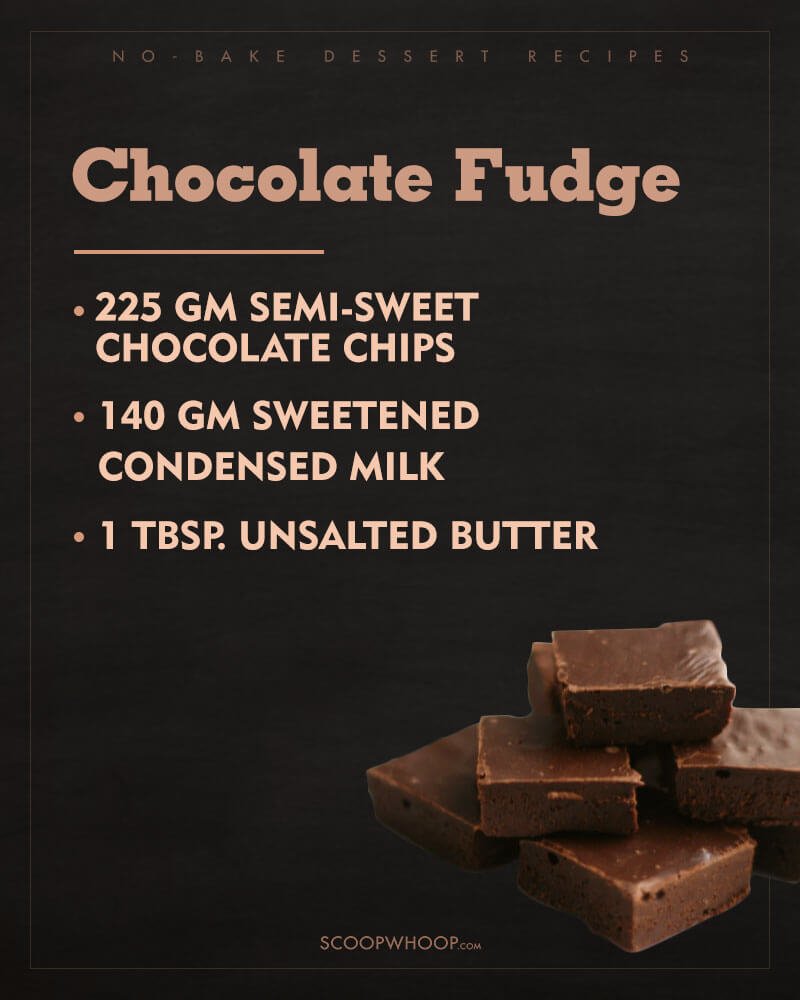 Steps to make Chocolate Fudge:
Melt the chocolate chips, condensed milk and 1/4 cup of sugar over a water bath. Mix well until completely melted and smooth.

Pour it over a baking sheet and freeze it overnight.
Cut into squares the next day.
Yummy chocolatey goodness ready to eat!
10. Nutella Ice Cream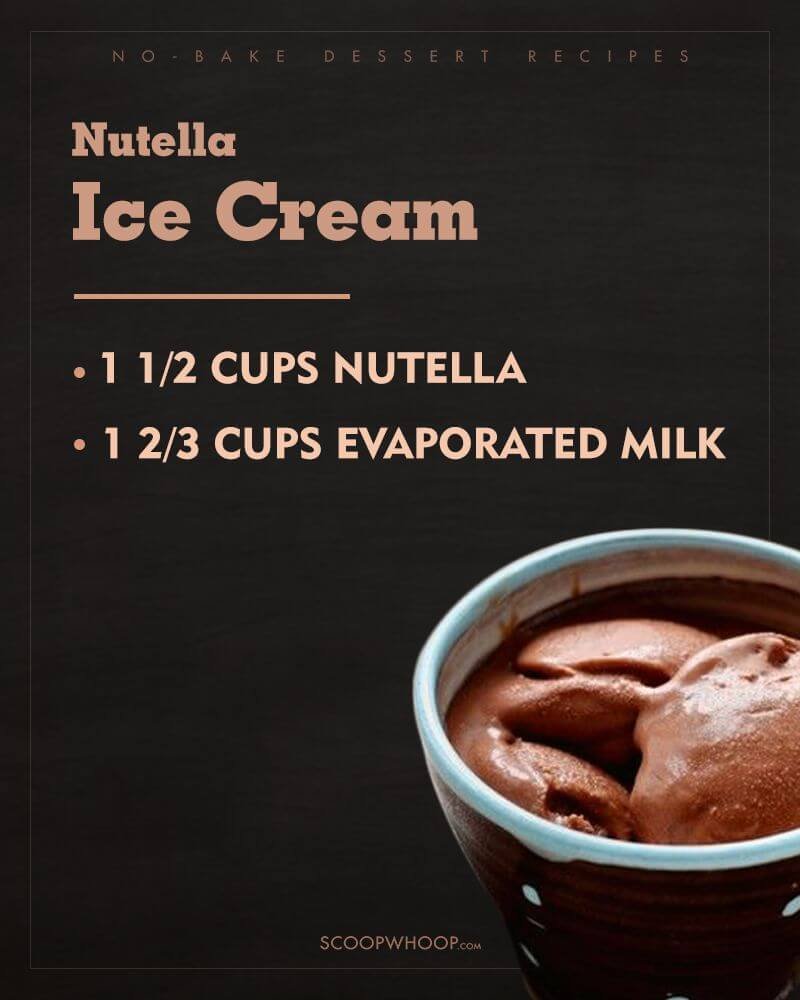 Steps to make Nutella Ice Cream:
Mix the nutella and evaporated milk with the help of a whisk or immersion blender.
Make sure the preparation is completely homogenous.
Pour the mixture into popsicle molds and put it in the fridge for a few hours. Make sure it doesn't crystallize.
Makes for the perfect post-dinner treat!
Life feels instantly better with some yummy, sugary delights, especially when they're so easy to make. So go ahead, make good use of the weekend!
Design Credits: Suvojyoti Ray
Masthead Image Source: dres.dvrlists.com