An Emirates flight from Thiruvananthapuram to Dubai made an emergency landing in Dubai after which it caught fire, said reports.
As per reports, all 275 passengers were evacuated safely and there were no casualties or injuries reported so far yet.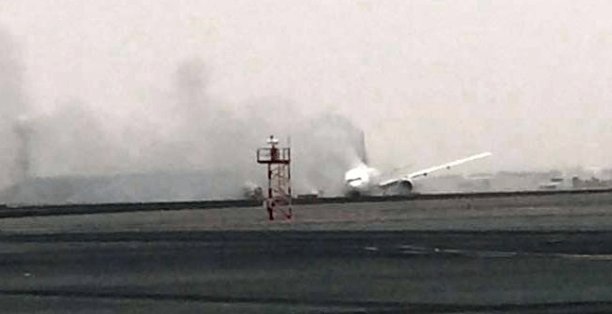 Plane makes emergency landing at Dubai International Airport https://t.co/tzbIICiS7O pic.twitter.com/9Lbdo4fsKO

— Gulf News (@gulf_news) August 3, 2016
Emirates aircraft which made emergency landing at Dubai airport today. all passengers safe. (Source: Mumbai Airport) pic.twitter.com/0D4eSXi3Y9

— ANI (@ANI_news) August 3, 2016
Emirates confirmed that incident the happened at Dubai International Airport on 3rd August 2016 at about 2.15pm Indian Standard Time (IST). It however, did not reveal any other details.
Emirates can confirm that an incident happened at Dubai International Airport on 3rd August 2016 at about 12.45pm local time.

— Emirates airline (@emirates) August 3, 2016
NDTV reports that a pilot who witnessed this accident told the channel that the aircraft hit the runway tail.
Pilot who witnessed Emirates crash landing at Dubai airport told NDTV the plane came in really hard, hit runway tail pic.twitter.com/KDoYfLzMP6

— NDTV (@ndtv) August 3, 2016
All departure flights from Dubai international airport have been delayed until further notice, Dubai authorities said, reports Reuters.
Videos of the the exact moment of crash and massive smoke emanating from the plane following it surfaced on Twitter.
Online video shows moment #Emirates aircraft engine explodes at #Dubai airporthttps://t.co/lrx77FjlWZ

— CCTVNEWS (@cctvnews) August 3, 2016
URGENT: Footage shows Emirates Airline with 275 people on broad crash-lands in Dubai

Details:https://t.co/gPmDcCvLSY pic.twitter.com/EjKzlzvMvQ— Press TV (@PressTV) August 3, 2016
#BREAKING: An #Emirates plane has crash landed at #Dubai airport. pic.twitter.com/KcaDTAykWR

— Tom Marlow (@TomMarlow_) August 3, 2016
(ScoopWhoop cannot confirm the authenticity of the above videos)
More details awaited.
(Feature image source: Twitter)