New Delhi's Race Course Road which houses the official residence of the Prime Minister of India will now be renamed Lok Kalyan Marg. The decision was taken on Wednesday at a meeting of the New Delhi Municipal Council (NDMC) which is the civic body in charge of central Delhi.
However, the whole name change wasn't a very smooth process. Here is how it happened:
BJP's Meenakashi Lekhi (who is a Member of Parliament from the New Delhi constituency) on Tuesday proposed the road's name be changed to Ekatma Marg. It was suggested because she thought the name 'Race Course Road' isn't synonymous with Indian culture.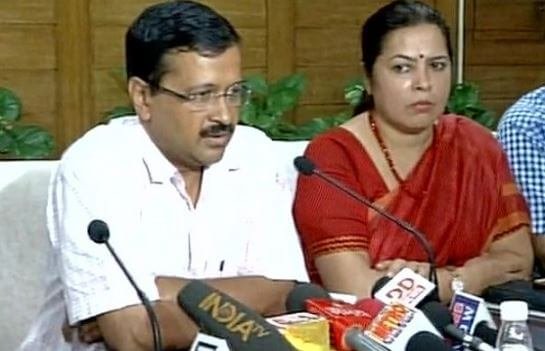 However, as soon as Lekhi put forward her proposal, the Aam Aadmi Party (AAP) protested against it. AAP MLA Surinder Singh proposed it be named after a slain soldier.
On Wednesday, AAP chief and Delhi Chief Minister Arvind Kejriwal suggested it be renamed Guru Gobind Singh Marg.
Finally, after discussions it was decided to rename it Lok Kalyan Marg. The phrase 'Lok Kalyan' means public welfare.

BJP leaders were of course delighted:
Congrats! After Ekatm marg msg received from across country to make it Lok Kalyan Marg,all objections met with. RCR now #LokKalyanMarg !!

— Meenakashi Lekhi (@M_Lekhi) September 21, 2016
Compliments to NDMC, for deciding to change the name of Race Course Road into Loka Kalyan Marg. (1/2)

— M Venkaiah Naidu (@MVenkaiahNaidu) September 21, 2016
It's a name with message as the PM's house is situated in that road. (2/2)

— M Venkaiah Naidu (@MVenkaiahNaidu) September 21, 2016
But Twitteratti largely felt that the whole exercise was pointless.
It's so good to know that everything is alright with the world & we can focus on the stuff that really matters - renaming roads #7LKM

— Omar Abdullah (@abdullah_omar) September 21, 2016
#UriAttackIndia is seething with rage, needs calming words, healing touch of PM.What to do?Rename Race Course Road. Merge budgets...

— কাঞ্চন গুপ্ত (@KanchanGupta) September 21, 2016
When you do nothing for Lok Kalyan (public welfare) in 2.5years rename a road,divert attn & keep fooling the very same Lok #RaceCourseRoad https://t.co/eJJBy7P2SB

— Shehzad Poonawalla (@Shehzad_Ind) September 21, 2016
Arbitrarily change date of the Budget,change name of Race Course Road on a whim,make hollow threats to Pak. Jumla governance, pure & simple.

— Krishan Partap Singh (@RaisinaSeries) September 21, 2016
"Race Course Road changed to Jan Kalyan Marg"

Ab achhe din aa jayenge 😂😂— Abhyuday Singh (@abhyudaymj) September 21, 2016
Tum ko 5 saal name chang karne ke liye diye hai janta ne kuch to kam karo #RaceCourseRoad

— afzal ghodiwala (@Real_afzal) September 21, 2016
7 RCR has changed into 7 Lok Kalyan Marg .Atleast now Advani Ji can hallucinate that he's got a Marg in his name, 7 LK Marg.

— Sundeep.V.PauL (@MythicalPAUL) September 21, 2016
"Lok Kalyan Marg" - Ok

Iske liye bhi koi dedicated ministry hai ya fir?

— Jasprit Singh Bhatia (@bhatiajs) September 21, 2016
Google has it updated already !!! Lok Kalyan Marg #LokKalyanMarg #LKM #RCRtoLKM pic.twitter.com/Ll1MOGTLTy

— Atul Sharma (@AtulSharmaDelhi) September 21, 2016
(Feature image source: Twitter| Hindustan Times )