If I ever shoplifted, (which I haven't ever, trust me), I would never put it up on social media. And who the hell would anyway? Haven't you watched those cop movies, where they track down your IP address and catch you!?
But thanks to social media, we have found a certain group of girls who aren't scared of getting caught (because YOLO, bitches). These girls are compulsive shoplifters, and they do not mind displaying their stolen wares on the Internet. And mind you, they do it with much pride. From cosmetics to clothes to whiskey flasks, they've picked it all. And good old Tumblr is their playground.
Wanna take a look into the wonderful shoplifting lives of these dudettes? Go ahead, but better refrain from getting inspired.
The unspoken but established code of conduct among shoplifters requires displaying your loot, and declaring the total worth of it.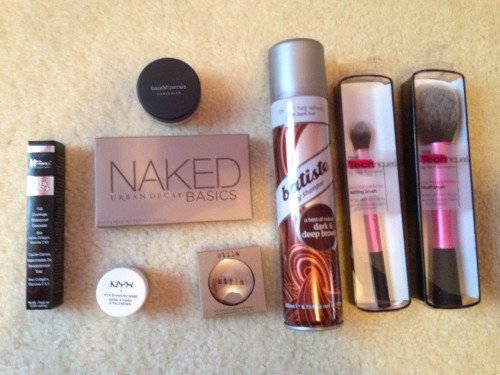 Small Ulta haul! (My first Ulta haul!!) I went right when they opened and I was the only customer in the store! Plus, there was only one worker walking around so this was so easy!
- UD naked basics palette ($27)
- Bare Minerals concealer powder in summer bisque ($18)
- IT Cosmetics under-eye concealer ($24)
- Real Techniques brushes
- Blush brush ($8.99)
- Setting brush ($7.99)
- NYX eyeshadow base ($6.99)
- Batiste dry shampoo ($8.99)
- Stila single eyeshadow in Puppy ($18)
TOTAL: $112.97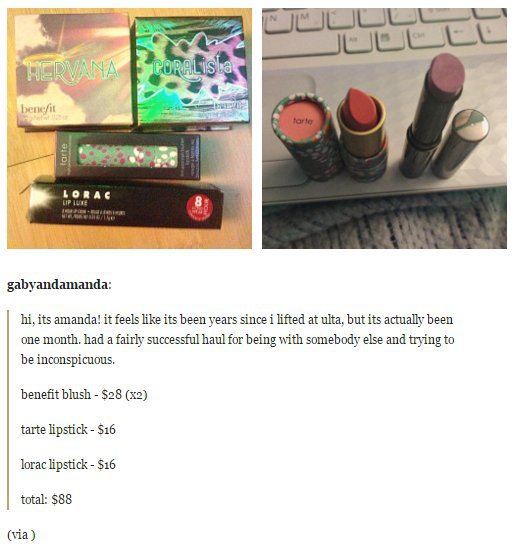 The code of conduct also requires sharing priceless information with fellow lifters and giving them a heads up of possible giveaways.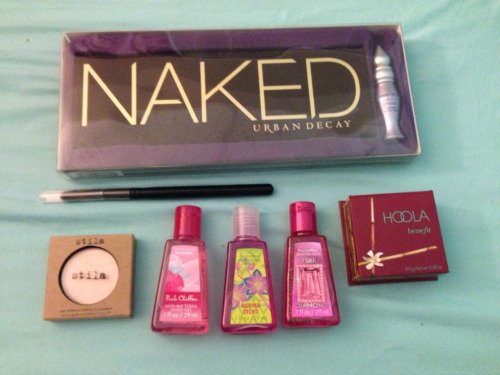 From the Sephora at Jcpenny and Bath and Body Works
- Benefit hoola bronzer ($28)
- Naked 1 palette ($52)
- Stila Kitten eyeshadow ($18)
- Sephora crease brush ($16)
- 3 Bath and Body works hand sanitizers ($1.75 x3)
TOTAL: $119.25
By the way, Bath and Body Works doesn't have towers or cameras.
Now that's some really ballsy stuff to do. Oh BTW, they also share notes, and exchange tips too.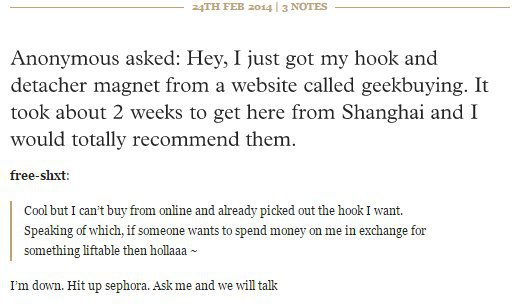 And one particular lady has described the whole process of how she efficiently shoplifts for fellow people in the 'trade'.
My Process for any stores that count items in the dressing rooms:
1) Enter the store dressed like I belong
2) I'm already carrying other shopping bags as well as my coat.
3) when walking around, I pick up both things I like and things I don't like at all-but I act equally interested in both categories.
4) When nobody is looking I casually slide the things I want under my coat
5) right before I go to the dressing room, I grab another piece of clothing and pretend to hold it up in the mirror against me, but really I'm making sure that nothing is sticking out under my coat and that it doesn't look like I'm hiding shit just that my coat is big but still normal.
6) I go to the dressing room and hand the person about 5 things that I don't really want, one of them ALWAYS being A PAIR OF JEANS OR SOMETHING WITH LOTS OF POCKETS
7) after I'm done concealing in the dressing room what I actually want,
I put all the clam tags, paper tags, etc in pockets of the jeans. Sometimes I'll put an extra tag on the jeans also to look like they accidentally double-tagged it.
8) After putting away the stuff I want, either in the bottom of a shopping bag that was already filled with other clothes, or under my clothing, or in my bag, I give them back everything else that they counted except the jeans, pretending I want to buy them.
9) I go to a part of the store that is really messy, usually the sale area is, and I casually drop the jeans where they won't be found until I'm already long gone
10) Walk out as if I decided not to buy anything or better yet, am on an important phone call.
Really, this shit is completely cray!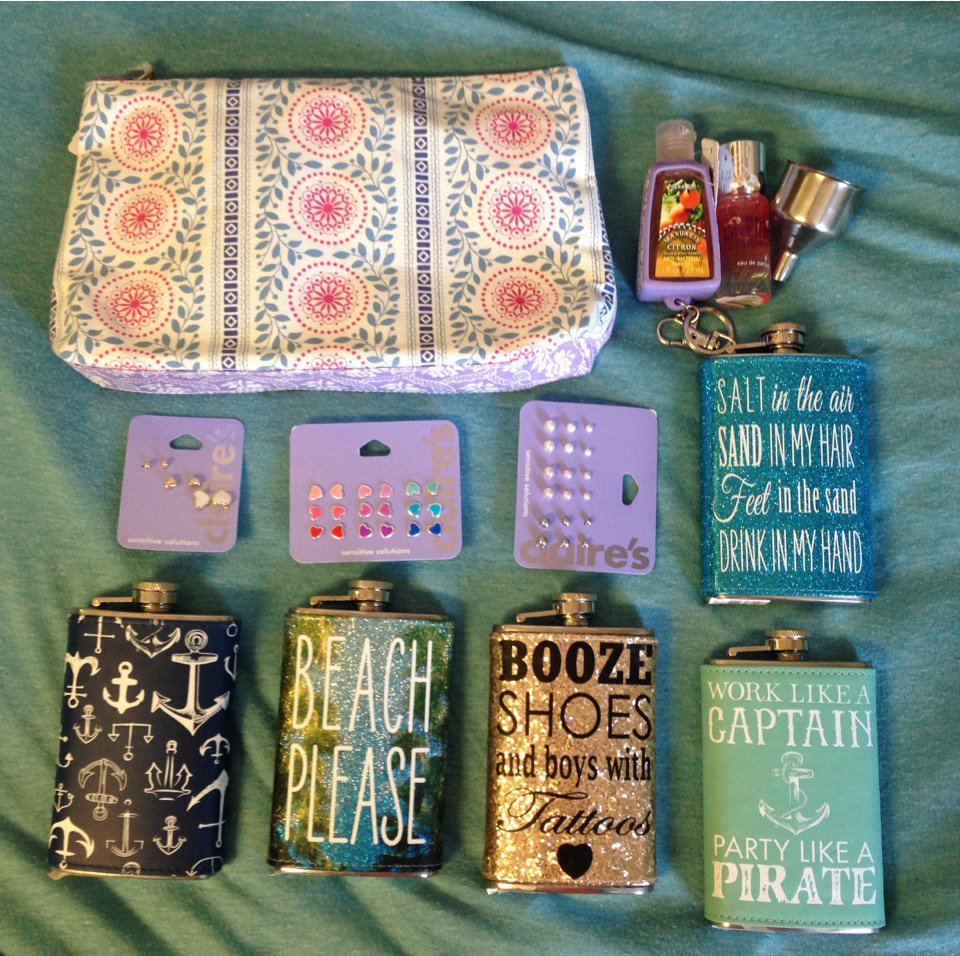 three piece earring set $8.50
nine piece earring set $12.50
nine piece earring set $9.50
flask one $12.50
flask two $12.50
flask three $12.50
flask four $12.50
flask five $12.50
funnel $3.50
Look at all of this stuff!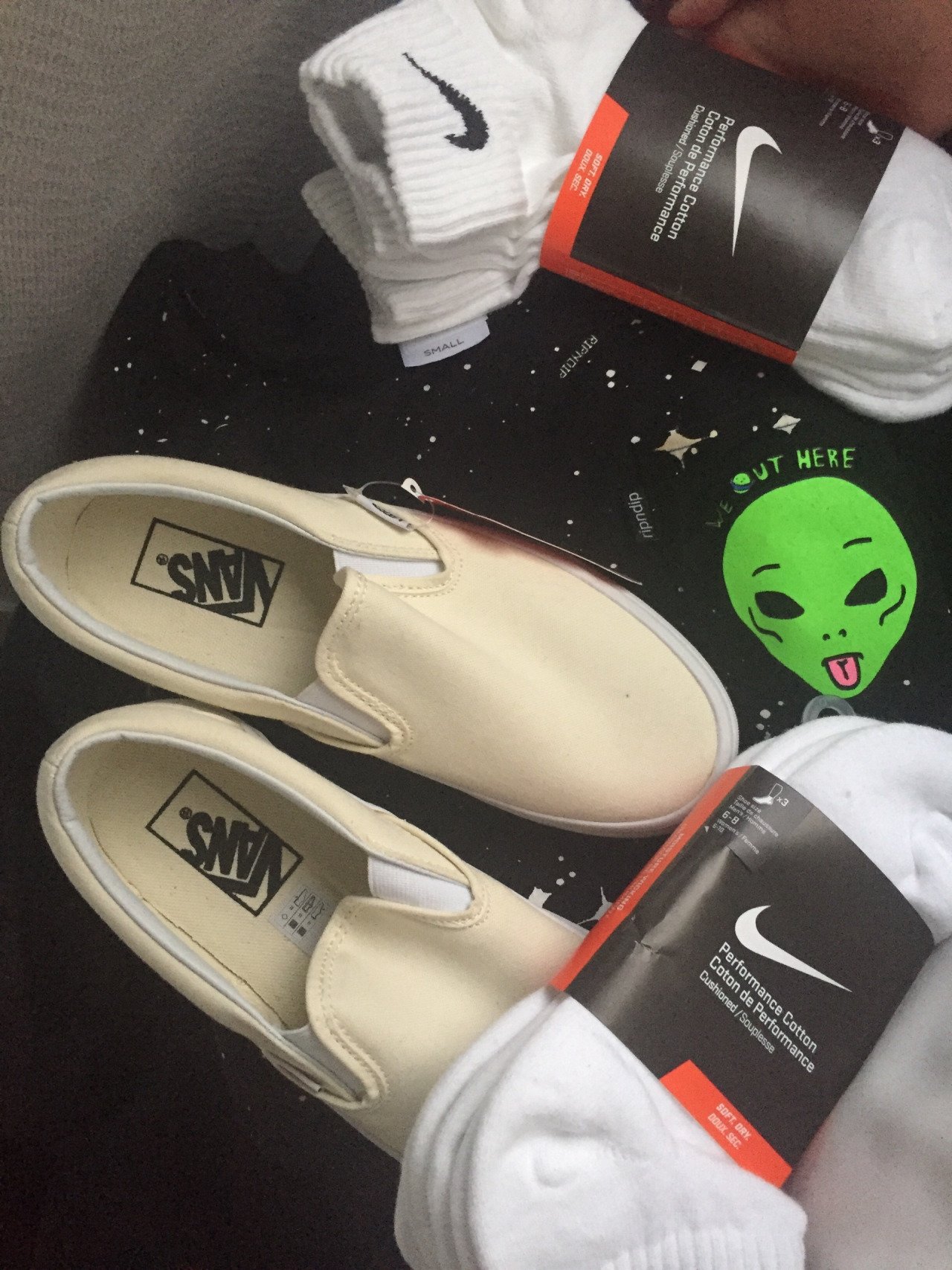 They do have an expensive taste. But damn!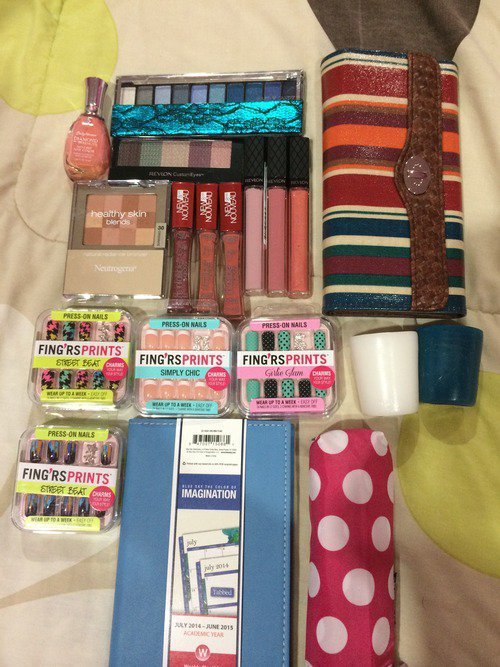 Tote Polka Dot Umbrella $10
Wallet $10
Fing'rs Prints $24
Planner $17
Candles $2
Diamond Strength Nail Polish $2.50
Neutrogena Healthy Skin Blends $11.50
L'oreal Infallible Lip Gloss $30
Revlon Super Lustrous Lip Gloss $19.50
Revlon CustomEyes $9
Hard Candy Top Ten Eye Shadow $6
The best (or worst?) part is that these ladies always go for the high end products. I mean look at that haul!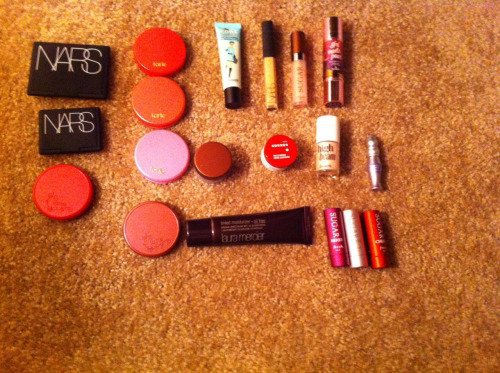 All images from Tumblr.
With absolutely no regret, no remorse, and no qualms, these women live the life of stolen luxury.
Although they've gotten away after all this time, it's highly unlikely that they will get away always. Take my advice, and do not be inspired by them, all right?