The fourth day of the ongoing ZEE Jaipur Literature Festival was a treat for all poetry lovers in the audience as master of words Gulzar took to the stage. Lucky for us, we have our correspondent, Shrishti Bhatia, over there at the festival, who relayed to us some of the best bits from that event.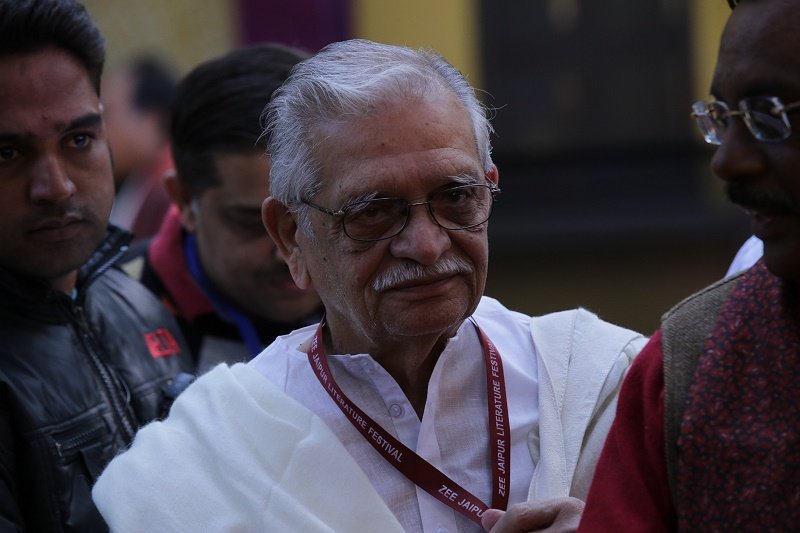 Source - IBN Live
He started the session in his own mystical way -
Itna khoobsurat swagat toh kam hi milta hai zindagi mein.
During the session, Nazm Uljhi Hui Hai Seene Mein, Gulzar along with Pawan K. Verma spoke about nostalgia and recited mesmerizing poetry from his book, Green Poems in which he has highlighted the sensitive world of nature through poetry.
Nostalgia is not a place to live in, just look at it and enjoy.
Through Green Poems, Gulzar talked about the clouds, mountains, trees and few poems on present scenario.

Here are some of the best lines from that reading session -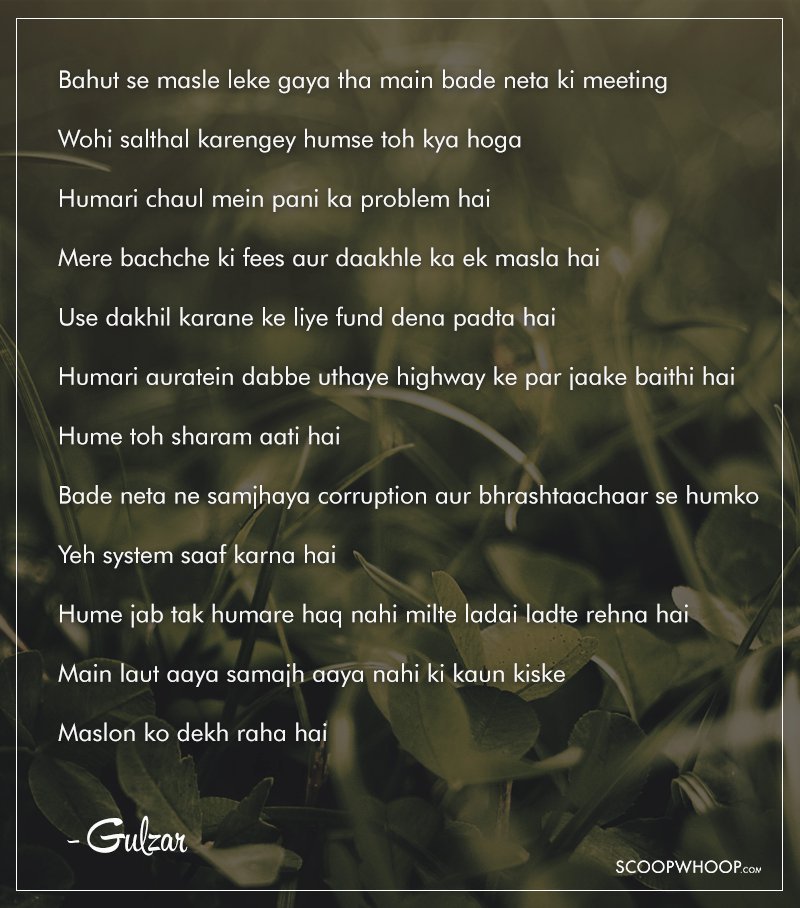 Translation -
I had gone to meet the politician with a lot of issues
Only he can sort it out, we can't do anything
There is a water scarcity in our chawl
There is an issue of my child's fees and admission
We have to give funds to get him admitted
Our women are sitting on the highway with jugs of water
We are ashamed
The politician explained that we have to clean the system from corruption
We have to keep on fighting until we get our rights
I returned, confused about who's solving who's problems.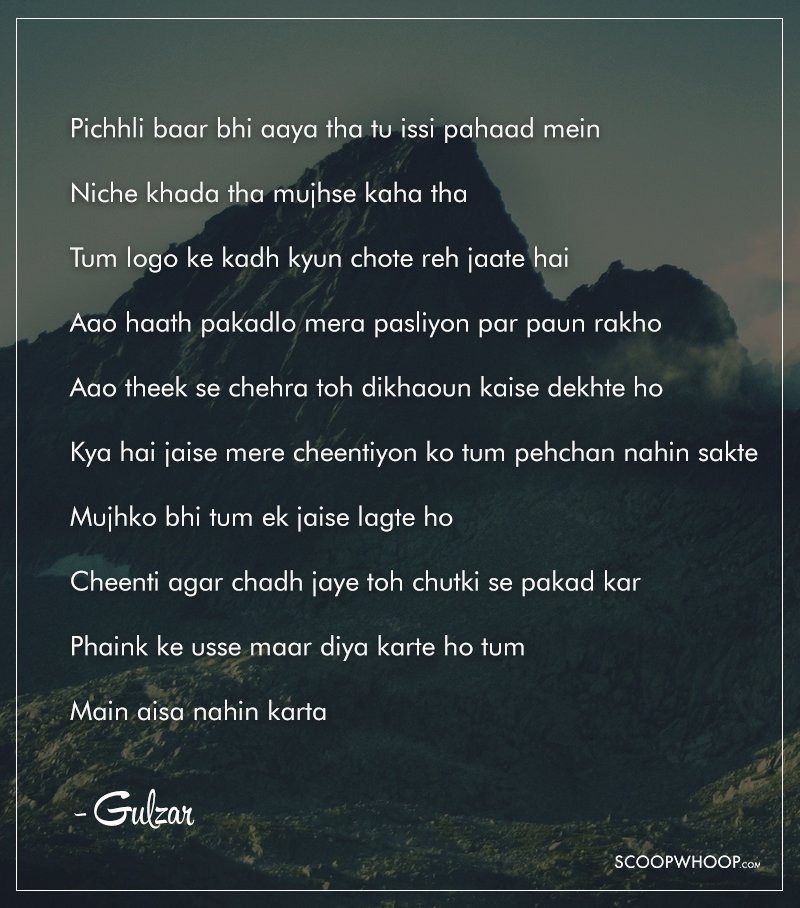 Translation -
You were here before, on this mountain...
Standing below, you told me
Why do you people remain dwarfs?
Come, hold my hand, climb on my ribs
Let me show you how you look, actually
You see... just the way my ants are not visible to you
You too look the same to me
If an ant climbs on you, you kill it with the tip of your fingers and get rid of it
But I... don't do that.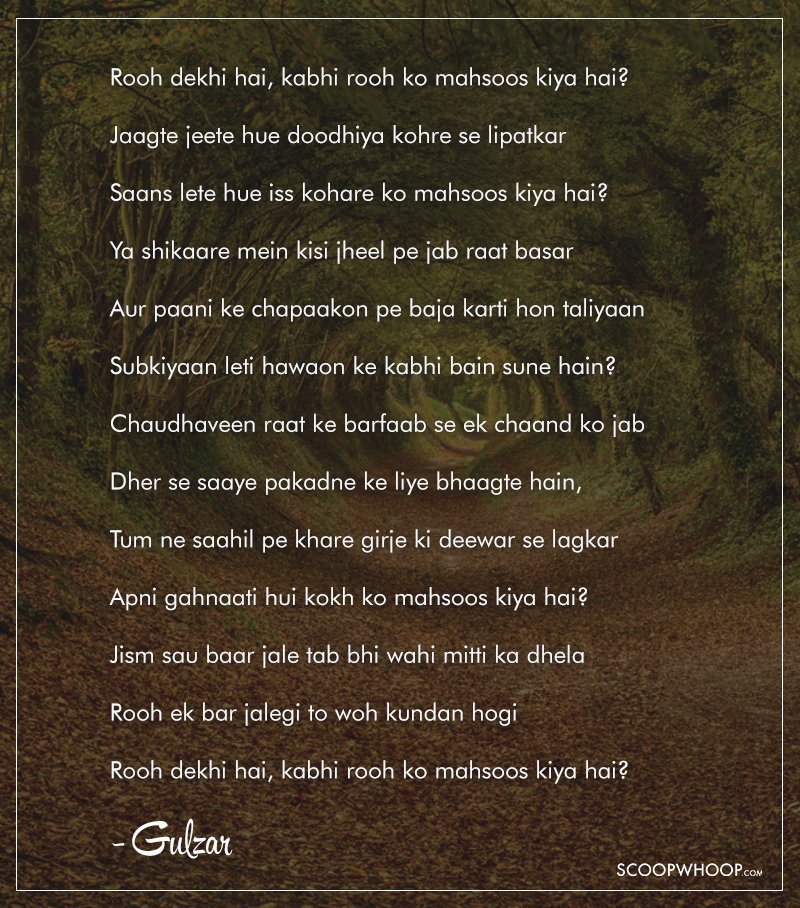 Translation -
You've seen your soul, but have you ever experienced your soul?
Awake and living, entwined with the ivory haze
With every breath you take, have you ever experienced this haze?
Or, like on that boat on a lake, floating in the night
Have you ever heard the sobbing sounds of winds
Drenched with the full moon night's glory,
When a mob of shadows chases the moon
Leaning on the church on the shore,
Have you ever felt your bejeweled womb?
A bag of bones will burn and still remain a lump of dust
But a soul, burnt only once, will be pure gold.
You've seen your soul, but have you ever experienced your soul?
Hats off, Gulzar Saahab!