If you're a bachelor in India, you know that apartment hunting is a mammoth task. And if by chance you've managed to find a house that fits your budget and is not too far away from work, be prepared to be frowned upon for everything from coming late at night to loud music to bringing ''girls/boys'' home. Because apparently, being an unmarried man/woman of marriageable age in India is a crime.
Our society is too suspicious (read jealous) of bachelors who are only trying to have a good time. Now there are people who are very upfront about their aversion for bachelor tenants and they simply don't open their doors to them. But a society named Palm Grove Heights in Gurgaon has gone far beyond the usual landlord-bachelor tiff with its management treating single people with utmost humiliation.
In a Facebook post written by Mohit Agarwal, a resident of Palm Grove Heights, he describes a harrowing experience of living in the society where its management has turned into moral police. Not only are friends of opposite sex denied entry, a bizarre rule also refuses the parking of two-wheelers inside, and the President of the society even goes to an extent of calling the bachelors 'criminals'.
Here's Mohit's harrowing experience, in his own words.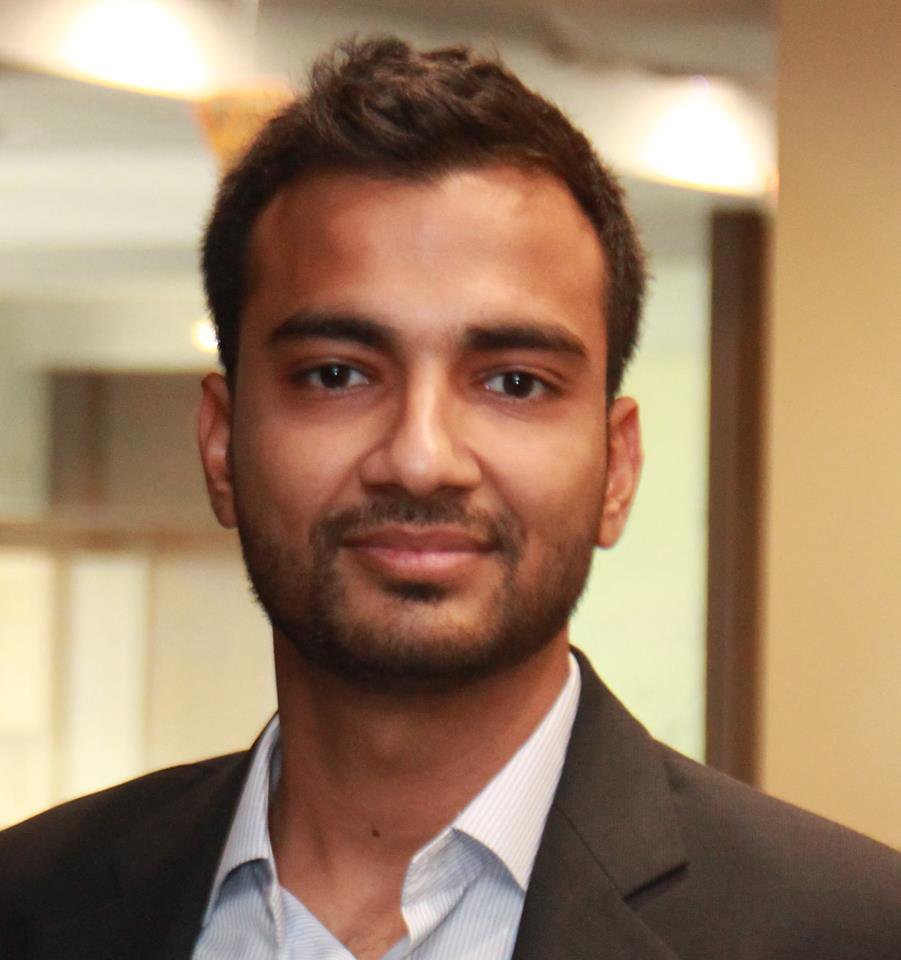 Sometimes life in Gurgaon makes you justify your right to live without humiliation. Hello All, Wanted to narrate to you a harrowing experience that I faced at PALM GROVE HEIGHTS (Ardee City, Sector 52, Gurgaon). This society is newly made (just 5 months old) and 70% residents are bachelor tenants. Yet the society administration has taken it upon themselves to morally police them and make their lives as difficult as possible. There are society's which clearly declare that they don't allow bachelor tenants - I think that is more noble than what Palm Grove does. So coming back to the story: During my masters at Europe, I had made many friends. One of them, a girl from Barcelona, was coming to Intern here in Delhi at a Human Rights organisation. She wanted a place to stay for 3-4 days before she could rent a flat for herself.
I volunteered to host her. On a Saturday evening, she arrived at the society, coming directly from a foreign land. The society guard stopped her - saying girls are not allowed at unmarried boys' house! (I had heard this rumor floating around about this restriction by the Society RWA, but felt it was too ridiculous to be true).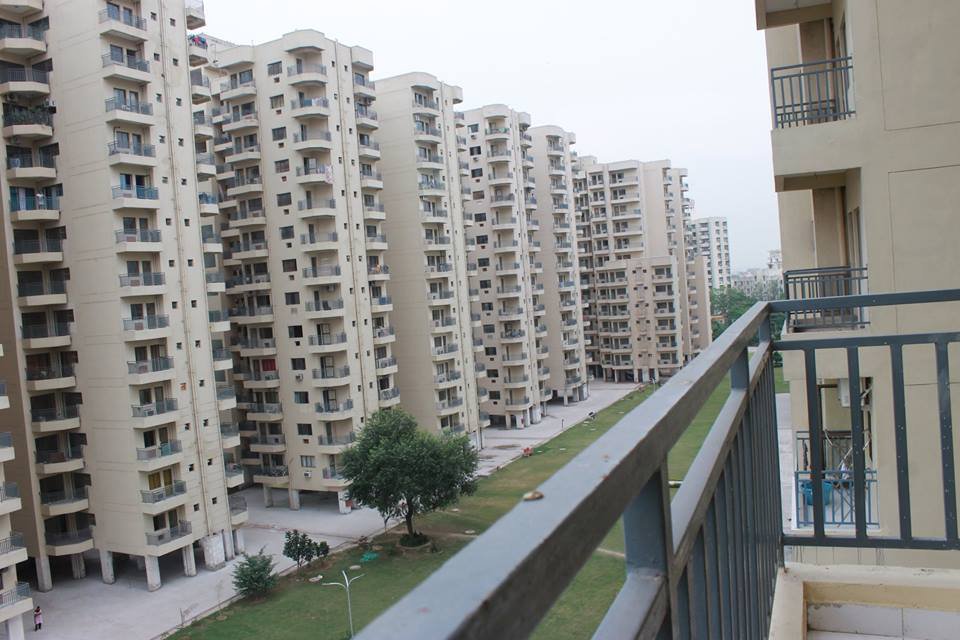 I and my flatmates had a huge argument with the guards and then the society administration. I even called up my landlord, who supported us totally. He mailed the society admin/ RWA to allow the guest in our flat, but they rejected the request! YES - they rejected it. We even asked for a copy of the society rules which barred entry of girls to bachelor tenants' house, but there was no such formal rule. (Making such a rule is illegal by the way). So effectively there was no basis from stopping her to enter my house, except that these guys took it upon themselves to morally police us. For 3 hours we negotiated on a topic which was too ridiculous to be negotiated upon. And it was super humiliating.With all the shameful insinuations flying around. Less for us and more for the person who has just landed in India - ironically a mild taste of what human rights violation in India feels like.


Finally she had to go rent a hotel.
In all this ruckus, I had called up the society president Amrik Singh Nimbran and said his rules were stupid and didn't make sense. Next day, he came to my house looking for me. He said "I am retired DG of police, and I know very well how to handle criminals like you". Criminals, really!!. He even threatened next time we do something like this - he will ensure that we get bashed up! But this is not a one time case, this society has been doing it quite frequently. It has happend to other tenants too. Entering the premises with a group of friends is like entering a club - the bouncer guard decides whether your friends get in or don't. All their policies are geared to get the bachelors out of here. Why don't they create a proper policy and stop renting it to bachelors is not understood. They even stopped entry of motorcyles inside the premises, because most bachelors have two wheelers. So you are okay with massive SUVs but not a humble scooty entering the society premises, someone please explain the logic!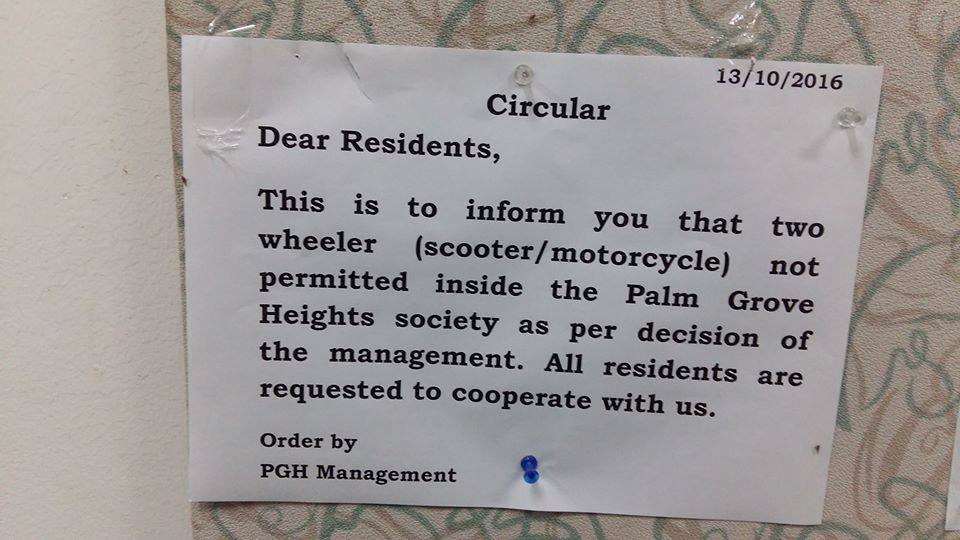 Why this rant on facebook :
1) Because I want to expose the double standards of Gurgaon's MNC "family" crowd living in gated societies.
2) Because no person in future should accidentally rent-in a house in Palm Grove Heights.
3) Because I want you to spread this as much as possible.
Thats all folks, and get married soon, and buy a car, and be a man - because a bachelor doesn't have equal rights! And a woman ! And a person from another country! And a two wheeler driver!


Is this what a progressive society looks like?