One heavy downpour was all it took to completely choke up the Delhi-Gurugram expressway on Thursday, one of the most important roads in the capital, that connects the national capital to Gurugram. As it poured, commuters were stuck on 5 km stretch of highway for nearly 4-5 hours, and in some cases even more.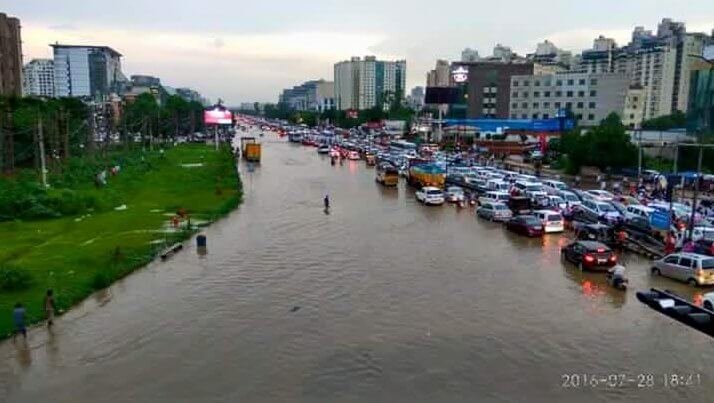 The situation got so out of control in just one night that the Gurugram police issued a statement asking commuters from Delhi to not travel to Gurugram for now. But it was the commuters themselves who felt the brunt of the rains, with some of them abandoning their cars and others deciding to call it a night and sleep in the car.
This defines plight f not only #Gurugram but all parts f #India Those who are responsible live luxury life Gurgaon👎👇 pic.twitter.com/ZwCJdwUr9X

— Praveen Tiwari (@Proficient96) July 29, 2016
As expected, Twitter was full of tweets about the pitiable traffic conditions, and the renamed Gurugram (called Gurgaon until recently), was the butt of all jokes.
These guys got a laugh out of it:
Mumbai was made from seven islands.#Gurugram is slowly turning into one. pic.twitter.com/FmNgC5fPq4

— Sorabh Pant (@hankypanty) July 29, 2016
They wanted to make Gurgaon terrific.

Some illiterate local spelt it as traffic. Damn!— Madhavan Narayanan (@madversity) July 28, 2016
A hectic session of monsoon. Totally jammed. No work today.No

No

no, not #Gurugram. I'm talking about parliament.— Ramesh Srivats (@rameshsrivats) July 29, 2016
Politicians exchanged barbs:
#Gurugram is sinking in traffic jams, incompetent govt of @mlkhattar & @ArvindKejriwal is equally responsible.pic.twitter.com/DiUcioBRmK

— Sheila Dikshit (@SheilaDikhsit) July 29, 2016
Agree @rssurjewala. #Gurugram has seen many times more rains in a day in past- but never such a total mismanagement. https://t.co/mo3k7PrlZu

— Deepender S Hooda (@DeependerSHooda) July 29, 2016
Quicker to reach New York from Delhi then Delhi-Gurgaon. BJP & @mlkhattar Govt. destroying Gurgaon as India's global hub . #16HoursOfJam

— Randeep S Surjewala (@rssurjewala) July 29, 2016
BJP and AAP busy in twitter wars as the common man suffers. Is this the politics of change that was promised? #Gurugram

— Kuldeep Bishnoi (@bishnoikuldeep) July 29, 2016
What Mumbai & possibly #Gurugram urgently require are bipartisan support for directly elected, empowered Mayors

— Milind Deora (@milinddeora) July 29, 2016
And there was some biting criticism from some who were stuck in traffic:
Vin Diesel saving Deepika from they were stuck at HeroHonda Chowk #Gurugram pic.twitter.com/KKF55CoFn8

— ਮਾਧੁਰੀ (madhuri) (@vmadhuri2004) July 29, 2016
After "Palace on Wheels" , Gurugram launches "Venice on Wheels"#Gurugram pic.twitter.com/AoK099yPEu

— Ping's (@ImPingaksh) July 29, 2016
#Gurugram's new tourist attraction - Khattar Falls. pic.twitter.com/n5LfuKj9zO

— हरी राम नाई (@Hari_Ram_Nai) July 29, 2016
I think, it's about time Ola should start Ola Boat, Ola Cruise, Ola Submarine in #Gurugram..

— Swikriti (@swikritiashu) July 29, 2016
And hence, Gurugram. Because this is not a city, this is a village where there is no drainage and no traffic rules. @mlkhattar #gurgaon

— Monk in Making (@gykjain) July 28, 2016
Thanks to Mr @mlkhattar people of #Gurugram are enjoying the sea at their doorstep!! #smartcities pic.twitter.com/mxmUsOfGoI

— Pankaj Mishra (@pankajmishra23) July 29, 2016
Nintendo has revealed that there are lot many Pokemons hiding in the water-logging in #Gurugram .#PokemonGo #GurugramToGurujam

— Ganeshan (@ganeshan_iyer) July 29, 2016
CM @mlkhattar 's epic reaction on #Gurugram Rains. pic.twitter.com/q4DMxFIxg9

— Smoking Skills (@SmokingSkills_) July 29, 2016
Lovely #Gurugram. pic.twitter.com/eXUmo9PgeB

— Gautam (@gautamverma23) July 29, 2016
Haters will say this is Amsterdam but this is Aerial image from #Gurugram pic.twitter.com/1CZBSFF5E8

— अंकित (@indiantweeter) July 29, 2016
Dear people of #Gurugram ,

Don't you worry.. "Rescue" is on the way...Meanwhile.. blame Kejriwal.@RoflGandhi_ pic.twitter.com/jSmkSJzyZO— डॉन™ (@DonMufflerMan) July 29, 2016
Choosing to drive in Gurgaon right now be like. pic.twitter.com/rUR3n4ShWL

— Shakti Shetty (@Shakti_Shetty) July 28, 2016
Here are some videos by commuters to show you how bad the situation really was:
@SanjayAzadSln @ArvindKejriwal @smitaprakash No Outrage ?? Oh its in BJP Ruled #Gurugram (Smart City) of Modi Govt pic.twitter.com/eMU7Al5mH3

— President Obama (@POTUSW) July 29, 2016
#Gurugram yesterday. And nothing seems to have changed till now. Please stay inside today.@gurgaonpolice @HTGurgaon pic.twitter.com/ms8xoXcMrU

— نيها (@NehaSudan25) July 29, 2016
And then there was Suhel Seth:
For all those circulating pictures etc. I just drove to Gurgaon from the airport and there was no traffic or snarls on the ExpressWay.

— SUHEL SETH (@suhelseth) July 29, 2016