Brushing aside all resistance, the Supreme Court appointed a four-member committee of administrators headed by former Comptroller and Auditor General of India Vinod Rai to run the affairs of the BCCI and implement court-approved recommendations of the Justice R M Lodha panel on reforms in the cash-rich cricket body.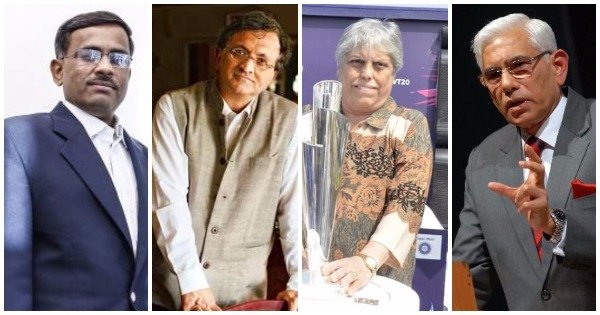 Other three members of the committee of administrators are famous cricket historian Ramachandra Guha, Vikram Limaye, Managing Director of Infrastructure Development Fiance Company (IDFC) and former Indian women cricket captain Diana Edulji, who would interact with Rahul Johri, CEO of BCCI, for supervision and functioning of the cricket Board.
The good stuff first. Among the panelists, Diana Eduljee's appointment came in for praise.
Diana Eduljee becomes the first female take top BCCI post. Brings to the table a lifetime of experience in sports administration. Congrats!

— Snehal Pradhan (@SnehalPradhan) January 30, 2017
Come on guys...vinod rai is IAS i.e hes superman, repository of all wisdom in the world, he can be a rocket scientist. What is BCCI for him?

— sushant sareen (@sushantsareen) January 30, 2017
These are people who are honest, whose reputations have no stains. It is not a bad starting point. #BCCI

— Harsha Bhogle (@bhogleharsha) January 30, 2017
Ramchandra Guha in Committee to run @BCCI . We now hv an insider to write abt the rise and fall of Cricket in India.

— Sumanth Raman (@sumanthraman) January 30, 2017
When change comes it is sudden and overwhelming. Who would have thought the BCCI would be run by the committee just named!!

— Harsha Bhogle (@bhogleharsha) January 30, 2017
There were some who raised serious concerns.
With great humility: #LodhaPanel & SC have erred on BCCI. This is judicial nationalisation of a flourishing sport. This looks arbitrary

— Shekhar Gupta (@ShekharGupta) January 30, 2017
Prof Guha in-charge of BCCI. Suddenly, Gajendra Chauhan in-charge of FTII doesn't sound that bad a deal. pic.twitter.com/ZLkLgD6nnM

— Anand Ranganathan (@ARanganathan72) January 30, 2017
Absolutely stunned & disappointed beyond words with the appointment of Vinod Rai as the BCCI chief. Terrible use of arbitrary power.

— Tehseen Poonawalla (@tehseenp) January 30, 2017
While it's self-inflicted 'death' for BCCI, I've my doubts if cricket in Ind will be same anymore. Outsiders will soon fight for the spoils

— Vikrant Gupta (@vikrantgupta73) January 30, 2017
But, as always, the funny ones stole the limelight.
With Ramachandra Guha heading BCCI, cricket matches will be shown on the History channel, confirm sources https://t.co/YJnbclpkph

— Ra_Bies (@Ra_Bies)
Ram Guha in BCCI, wait for Jawahar Lal Nehru Premier League.

— Kiraye ka Deshbhakt (@GabbbarSingh) January 30, 2017
Now when SC has appointed Guha ji & others to haed BCCI..how abt appointing Rajdeep Sardesai G to head Wrestling Federation. Experienced hai

— Paresh Rawal fan (@Babu_Bhaiyaa) January 30, 2017
The Supreme Court wanted to make a historic judgment to bring accountability to the BCCI.

So they've got in a historian and an accountant.— Ramesh Srivats (@rameshsrivats) January 30, 2017
A banker, an accountant and a historian walk into a bar. The judge gives them a cricket board to run.

— dorku (@Dorkstar) January 30, 2017
Ramchandra Guha will run BCCI? Seems like cricket in India will soon be history https://t.co/m0pEQZohHz

— The Bad Doctor (@DOCTORATLARGE) January 30, 2017
Petitioner: Sir can you clean the game of cricket.

Court: Sure son. When we are done with it, there will be nothing left of it.— dorku (@Dorkstar) January 30, 2017
*Indian team loses a series*

BCCI chief Guha's column: Yes India is performing bad but did you know it performed worse in Congress regime?— Scotchy (@scotchism) January 30, 2017
Never change, Twitter.