Life isn't always the way it's meant to be, don't you feel the same? There are times when everything falls perfectly into place and then there are times when we feel that things are just not unfolding the way they are supposed to. But as they say, it is during these times of hardship and struggle that we find our inner strength to carry on.
One such story is that of Jyoti Chahar, a strong-willed woman who despite all the obstacles that life has thrown at her, is literally writing her own destiny.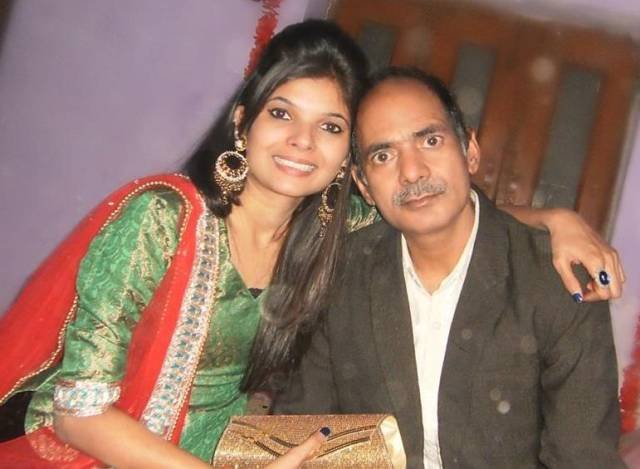 In a recent article on her blog, she poured her heart out about her struggles. Here's her story...
Jyoti hails from a small village, Girawar, in Haryana. When she was a young child, her parents moved to Delhi. She grew up in the time when girls in villages were married off at a very young age and they seldom got to study till class 10th, if lucky, they would go on and study till 12th. But she decided that this old system would not stop her from realizing her dreams, the first of which was to become a graduate.
To fight the prejudices of the society and the pressure from her relatives, she decided to leave Delhi for her studies.
Through her sheer hard work and perseverance, she completed her graduation from a college in Jalandhar (in Mass Communication). Naturally, after she finished her college, her relatives started forcing again her to get married. Thankfully, her parents supported her and she eventually started looking for a job, at the least, an internship.
But in a competitive city like Delhi, finding either of those is a mammoth task. Finally, after months of trying and running around, Jyoti found herself an unpaid internship in a TV channel in Ghaziabad. After working day in day out, her internship soon converted into a job. However, this little victory of her's was short-lived as the channel shut down withing months of her joining.
Things took a turn for a worse when her father met with an accident which resulted in a complete loss of memory for him. This came as a heavy blow to the family as he was the sole bread earner of the house.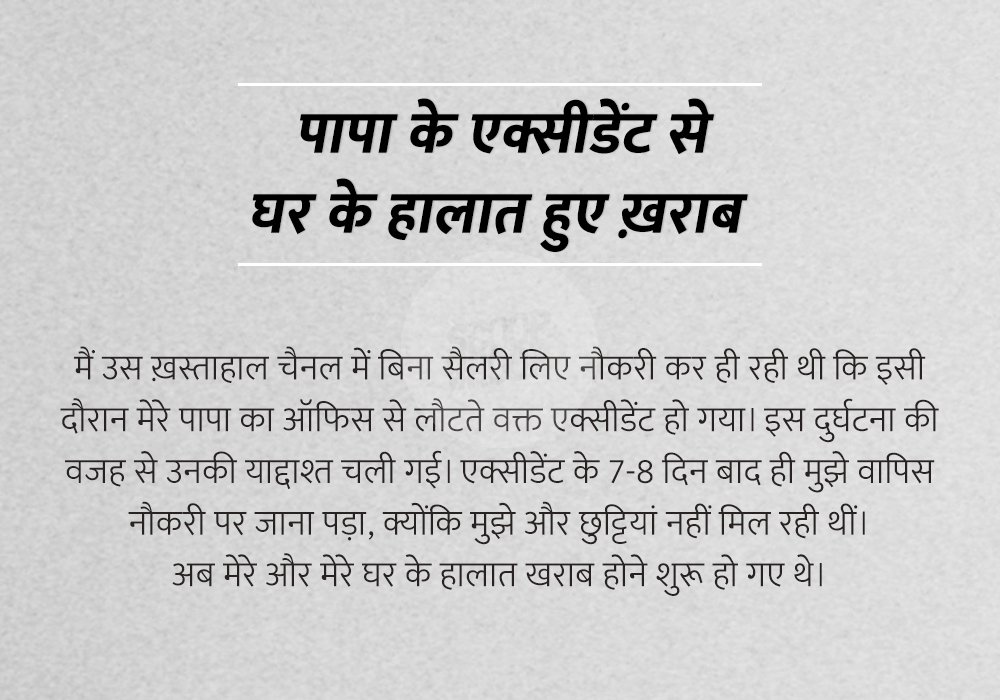 Becaue of my father's accident, the home conditions deteriorated

I was working in that dreadful channel without earning any salary. Just then, my father met with an accident while returning from the office. Because of this disaster, he lost his memory. 7-8 days after the accident, I had to go back to the office because I wasn't getting anymore leaves. Now, my and my home's condition worsened.
After partial recovery, the doctor suggested that her father could work again. One day, after work, her dad lost his way and due to his loss of memory, he could not find his way back to the house. Jyoti and her family tried really hard to find him, put out posters, checked every nook and cranny, but they couldn't manage to find him.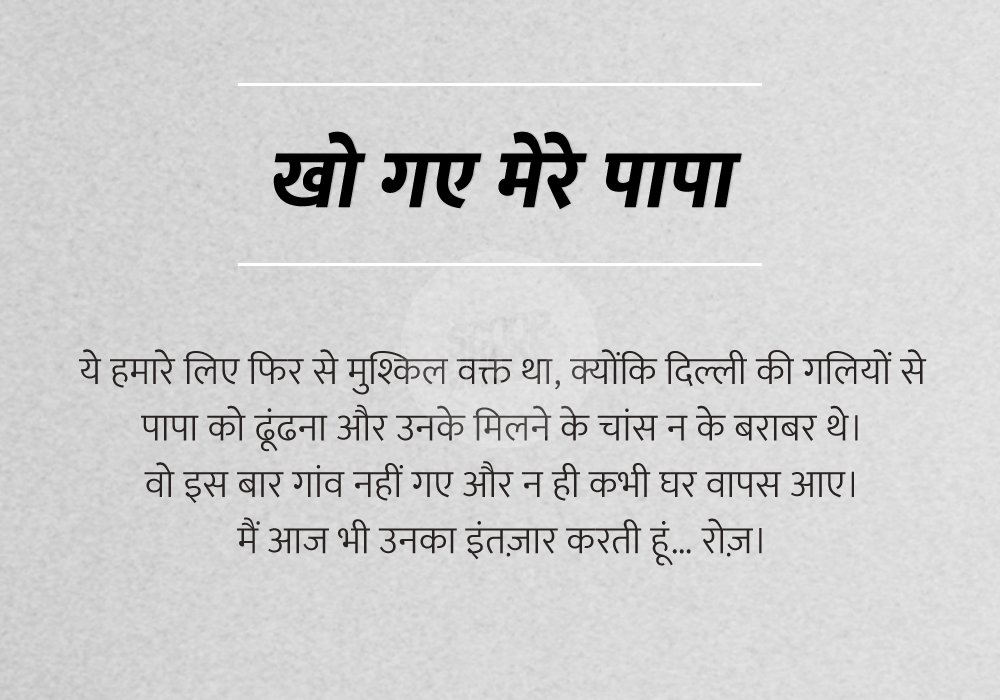 My father was lost
This was a tough time for us because the chances of finding my father in the alleys of Delhi were slim. This time, he didn't go to the village, neither he came back home. I still wait for him... Everyday.
It is during times like these that you need to gather all your strength and face all your hardships head-on. And that's what she did. Jyoti started blogging and started becoming known amongst other bloggers. Despite being laid-off from her job again, she did not give up and continued writing, building a steady base of followers and readers.
These blogs soon became her identity and helped her in earning enough money to buy a new house for her family.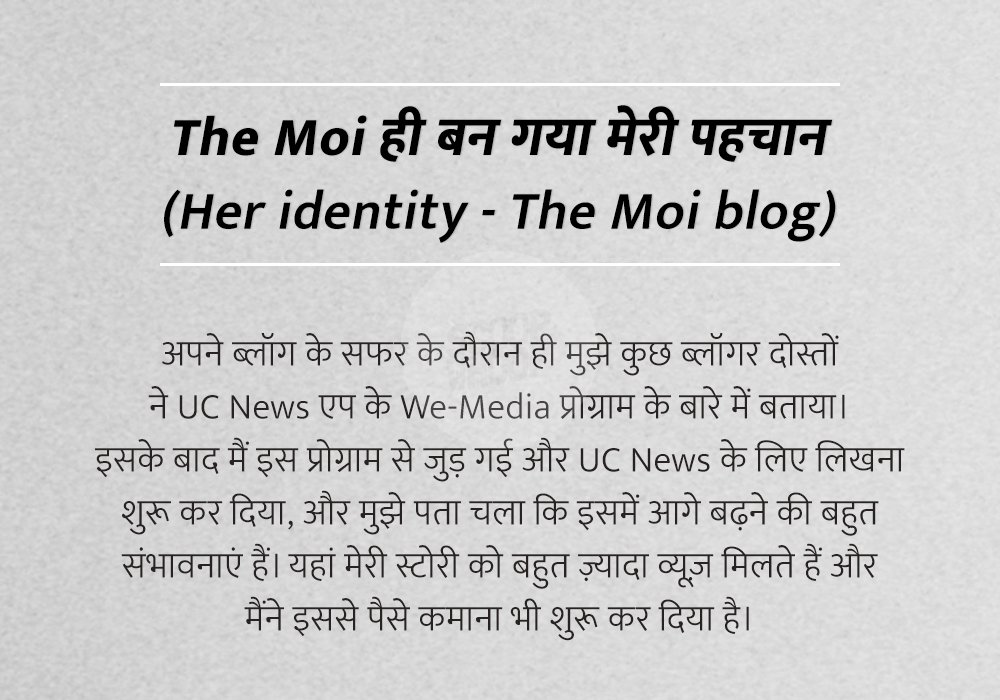 The Moi Blog became my identity
During my blogging journey, a few of my blogger friends told me about UC News App's, We-Media program. I joined this program and started writing for UC News and I realised that I will get a lot of opportunities to progress in life. My story gets a lot of views here and I have also earnt money through this.
Life took an unexpected but delightful turn for her when she came across the UC News app. Through their program called We-Media, she started earning money through her writing. Now, she has a voice and with each blog post she reaches out to millions of readers.
Although she knows that blogging is not easy and comes with various difficulties, she firmly believes that with hard work and perseverance she can fulfill her dreams.
The heartfelt story of Jyoti soon went viral as numerous celebrities started sharing it on Facebook.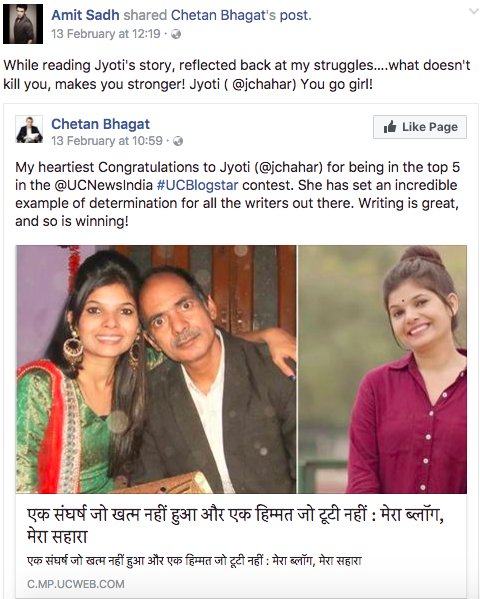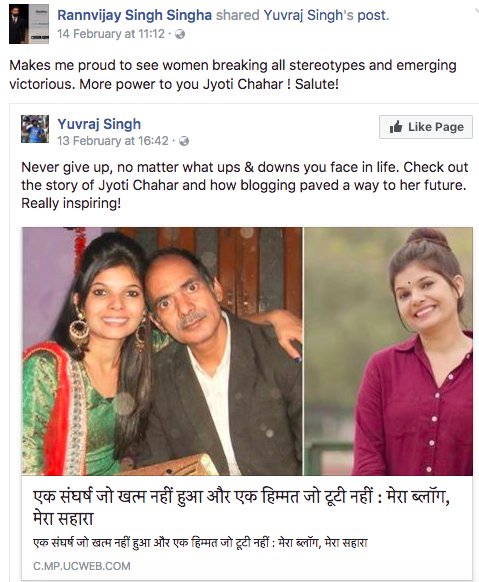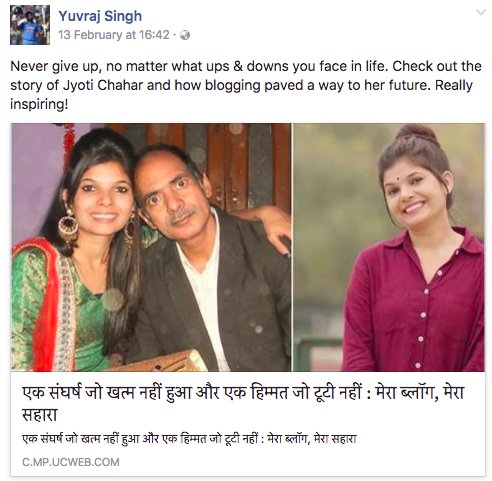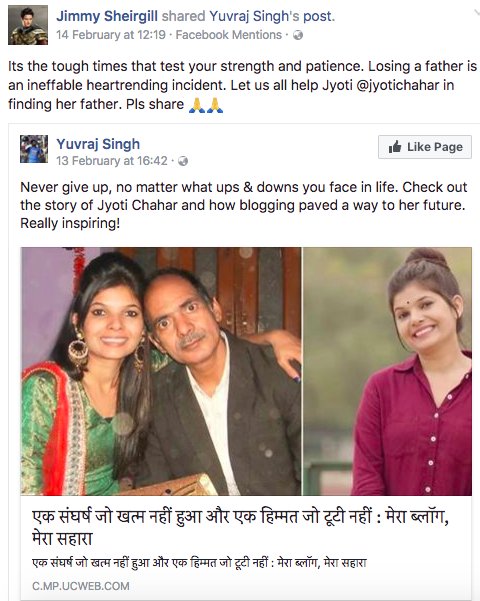 Keep at it, Jyoti. More power to you!