A new study by US-based think-tank Pew Research Center has estimated that while Christian and Muslim birth rate will continue to grow worldwide, there will be a "dramatic drop" in the number of Hindu births between 2055 and 2060.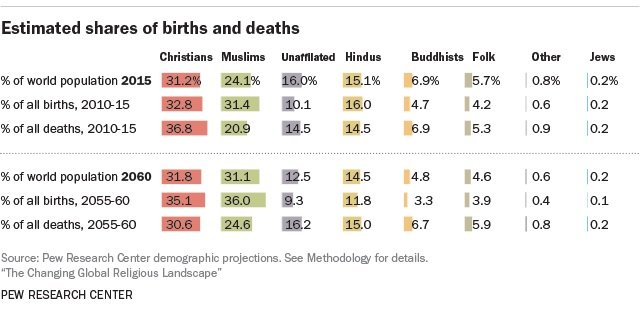 What's the reason?
The study says this will be mainly because of declining fertility in India, which is home to 94% of the global Hindu population as of 2015.
As per the estimation, Hindus will see 3.3 crore fewer births between 2055 and 2060 compared to the 2010-2015 period.
More Muslim births than Christian ones in coming decades
The Pew Research Centre study says that between 2015 and 2060, the global Muslim population is expected to grow by 70 per cent, while Christianity is projected to grow by 34 per cent -- at which point, the two religions will have similar numbers, the report said.
Between 2015-2060, world's Muslim population expected to increase by 70% & Christians by 34% https://t.co/WfdQlQdM3l pic.twitter.com/f1co0vMXda

— Pew Research Center (@pewresearch) April 6, 2017
But Muslim births are projected to rise at a faster rate, so much so that by 2035 the number of babies born to Muslim mothers will narrowly surpass the number born to Christian mothers. Between 2055 and 2060, the birth gap between the two groups is expected to approach 6 million (232 million births among Muslims vs. 226 million births among Christians).
The baby boom will largely be driven by regional trends in age and fertility, according to Alan Cooperman, director of religion research at Pew.
Islam to be the world's largest religion by 2075
Islam is already the world's fastest-growing religion, according to the study, with the Muslim population increasing by more than 150 million people between 2010 and 2015.
The number of babies born to Muslim women is expected to overtake those born to Christians world-wide within two decades, making Islam the world's largest religion by 2075.
"In the next half century or so, Christianity's long reign as the world's largest religion may come to an end..." https://t.co/MQgeso3Cdv pic.twitter.com/FZZNCebsaG

— John Gramlich (@johngramlich) April 6, 2017
Some 62 per cent of Muslims live in the Asia-Pacific region with large populations in Indonesia, India, Pakistan, Bangladesh, Iran and Turkey, Pew researchers said.
Data drawn from more than 2,500 global censuses
The report's findings are drawn from the same projections behind a 2015 Pew report that found that the world's Muslim population will match its Christian population by 2070 and surpass it in the decades that follow.
CHART: How we project the size of religious groups to change globally by 2060, by % and total number: https://t.co/5vrEv2tB91 pic.twitter.com/n48wNy9sfg

— PewResearch Religion (@PewReligion) April 6, 2017
Both rely on data collected over several years from more than 2,500 global censuses. The projections take into account trends in mortality, fertility, age, migration and religious switching.
You can read the full story here.