When the decision on the last ball of the recent India vs Bangladesh nail-biting clash went upstairs, the LED board flickered. And it beat. Along with the board, thumped millions of hearts across India in a rhythm which would erupt in victorious screams moments later. However, amidst all the action, stood one person whose heart must have been ready to come out of his mouth any moment.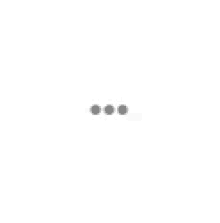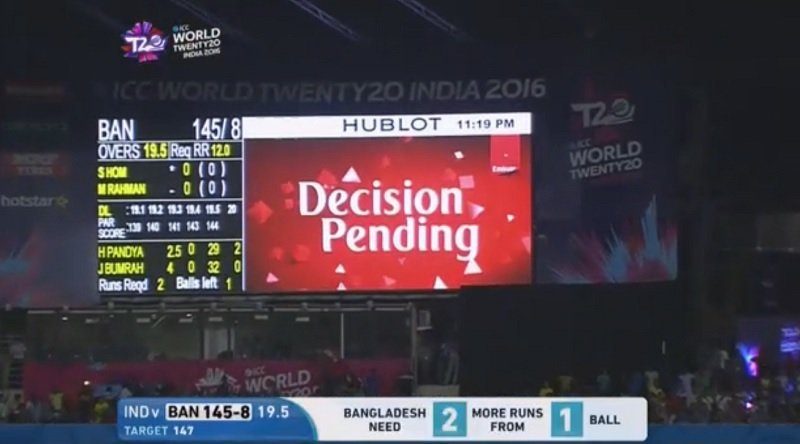 Hardik Pandya, the 22-year-old all rounder from Jamshedpur and the bowler of the fateful over, hung in there as did his career with those tiny LED bulbs on the board which could finish a promising career which hadn't even begun to flourish properly yet. And then something happened to the tiny bulbs. They arranged themselves in a formation which sent millions of Indians into dizzying ecstasy and our neighbors into shocking gloom. And in the process, a star was born.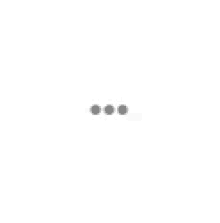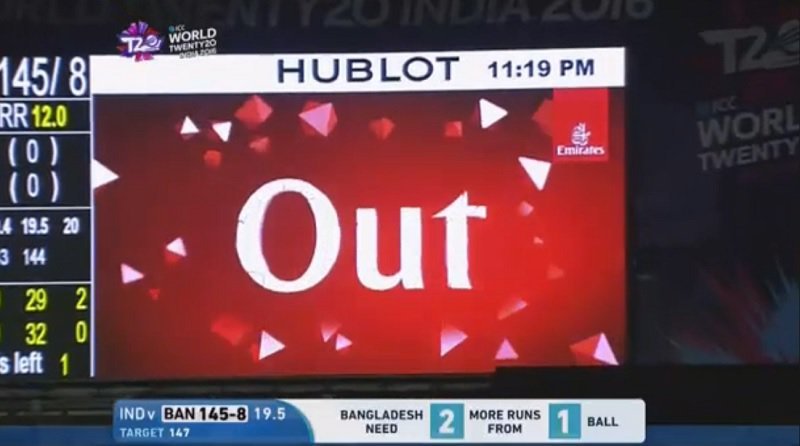 Surprisingly, for a youngster caught in a catch 22 situation, Pandya was unbelievably calm. 
He didn't seem unsure when MS Dhoni tossed him the ball for the last over. He didn't seem rattled when he erred and was punished with consecutive extravagant boundaries. He wasn't jubilant when he made a brilliant comeback to take two wickets off consecutive balls. He seemed in control after sealing the game for India. And for that, credit must be given to young Pandya.
In any team sport, no single person can win the game on their own merit. However, in a defeat, it's a different story altogether. In defeat, it becomes rather easy to single out that one person and label him as the chink in the armour. Pandya could very well have been that chink in India's otherwise dilapidated armour. He could have been the black sheep among the "goose". He had gone for 20 in his first two overs, and been distinctly unlucky on the big match eve. And that last over was just added pressure on the all-rounder who's still trying to find his footing in the team.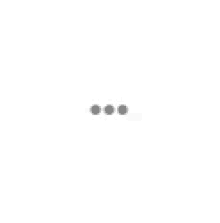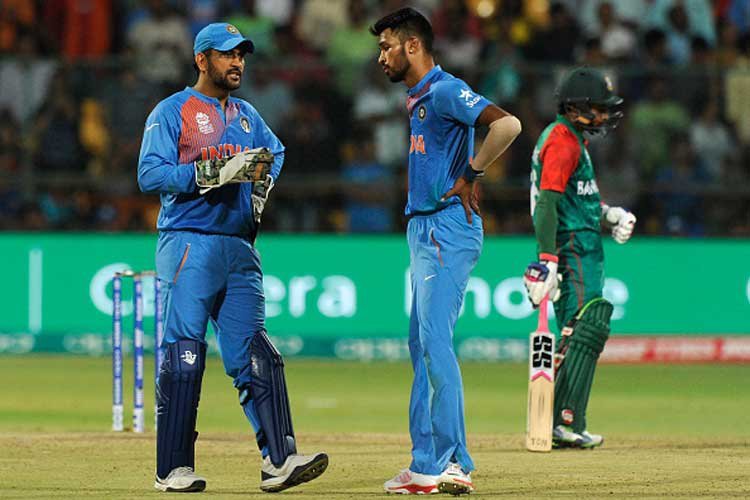 The pressure of the situation was palpable when Dhoni, Ashish Nehra and R. Ashwin paced up and down the field, time and again to strategise each of Pandya's deliveries in a manner never-seen-before. Theoretically, all he had to do was follow orders. Practically, not only was his own credibility at stake, his team and captain's faith in him was also at line. And that is something which could be highly unnerving.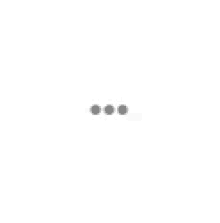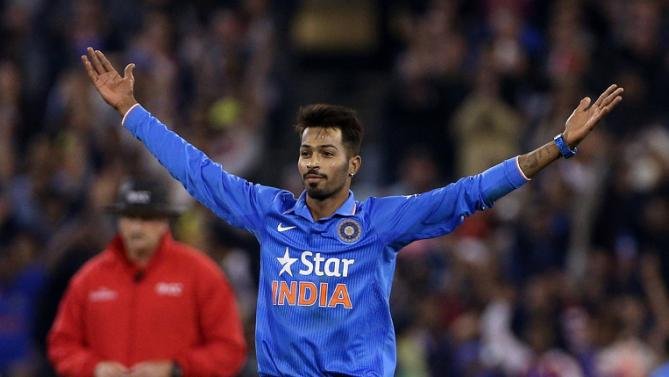 But Pandya survived. And that is exactly why we should be more cautious with him now.
What awaits the young lad, post this overnight success, is glitz, glamour and all that jazz. Not to forget, a lot of comparisons. For he has joined the league of last over wonders like S. Sreesanth and Joginder Sharma. However, what Pandya wants to do with this hard earned success is for him to decide. If he wants to continue performing and cement his place in the side, it's his call. If he wants to be forgotten as yet another one-time wonder and take up a comfortable job of DSP in his home town, it's again his and only his choice. 
As for us, we should do the youngster a favour & let him be for a while; for any criticism or hype would be too much, too soon.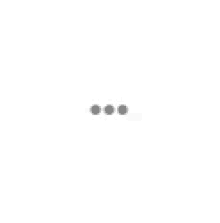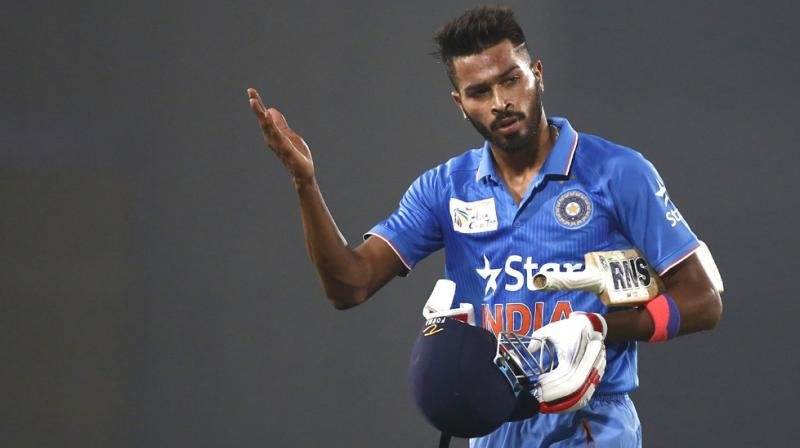 Pandya can easily bowl in the late 130s and possesses good striking power as a batsman. He is the X-factor the Indian side went with, in this T20 World Cup. However, nothing much could be seen of Pandya, the batsman, in either of the games against New Zealand (1) and Bangladesh (15). But his tuning with pacer Jasprit Bumrah has been comforting to see. 
As the dust finally begins to settle on the India-Bangladesh tie and the caravan moves on to take on the mighty Australians on Sunday, March 26th, it's time to look out for Pandya. And when he takes the field this time around, he will have to ask himself - is he worth benching the likes of Harbhajan Singh and Ajinkya Rahane? And for this, he needs to have an answer. 
Interestingly, Pandya's case is weakened by the fact that he's an all rounder as much as it is strengthened. Because, hasn't being an all-rounder always been a double-edged sword in the Indian team?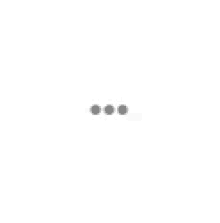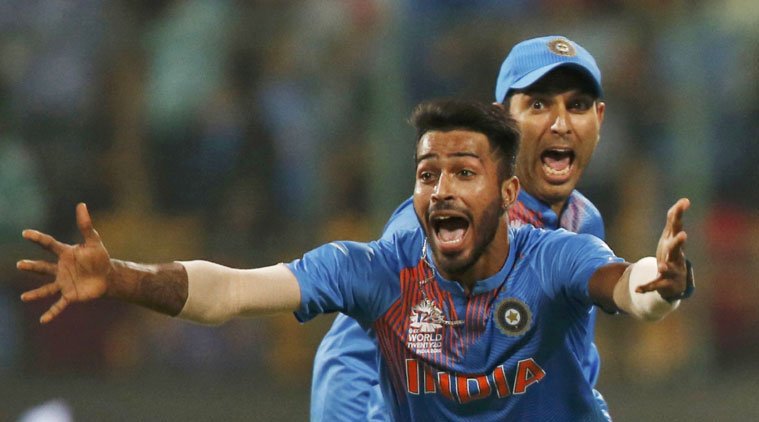 While established names like Yuvraj Singh, Ravindra Jadeja and Suresh Raina (taking his off-spin into account) can get away with dismal performances on many occasions, the likes of Pandyas could be swimming in troubled waters. Because when Indian selectors are spoilt for choice, your days in the team are mostly numbered.
Here's hoping the latest addition to the all-rounders club of Team India can stick around for many more matches to come and not just be remembered for that one last over!