One wrong tweet can invite a massive troll attack and the latest victim of this is Congress spokesperson and former Union minister Manish Tewari.
On Saturday, Tewari initiated a conversation with Mani Shankar Aiyar, former Indian diplomat-turned-Congress politician, on an important matter like former Afghan President Hamid Karzai's call for a bolder military posture in Afghanistan and India's role in it.
Little did Tewari know that he we conversing with a parody account.
This is how it started:
#Karzai's homily for bolder military posture in Afghanistan begs the Ques:What strategic Interests does India have in #graveyardofempires?

— Manish Tewari (@ManishTewari) August 20, 2016
To which the parody account replied:
@ManishTewari manish, we should not send troops anywhere.

— Mani Shankar Aiyar (@ManiAyeSir) August 20, 2016
Poor Tewari. He went on...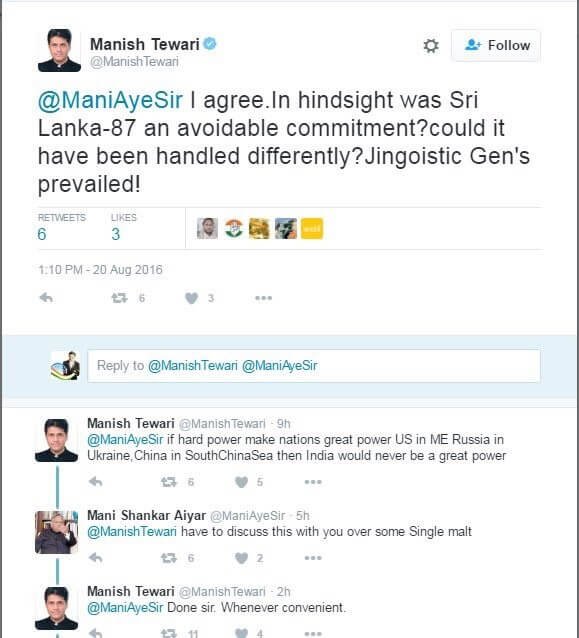 Clearly, Tewari didn't read the account's bio. It says - "Parody Account of a Tea Connoisseur and self-declared intellectual giant. Slightly pompous. Love Macaulay. Legend (in my own mind)".
This is the account:
Twitter wasn't letting it go:
.@ManiAyeSir @ManishTewari This was classic 😂😂😂 Especially the "discussion to be done over Single Malt" Master stroke that clinched it !!

— Rosy (@rose_k01) August 21, 2016
@IndiaToday @ManiAyeSir And Tiwari ji has been masquerading as an intellectuall all thia time

— Fast Bowler Dinda (@Nikhil_Wali) August 21, 2016
@NoExtremes Really... just imagine Congress ruled India for more thn 50 years with same stupidity. LOL! @IndiaToday

— Dilip Jain (@dilipjain1979) August 21, 2016
@TrollKejri Wouldn't b surprised if people like Manish Tiwari actually knocks at 7 RCR 4 a treat reading ur tweet @ManiAyeSir 😂😂

— Priya (@priya2life) August 22, 2016
@ManishTewari @ManiAyeSir Manish tewari movement pic.twitter.com/v8whkTGzV6

— अजिंक्य (AJINKYA) (@meetdspartan) August 20, 2016
And the trolling got so massive that the real Mani Shankar Aiyar had to clarify it to the media that he does not use Twitter.
"Somebody has opened a 'parody account' on Twitter in my name and attributed to me a remark I never made. As some of the respondents to the remark appear not to have understood that it was from a 'parody account', this is to clarify that I do not have a twitter account and have never had one," he said in a public statement.
And finally, Manish Tewari realised his mistake. But it seems he took it in the right spirit. Although he deleted the earlier tweets, he did acknowledge how he fell into the trap:
@ManiShankarIyer whosever you are real ,fake parody or spoof u still owe me a Single Malt🌶🌶😬😀Cheers & enjoy

— Manish Tewari (@ManishTewari) August 21, 2016
Peace!
(With inputs from PTI)