Leading Pakistani newspapers on Friday mocked India's claims of having carried out a surgical strike on Wednesday night along the Line of Control. 
Some claimed India did this to cover up human rights violations in Kashmir, while others claimed it was politics by the ruling BJP with an eye on the upcoming state elections. Newspapers carried strong rebuttals to India's claim, as well as assurances by defence personnel that Pakistan is prepared if a war began.  But most refrained from demanding war. 
The Express Tribune, a Pakistani newspaper brought out in collaboration with The New York Times, laughed off the Indian claim of a surgical strike.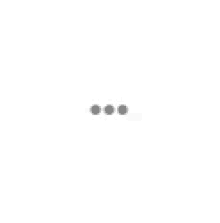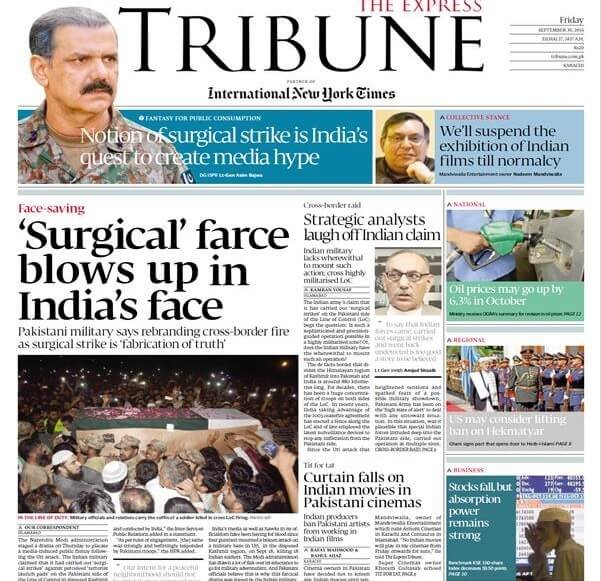 The report, with a sub-header claiming the operation as 'face-saving', called the strike a drama.
"The Narendra Modi administration staged a drama on Thursday to placate a media-induced public frenzy following the Uri attack."
It then listed out reasons why it's definitely a drama.
"India's media as well as hawks in its officialdom have been baying for blood since four gunmen mounted a brazen attack on a military base in Uri...The Modi administration has drawn a lot of flak over its reluctance to go for military adventurism. And Pakistani officials believe this is why this farcical drama was staged by the Indian military."
It also warned Indian PM Modi: "Dial back on the hyperbole Mr Modi before you talk India — and Pakistan — into something both are going to regret."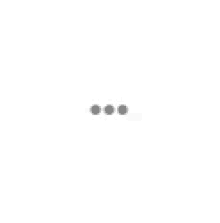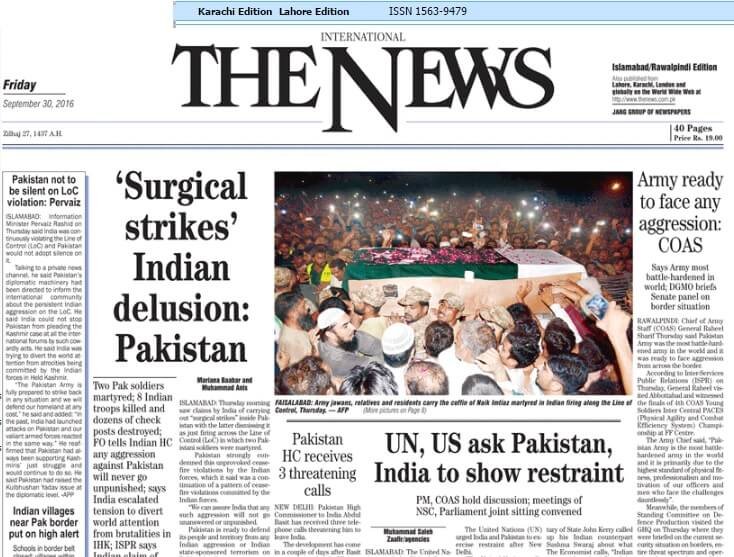 Another leading daily, The News International, repeated Pakistan's argument that this latest move is, again, aimed at hiding what India does in Kashmir.
"India is desperate to divert the international community's attention from the atrocities and blatant human rights violations being committed by the occupation forces in the Indian Occupied Kashmir on defenseless Kashmiri Muslims," the lead report said. 
Quite strangely, the report cited a recent report of Kashmiri students being beaten up at Haryana's Ganga Institute of Management and Technology to prove its point. The report claimed the students "are being persecuted by their counterparts and security guards on the campus at the behest of the Indian state"! 
Indian newspapers have reported the incident as a minor scuffle between students and not a hate crime. 
The News International's editorial suggested that Pakistan has its focus on economy rather than on teaching India a lesson.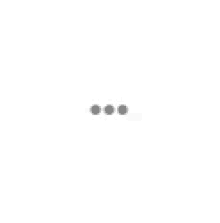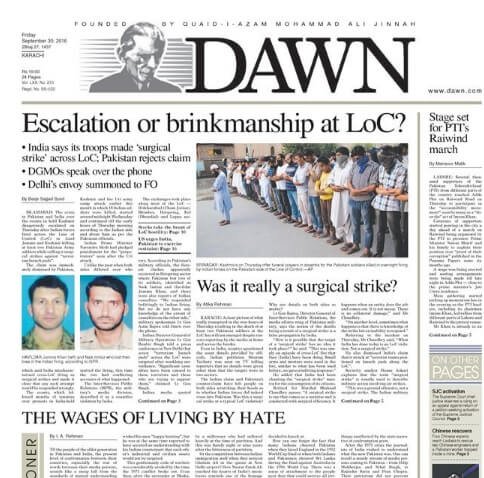 Leading daily, Dawn, that has the reputation of being one the most liberal media house in Pakistan, again questioned India's use of the term 'surgical strike'. It announced that the "crisis in Pakistan and India over the events in held Kashmir dangerously escalated on Thursday".
The report suggested a political conspiracy by the ruling BJP. 
"The surgical strikes or even their claim would be handy in the clutch of do-or-die elections for the BJP, the main ones being Punjab and Uttar Pradesh," it said.
Another front page report titled 'Was it really a surgical strike?' further questioned India's claim by saying that some Indian politicians, like [CPM leader] Sitaram Yechury, are talking about scant details provided by officials. The report quoted Pakistani military veterans saying what India did was an LoC violation and not a ceasefire and the term was used for "consumption" of Indian citizens.
It also carried a front-page op-ed which spoke of the times when, allegedly, "gentlemanly code of warfare" was followed, relative peace prevailed and the media was far less vitriolic.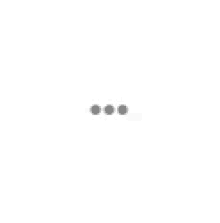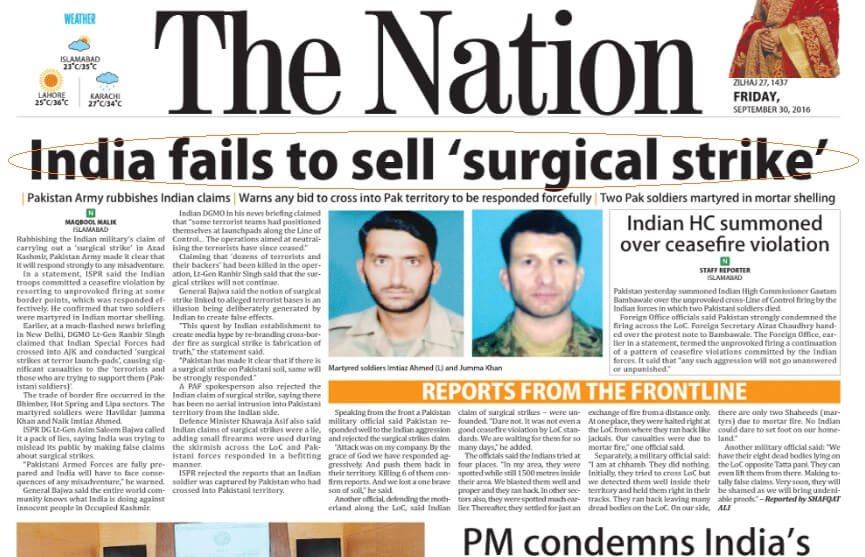 The Nation questioned India's claim declaring that 'India fails to sell surgical strike' in its lead report, while carrying the usual rebuttals by Pakistan officials. 
Its editorial titled 'Unprovoked, undeniable aggression' made it appear that it's routine for India to attack Pakistan.
"Once again an Indian government with no concern for consequences has escalated the ongoing conflict with Pakistan – this time without direct provocation, using deadly force and in direct violation of several international and bilateral treaties."
It further said India is baying for a war.
"Also clear is the fact that this attack was carried out for one purpose only, to quench a bloodthirsty constituency that had been baying for war."
The Nation's editorial said the exercise was a clumsy one. "By all reports its seems that this Indian LoC violation was clumsy, inefficient, and to cover their tracks and failure, it was termed a "surgical strike"."
It also declared that amid war talks, "India is the first aggressor, and that too by its own admittance".