Under the reign of Indira Gandhi, our first and only woman Prime Minister, the nation witnessed its darkest phase. The freedom to liberty, expression and dissent ceased to exist. Many a lives stagnated, as opponents were arrested, and compromised news disseminated. Which means that journalism, the fourth pillar of the democracy, came crashing down. And civil liberties that make our lives liveable were snatched away in the period between 1975 to 1977.
41-years ago, today, the much criticised internal emergency was imposed on our country by Mrs Gandhi that shook India to its core.
Here are some photographs to remind you of life during the darkest period that our democracy faced:
1. A powerful photograph taken during Indira Gandhi's regime, which shows her absolute authority.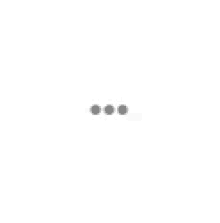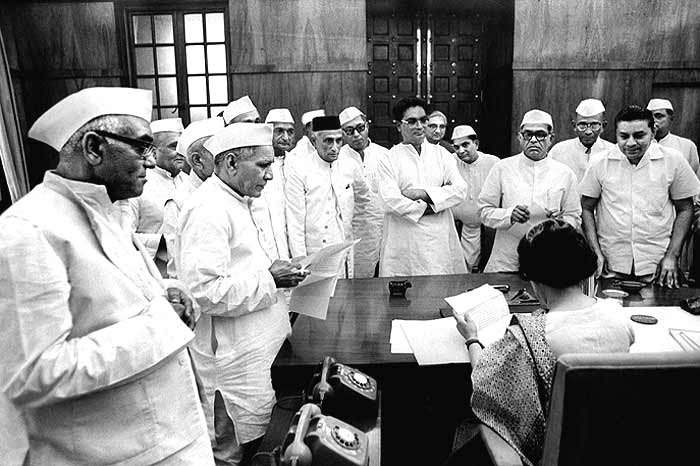 2. Indira Gandhi declared Emergency from AIR studios.
She, citing grave foreign and internal threats, convinced the then President, Fakhruddin Ali Ahmed, to agree.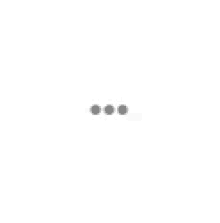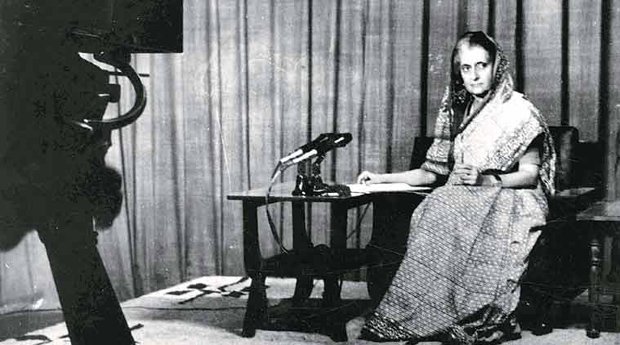 3. Prominent political leaders and activists, both from opposition and Congress (who protested against her governance), were arrested as soon as emergency was declared on 25th June 1975. 
See the date on the newspaper? It's exactly the next day.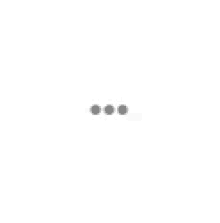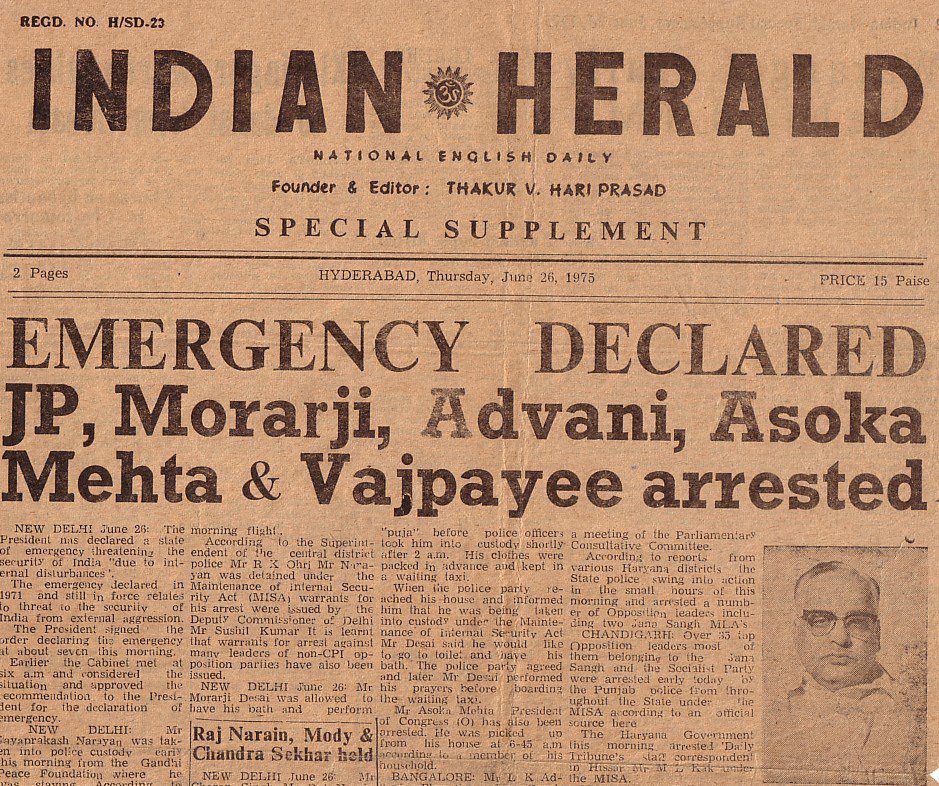 4. Jayaprakash Narayan, often referred to as Lok Nayak (The people's Hero) called for Gandhi & co. to resign for passing immoral laws. 
But was brutally beaten by the police for protesting on the Ramlila grounds.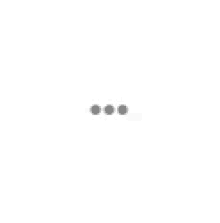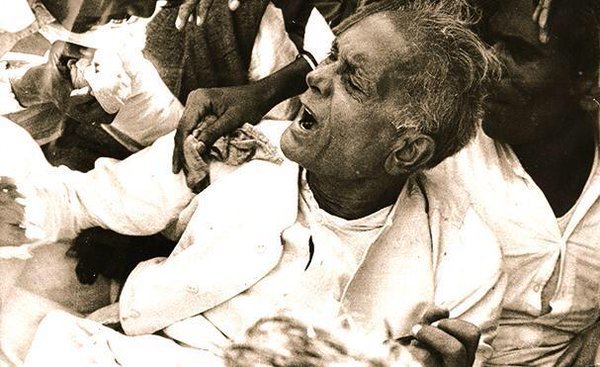 5. Narendra Modi, like other opposing politicians, had to disguise himself as a Sikh to avoid Police Arrest.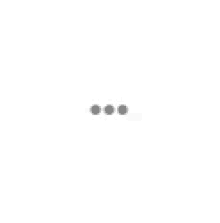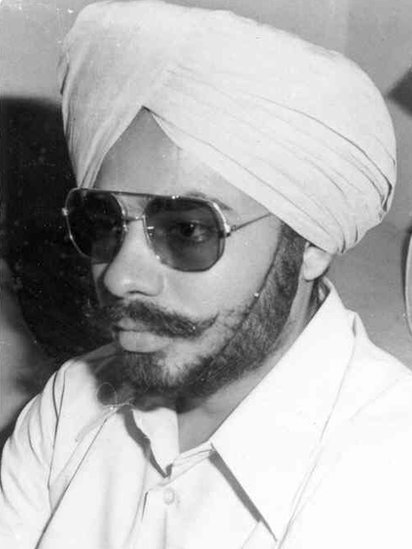 6. Subramanian Swamy also took the same route to avoid arrest by Congress.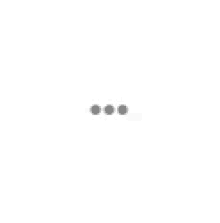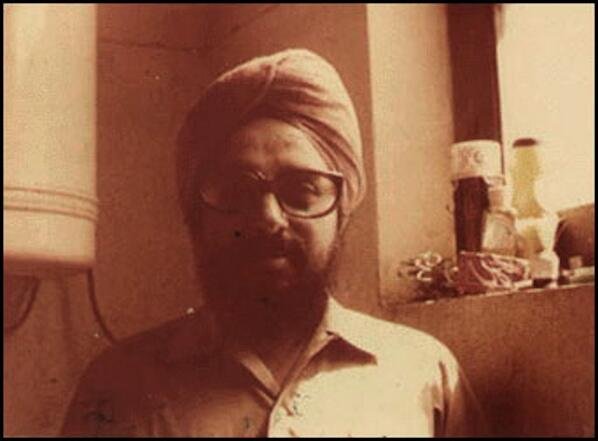 7. Bulldozers destroyed homes near Jama Masjid and police killed undisclosed number of resisting residents.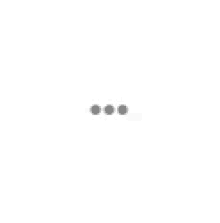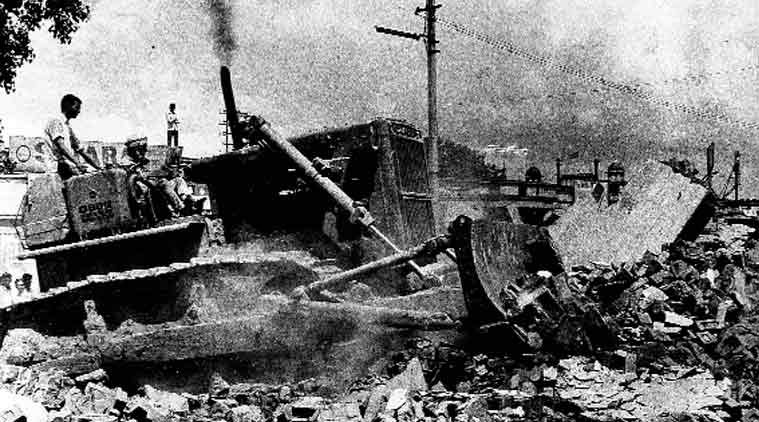 8. The fundamental rights as guaranteed under the constitution were suspended and that meant the Press was barred from producing "dangerous" news. 
All India Radio, a way more crucial source of information back then, also kept its silence.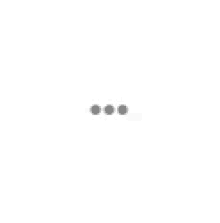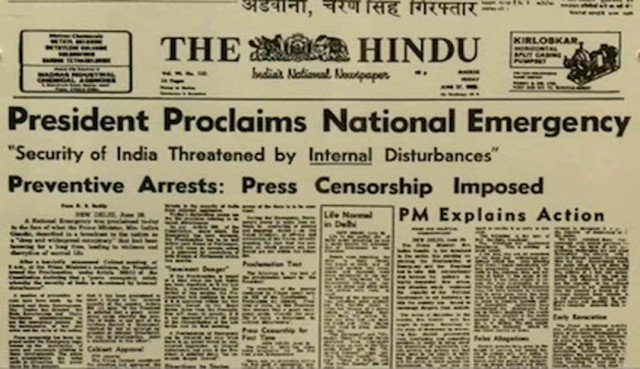 9. But some brave journalists of clear conscience stood by their ethics and duty under an English-language weekly, Himmat.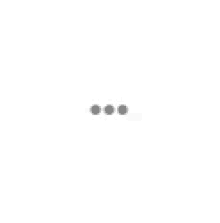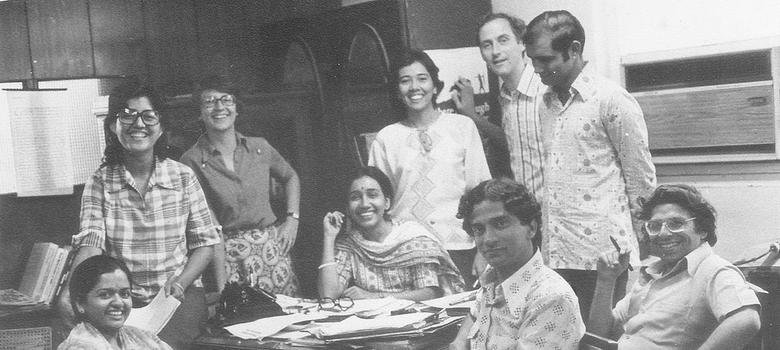 10. Street theater artists and intellectuals confronted the state given inequality and slammed the democracy-turned-dictatorship. 
Safdar Hashmi and his group, pioneering street theater in India, was one of the many who discredited the chaining of freedom of expression.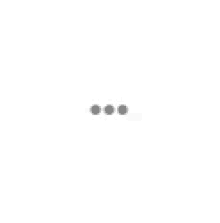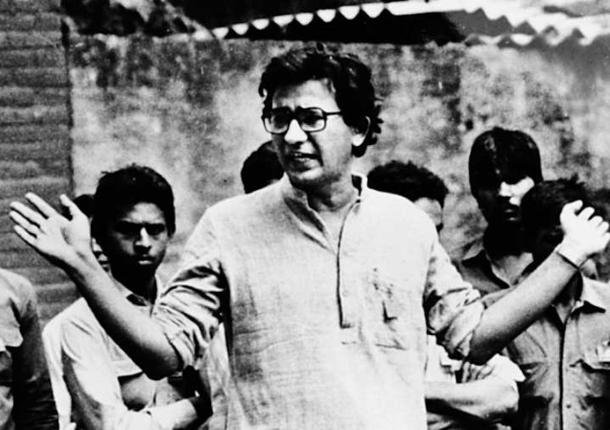 11. George Fernandes in shackles, where he stands with his fist raised defiantly, is one of the most exemplary photographs defining the 21-month-long deplorable emergency.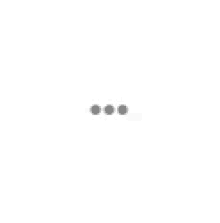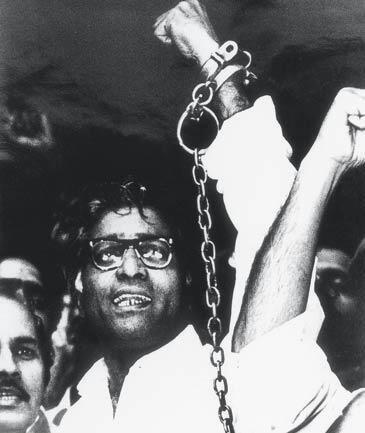 12. Sanjay Gandhi's adverse mass sterilization program was carried out as a measure of population control. 
People of India had no choice but to undergo a forced vasectomy. The decree further stated that common people would have to either pay for free medical care in government hospitals or literally show a nasbandhi-certificate as a proof.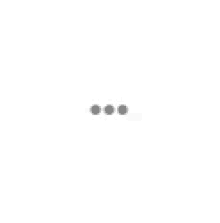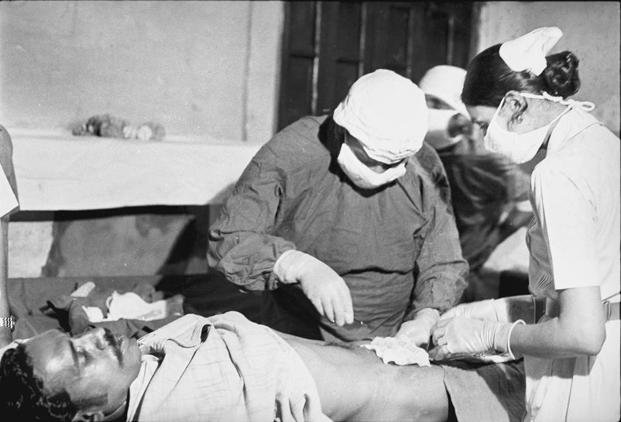 13. Aandhi, a powerful political film, where Suchitra Sen plays Mrs Gandhi's role, was banned by Indira Gandhi during that time. 
It was released in the post Congress era of 1977.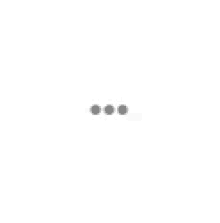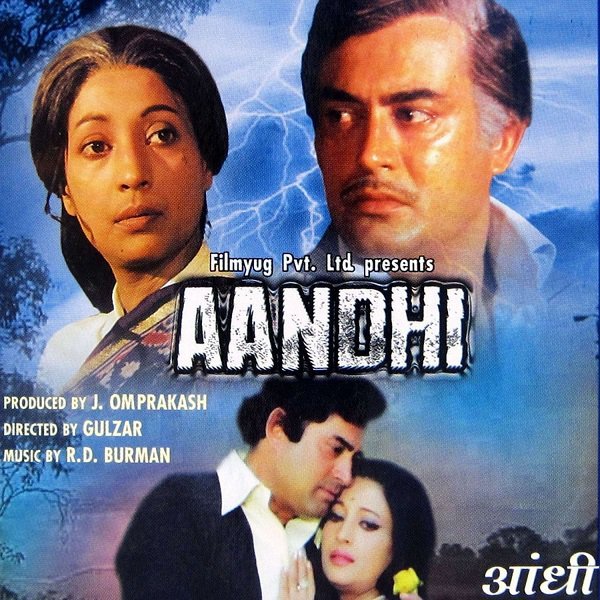 14. Kissa Kursi Ka, another political satire, underwent the same fate.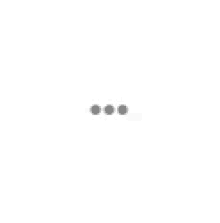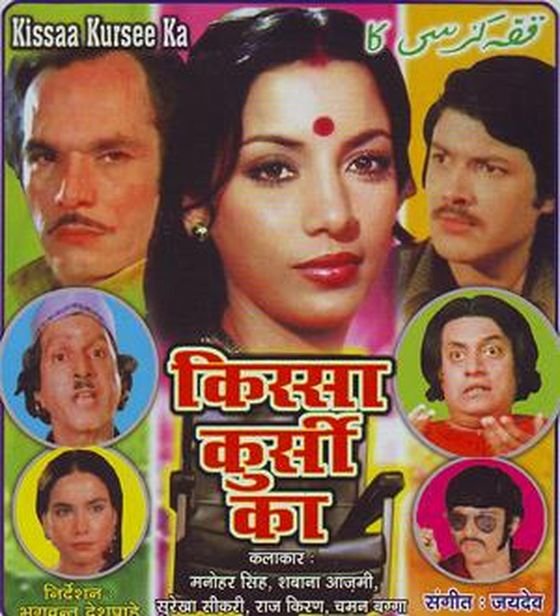 15. In 1977, the Emergency was finally revoked by Gandhi herself and she called for an election immediately thereafter.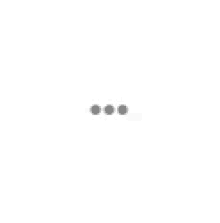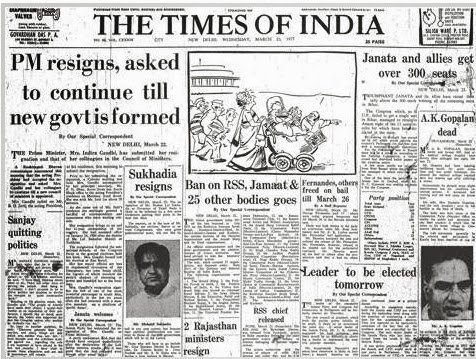 When Janata Party came to power, it constituted an inquiry on all the human right violations and censorship that took place during the emergency phase, under Justice J.C Shah - Shah Commission. 
Many Congress leaders slammed C. Subramaniam for taking a harsh stand against Indira while deposing before the Shah Commission.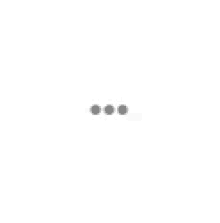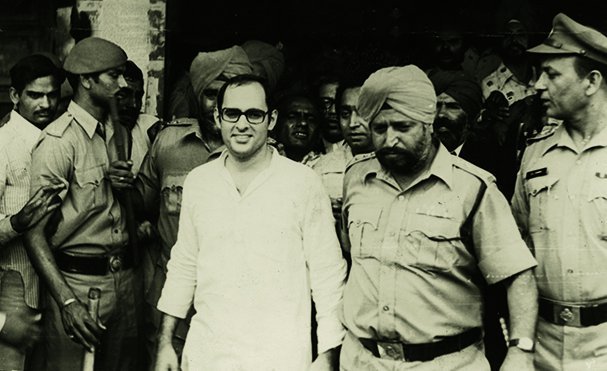 But in 1980, the new government fell and Indira Gandhi came to power once again. No trials took place.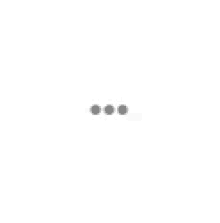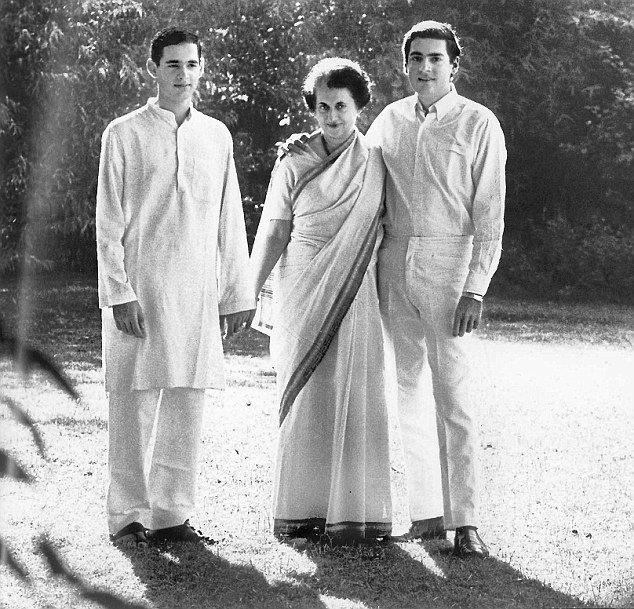 The consequences of emergency were severe with censorship, torture, arrests, and freedom mercilessly taken away. This phase of 21 months is a reminder of how we, the people, need to embrace the freedom our constitution gives us.