Bangladesh hammered New Zealand with a double century by Shakib Al Hasan in a record-breaking second day of the first Test in Wellington on Friday.
But they kept declaration plans after reaching 542-7 on day two, and New Zealand insisted they were still in the game.
Shakib scored a Bangladesh innings record of 217 and captain Mushfiqur Rahim added 159 in a 359-run stand, which set a record for any Bangladesh partnership.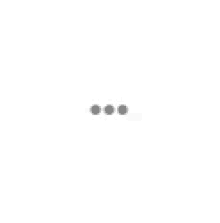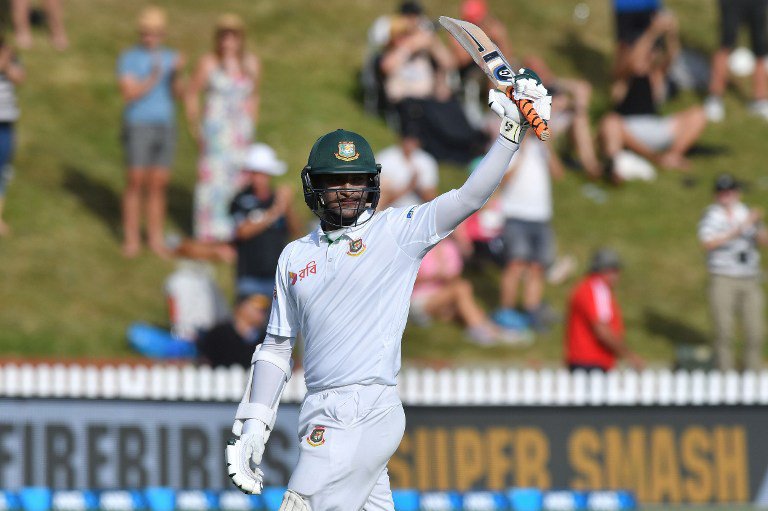 Mushfiqur described the tourists' position as "really satisfying".
"Let's see," was his message to New Zealand when questioned whether a declaration was likely overnight.
"That's one job done but there's still three days to go. Anything's possible," he said, adding Bangladesh were determined to erase their nightmare build-up to the Test when they lost all six one-day and Twenty20 matches.
Shakib called his seven hours at the crease "one of proudest days" of his career as he moved up to second on the list of prolific Bangladesh batsmen with 3,146 to his name behind Tamim Iqbal's 3,405.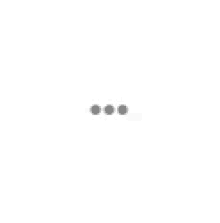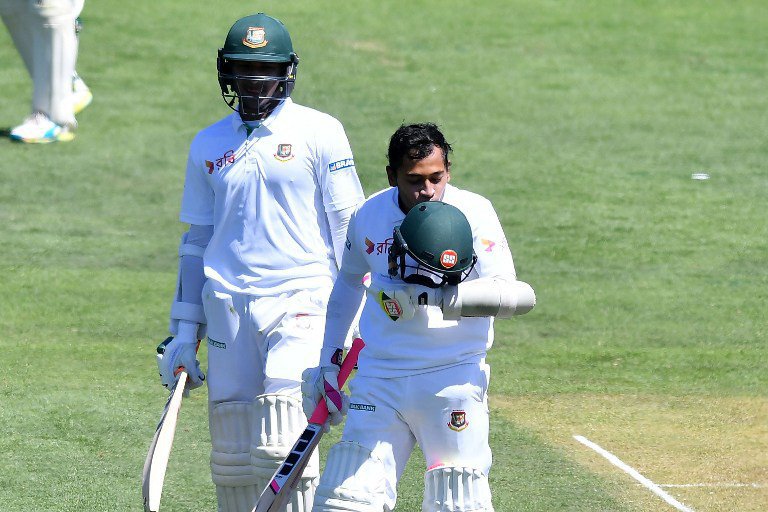 He said he did not realise he had broken Tamim's record for the highest Test innings by a Bangladesh player until he reached 207 and saw the opener stand and applaud in the stands.
"I thought his score was 214 but when I ran that single and saw Tamim was clapping I thought OK -- the highest."
But as Bangladesh bathed in the glory of dominating the first two days of the Test, and blasting 388 runs at nearly four an over on the second day, New Zealand fast bowler Tim Southee refused to accept a result for the home side was out of the question.
"They've come out and played extremely well after losing the toss and they've played in an aggressive manner," he said, indicating the Test could go down to the wire on the fifth day.
"We'll come back with a plan of hopefully knocking these (last three wickets) over and then trying to go as big as we can."
Shakib and Mushfiqur both fell in the final session after setting Bangladesh up for their 542, which is the third-highest first innings at the traditional bowl-first Basin Reserve in its 59-Test history.
With the wind and rain that disrupted day one out of the picture, New Zealand had early success in the fourth over when Mominul Haque fell for 64 and honours were even with Bangladesh at 160-4.
But for the next 82 overs Shakib and Mushfiqur were in command as they batted at nearly 4.4 an over and with an element of luck.
Shakib was dropped on four by Mitchell Santner late on the first day and dropped by Ross Taylor on 189.
He survived a tight appeal on 137 when wicketkeeper BJ Watling took what appeared to be a sensational diving catch down the leg side only for replays to show he briefly grounded the ball on hitting the turf.
It was Wagner who eventually claimed the wicket when a tired Shakib chopped an attempted cut onto his stumps.
Mushfiqur had a heart-stopping moment on 78 when an inside edge off Trent Boult brushed the stumps but the bails stayed on and the ball went through to the boundary.
Boult eventually claimed his wicket with a wide delivery that Mushfiqur attempted to drive but succeeded only in edging to Watling.
Wagner was the most successful New Zealand bowler with three for 124 while Boult had two for 121 and Southee two for 144.