'Basti' is done with Die Mannschaft!
Germany captain Bastian Schweinsteiger on Friday announced his retirement from international duty.
The 31-year-old Manchester United midfielder, who won his 120th and final cap in Germany's 2-0 defeat to France in the semi-finals of Euro 2016, revealed the news on his official Twitter account.
Vielen Dank an alle für die tolle Zeit! #DieMannschaft pic.twitter.com/kNrLa7eDvE

— Basti Schweinsteiger (@BSchweinsteiger) July 29, 2016
Schweinsteiger walks away from die Mannschaft two years after his crowning moment in helping win the 2014 World Cup.
Bloodied, but unbowed, Schweinsteiger was magnificent at Rio de Janeiro's iconic Maracana stadium in the final, ensuring Germany controlled the midfield before Mario Goetze's extra-time winning goal.
After 12 years and24 goals in 120 international appearances, 'Schweini' leaves having been a key factor in Germany reaching at least the semi-final stage of the last six major tournaments.
The last two injury-hit years have been unkind to the 31-year-old, who opted to quit Bayern Munich, the club he joined as a teenager in 1998, for a high-profile switch to Manchester United in 2015.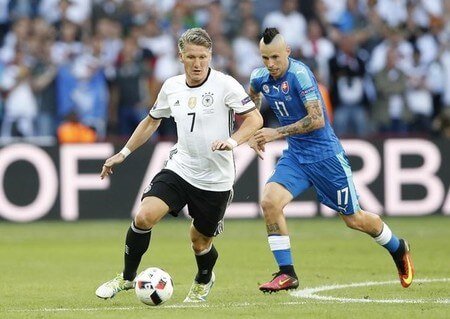 A knee injury in January was aggravated while on Germany duty in March, restricting him to a handful of games, before coming off the bench in their opening Euro 2016 group game to score with his third touch of the ball in a 2-0 win over Ukraine.
The March injury to the medial ligament in his right knee meant he played in only five of Germany's six Euro 2016 games -- sitting out the goalless draw against Poland -- and started only the semi-final defeat to France.
On his return to Old Trafford, after marrying tennis star Ana Ivanovic, new United boss Jose Mourinho has reportedly told the Germany star he is free to find a new club with two years left on his contract.
Here are the highlights of his glittering career:
As a 19-year-old, he made his senior international debut in 2004.

Plucked from the Under-21 team, he played at Euro 2004 where Germany crashed out in the group phases -- the only time Schweinsteiger went home before the knock-out stage of either a World Cup or European Championships.

Schweinsteiger scored the first of his 24 goals in a friendly win over Russia in 2005.

By the age of 22, he had already made more than 40 appearances for Germany.

He cemented his defensive midfield place as the hosts finished third at the 2006 World Cup.

His red card in the group stages of Euro 2008 saw him serve his suspension watching the next game alongside German Chancellor Angela Merkel, who ticked him off for being sent off for reacting to a challenge in the shock 2-1 defeat to Croatia. Germany reached the Euro 2008 final with Schweinsteiger scoring a superb goal in their 3-2 quarter-final win over Portugal.
Bastian Schweinsteiger has played his last game for 🇩🇪

Games: 120⚽: 24World Cup 🏆: 2014EURO 🥈: 2008Danke, Basti! pic.twitter.com/Fn0dSz0jbY

— UEFA EURO (@UEFAEURO) July 29, 2016
By the 2010 World Cup, Schweinsteiger was in charge of Germany's midfield general when Michael Ballack was ruled out by injury.

With Philipp Lahm captaining at right-back, Schweinsteiger led in the middle.

But question marks rose over his leadership skills when Germany exited the semi-finals of Euro 2012 after a 2-1 defeat to Italy.

The Champions League title followed in 2013 as his Bayern team became the first German club to win the treble of European, Bundesliga and German Cup titles under Jupp Heynckes.
Victory in the Wembley final meant Schweinsteiger won every club title on offer as Bayern went onto win the Club World Cup and UEFA Super Cup trophies in the second half of 2013 in Pep Guardiola's first year in charge.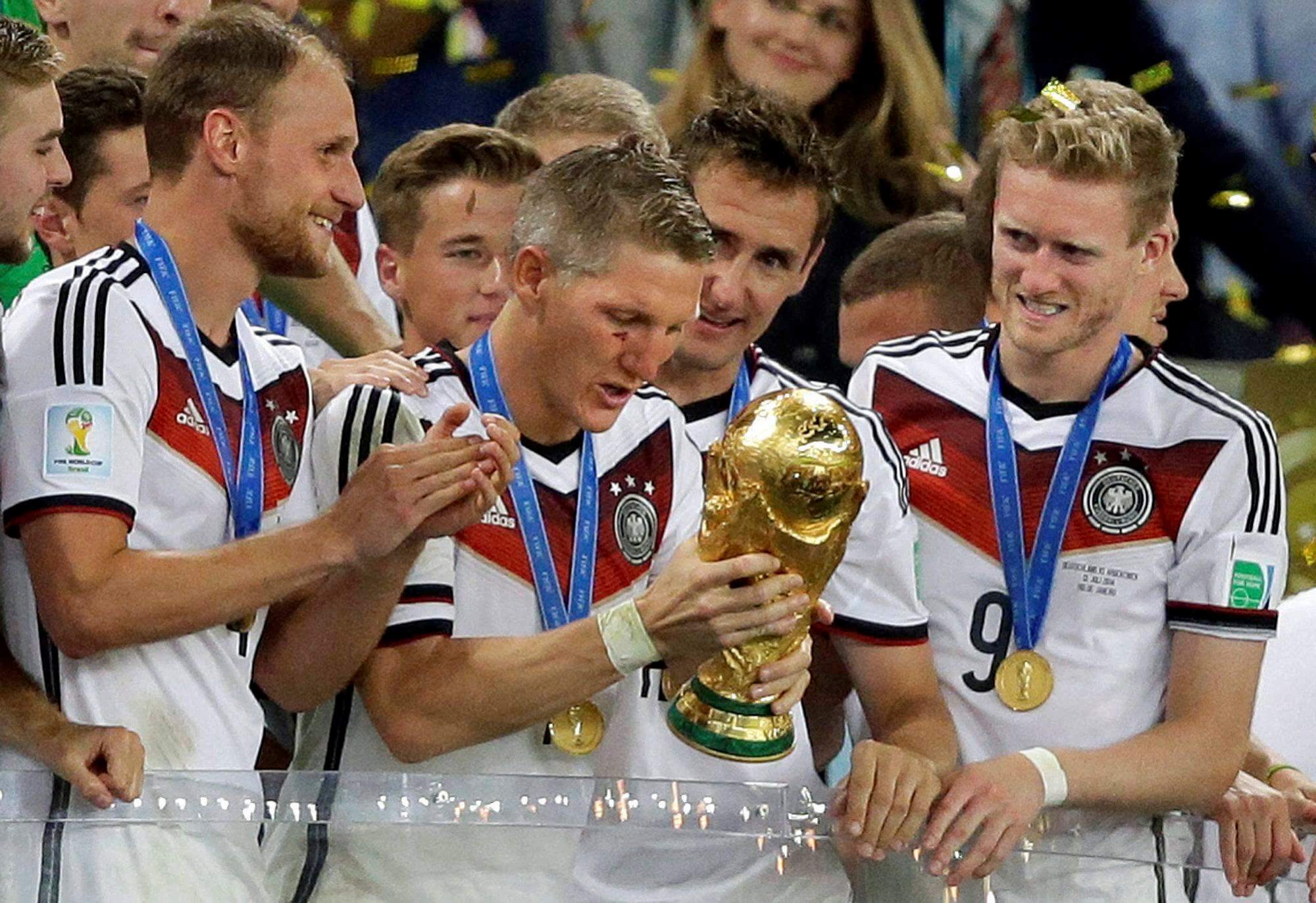 Schweinsteiger silenced his critics with a commanding display in Brazil - the 2014 World Cup was his finest hour for Germany. I

t was the final where Schweinsteiger came into his own, standing up to repeated poundings, to keep Argentina at bay.
For that performance in the final alone, Basti will go down as one of the greatest German footballers of all time!
Thank you for all the memories in the White & Black, Basti!