Murali Vijay backed his red-hot skipper Virat Kohli to pile on the agony for Bangladesh after centuries from both players gave their visitors a harsh introduction to Test cricket in India on Thursday.
India were 356 for three at stumps on the first day of the one-off Test in Hyderabad's Uppal Stadium, with Kohli unbeaten on 111 and Ajinkya Rahane also still at the crease on 45.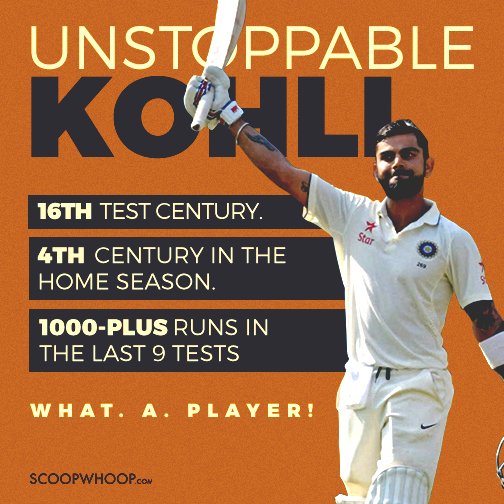 Kohli has scored three double centuries since July and looks well placed to compile yet another mammoth score and compound the misery of the hapless Bangladeshi bowling attack when play resumes on Friday.
Bangladesh conceded 71 runs in the final 10 overs of the day as a rampant Kohli raced to his 16th Test century, capitalising on the solid foundations laid earlier in the day by Vijay and Cheteshwar Pujara.
And he left the world in awe of how easy made it look.
Virat Kohli's Daily Schedule:

Wake UpBrush TeethEatHit CenturySleepRepeat.#IndvsBan #IndvBan Truly A #Legend #ViratKohli #Kohli pic.twitter.com/rokYRYDhJp— Sir Ravindra Jadeja (@SirJadejaaaa) February 9, 2017
Kohli made it look ridiculously easy...I'm reminded of his innings vs NZ in Indore. You know what's coming tomorrow!!! #IndvBan

— Aakash Chopra (@cricketaakash) February 9, 2017
I see that bloke from another planet is at it again ..... #Freak @imVkohli .....

— Michael Vaughan (@MichaelVaughan) February 9, 2017
Must be a normal day then. @imVkohli cruises to a century.

— Harsha Bhogle (@bhogleharsha) February 9, 2017
Unlike Kohli to be churning again.. getting boring 🙄 #TooGood

— Ben Duckett (@BenDuckett1) February 9, 2017
King Kohli.

What do you say ? His consistency is difficult to match even in book cricket.#IndvBan— Mohammad Kaif (@MohammadKaif) February 9, 2017
Format Changes

Team ChangesVenue ChangesDay ChangesWeek ChangesMonth ChangesYear ChangesVirat Kohli Century is Constant— Broken Cricket (@BrokenCricket) February 9, 2017
A sign of a great batsman is when you get a shock & realise he's already made 30 or 40 with no fuss. Today Kohli did that with 100! #IndvBan

— Paul Dennett (@the_summer_game) February 9, 2017
Virat Kohli just drove a ball that was almost yorker length through extra cover for four. Freak

— Peter Miller (@TheCricketGeek) February 9, 2017
And the best one of all, has to be this.
Dear @imVkohli don't make it look so easy!Children will get a wrong impression about the game ,theyl just turn up and think theyl get a ton!

— vikram sathaye (@vikramsathaye) February 9, 2017
What. A. Player!
With AFP inputs