Flurry, an analytics platform for apps from the Yahoo Developer Network has released its annual State of the Mobile report for 2016 and has shared some interesting insights about mobile app activity and trends from the last year.
These are the key highlights from the report:
There's no stopping the mobile apps industry
Compared to the last year, the overall mobile app usage has grown by 11 percent. People are now spending more time in apps, with average time spent in all apps increasing by 69% in the last year.

However, the Flurry report says these apps cannot sustain astonishing growth forever. Thousands of mobile apps appear every day and with the pace at which they are growing, in the next couple of years, these apps will cannibalize one another.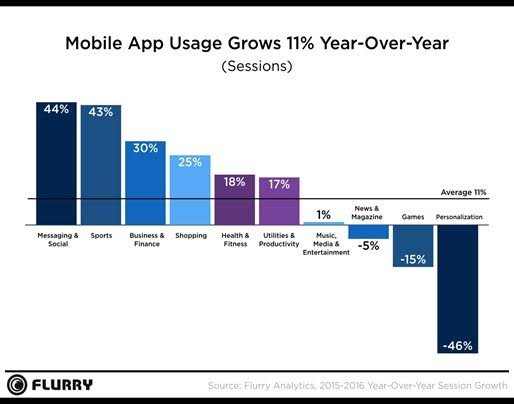 Social and daily habit apps dominated the time we spent on mobile
With social apps reigning supreme, the time spent by users in social and messaging apps grew by an astounding 394% over the last year

Business and finance went up by 43 percent, while sports went up by 25 percent.

Gaming apps surprisingly saw decline of four percent, while mobile shopping apps have seen a growth of 31 percent in time spent on them. Even this year's first "hit", Pokémon Go, faded relatively fast, as consumers lost interest in the game.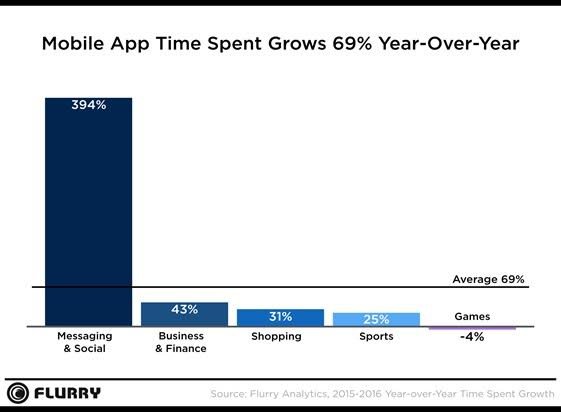 Phablets continue to dominate
Phablets are becoming the device of choice around the world, capturing 41 percent of market share as users continue to find value in the larger screen size.

As less mature smartphone markets adopt larger phones, the phablet share will continue to increase and eventually eliminate small phones completely in the coming years.