When Charmaine Edwards, a journalist with a reputed national daily, shared a strongly-worded Facebook status update against the demonetisation in India, she knew she would be subjected to cyber-trolling. "But what I didn't expect was that  Assistant Commissioner of Police, Cyber Crime, will start trolling me," says the Delhi-based journalist. 
On Tuesday afternoon, Edwards shared a status update where she drew an analogy between being forced to stand in line for currency exchange with rape. 
This is her Facebook post:
Eventually, she realised a police officer on her timeline was flooding the post with "abusive" comments.
The cop was addressing Edwards friends who were commenting on the post,  as "retards" and "morons". Edwards took objection to his language, asking him why was he resorting to such behaviour, especially on a woman's timeline. To which, the cop replied: "Did not realise you were a lady..."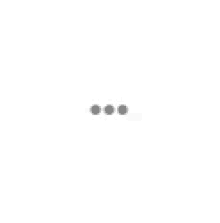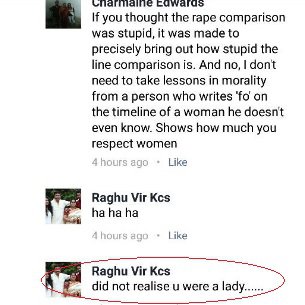 That's when Edwards lost it. 
"I can understand people not agreeing with me, but a certain Raghuvir KCS, who I later found out is the ACP, Cyber Crime, Hyderabad, started commenting on my update. He is not even on my friends list. I chose to ignore him, but he started abusing my friends," says Edwards. 
Next, the journalist called him out in another Facebook post.
Edwards told ScoopWhoop News that this incident is incredibly shocking for her because "Raghuvir is supposed to be a "protector" of cyber laws". 
"He of all people should have exercised caution while indulging in bullying," says Edwards. 
When ScoopWhoop News contacted Raghuvir KVS, ACP, Cyber Crime, Hyderabad, he distanced himself from the "abusive" post altogether. He claimed he stopped at criticising the rape analogy but someone from his house went on to write the following posts.
"The only thing I said was the rape analogy was stupid. My Facebook account is accessible to everyone in my house, I don't know what exactly happened," he said.