Yuvraj Singh is a fighter. The man has been down and out for many times in his career -- and more importantly, in his life -- but has always managed to comeback into the big time. He has given India two World Cup wins. Actually, three if you count the Under-19 World Cup in 2000. He was player of the series in two of those three World Cup wins.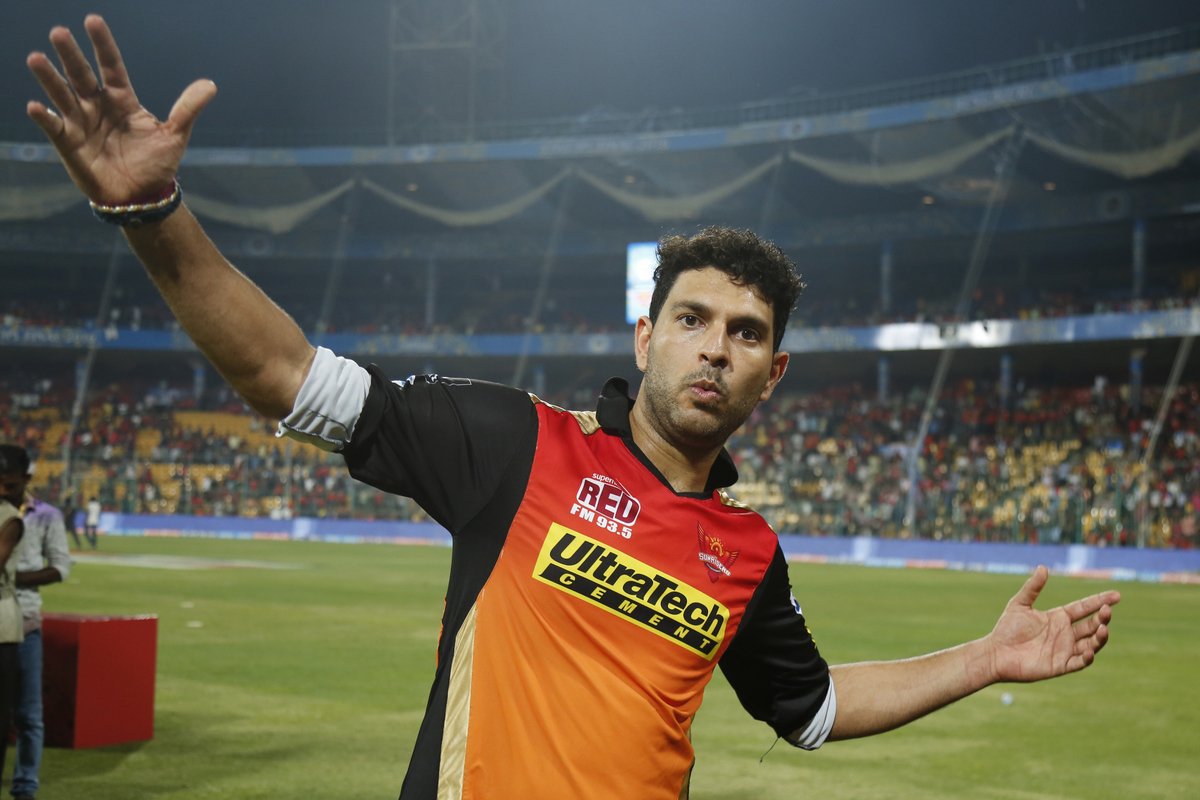 I mean, just look at this:
Yuvraj Singh now won:

World Cup..World T20..Champions Trophy..U19 World Cup..IPL..

— Broken Cricket (@BrokenCricket) May 29, 2016
It's the complete set. That is the complete set of multi-team team tournaments that are there to be won for an Indian cricketer. A truly tremendous achievement, for someone who has gone through a lot in his personal life.
Not long ago, he made yet another comeback into the Indian side, played yet another World Cup, doing reasonably well, with a few match-winning cameos, notably twice against Pakistan.
And now he has an IPL title to show for the comeback too. The second innings has gone well for the star all-rounder.
In an interview to the IPL website he said:
It is an amazing feeling to win an IPL Trophy. I have won the World Cups but never won an IPL trophy. I have been playing this tournament for eight years now but never won it. Tonight that moment has finally come. I had never tasted the sweetness of an IPL trophy and this is something really amazing. At the moment this trophy will go right on top in my trophy cabinet. This one will go along with my World Cup victories.
On the set-up at SRH:
It is an exciting bunch of youngsters and we gelled together really well. We spent a lot of time together off the field which came in handy when the times were tough for the team. When we didn't quite qualify in the top two, we knew that if we played to our potential, we would make it to the final and win it. We got it the hard way.
On David Warner:
David Warner had an outstanding tournament as a batsman and as a captain. He took us all the way. Everybody had some part to play and have time and again put meaningful contributions for the side
After successive years of being the most expensive player in the league and not even playing in the playoffs, Yuvraj finally tasted IPL success. After his call up to the Indian squad in December, Yuvraj told this in an interview:
"A player doing well should be considered, no matter what his age is. If you see the Australian squad, there are people making their debut after 30. I am not saying we have to follow the Australian model, but if a player is in good form, age should not matter."
Keeping aside debates of whether Yuvraj still merits a place in the Indian side or not, it is just wonderful to see him at the big stage and enjoying his cricket, and even winning the title. He broke into a jig after the trophy presentation, and without being cynical about the razzmatazz associated with the tournament, every Indian cricket fan must surely be glad for the star all-rounder.
And if he keeps doing well, maybe a few more Indian caps might still be on their way.