How many times have you tried teaching your pet some basic manners and failed miserably? Successful or not, you've got to meet this adorable pup who is breaking the internet for making a sincere effort towards cleanliness.
Acelin Hampton, who goes by the name of Billie Band$ on Twitter posted a picture of a rolled out toilet paper which was apparently done by his dog while he was away. According to Hampton, his three month puppy, Pablo, peed on the bathroom floor and tried to clean it with that paper. As reported by Buzzfeed -
Pablo needed to pee and couldn't hold it in any longer. He peed on the bathroom floor, and when Hampton came home, he found wads of toilet paper pulled from the roll onto the wet spot and realised Pablo 'tried to clean it up' himself.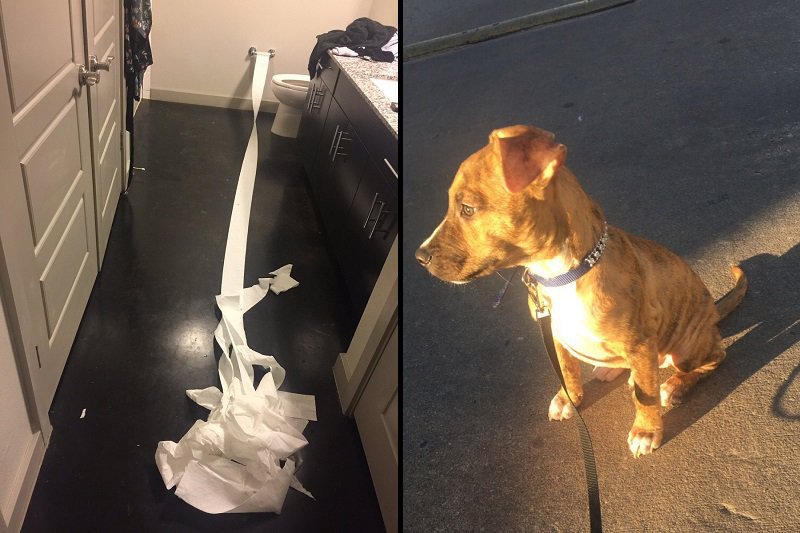 Hampton was trying teach bathroom manners to the pup for the past three months and it looks like he is catching up. The world needed to know about this disciplined puppy, and that's what Hampton did. He shared the news on Twitter, saying -
my dog Pablo pissed on the floor and tried to clean it up . 💀💀 really can't even whoop his ass for this one pic.twitter.com/jvCzj5iOB3

— BILLIE BAND$💸 (@Billie3Bands) November 25, 2016
To which Pablo, who has his own active Twitter account, replied -
Your welcome hoe ass nigga I tried . https://t.co/J6WK8tQM5K

— Pablo Band$ (@Pablo3Bands) November 27, 2016
Seeing this adorable gesture from the pup, Twitter went crazy -
@Billie3Bands Dog walker here. That's the best thing I've seen all day!

— Melanie Daniels (@melanieldaniels) November 30, 2016
@Billie3Bands @littlewiesike he tried so hard!!

— anna (@awiesike) November 30, 2016
@Billie3Bands lmao you gotta just sit down and talk to him at this point. He tried 😩😂

— Ⓙ (@thacapitalj) November 25, 2016
@Billie3Bands Pablo is all of us trying to fix 2016. Keep trying pup pup 💜😂💜💜

— Tess Kaytmaz (@tessmeonit) December 1, 2016
Let's hear it for 'good boy' Pablo!