Disclaimer: This article contains images that might be disturbing for some people. Reader's discretion is advised.
While we were joyously flying kites on Makar Sankranti, this picture of a dead parrot was posted on the internet.
We hang our head in shame. This hard hitting image has been shared by Bhavik Thaker, titled "kaypo che?". Thanks for aptly showcasing the plight of these beautiful creatures. Unfortunately, hundreds of birds loose their life during kite festival. stop using chinese/manja threads. pic.twitter.com/TcJlTVJXAw

— Bidita Bag (@biditabag) January 15, 2019
In the tweet, you can see a parrot hanging by the manja thread used to fly kites. While flying kites paint the sky a wonderful colour, the festival also has a sad dark side to it. 
A lot of birds end up losing their lives due to the usage of manja/Chinese threads and it's sad to know that our joy is the reason behind this.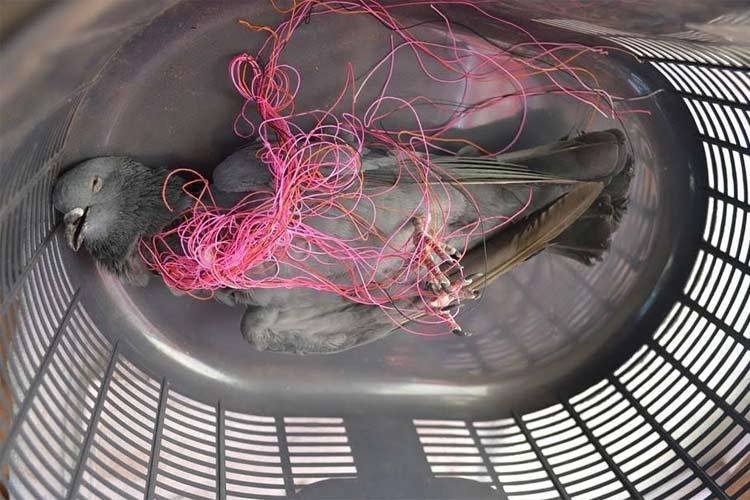 This is not a new problem and just like everything else we do, this also brings harm to the animals and birds around us. It's time we started celebrating festivals responsibly.
The tweet also grabbed people's attention.
Humans have gone to their lowest form, Earth is not jusr for humans, when we gona stop being so greedy so cruel. 🥺😡😡

— Nadeem akhtar (@Zone11N) January 16, 2019
it's so heart-rending–the cutting-edge razor-sharp maanja needs to be reviewed on priority and a practical replacement solution needs to be worked out

— Chaitanya Padukone (@ChaitanyaP27) January 16, 2019
Although Chinese manjas have been banned, their rampant use continues to harm birds flying in its path.