India's all-rounder Ravindra Jadeja on Thursday had a successful return on Day 1 of the First Test against Australia in Nagpur after recovering from his knee injury. Jadeja's innings were the highlight of the day as he sent five Australian batters back to the pavilion including Marnus Labuschagne and Steve Smith. There has been discussions over much-debated pitch in Nagpur over how India prepared a turning track for visiting batters during the recently held match and won the opening day.
Amidst this, an old video of Ravindra Jadeja talking about a pitch after the 2016 Test match against New Zealand held in Kanpur has resurfaced on Twitter. The moment is hilarious AF.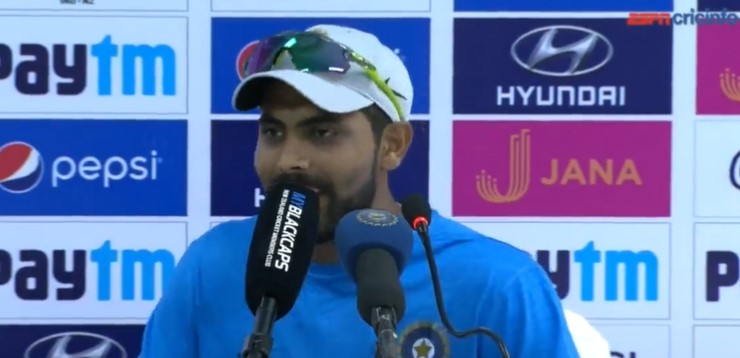 The video posted by a Twitter user, @RSingh6969a, shows Jadeja discussing what happens when visiting batters witness turning tracks in India and then escaping a foot-in-the-mouth situation during a press conference. When asked about breaking a strong partnership between New Zealand's Kane Williamson and Tom Latham in the 2016 Test, he said, "Kahin na kahin to aisa lag raha tha ki turning track pe partnership break hone ke baad, naya batsman koi bhi jayega toh uske liye footmarks dekh ke udhar hi unki…". Jadeja paused, chuckled, and then continued saying, "…matlab…woh…udhar hi woh thoda ghabra jayega ki itne footmarks samne hai. Wo ekdum hi confidently defend nahi kar payenge."
The reporters were left in splits.
Watch how Ravindra Jadeja had almost used a cuss word here:
Let's see how netizens are reacting to it:
While a Twitter user gave a hint, a few of them completed the sentence.
Everybody knows what might have been slipped from Jadeja's mouth back then. However, his way of managing the situation on the spot is literally all of us in our uncensored vs corporate lives. Isn't it?