Kerala skipper Sanju Viswanath Samson, who leads Rajasthan Royals in the Indian Premier League, has been grabbing headlines on the internet amid the T20 International tournament. Reason? His high demand to be included in Team India for the ongoing series.
A clip of Sanju Samson acing his 'no-look sixes' game caught our attention on Twitter this morning. It has made everyone wonder why he hasn't been given a chance to showcase his skills in T20I.
…and the 2022 World Cup for which India couldn't bring home the trophy.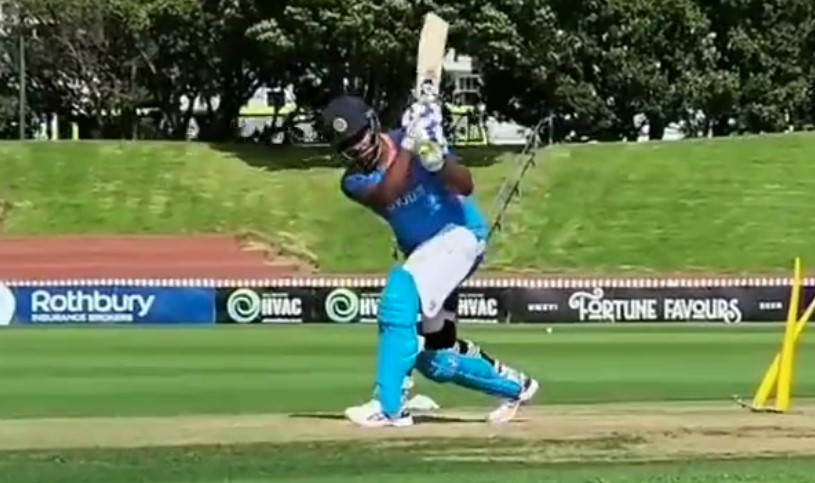 The video posted by a Twitter user, @Anubhavshahi48, shows Samson smashing several no-look sixes shots with great confidence in the open nets.
"Sanju Samson 'No Look' sixes in the open nets," the Twitter user wrote.
Watch the clip here:
Here's how Twitterati are reacting to Samson's shots:
The official Twitter handle of BCCI had also posted a video of Samson hitting no-look sixes while practicing in the nets ahead of India vs New Zealand T20I match.
Watch the clip here:
Veteran wicketkeeper-batter Dinesh Karthik wishes to witness Sanju Samson in the 3rd T20I, reported India Today. Here's what Karthik was quoted by Cricbuzz as saying:
Former coach Ravi Shastri also stressed on Samson to be included in the Team India's squad for the ongoing tournament saying, "Give him a chance. Give him 10 matches…"
Hardik Pandya's led Team India locked horns with New Zealand's in the third and final T20I at McLean Park, Napier on Tuesday. The match ended with a tie and India won the series 1-0.
Coming back to Sanju Samson, not including him in the World Cup team was definitely an opportunity missed. Wake up, Team India.