It's Asthami and instead of losing myself at the festivities, like any Bengali, I'm here writing this. Why you ask? Because if there's anything that supersedes a Bong's love for Durga Pujo, it is the ungodly love for food. And because the homecoming of Ma Dugga brings with it a plethora of delicacies to lose your mind over, it is quite fitting – if not totally necessary – for me to show the rest of the world exactly how Bengalis party. 'Cause there ain't no party like a food party. 
P.S. While the rest of the country piously fasts for Navratri, this is how we welcome the Goddess in our midst.
1. Chingri Macher Malaikari 
Translation: Prawns Cooked In Creamy Coconut Milk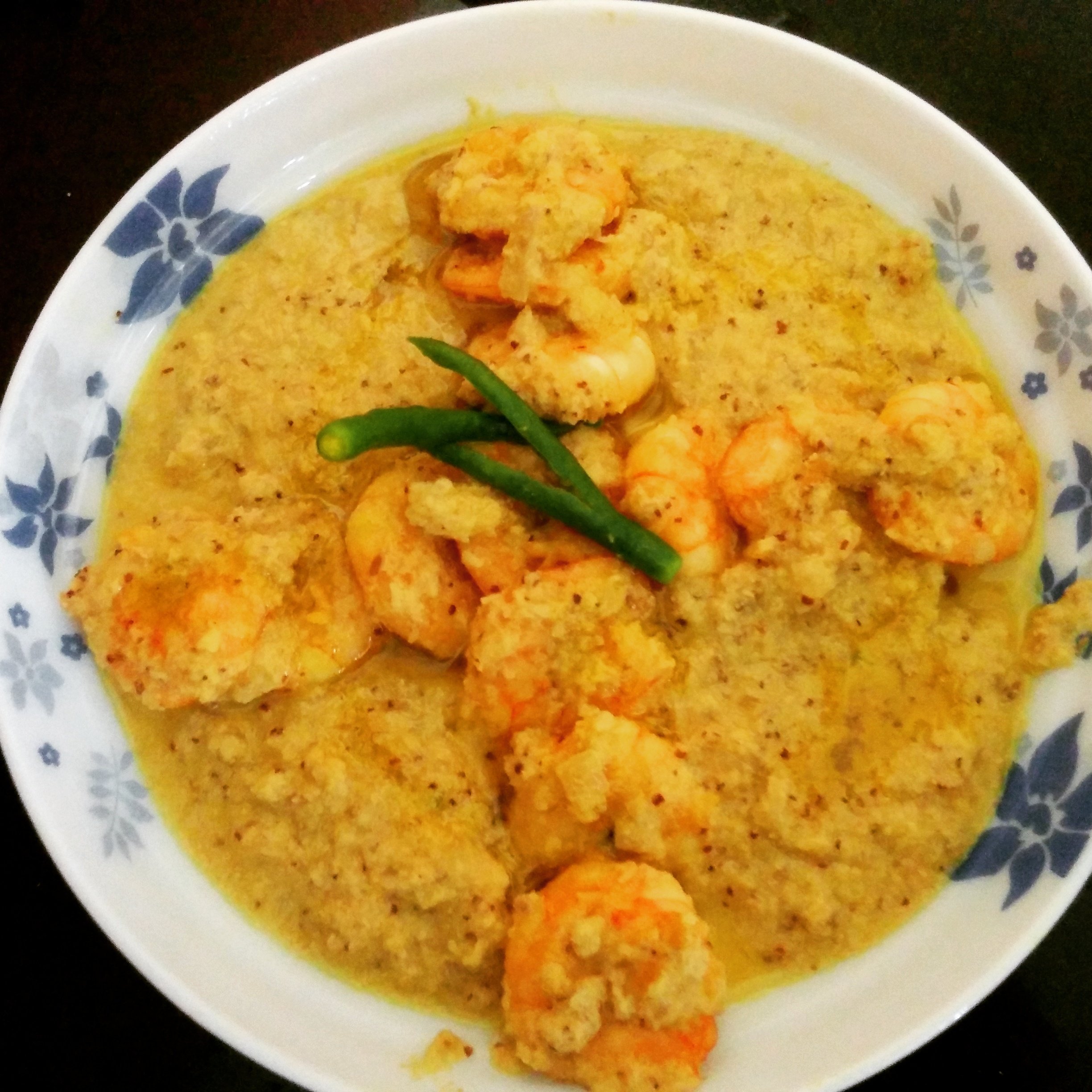 Considering how with the onset of Pujos, all Bengali kitchens are cooking up a storm, if you happen to come across this creamy plate of ambrosia-like goodness at a friend's place, thank the heavens and dive in. Take a Luchi (deep fried puffy ball of flour, a.k.a poori) or a plate of steaming Bhaat with ghee (rice with a dollop of ghee), bite into the umami goodness of this curry and enjoy your new perspective on life.
Pro Tip: Ditch the fork and spoon and get into it with your hands. Thank me later!
2. Radhaballabi & Cholar Daal 
Translation: Pooris stuffed with gram and delicate spices & served with thick and sweet chaney ki daal, with coconut bits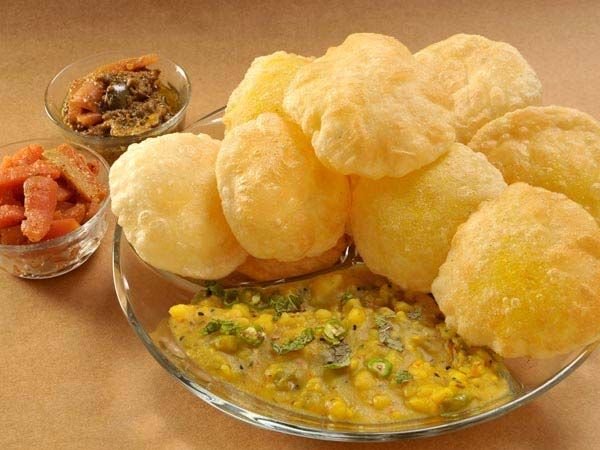 For those who thought Luchi was all that we could come up with; make space in your stomach for this. This is the ultimate Pujo food that will make even the most stoic and unbelieving of the lot want to trade lives with us. Move over matar kachori, your attractive and better-tasting cousin is here to save the day.
Pro Tip: Puncture the fluffy top and ladle in the sweet and salty dal. It'll be a savoury bite that will make your insides sing.
3. Bhetki Macher Paturi
Translation: Marinated Fish Fillet Steamed In Banana Leaf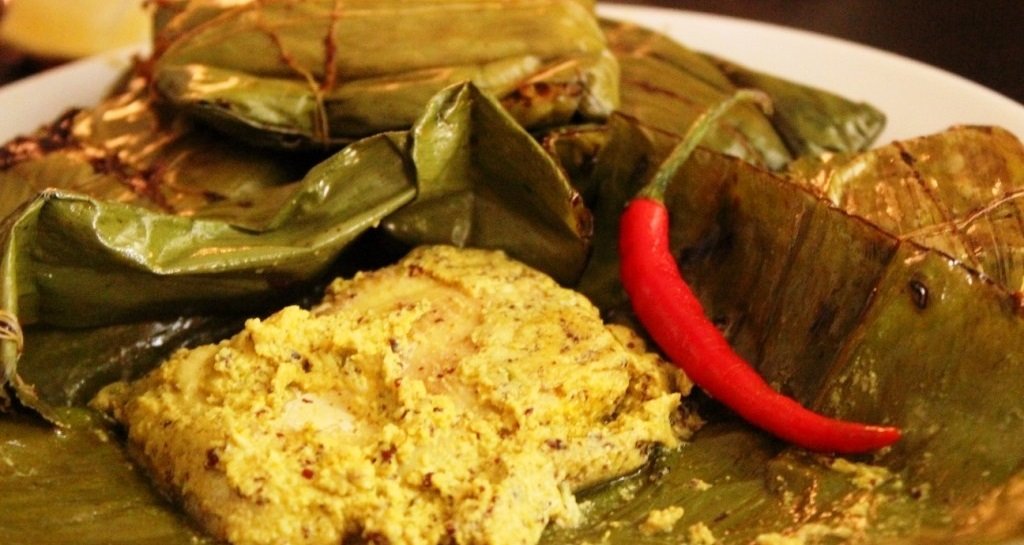 From being a staple at every Bong shindig to being a must-have during Pujo lunches, here's a platter of fish so freakin' fresh and delicate that one whiff of it will send you straight to heaven. The light mustard aroma, coupled with the melt-in-your-mouth taste is going to make you appreciate the finer things in life so much better.
Pro Tip: Gently untie the banana leaf, take in the aromatic steam coming off of it, shift it ever-so-gently off the leaf, and scrape the residual masala off the leaf too. That's where all the good stuff is.
4. Potoler Dorma
Translation: Pointed Gourd In Spicy Gravy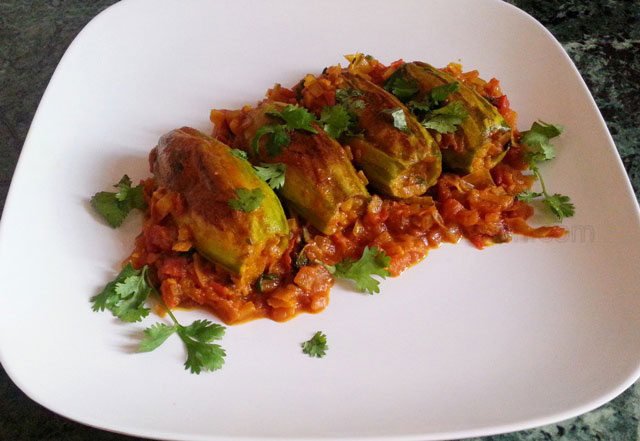 Count on Bengalis to take a banal vegetable such as parval and elevate its taste to such heavenly heights. It is usually stuffed with a spicy coconut filling and slow-cooked in a gravy. But if you're feeling frisky, replace the coconut with minced meat or shrimp and you will have created the tool that will inspire Armageddon.
Pro Tip: Best eaten half a piece at a time. The spicy little devil squirts delicious gravy, take heed and go easy.
5. Aloo Posto
Translation: Potatoes In Poppy Seed Gravy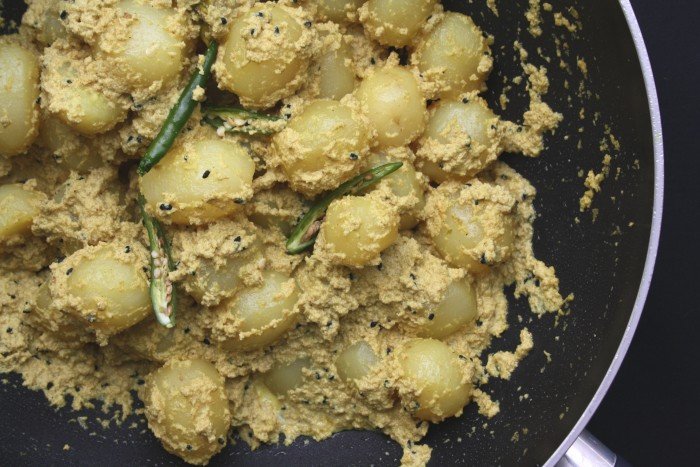 On Asthami, when the strict 'no non-veg' rule comes into effect, this is the heavenly vegetarian respite that gives all us Bongs, hope. Soft and creamy potatoes coupled with a gentle poppy seed paste is cooked over spicy peppers for a dish that takes us back to childhood. Best eaten with everything namely, Luchi, porotta (paratha) and rice, this will be the scintillating side dish that you won't easily forget.
Pro Tip: Take a mouthful of starchy potatoes and swirl it around. Experience the delicate and yet complicated taste of the poppy paste. It's a taste that sinks in deep.
6. Mutton Biryani With Aloo & Dim
Translation: Pretty self-explanatory, only served with potatoes and a fried whole egg.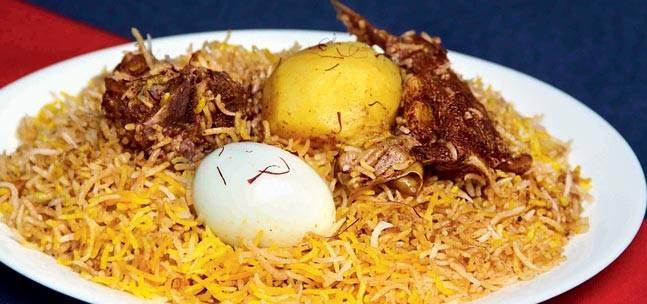 With the nation divided on what makes a true biryani, I'm going to side with my aantel (pseudo-intellectual) Bong roots and say the one that comes with potatoes and egg is GOD! Lightly spiced, cooked to perfection and oily enough to never let you want lip balm again this tall heap on a large platter is like a warm hug from Ma Durga herself. 
Pro Tip: Don't you dare ask for saalan or raita! That's sacrilege. Salad is acceptable.
7. Kosha Maangsho
Translation: Slow roasted mutton curry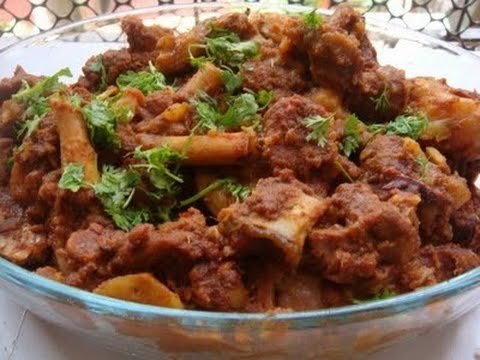 Don't get me wrong, chicken is freakin' fantastic, but paantha (mutton) is where it's at! Now throw in some spices into a yoghurt based curry, slow cook it for hours and you have a dish that will make your toes curl in abject pleasure. 
Pro Tip: Take a piece of Luchi and use it to make the meat slip off the bone. After that, slowly feel the mutton melt on your tongue. Yes, that is what bliss tastes like.
Durga Pujo is a veritable cornucopia of flavours and in the journey of experiencing it all, no man can ever be left behind, even if it is by something as pesky as acidity. Which is why Bongs always rely on antacids to keep the festivities going. And what better antacid than Polycrol! It gives Xpress relief from acidity which turns moments of discomfort into opportunities for eating more. Plus the mint and paan flavours literally bring in the Bengali after-meal tastes. After all, #PetPujo shouldn't stop just because of a little acidity. Know more about Polycrol here.