Elections in India are one festival every citizen in the country enjoys. And when the battle is for the capital, the campaigns are almost as exciting as the results themselves.
Here are some of the things we will miss about this fascinating election process.
1. Live "concerts"
From superstar musicians performing in support of their favourite party, to that loudspeaker in your lane, or that lone cycle rickshaw- wallah who keeps you awake with a wide selection of badly remixed Bollywood tunes, it's like an annoying non-stop ad on a radio station but you find yourself humming those tunes in private anyway.
I am sure the song Tujhe Bhula Diya has a message for the elections. Definitely.
2. Catchy election jingles
As the wise Ke$ha once said ,
Wake up in the morning feeling like P Diddy,
Grab my glasses, I'm out the door, I'm gonna hit the city,
And you hear…
It's the time of the superbly composed election jingles, which are so catchy that you are bathroom singing them before you were even a bathroom singer. Congratulations, now you know.
We also have the Congress' peppy rock song ' Dilli banayi thi, Dilli banayenge ' , which is catchy too we guess, but we just can't get enough of our dear PM and his pyaar for Delhi.
3. Posters, pamphlets and giant billboards
The entire city is bathed in colours of orange, white and whatever Congress colours are (Hint: Rahul baba's golden hair?).
That time of the year when every street is strewn with party flyers and pamphlets and all the walls generally reserved for public urination, now have posters plastered all over.
Has that hot Sunny Leone billboard outside your window been replaced by an election advertisement?
It's once in five years. Deal with it.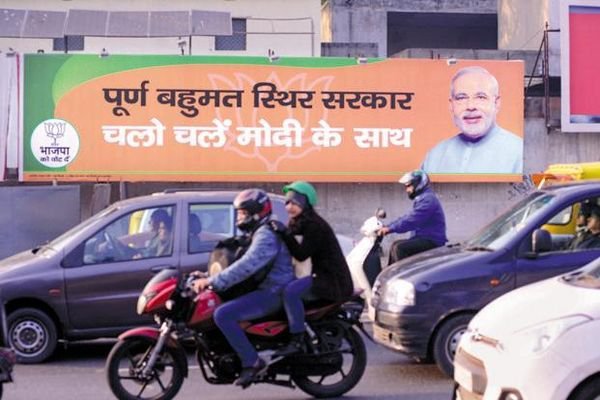 4. Perfect excuse to get late to office or college
'Sir, kuch log dharne par baith gaye the , road block ho gaya tha '
Sounds like a familiar excuse? Bet it does.
Political rallies and impromptu gatherings might be the bane of our busy city life, but there always is a silver lining. The excuse is legit, for election season only.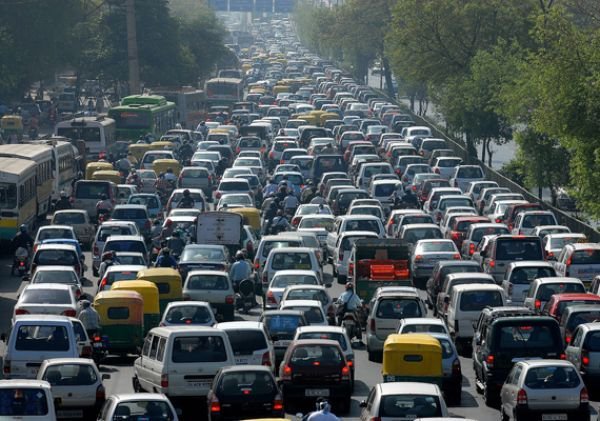 5. The only time conversations with strangers are not that weird
Every time that uncle sitting next to you in the metro opens his mouth, you dive into your bag searching for your headphones, lest you be party to quite random and unnecessary 'chit-chat'.
But somehow, that changed this week.
With election fever gripping the city, everyone is curious to know what the wise old uncle heard on his morning walk or the evening chai . The latest gossip and politician's scandals, this uncle is an encyclopedia of politically incorrect, but really fun information.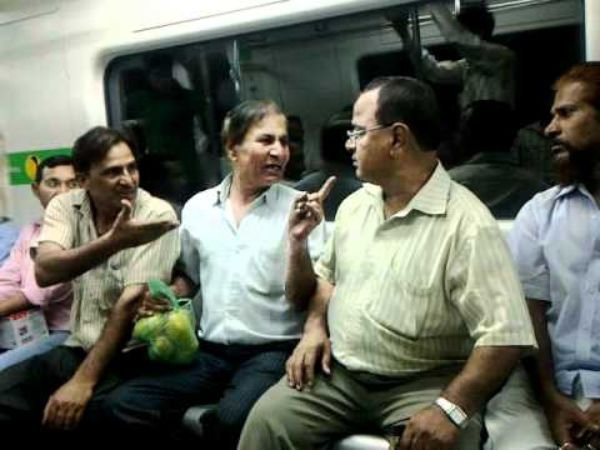 6. The politically-charged auto-wallahs
While the Uncle will give you information, the more pro-active of the lot will also seek your opinion.
Especially that friendly auto- wallah, who starts with the rather innocent " Aap v ote kisko doge? " which escalates quickly to his own personal political treatise and the travails of election rallies.
But XYZ ki sarkaar will make everything right!
Very convincing, this guy.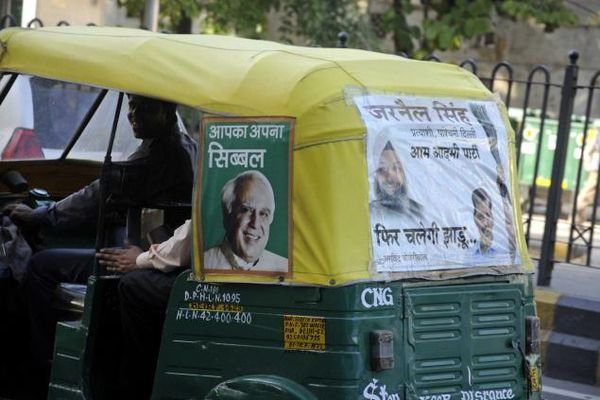 7. Poll phone calls
Are you getting calls from famous people? Is Kejriwal or Modi trying to convince you to vote for them? Recorded or not, these calls do give your egos a super-boost and are a definite ice-breaker for any conversation.
" Yaar, exam ke results kab aane wale hain ?"
" Abe, woh chhod, MODI ka call aaya tha abhi! "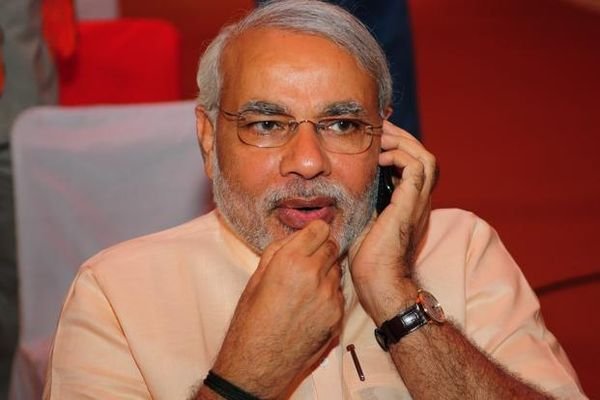 8. Over-enthusiastic news channels and TV hosts
Huge discussions and debate panels, Arnab Goswami in his element and Sardesai following suit, election season is the time of big LED screens and infographics with so much information, after a while you are just staring at the screen and not even trying anymore.
Every channel promises you the best coverage, the best opinions and the best surveys and the best on-ground reporting. You only have to pick the best-est.
Here is a screenshot of Arnab reporting on the General Elections 2014:
So much information.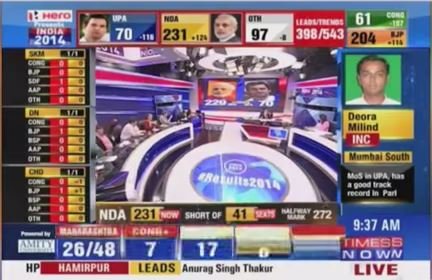 9. Equally funny politicians
If you thought Subramanian Swamy calling Arnab stupid or Rahul Gandhi and his amazing speeches were funny , BJP candidate Kiran Bedi has given new meaning to political comedy.
Regardless of whether she will be Chief Minister or not, she will definitely be remembered fondly.
10. Flash mobs
Fast becoming a popular medium of giving out a message to the people, many areas of Delhi saw flash mobs popping up and people joining in enthusiastically.
Flash mobs are something Delhiites are always up, as a song and dance routine is never unwelcome. No matter when and where.
11. Social media wars
With much of the election debate having moved online, Twitter tags like #Vote4Mufflerman, #IRunlady, #AbkiBaarBediSarkaar, #PMModiCMBedi, #ThisTimeAAP have been trending for a while.
Parody Twitter accounts, of course, have had a field day during these elections. But the original accounts were just as amusing to follow.
. @thekiranbedi Kiranji, i used to follow u on twitter. Now, u have blocked me on twitter. Kindly unblock me.

— Arvind Kejriwal (@ArvindKejriwal) January 20, 2015
12. Gandhi caps are back in vogue
The iconic topis made popular by the Mahatma during the Independence movement, have again become fashionable, thanks to its appropriation by various political parties.
Put on a simple cap, change the colour and the symbol on the side and feel the elections coursing through your veins.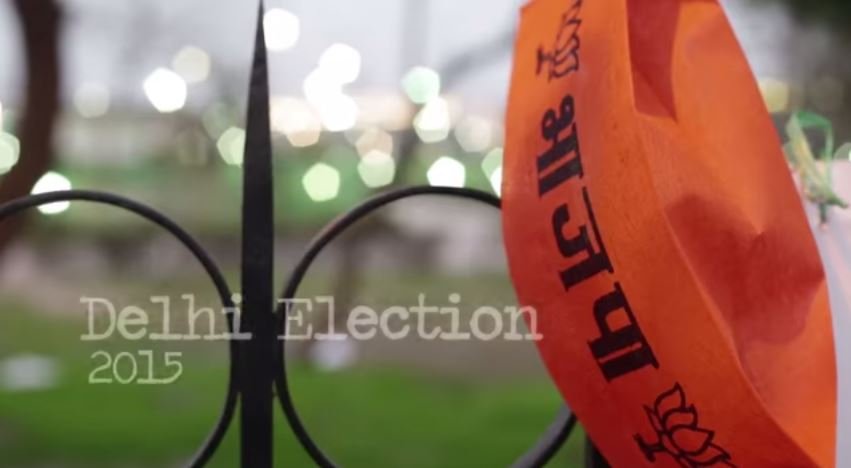 13. Radio shows
While the print media have their work cut out in every elections, the Delhi election campaigning saw radio being used to the fullest. From personal interviews and Mann Ki Baats to parody interviews and voter awareness, the radio stations in Delhi did not disappoint.
Here is a parody interview of you know who, on the 104.8 FM show ' Satye Hain Kadwe ':
14. Political memes
Political memes have always been popular. But with many leaders changing sides, or a particular leader playing the honesty tapes on loop, more memes are bound to be made.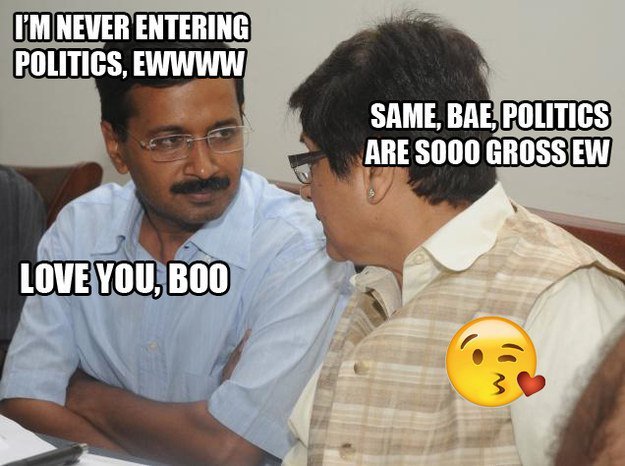 15. Politician's love
The love you always wanted.
Your wannabe MLA sitting with you, talking to you, hearing out your problems and maybe even giving you some pocket money and lunch.
Getting pampered a week before V-day, by the common man and " one of the most beautiful faces " ever, is just brilliant.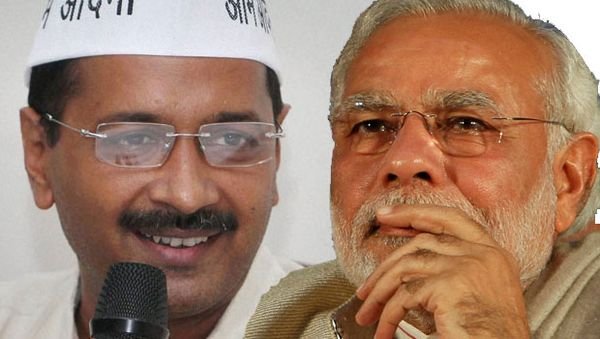 The Delhi Elections are always one of the most watched elections in the country. With innovative advertising and politically active citizens, all parties in the fray have managed to charge the atmosphere of Delhi with their campaigns.
And we will definitely miss all the excitement.
Tomorrow is February 7, 2015.
Get out and vote.