How many times does it happen that you go out shopping with a particular thing in mind, but are unable to find it simply because you don't know what it's called? You see someone wear a certain pair of sandals or carry the latest bag that you've been totally crushing on. But when it comes to asking them 'what it's called?' there comes your ego, galloping royally on a horse! And especially if it involves asking someone you don't like! 
The struggle of failed Google searches, of disoriented descriptions to the salesman and of sleepless nights till you finally make the purchase. We've been there and done all that!
Since someone has to do the dirty work, we've taken it upon ourselves to help you out when it comes to knowing your fashion terms correctly. Because the biggest faux pas is one where you address a Tuxedo shirt as a Suit shirt in front of people who have their fashion game rather strong!
1. Jute Sneakers is just a made-up term. Nothing like this exists!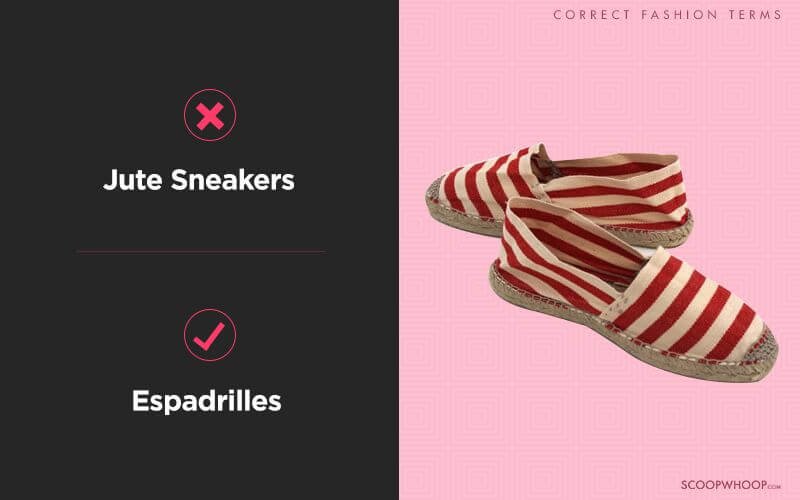 2. Anything from a tube dress to a sun dress can have spaghetti straps. But that doesn't make them a slip dress.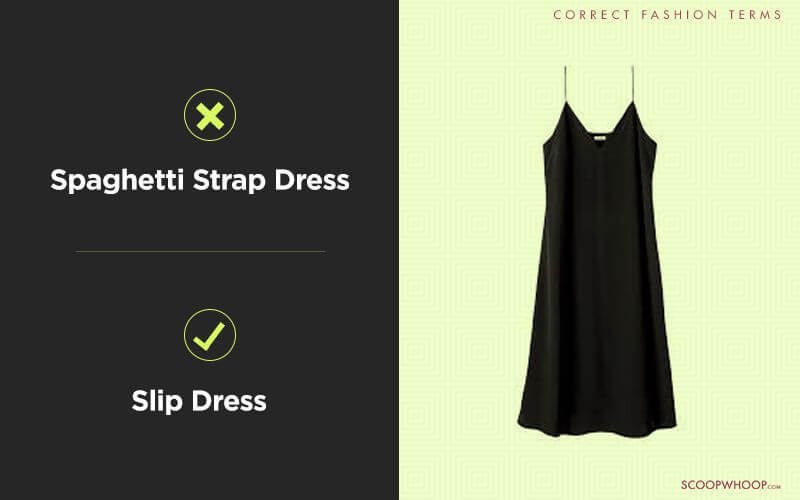 3. Bell bottoms are way more flared than these. Click here to know what they look like.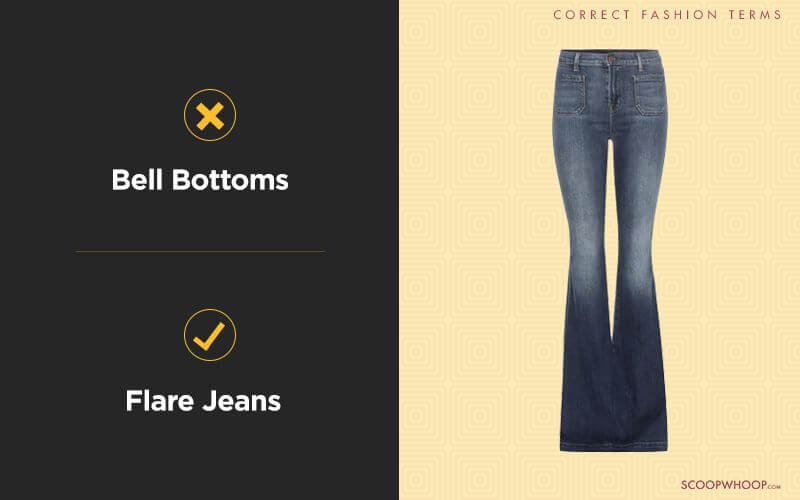 4. There are many types of Baseball T-shirts but not all have Raglan sleeves. You can read about Raglan sleeves here.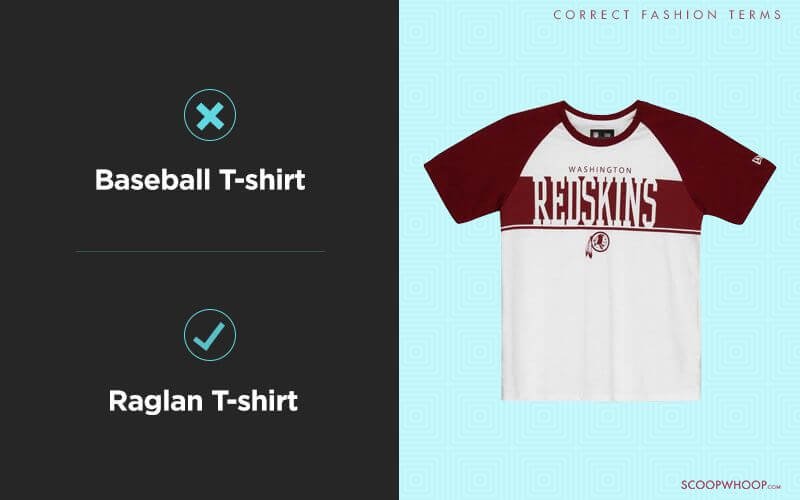 5. There's nothing called a suit shirt. It's either a tuxedo shirt or a dress shirt.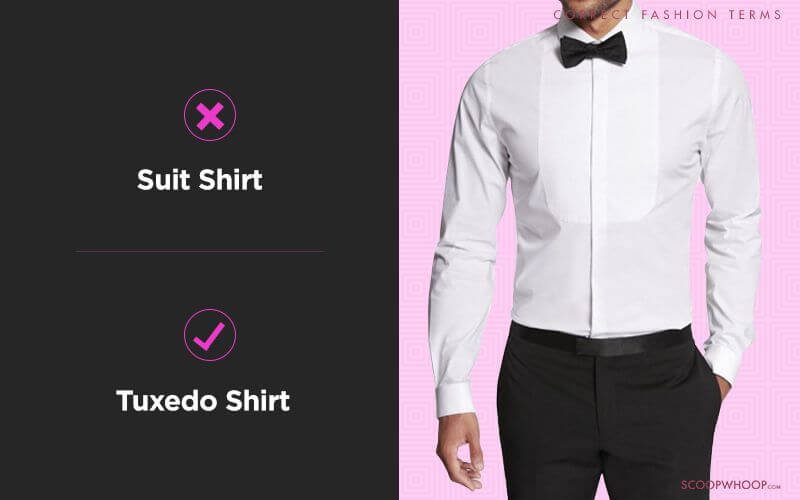 6. This is probably our grandmothers' favourite piece of winter wear. But when they call it a front open sweater next time, make sure you tell them that nothing of that sort exists. It's either a cardigan, or nothing!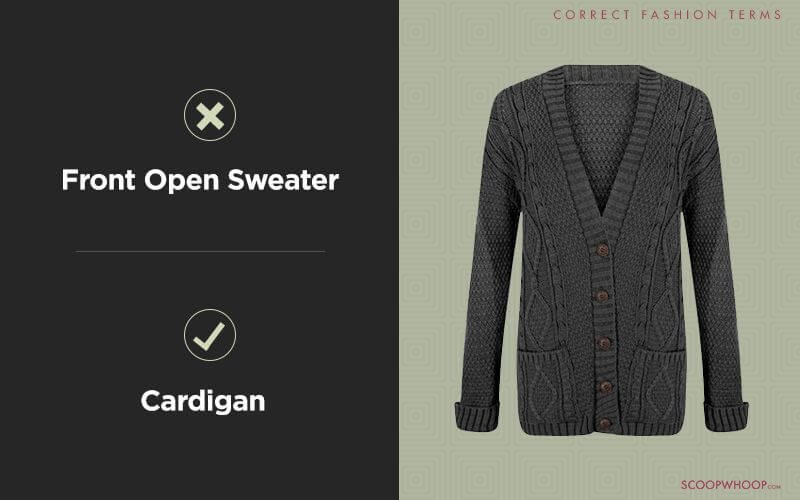 7. These slippers are quite a rage this season, but they're definitely not slip-ons. In fact, Kolhapuri chappals are known as slip-on chappals.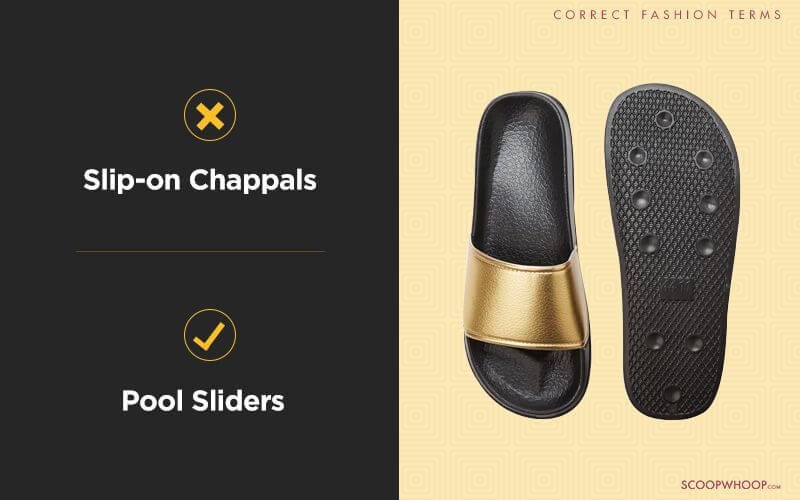 8. This one can be tricky. But remember, just like its name, a capelet coat has a cape draped over the shoulders. Here's what a Trench looks like. 
9. Camisole is a more intimate piece of clothing, as compared to a tank top. Here's the difference between the two.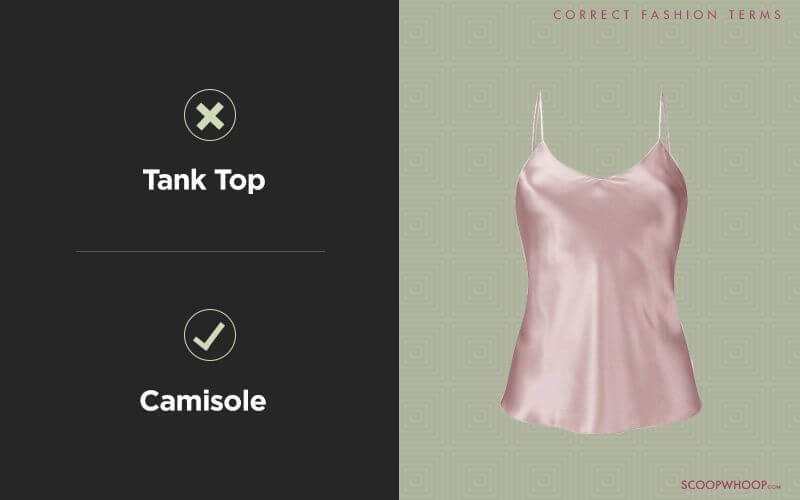 10. It's not a baseball cap and it's definitely not a 'rapper's cap. But here's all you need to know about the baseball cap.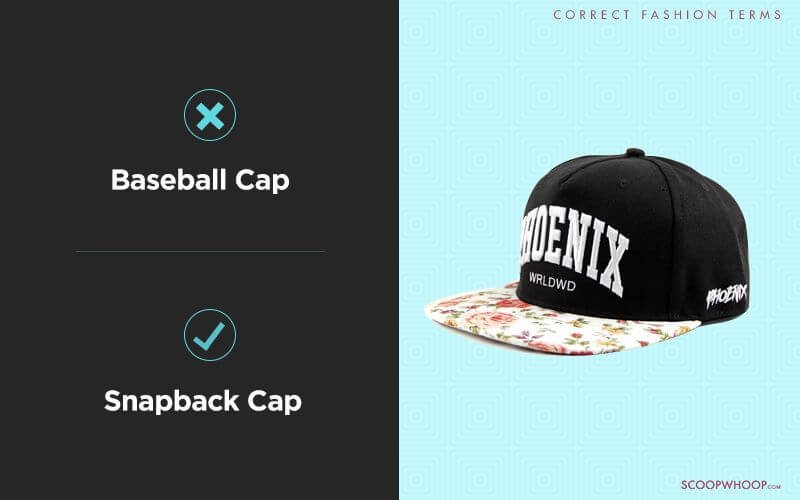 11. Okay seriously, gumboots are so passé. They're called Wellington Boots and they always were called that!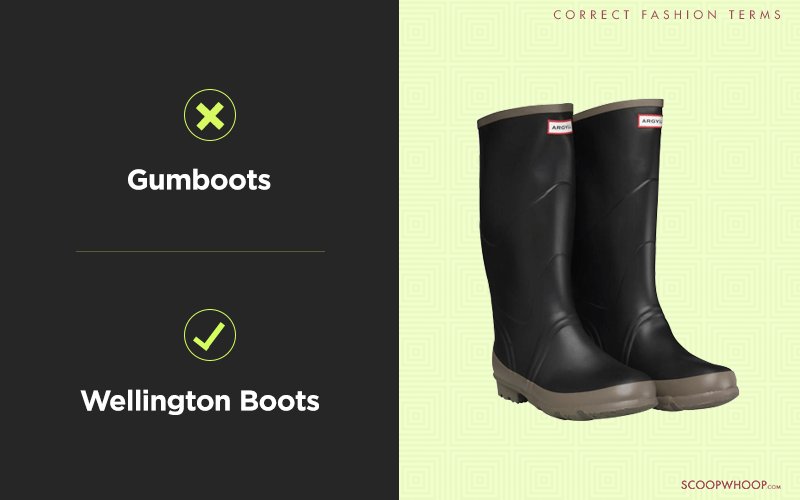 12. As the name suggests, tights are tightly stuck to your legs, made of a thinner fabric and cover your feet as well, unlike leggings. Click here to know about leggings.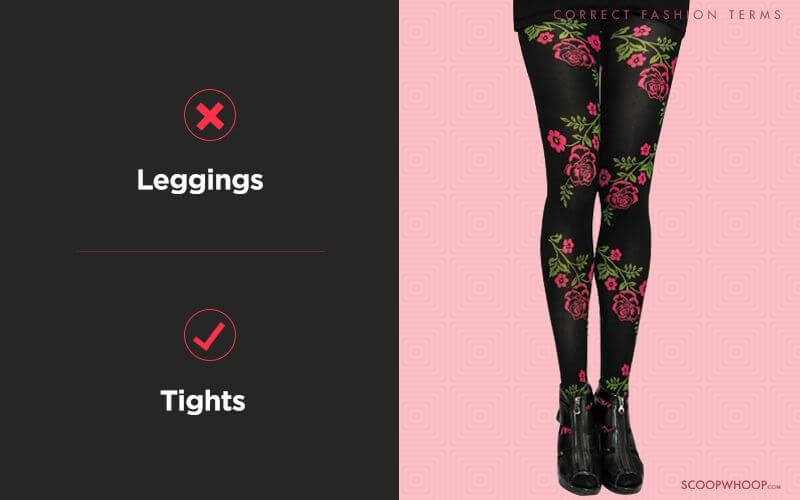 13. Overalls are what the prisoners wear in all American TV Shows. Dungarees are the modified version of Overalls, which are chic AF!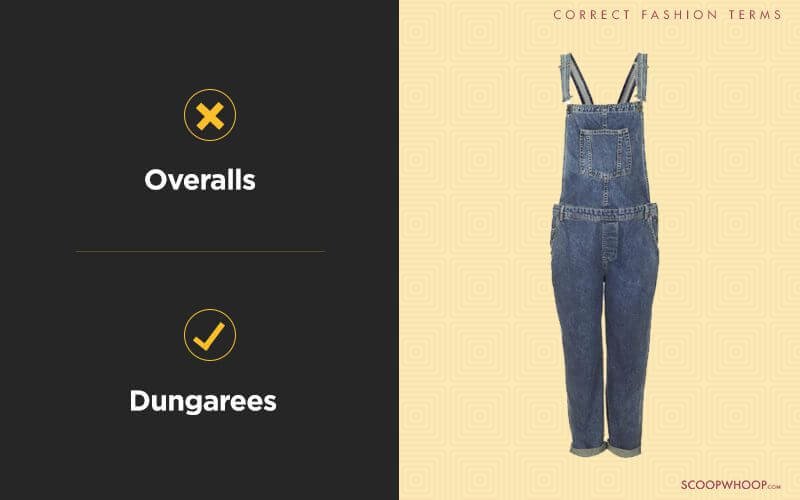 14. This Gothic fashion trend is back with a bang, but it's definitely not called a Neck Band. Again, there's nothing like that in the fashion world.
15. They both might look the same, but if the hat is made of straw or jute-like material then it's a Panama hat and not a Fedora. Click here to know your Fedora, though!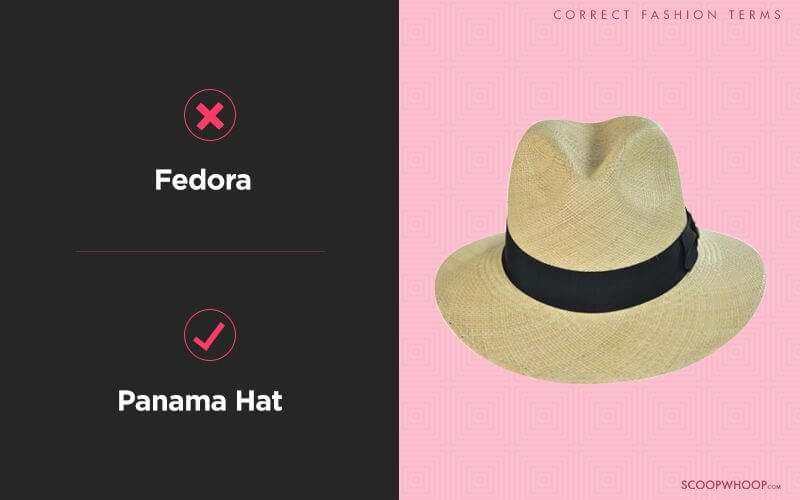 16. Mary Janes were the shoes we wore to school as little girls. Click here to see what ballet flats look like.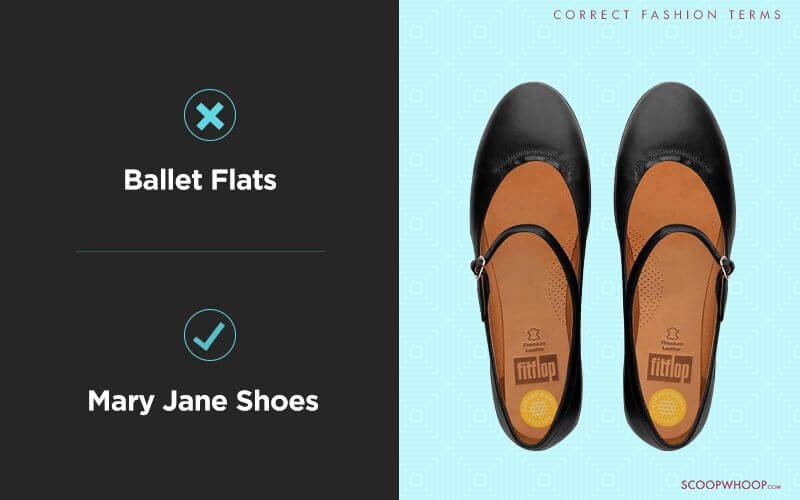 17. Sneakers are shoes that are specifically designed for sports or other physical activities. When was it that you wore your Vans to the gym? Never, I believe!
18. Dhoti Pants look like a dhoti, while a salwar looks like, well, a salwar. Huge difference! Check it out here.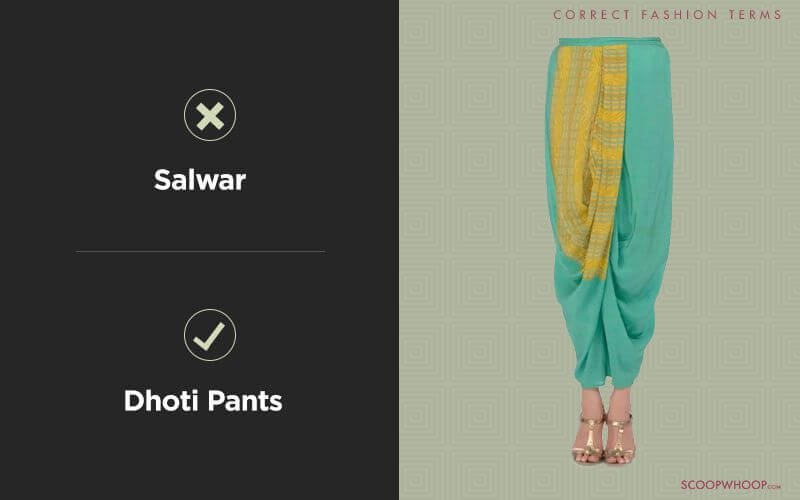 19. This genre of bottoms is probably the most confusing. But remember, jeggings are leggings in a denim disguise and leggings are not.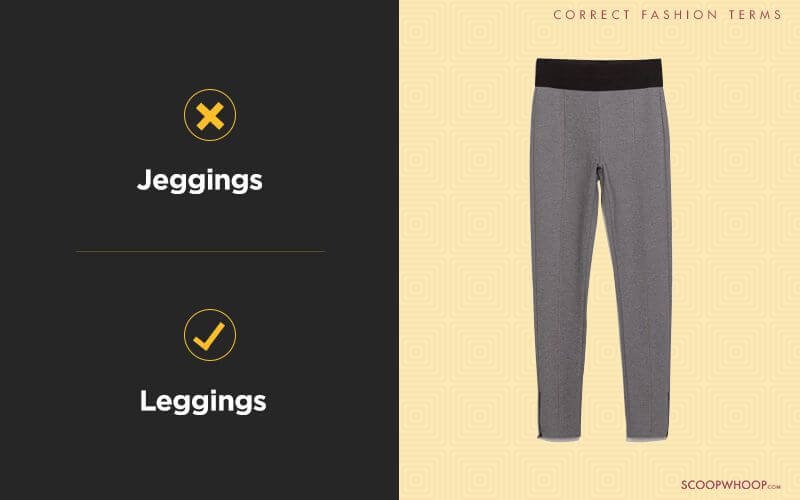 20. If you can never get the right running shoes, it's probably because you don't check the thickness of their sole. Here's the difference between both of them.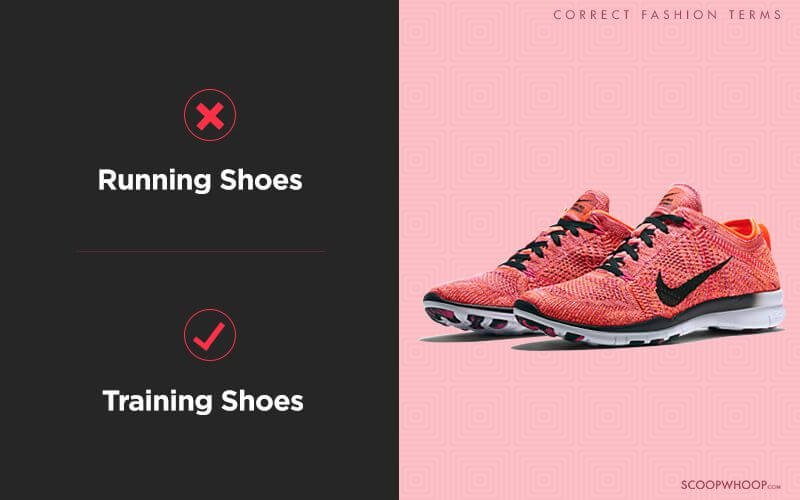 21. Ripped = Torn/Cut/Slit, Distressed = Worn out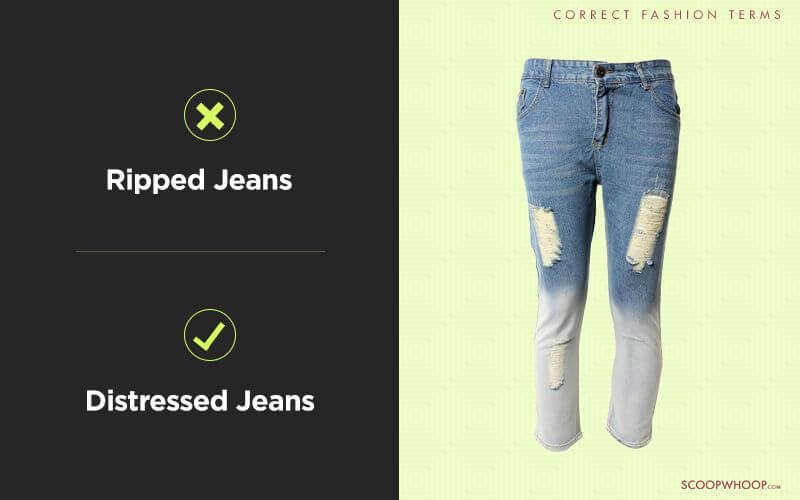 22. We Indians call absolutely anything a coat. Coats are jackets which are specifically made to keep us warm. Click here to know more.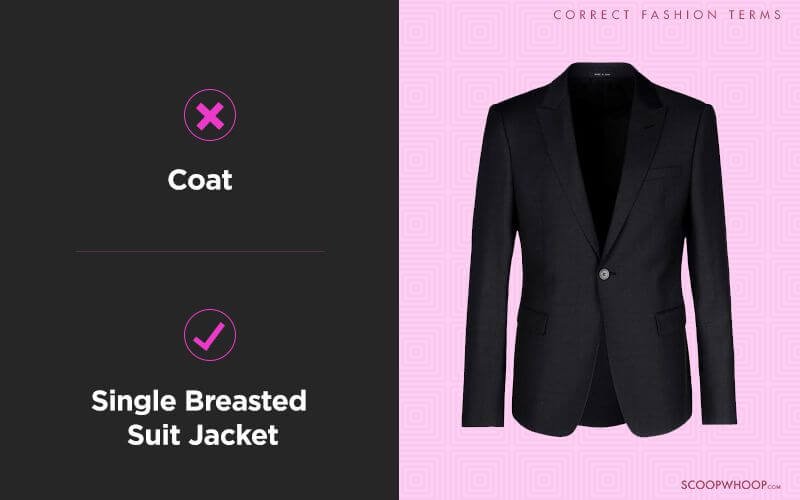 23. The T-like strap design is where it gets its name. While strappy sandals can be anything from Gladiators to Stilettos.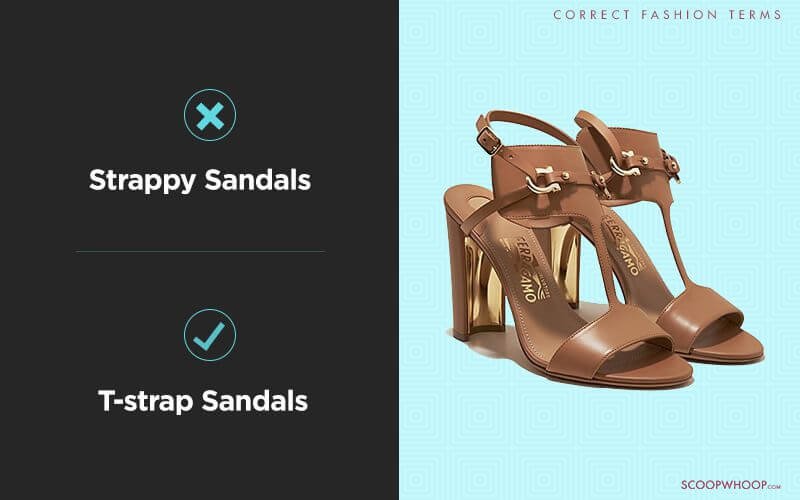 24. High top boots don't exist. Period!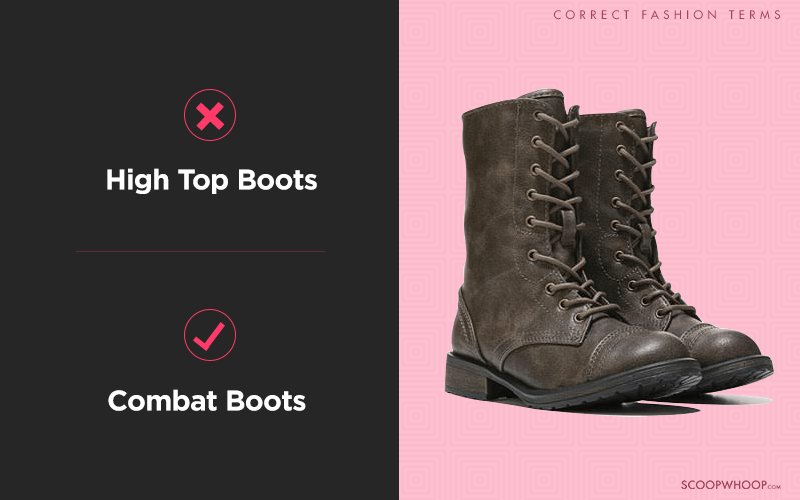 25. An Infinity Scarf is what girls throw around their necks. While mufflers were what Dev Anand wore. Here's what those look like.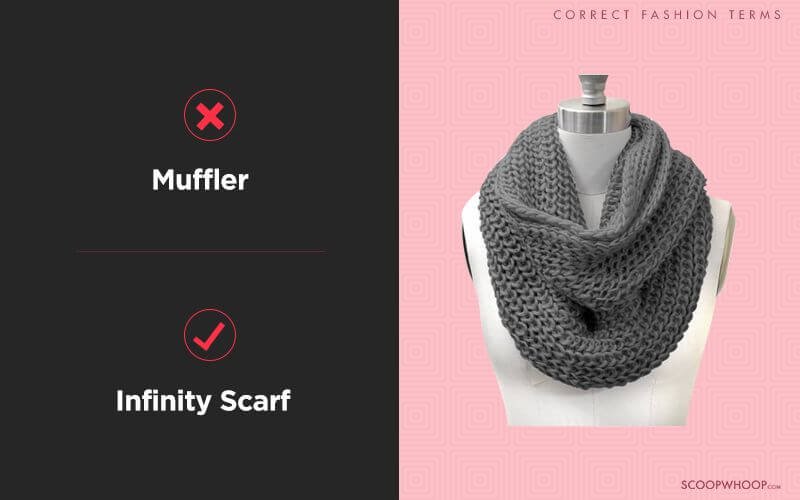 26. It's called a Duffel Coat because of the type of buttons, which in the earlier days were made of animal teeth. This falls under the category of overcoats, but not all overcoats are duffel coats. Know more here.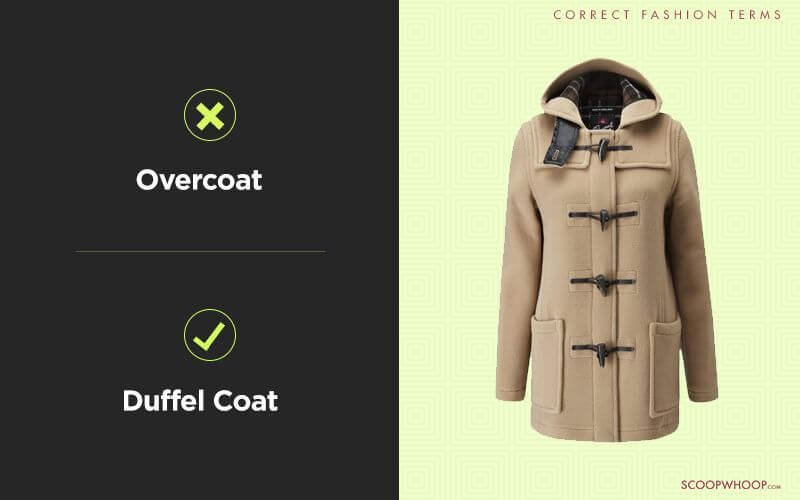 27. Relating everything that has fur to the Eskimos is just taking the easy way out. In fact Eskimo Boots are called Mukluk and you can read about them here.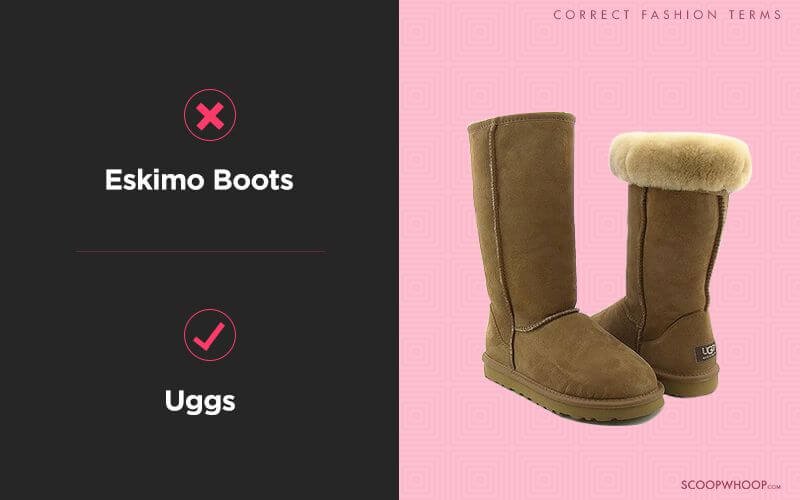 28. 'Divider skirt' is yet another term we gave birth to, because maybe that's how we roll. But enough with the rolling, it's time for some learning. Meet Skorts!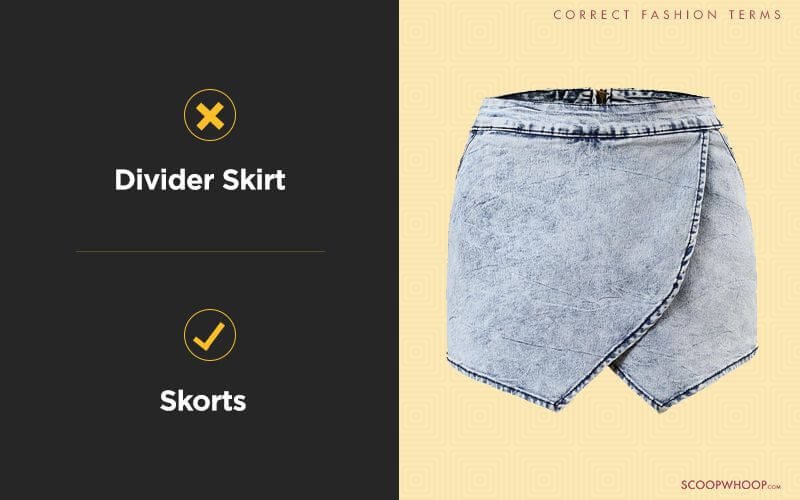 29. Again, all Bandage Dresses are Bodycons, but not all Bodycons are Bandage Dresses. Read about Bodycon Dresses here.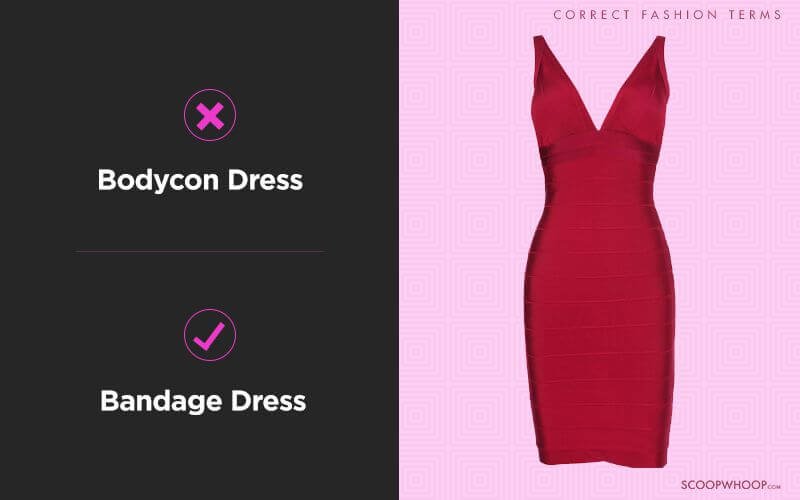 30. Shawls are just bigger Stoles, made of a warmer fabric. Here's what Stoles are.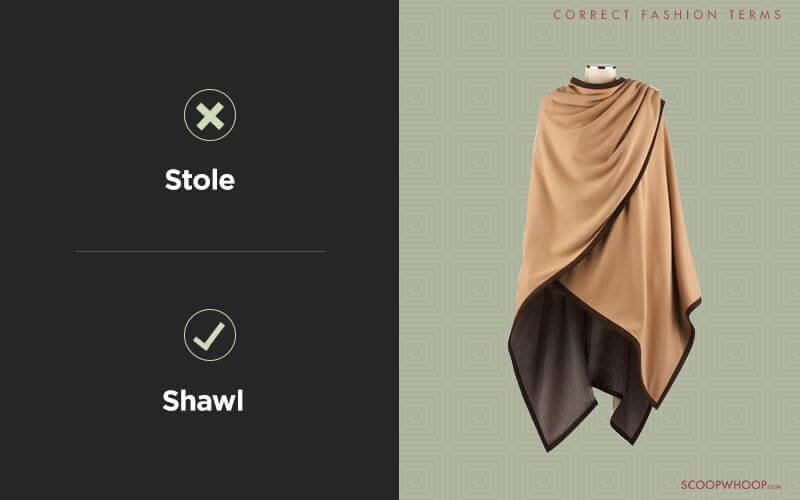 31. High Neck is nothing. Avoid saying that to anybody, ever!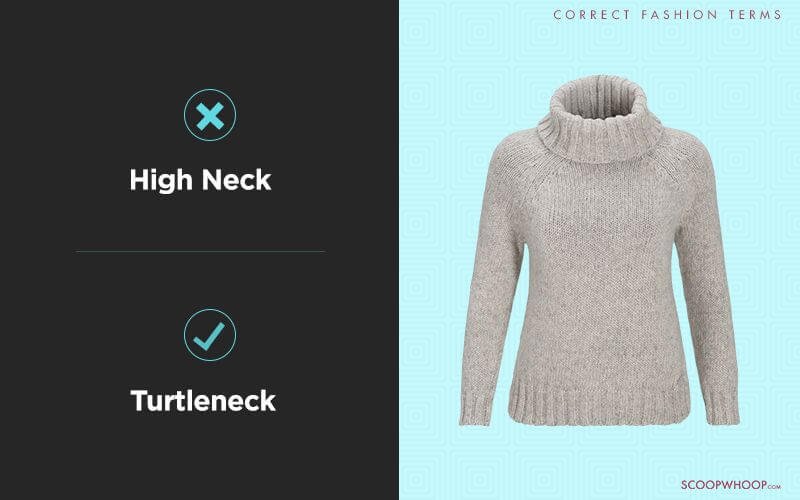 32. When your toes peep through the shoes, they're Peeptoes. And when ballet shoes grow heels, they become Pumps. It's as simple as that! Learn about Pumps here.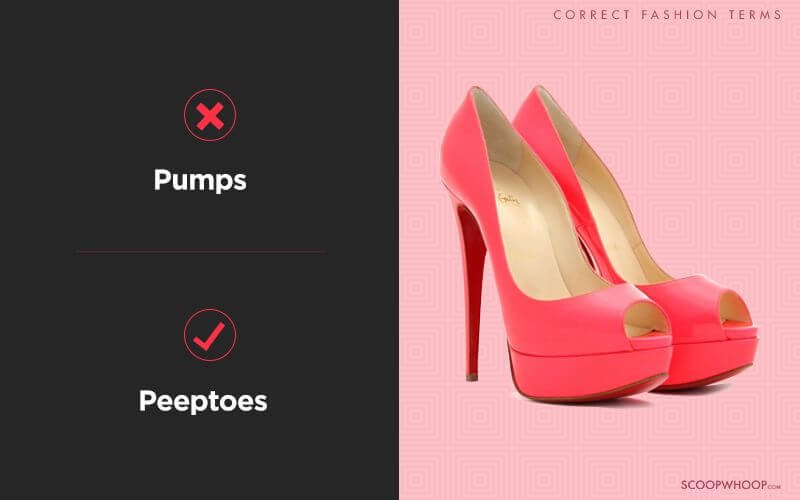 33. There's nothing called a Shoulder Bag. It's a Handbag, which further has many types. One of them being the Hobo.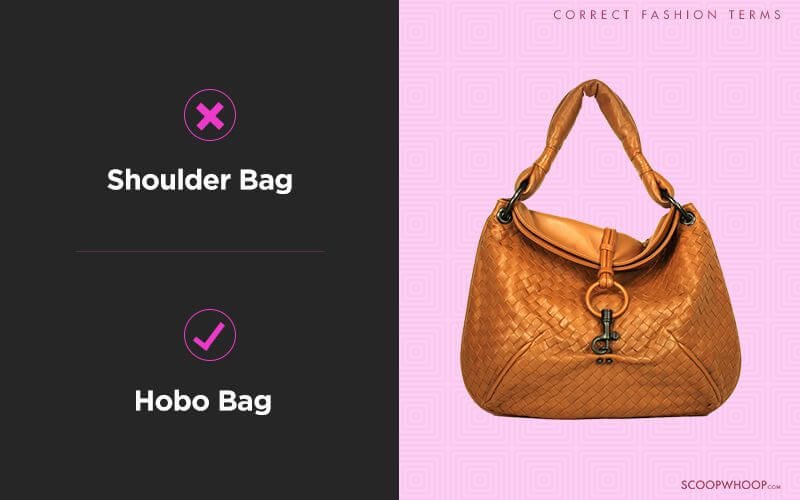 34. You can't call a skirt long, just because it is long. I mean you can, but this one is a proper wrap around and that's the science behind it. Long skirts can be of any kind, not bound by the style.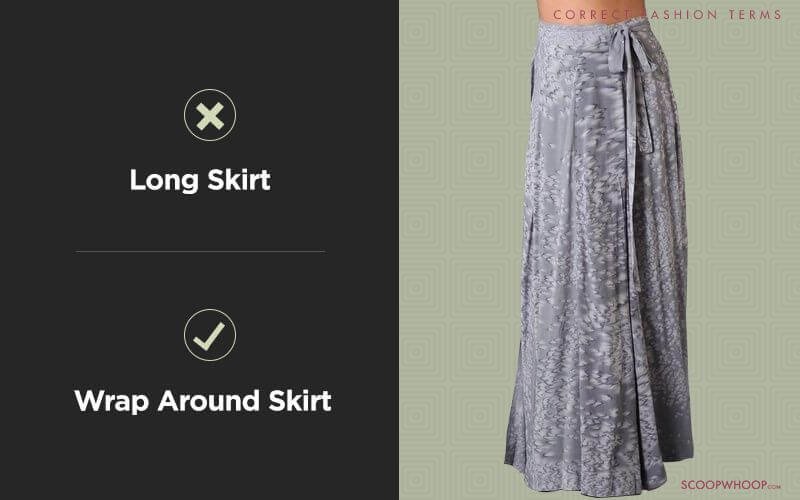 35. It looks like a Cape and so should be called one. But, here's what Shrugs look like and they're cute too.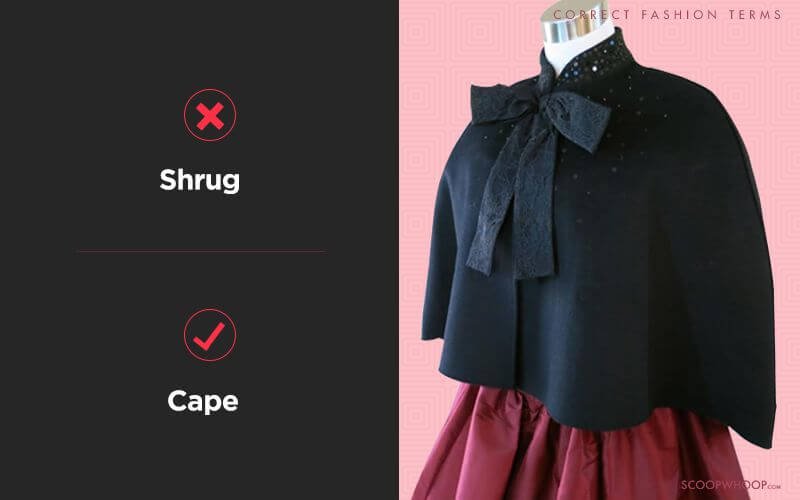 Now that you know what's called what, it's time to head out and spread the knowledge. Also, don't forget to indulge in some hardcore retail therapy with your gang, while you throw these terms around like a total boss!
 Fab designs by Suvojyoti Ray.