New Delhi: The assault on Delhi University teacher Prasanta Chakravarty, who was roughed up during the recent North Campus clashes, has been left with internal injuries, the professor said in a Facebook post on Saturday.
The professor, who passed out on Saturday evening, was hospitalized due to severe abdominal pain as a result of internal injuries.
"Passed out with shooting abdominal pain, at Fortis Noida emergency," he posted on Facebook on Saturday.
He said he has been diagnosed with deep bruises and "concealed spasms" on the right kidney and his spine muscles have also suffered serious injuries.
Chakravarty, an associate professor with the English department at the Arts Faculty, said people who assaulted him during the clashes appeared to be "some kind of mercenaries" and not students.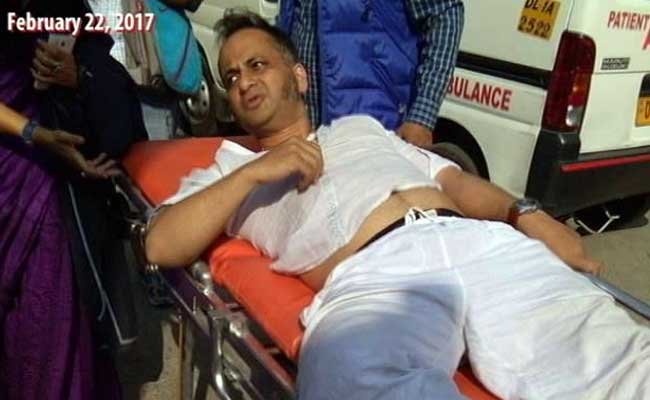 He had alleged the involvement of outsiders in the violence between student groups ABVP and AISA.
According to hospital authorities, the medics are trying to lessen the pain of Professor Chakravarty at this stage.
"His x-rays and ultrasound were normal and he was in stable condition. The injuries are not serious, but he has muscular sprain, which can be very painful. All we need to do is pain management," a hospital spokesperson told Hindustan Times.
As per the report, he was brought to the hospital at 6.30am and he left at 8.15am on Saturday.
In the aftermath of Wednesday's violence, Chakravarty had alleged that he was beaten up by 15 people belonging to ABVP when he had gone to express his solidarity with the protesting students.
(With PTI inputs)
Feature image source: Facebook/AISA