Ranbir Kapoor has been in the limelight several times, for numerous reasons. From his insensitive statements to mansplaining his co-actors, the actor has been bashed on different occasions on the internet.
And once again, he's garnering headlines for all the wrong reasons!
During an interaction, Alia Bhatt showcased her unique way of applying lipstick and then wiping it off. She then revealed that Ranbir Kapoor used to ask her to wipe her lips, each time they went on a date back in the day.
"After applying the lipstick, I rub it off because, one thing, my husband, when he wasn't my husband, when he was my boyfriend as well, and we used to go out, he used to be like, 'wipe that off', because he loves the natural color of my lips."
For obvious reasons, her statement didn't sit right with the internet and netizens started calling her actor-husband out.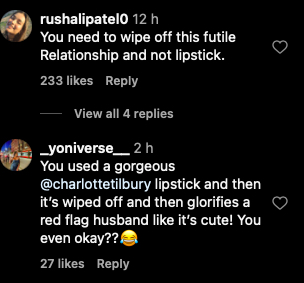 Here's the clip:
This is not the first time that the actor has talked about her husband's 'preferences'. In an interview, Alia revealed that Ranbir doesn't 'like it' when she raises her voice beyond a certain decibel.
Ranbir, man!