A career in showbiz is very short lived and fate changes here every Friday. Just like you and I have to meet deadlines at work, our stars too have deadlines and serious expectations to meet. So while we slog at our desks in our offices, the increased pressure on living a character drags our stars to the gym and transform their bodies.
Today actors are going to great lengths to get into the skin of their characters and hence opting for believable body types which sometimes require them to bulk up while other times to lose several kilos of mass rapidly.
While experts say the trend could prove unhealthy in the long run, here's how our stars have transformed their bodies:
1. Hrithik Roshan
If every success story is marked by a phase of turmoil, this was easily Hrithik's darkest phase. He put at stake his chiseled and muscular physique for a bed ridden paralyzed character of a magician and gained a tremendous amount of weight for Sanjay Leela Bhansali's 2010 movie Guzaarish .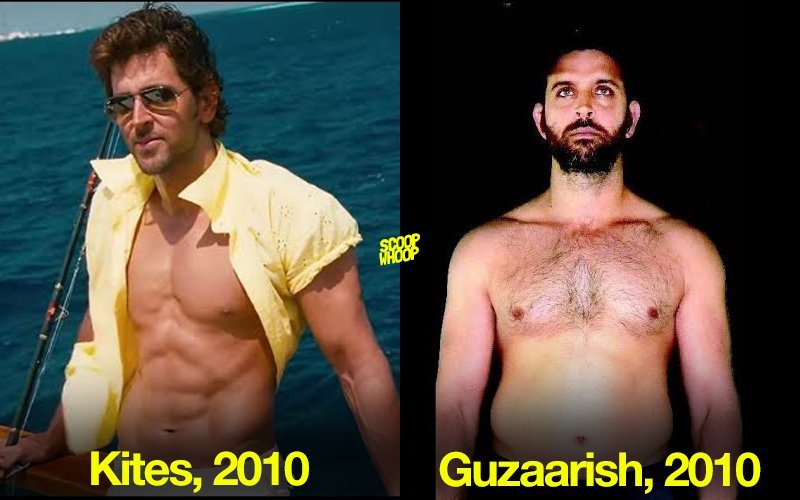 2. Hrithik Roshan reloaded
However, the only way out for a person who has hit rock bottom is up. Hrithik bounced back after some serious introspection and training with international celebrity trainer Kris Gethin. And the results after a 10-week body transformation program were for all to see in his superhero movie outing Krrish 3 !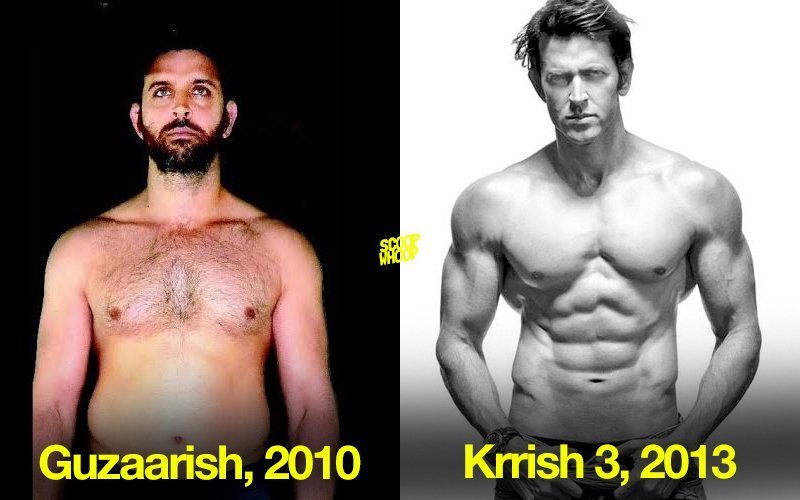 3. Aamir Khan
The master of guises Aamir Khan won hearts with his 'teacher-next-door' act in Taare Zameen Par which everyone loved. However, the perfectionist sent everyone in a tizzy with his herculean physique and 8-pack abs in his very next outing Ghajani where he played an out-and-out action hero.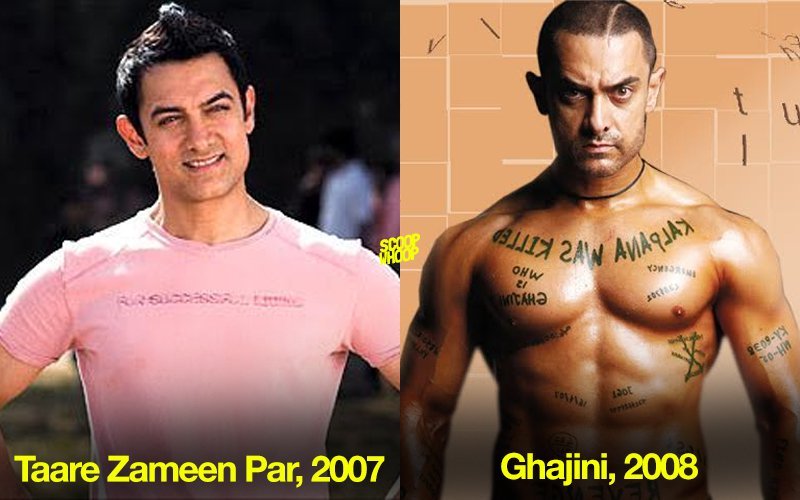 4. Aamir Khan again…
And just when you thought body transformation could not get any crazier, the perfectionist Khan lost all his hard-earned muscle just like that for his very next outing 3 Idiots where he played an engineering student, because he needed to look like a student.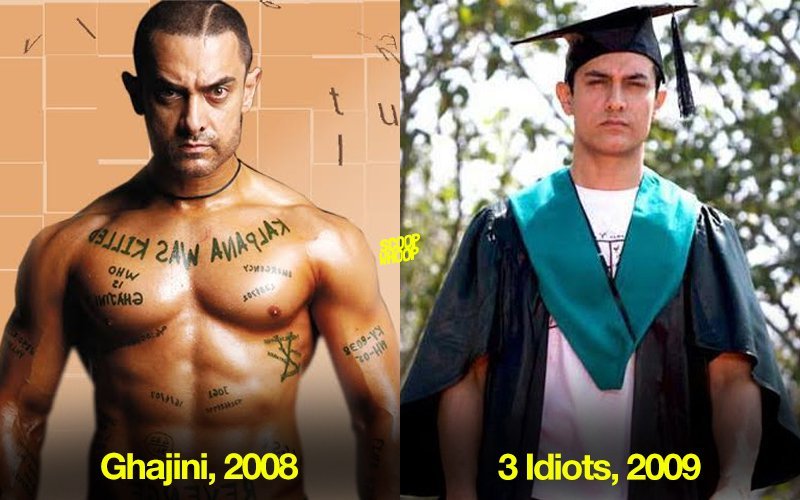 5. And again!
If perfection could kill, Aamir Khan would be serving lifetime imprisonment! How else would you explain the crazy body transformation the PK actor is undergoing at the moment for his upcoming movie Dangal where he essays the role of a wrestler. Just to put things into perspective, Aamir has gained around 30 kilos for this role and reportedly can't even bend down to tie his own shoe laces!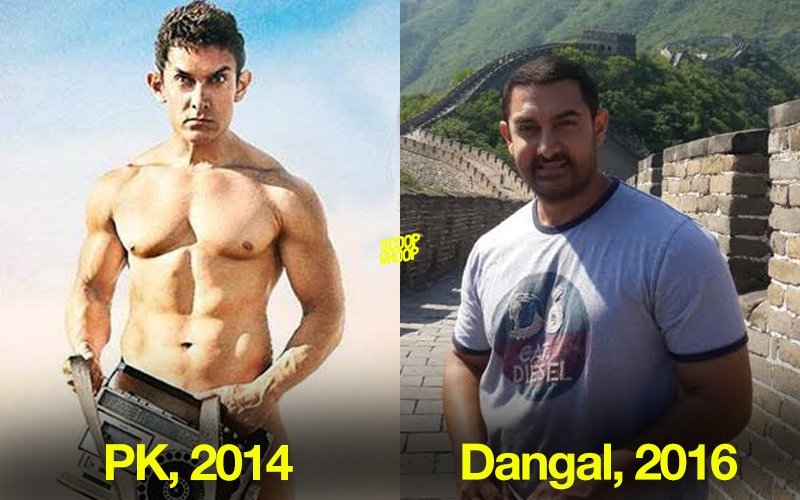 6. Sidharth Malhotra
Sidharth is known for his lean and mean physique and has never been a big muscle enthusiast. However, when duty calls, the young actor is all game for it. Sidharth shed his lean physique and got into the groove of an MMA fighter and gained some serious mass for the physique of a fighter and definitely packed quite a punch in this year's super hit, Brothers.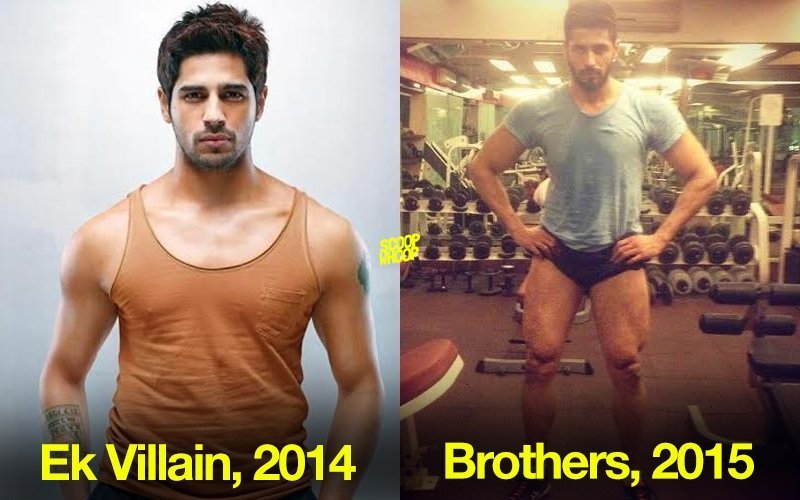 7. John Abraham
John's fitness game has always been at par with the best in the industry. However, when he was required to essay a larger than life character in his 2011 action film Force, the actor hit the gym with vengeance. Funnily, John played an under-confident nerd in his previous outing Jhootha Hi Sahi and his sudden Hulk-like transformation took everyone by surprise.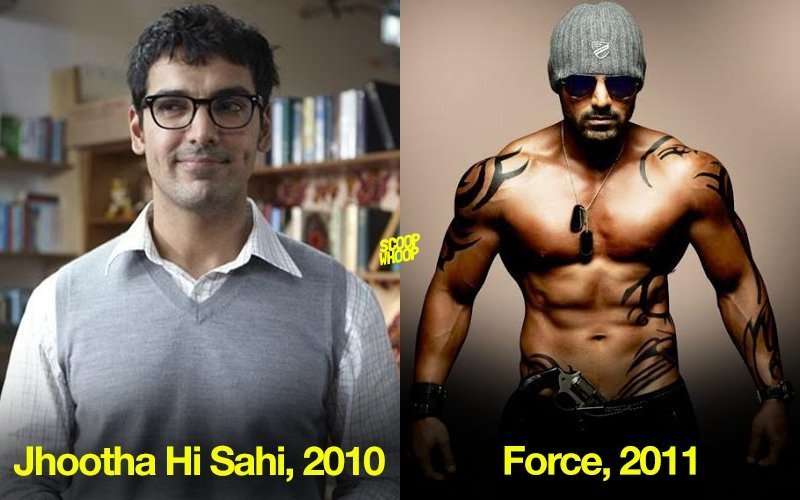 8. Abhishek Bachchan
Abhishek Bachchan garnered rave reviews for his performance in Guru where his character was based loosely on a successful industrialist of India. However, to essay the role perfectly, Abhishek didn't just have to up his acting game but had to also work intensely on his physique. He gained a lot of weight for this one and managed to pull of a wealthy businessman look with elan.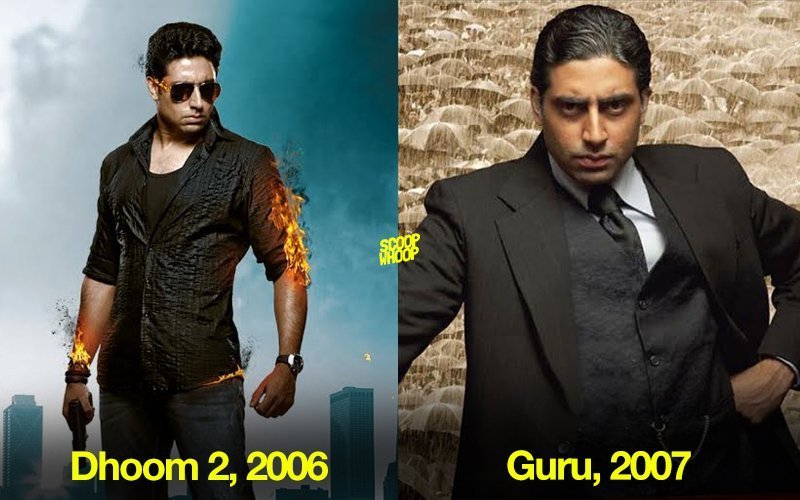 9. Farhan Akhtar
Farhan Akhtar is also considered to be a perfectionist among the new age actors of Bollywood. And when it came to playing the role of one of the most legendary sprinters of the world, Milkha Singh in Bhaag Milkha Bhaag, he decided to give his 200 % to get the physicality right. One look at the transformation below and you'll know what we are talking abut.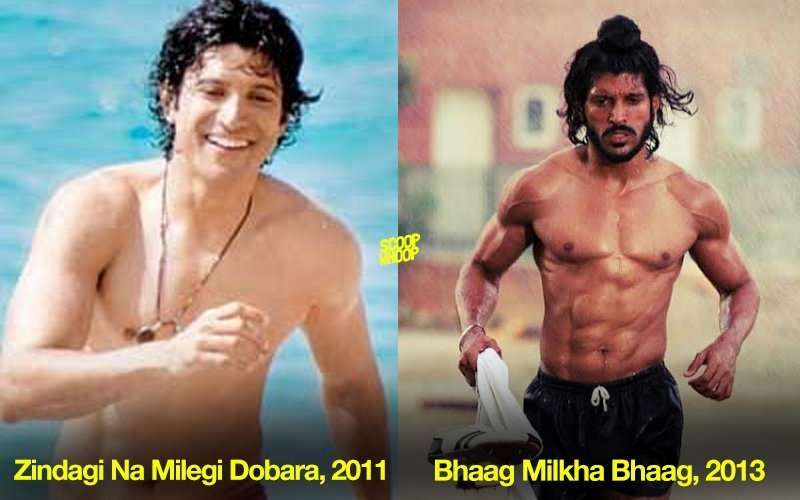 10. Priyanka Chopra
The powerpuff girl of Bollywood, Priyanka Chopra showed once again what commitment means to her. And boy, does she look committed to the role of a boxer in the biopic Mary Kom. One of the very few actresses who put so much effort and time into getting their physicality right, what Priyanka did with this role is professionalism and commitment personified.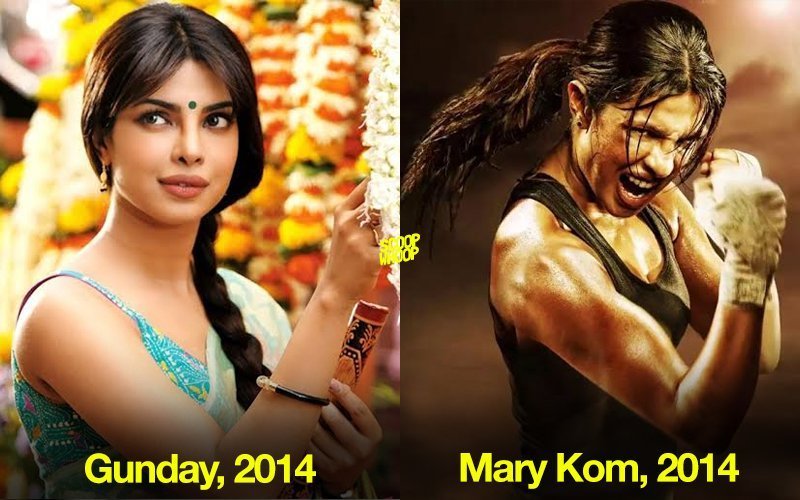 11. Shah Rukh Khan
Shah Rukh had done this before in Om Shanti Om, but in Happy New Year , King Khan took it to another level. The superstar had to take his shirt off for just one scene and the actor decide to make it count. This is what he did to himself to play the role of a street fighter a sequence lasting just 5 minutes.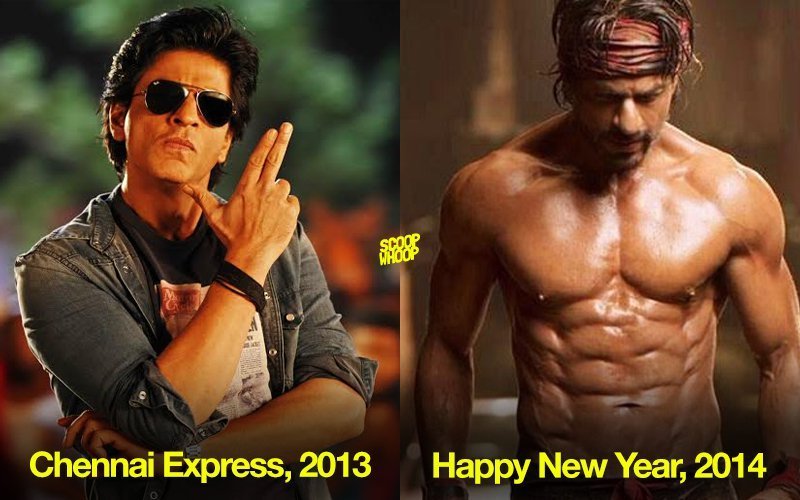 12. Bhumi Pednekar
Not many knew about model Bhumi Pednekar until she played an overweight middle class housewife opposite Ayushmann Khurana in this year's sleeper hit Dum Laga Ke Haisha! Funnily, not many know that she used to look like THIS and bulked up only for this role!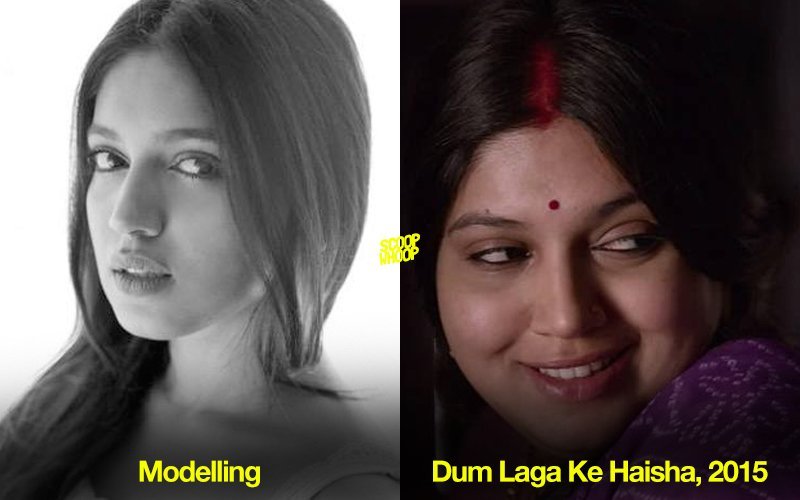 13. Prabhas
Prabhas has always been a lean and an averagely built guy in his previous films. And then, Bahubali happened! S. S. Rajamouli gave the actor a complete year to buff up and a super-human diet plan to develop that herculean physique! Well, all we can say is, the effort finally paid off on the big screen and how!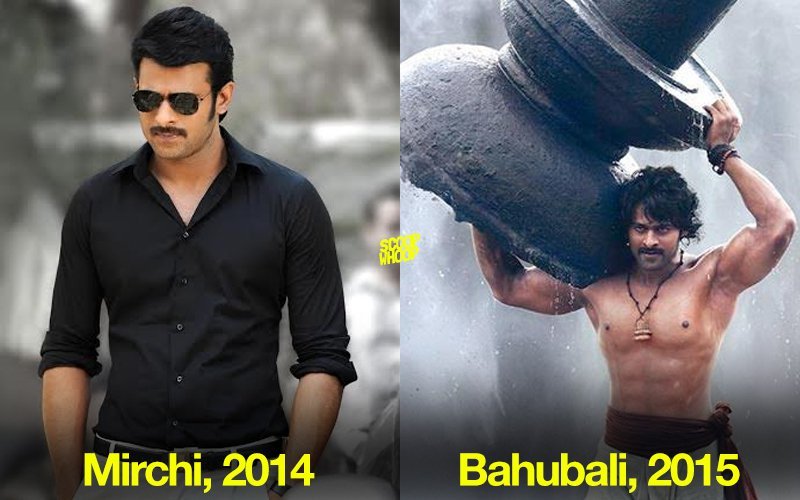 14. Rajkummar Rao
This talented actor is famous for his professionalism and perfection. After famously shedding many kilos by starving himself for his role in Trapped, earlier this year, he put on the weight for his next releases, Behen Hogi Teri that released a few weeks ago. And now, for his upcoming web series, Bose, the actor is piling on the weight to look the part, all over again.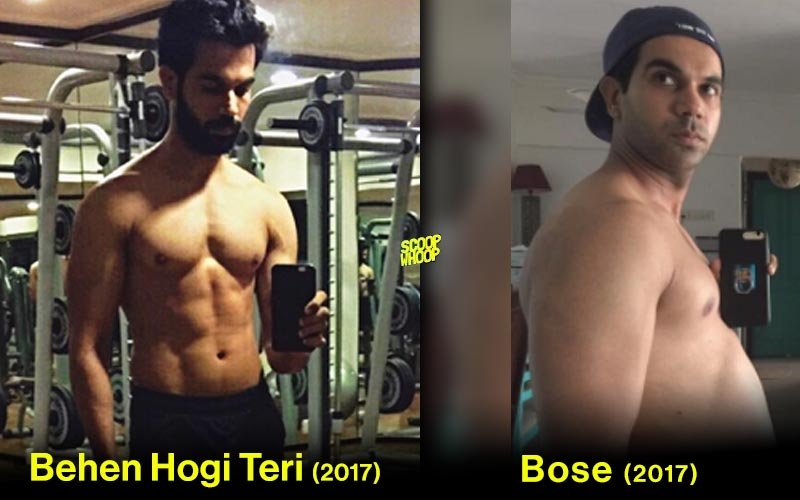 'Weigh' to go, guys!