There's no denying that the Hindi film industry has a lot of scope for improvement. And audiences expect this improvement, solely because we know that there are some talented artists who can actually make a difference. This idea of a supposed "difference" includes everything from acknowledgement of nepotism to original and sensitive content, while also including everything in between. And when we talk about people in the film industry – it involves everyone. So the fact that people constantly expect better cinema, means everything that cinema comprises of – from writing to acting.
And let's just face it, we aren't dissing someone's work, but we also cannot glorify something that lacks effort or is just plain problematic. Sadly, Bollywood hasn't always paid attention to this. But hey, AI is doing great work these days, no? People are literally completing their assignments, even getting their literal jobs done. And not that I'm for it, but if Artificial Intelligence is doing better work, then an AI takeover doesn't look like a distant future. For instance, it understands that Kabir Singh was a problematic film, and there's no way that defending it makes sense.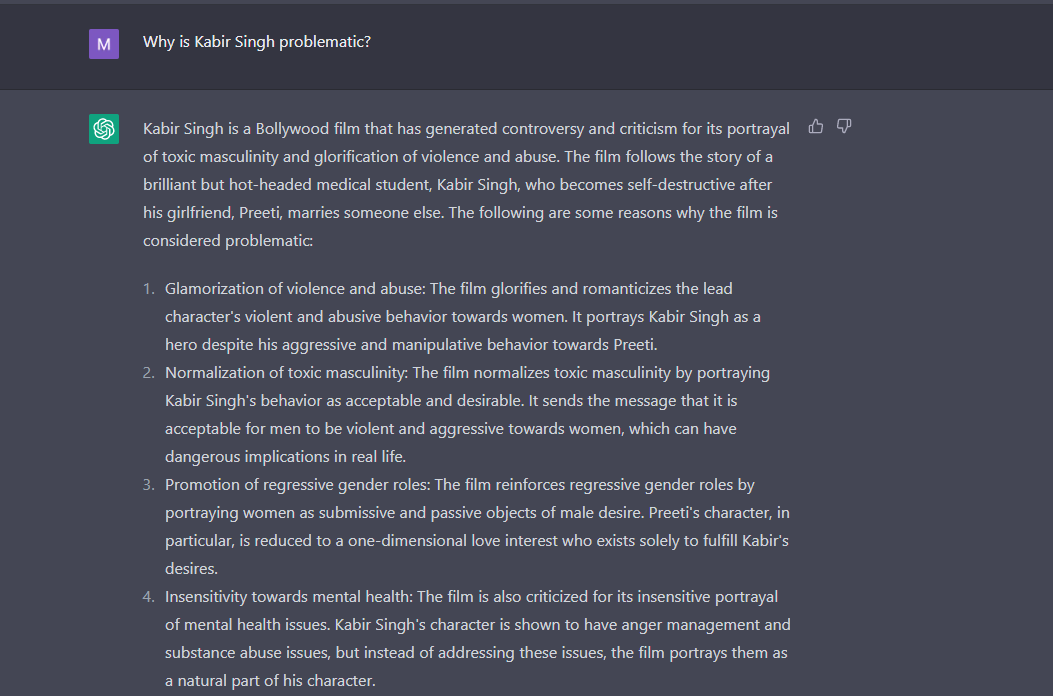 Whereas, we have humans taking a stand for the utter misogyny that the character projected. And this includes actors, directors and public figures giving it a nuance. I mean, if it's wrong it's wrong, and making it sound better, doesn't make it better. While this is something even ChatGPT gets, why can't we? And the fact that AI literally listed everything that was wrong with the film, why did we, humans, turn it into a debate at all?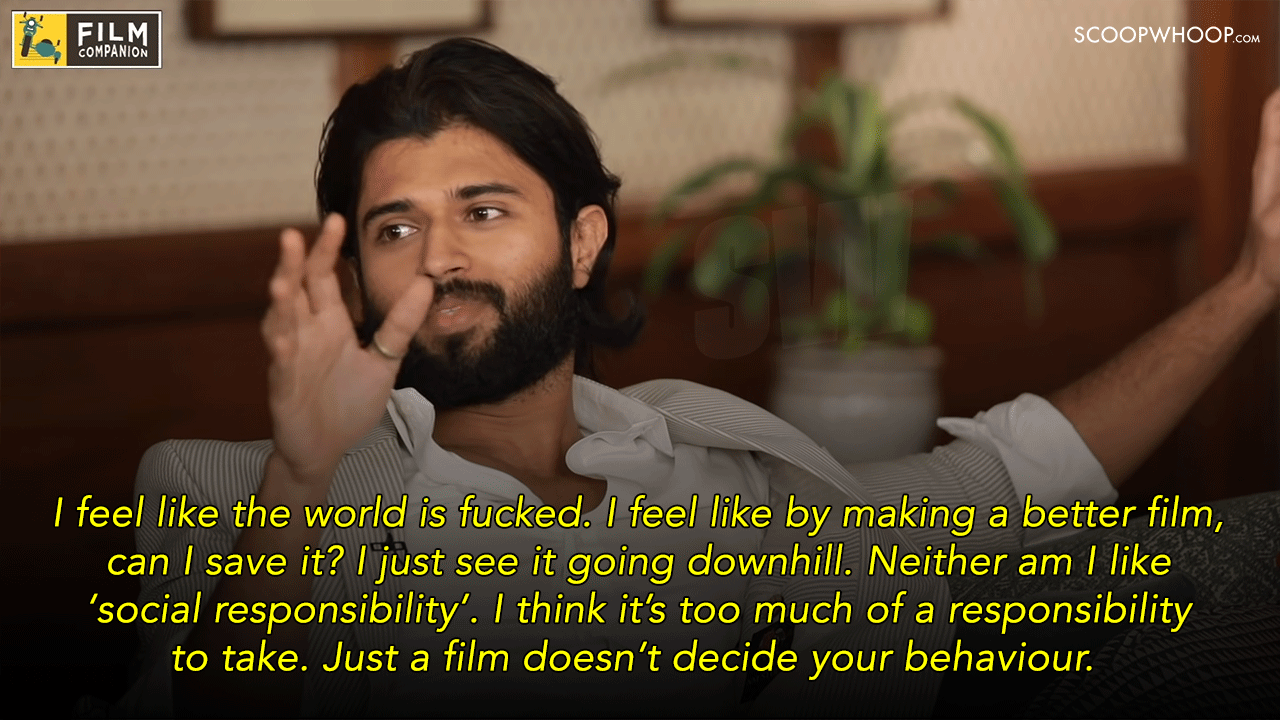 There are too many films that are problematic, badly written and so on, which is mostly why content doesn't always resonate with the audiences. Or if it does, its after-effects are questionable. This is quite literally a constructive criticism that comes from the consumers of these films, but for some reason not many film-makers care. For instance, there are too many films that could've had a better ending, but makers disagree with it or just let it pass. Raanjhanaa is one example. A better ending could've somewhat lessened the impact of other problematic ideas that the plot normalized. And as I entered the prompt on ChatGPT, it took less than a minute for it to start generating a better ending.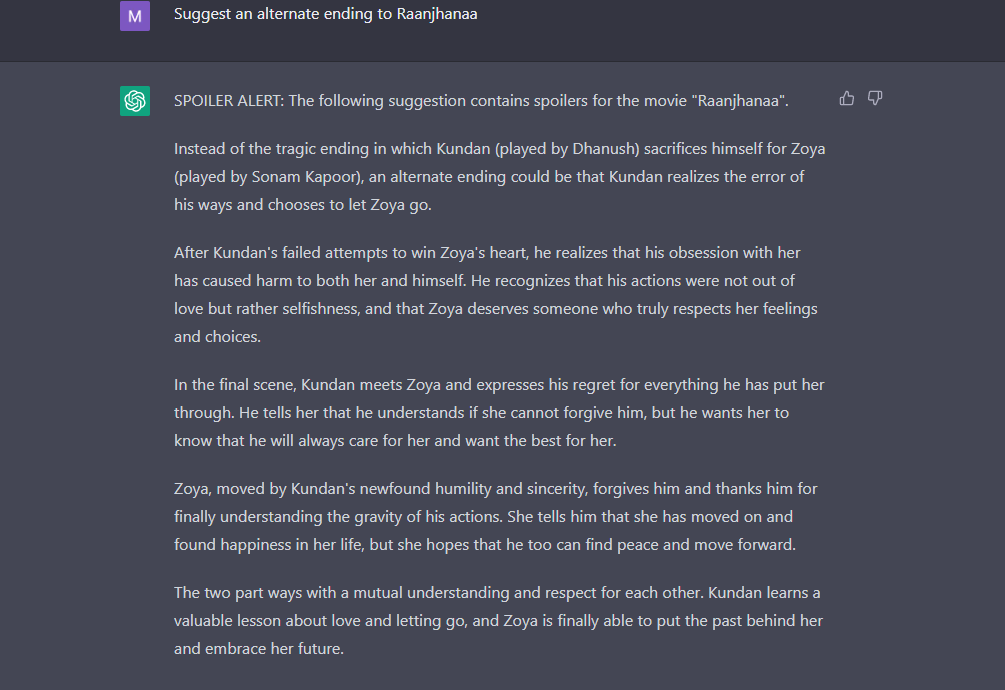 It did the same for Dabangg. While all Salman Khan movies deserve a better plot, acting, effort and more, this is the only one that I tried paying attention to. Somehow, ChatGPT made it sound bearable.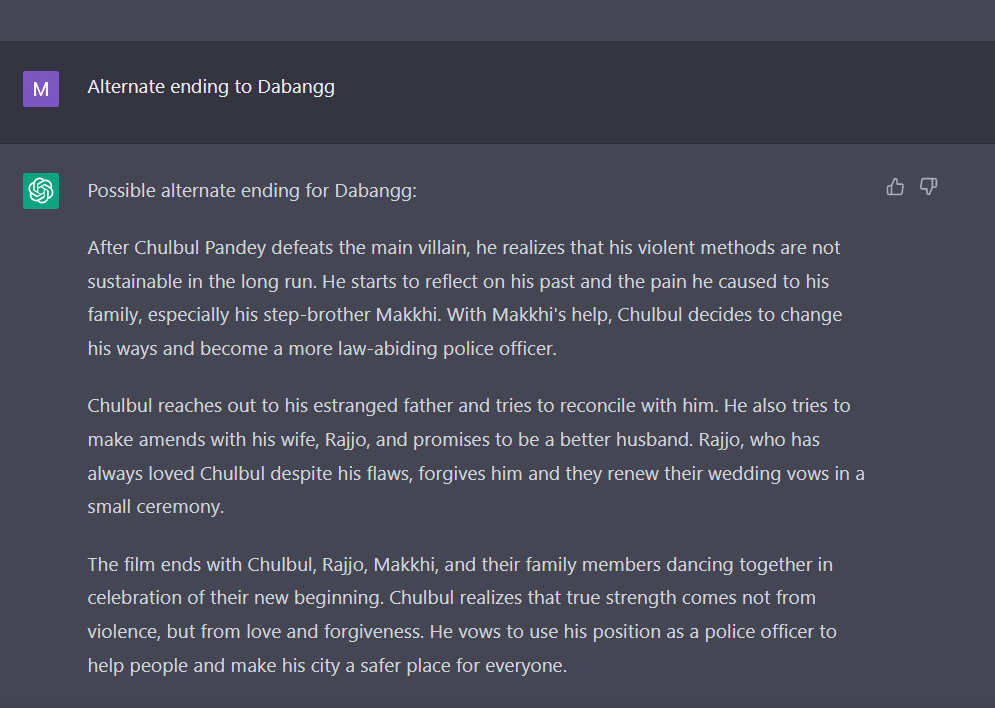 And no, I'm not questioning someone's talent or ability (other than Salman, of course). But, if AI tools are generating better, more creative content and plots, then we're clearly lacking something. And it's not talent, it's perspective.
Case in point: Luv Ranjan films. The director clearly has a huge platform, and even manages to garner both business and attention. And with such a following, any human would want to make a difference and not worsen circumstances. So, to literally get similar films from him is a disappointment. I mean, there's not even enough effort on the posters and colour schemes – they all look the same. And the central theme relies on villainizing women or reducing them into a stereotype. AI literally has a better plot idea for Pyaar Ka Punchnama. So why can't Luv Ranjan take the hint, by now?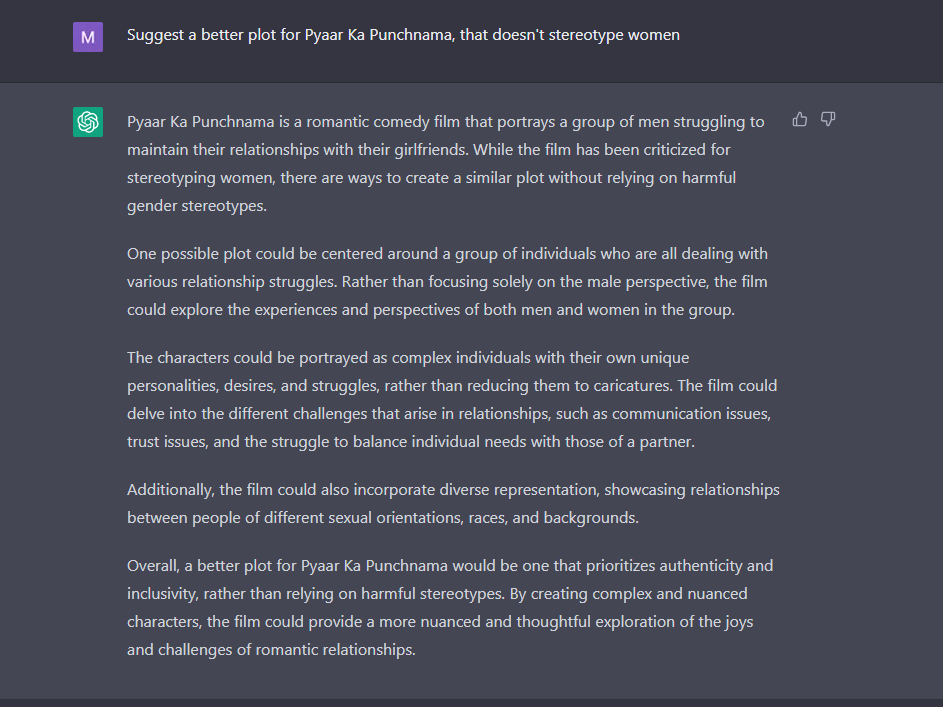 So if the question is, if we can do better than this (because we're pointing out flaws) – the clear answer is that someone can. And the fact that it's a machine, doesn't play out well for anyone of us. Despite the fact that it's almost scary that AI is doing better writing or conceptualizing, I'm almost rooting for it. Also, this is the bare minimum, because these prompts are feedback of what the audiences wants; or what's the difference between right and wrong, before we decide to release it as a feature film. If makers don't get THIS, then that defines their ability, or the lack thereof, to learn from their work.