Being in your comfort space and bantering random sh*t with your buddies is one thing but being one of the world's most influential people and voicing callous opinions is some dystopian-level shiz. And words like random and most influential remind me of nobody other than Elon Musk, the CEO of Tesla and SpaceX and the author of bizarre AF tweets.
While Musk enjoys a fair share of following on his favourite social media platform – Twitter, his followers are not necessarily his fans but people who're there to critique his over-the-top statements. (Cos quite evidently, he makes a lot of those) Additionally, many people are there solely to get memes because Musk is a pretty natural meme machine.
But today, we are talking about times when Elon Musk was schooled on social media — and rightly so — for his bizarre and shallow statements.
1. Quite recently, when Musk came up with ridiculous suggestions to attain Russia-Ukraine peace. He even added a Twitter poll.
Let us begin with the latest cos Elon Musk keeps giving us new content to write on. A few days back, Musk tweeted ways to achieve peace between the conflicted regions. One of his bizarre ways included conceding to Russia's annexation of Crimea. Moreover, he even said a possible unlikely outcome of the conflict could be a nuclear war.
Unsurprisingly, he was called out. Not just the general masses, but the Ukrainian Ambassadors to different countries also asked him to STFU.
2. Elon Musk recently tweeted that Cybertrucks will be able to "serve briefly as a boat" when a US Govt. Agency schooled him and the world.
One can only imagine WTH was Musk even thinking when he marketed Cybertrucks as temporary boats. However, the Washington State Dept. of Natural Resources called him out and begged people not to use anything that serves 'briefly' as a boat. Something that is just 'temporarily' safe is imminently 'dangerous' to life.
Twitter was also like, 'Are you for real?'
3. Elon Musk's SpaceX tried to poke fun at NASA, but Twitter wanted to troll him instead.
Last month, NASA successfully concluded its first planetary defense test a.k.a. DART mission. For the unversed, NASA launched a DART spacecraft in November 2021. It was intended to crash into a distant target asteroid to deflect its orbit such that it may protect our planet from any doomsday asteroid collision in the future. As the mission got completed, felicitations started pouring in when somebody from SpaceX tweeted a double entendre of a tweet
Sensing the Elon Musk vibe from the SpaceX tweet, people began trolling him.
4. Elon Musk's dumb and ignorant comment about the coronavirus pandemic.
This one never gets old. At the peak moments of one of the world's gravest tragedies, an ignorant comment from the world's richest person is deeply worrisome. As soon as Musk tweeted this, people from all over the world called him out and gave a little reality check.
5. Musk feels Earth is facing a 'population collapse' & it's a serious issue.
We are living in a world of just 7.98 BILLION people with millions of parents unable to arrange basic needs of cloth, food, and shelter for their kids. Sure, procreating more does seem like a way to solve this crisis.
6. Musk didn't stop with the population collapse theory in 2021. One year later, he brought it up again with a tweet stating that the issue is much more grave than global warming.
Why? Why? Why?
Twitter's also like WTF!
7. Elon Musk's poor-in-taste remark to US Senator Bernie Sanders.
So the story goes like this: the Senator had tweeted that the extremely wealthy should pay a fair share of tax. But Musk — like most rich people when held accountable — retorted with the most kiddish response.
Naturally, his tweet courted quite a bit of attention, and people called him out.
8. When Musk called the British cave diver who rescued young boys from a cave in Thailand paedophile.
In June 2018, a team of young boys and their football coach got stranded in a cave in Thailand. They were trapped for around 17 days when British Diver Vernon Unsworth played an instrumental role in carrying out their rescue operation. The Guardian reported that Elon Musk had offered to help the boys. However, his request was turned down. Soon after, he lashed out on Twitter, calling the diver a pedo guy. Musk apparently believed that even a mini-submarine could have rescued the boys.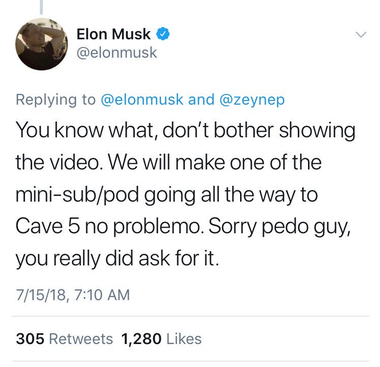 9. When his notoriously transphobic tweet resurfaced as the news of one of his children identifying as a transperson broke in the media.
In June 2022, Elon Musk's daughter, formerly called Xavier Alexander Musk, came out as transgender. She sought the court to alter her gender from male to female and also requested for a new birth certificate with a different name.  Reportedly, she wanted to cut off all ties with her father.
Twitter called him out for this supremely insensitive tweet.
10. Here we have some more of Musk's pandemic-related banter that'll make you wonder if he's a genius at all.
Clearly, for him, pandemic was dumb and had no serious implications. Millions of people around the globe dying actually meant nothing in his universe.
Of course people called him out. But does it ever reach him? 🙂
11. When Musk cracked a horribly sexist joke on 'TITS.'
I can't. I just can't! It's not like women in the STEM world already don't meet enough douchebags that the 'technoking' (this is what he calls himself) had to crack one more sexist joke. His poor joke exactly reflects the rampant sexism women face in the IT world.
12.  When Elon Musk wiped nearly $14 billion off Tesla's value with one stupid tweet.
This wasn't the first time Elon Musk screwed up with Tesla's share market. In 2018, Musk lied about taking Tesla private, which garnered disastrous consequences. He was fined $20 million. Additionally, he was directed to step down as Tesla's chairman for three years.
One can only hope for a time when Elon Musk tweets without smoking a joint.