Getting starstruck upon seeing your favourite celebrity is natural, but what's unnatural is forgetting boundaries. With pap culture floating around every corner, concepts of privacy and space have become blurry. A news portal thinks it's okay to click a celebrity sitting in their living room. Fans think it's alright to hug them without caring to ask.
With the existence of social media and the Internet, the world has become a global village quite literally. But with the need for this constant connection, we seem to be forgetting the value of personal space and how everyone — INCLUDING PUBLIC FIGURES — needs it.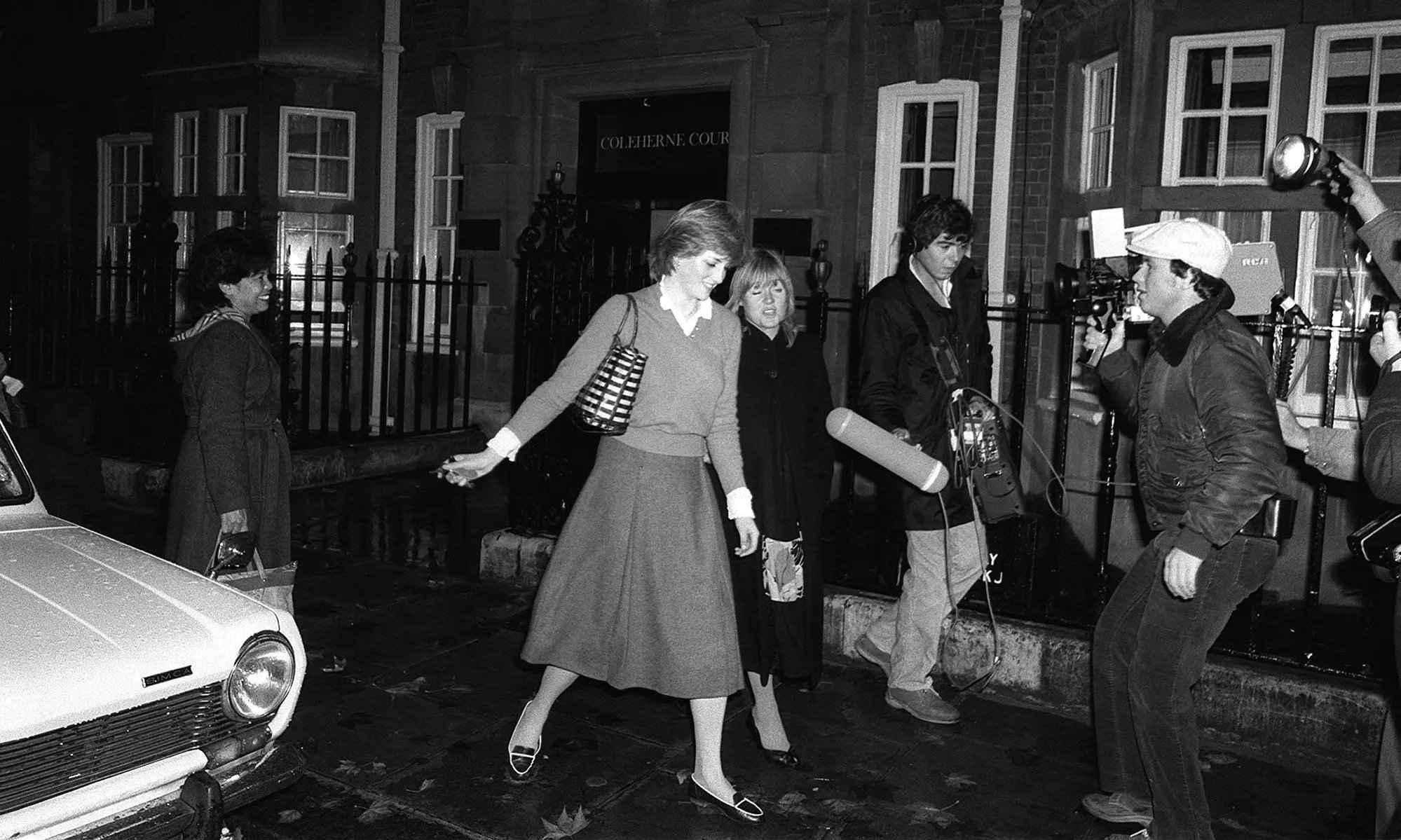 Take a look at these 11 times when fans completely overstepped their boundaries with celebrities.
1. Fan recording Virat Kohli's hotel room
Amid the T20 World Cup in Australia last year, a hotel staff, probably a fan, filmed the room where Virat Kohli was staying. In the video, he showed Kohli's personal belongings. The cricketer shared the video on Instagram and called out the gross invasion of privacy. "Please respect people's privacy and not treat them as a commodity for entertainment," he wrote.
2. A fan holding Priyanka Chopra's arms
During the days of Anjaana Anjaani, Priyanka Chopra had an unwanted encounter with a creepy fan. The man grabbed her arms and clicked photos; the actress slapped him and ran away.
Talking about the incident the actress said, "I am very good with taking pictures and everything, but I don't like physically being touched. So he just held my hand and started asking for pictures. I got really scared so I grabbed his collar and slapped him. Then I got so scared, I ran away," reported Business Standard.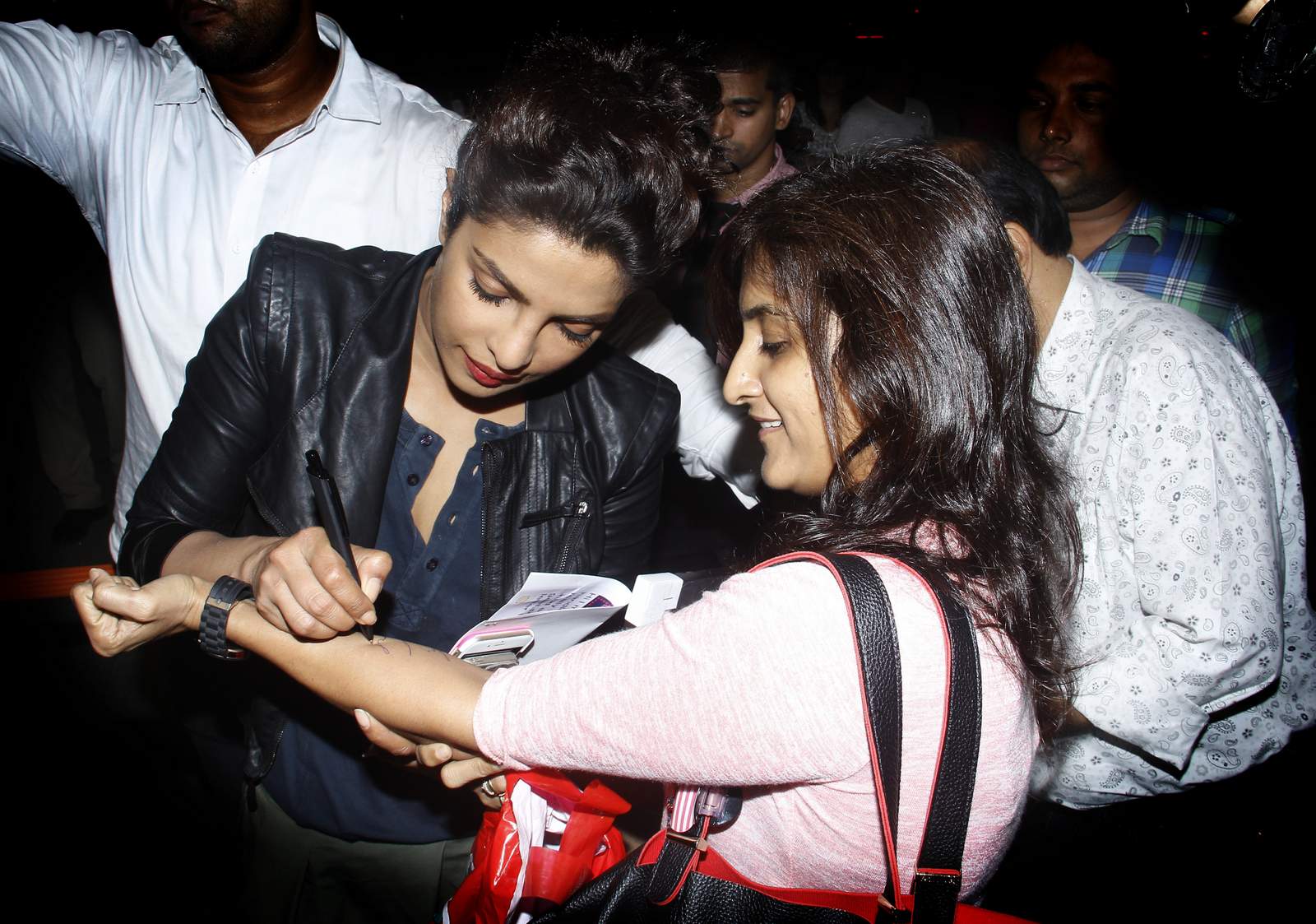 3. A fan trying to kiss Aditya Roy Kapur
A video of a fan trying to kiss Aditya Roy Kapur has gone viral on social media recently. The actor was visibly uncomfortable and tried to handle the situation calmly. He removed her hand from his neck when she kissed his hand. Speaking about the incident to The Indian Express, the actor said, "To be honest, I didn't get too frazzled by it. It was just something I had to handle at the moment."
4. A fan wanting John Abraham's skin in her nails
In a 2016 show called M Bole Toh, John Abraham revealed how a group of excited female fans once surrounded him in Holland and put their hands under his shirt. The actor described the incident as sweet. But that's not it. The actor spotted blood near his chest. When he asked the fan about it, she said, "I wanted your skin in my nail."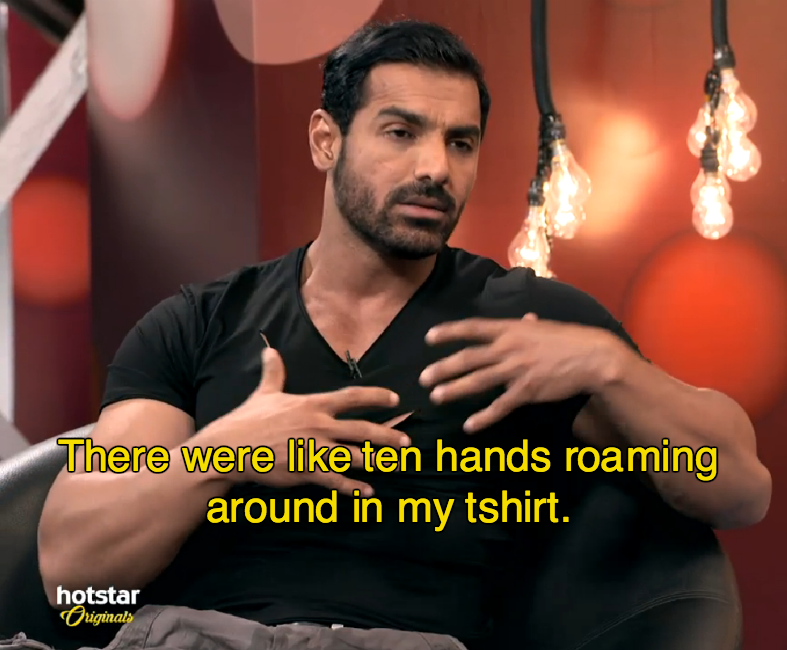 5. Fan directly grabbing Shah Rukh Khan's hand to click a selfie
SRK had just stepped out of the Mumbai airport with his sons when a fan suddenly grabbed his hand and started clicking selfies. Obviously, it was an unwanted invasion of personal space. The actor stepped back, looked at the fan, and kept going on his way.
6. A fan repeteadly putting his arm around Vidya Balan's waist
In an interview with SpotboyE, Vidya Balan shared how a fan once repeatedly held her waist at the Kolkata airport, despite her asking him to back off.
"I told him don't, but he put it again. My manager saw it and said please don't and when I turned to pose for cameras he put his hand around my waist again the third time. I said listen don't, what do you think you are doing? This is wrong. Then he said sorry can I have a selfie, I said no you can't, behave yourself," she said in the interview.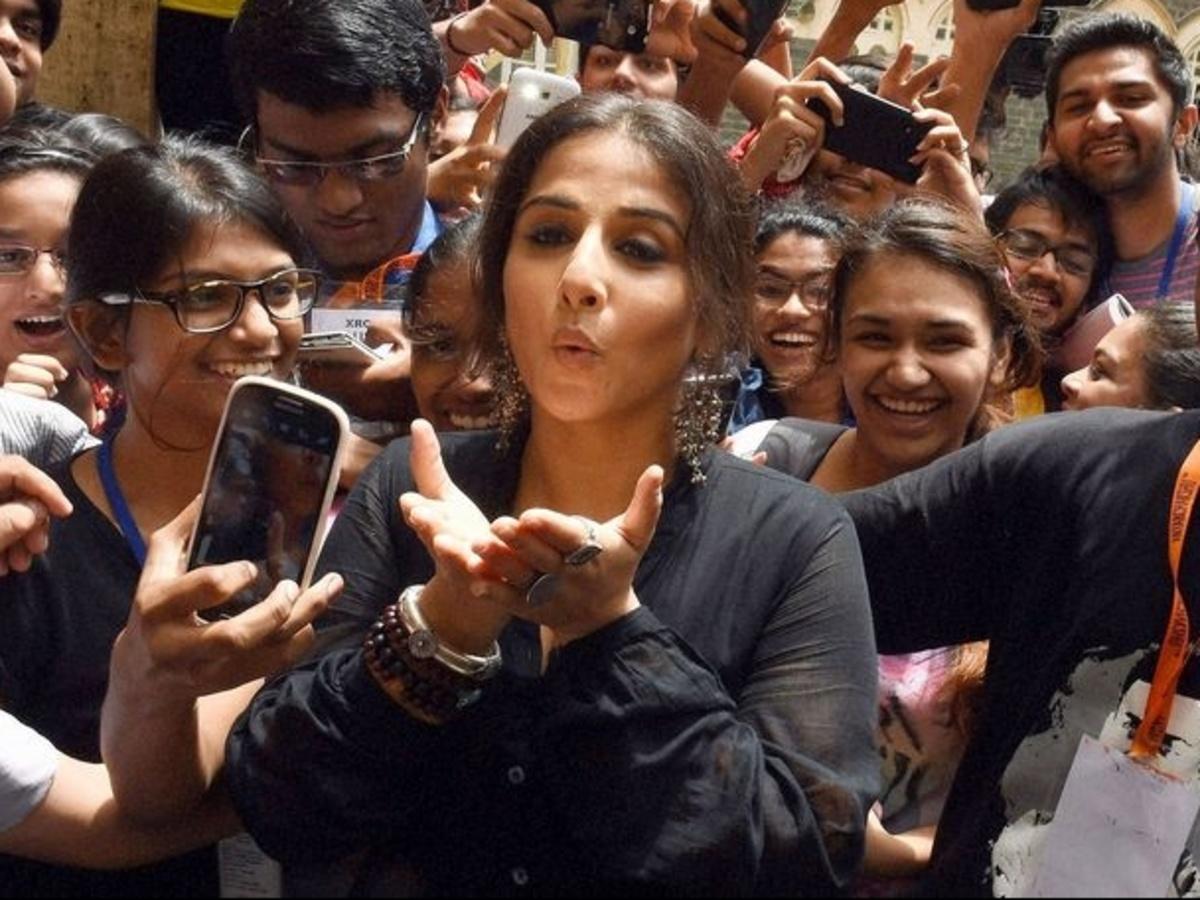 7. Sara Ali Khan's fan kissing her hand
Sara Ali Khan was walking out of pilates class when fans approached for selfies, and the actress obliged. Then a man came asking her for her hand and kissed her. The actress was visibly surprised, and the guard intervened.
8. A fan misbehaving with Ileana D'Cruz
Apparently, while promoting her film Baadshaho, the actress had an unpleasant encounter with a fan who misbehaved with her. She called out the incident on Twitter.


9. A fan pulling Akshay Kumar's forehead to click his picture
Once, Akshay Kumar met a big crowd of fans when he showed up at an event. While making his way through, a fan literally pulled him by his hair to click his photo. Surprised, the actor tried to grab the fan's arm and later walked away, giving a warning gesture. While the video of the incident became a viral meme on social media, it showed us how entitled fans can take everything for granted.
10. Fans wanting a selfie with Kareena Kapoor while she was clearly uncomfortable
Before entering the Mumbai airport, fans of Kareena Kapoor surrounded her asking for a selfie. One person even touched her shoulder. The actress was visibly uncomfortable as she tried to make her way through.
11. Hrithik Roshan's fan barging through the security to take a selfie
Hrithik Roshan out with his sons in the city. He was waiting for them to enter the car when a fan barged the security and tried taking a selfie. The actor was pissed with the fan. Meanwhile, his security personnel also scolded other people surrounding the car.
Everybody loves their personal space. It's literally a basic human need. You just CANNOT touch somebody without their consent. IT'S NOT OKAY, IT NEVER WILL BE.
Also read: Two Photographers Clicked Alia Bhatt Sitting In Her 'Living Room' & This Is Just Not Done