Both Bollywood and Hollywood have their fair share of big and small films. Even though the releases are strategically planned months in advance, sometimes there is no other way for a small film but to release with a sure-shot blockbuster. Very rarely does it happen that a small film trumps the big film, which can't find an audience. However, in most cases the small films don't find any mention even if they get great reviews, and hardly earn any money in comparison to their huge counterparts.
Here are 14 such instances where a small film was left in the deluge because of a blockbuster releasing on the same day:
1. Talvar vs Singh is Bliing
Release date: October 2, 2015
Meghana Gulzar's Talvar was a fact-based retelling of the Aarushi Talwar's murder case which turned into a witch-hunt thanks to the inept local police which botched up the investigation and incarcerated the victim's parents. Talvar, which features knock-out performances from Irrfan, Neeraj Kabi and Konkona Sen Sharma was under water thanks to Akshay Kumar's bling.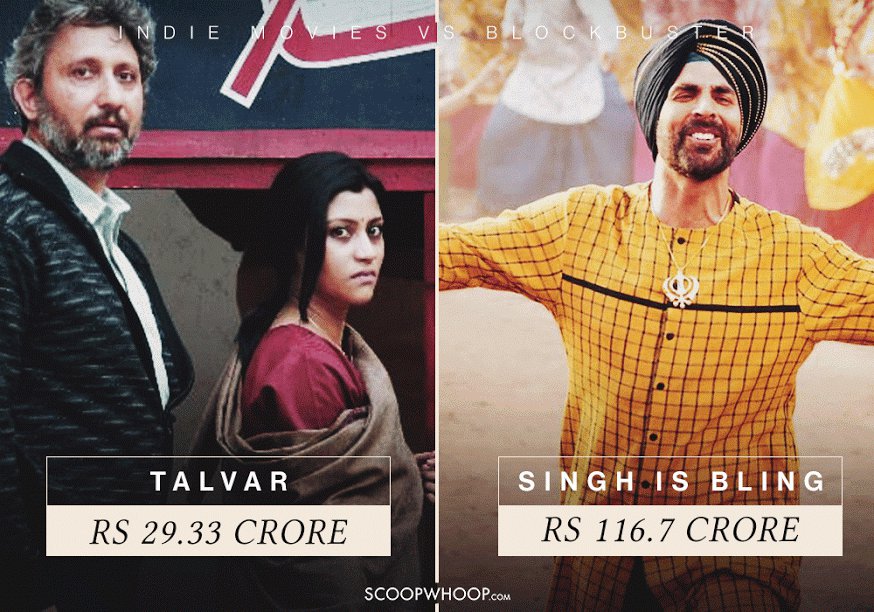 2. Bug vs Pirates of the Caribbean: At World's End
Release date: June 1, 2007
William Friedkin's Bug featured the mercurial Michael Shannon going full crazy no-holds barred. The film deserved more applause for its scary psychological elements, but thanks to the third instalment of the Pirates of the Caribbean franchise, Bug did not get the wide audience that it deserved.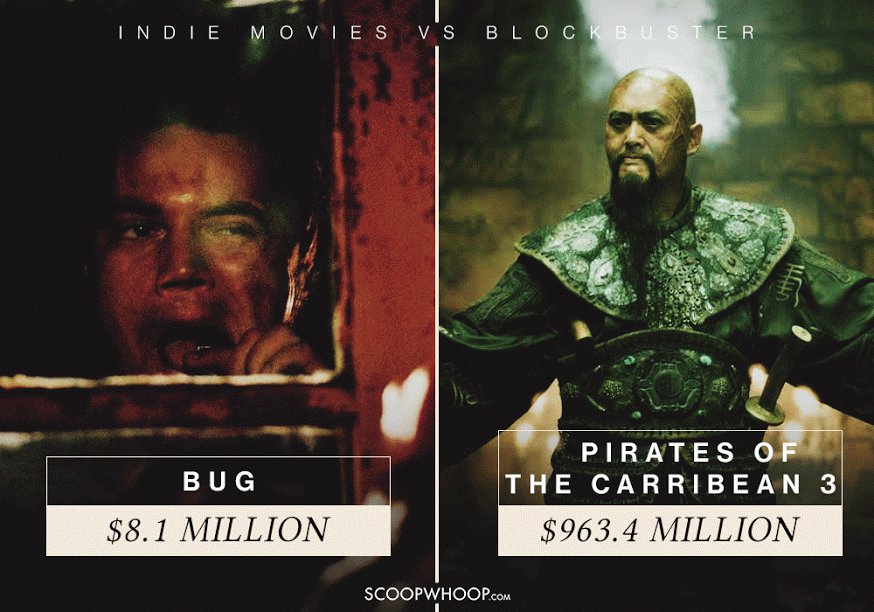 3. The Rainmaker vs Titanic
Release date: November 18, 1997
James Cameron's billion dollar blockbuster might have been based on the infamous sinking of a ship, however, the film had no problem sinking Francis Ford Coppolla's earnest courtroom drama The Rainmaker. Starring a young Matt Damon, Danny DeVito and Jon Voight in the three central roles, The Rainmaker is a definite crowd-pleaser in the hands of a veteran director. Too bad.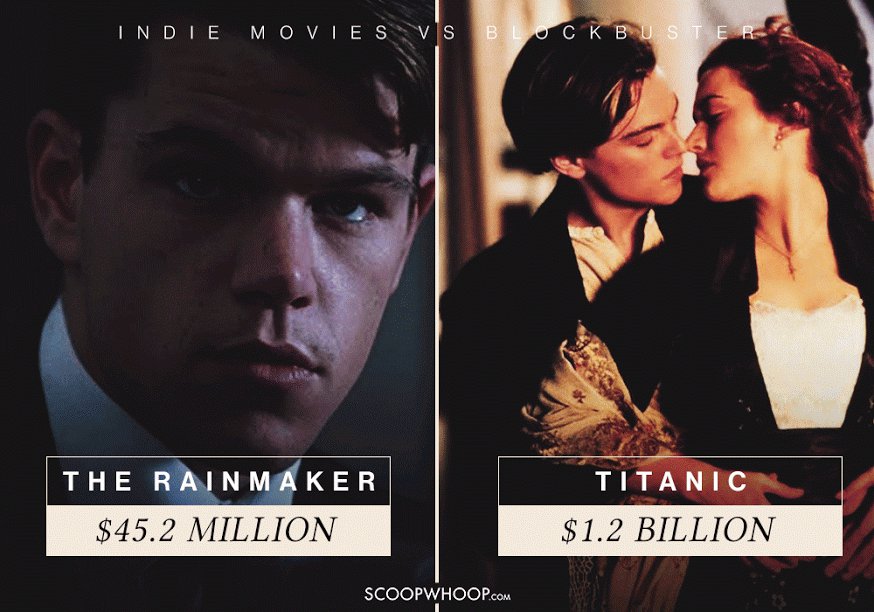 4. Masaan vs Bajrangi Bhaijaan 
Release date: July 24, 2015 and July 17, 2015
Neeraj Ghaywan's Masaan might have won honors at the Cannes Film Festival 2015 and widespread acclaim on its release in India, but it failed to rake in the moolah thanks to Salman Khan's Bajrangi Bhaijaan which had released the week before and was continuing to get the footfalls.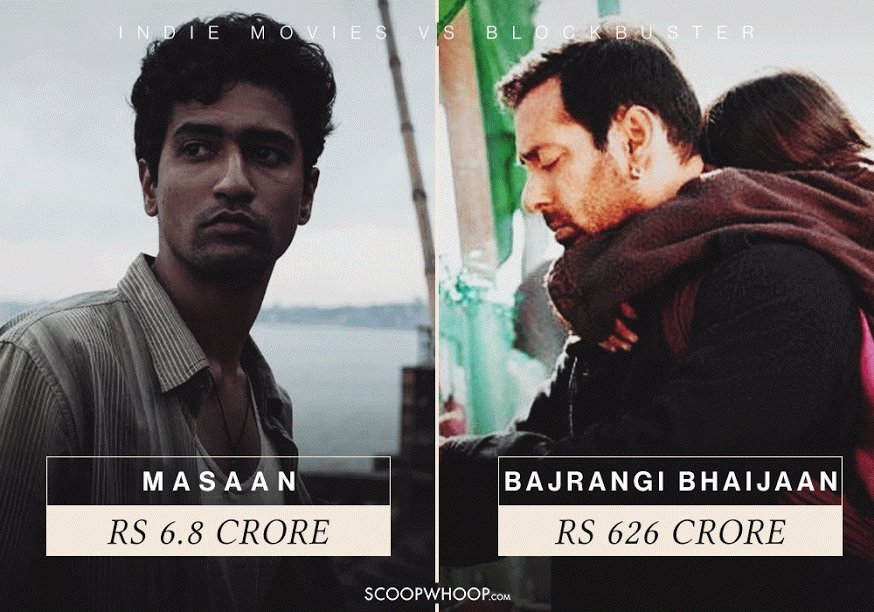 5. Me & Earl and the Dying Girl vs Jurassic World
Release date: May 29, 2015
Based on the best-selling material Me & Earl and the Dying Girl found a cult of its own. Referencing pop culture in about three-fourth of the film, it was a geek's wet dream. However, the film released on the same day as Colin Trevorrow's Jurassic World which was a reboot of Steven Spielberg's famous franchise. The huge franchise movie sank the small indie movie, just like in real life.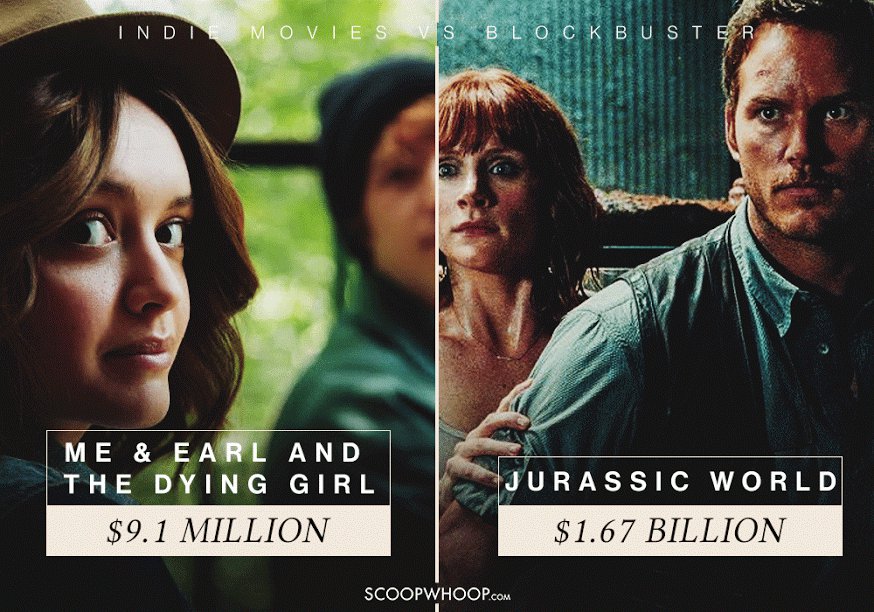 6. Ugly vs PK
Release date: December 26, 2014 and December 19, 2014
Anurag Kashyap's Ugly is widely considered his most substantial film, and it had the bad fortune of releasing in the aftermath of the Tsunami which Rajkumar Hirani's PK created. Ugly got a fraction of the footfalls that Aamir Khan's alien satire got. Which is a shame because Ugly remains Kashyap's most beautiful film.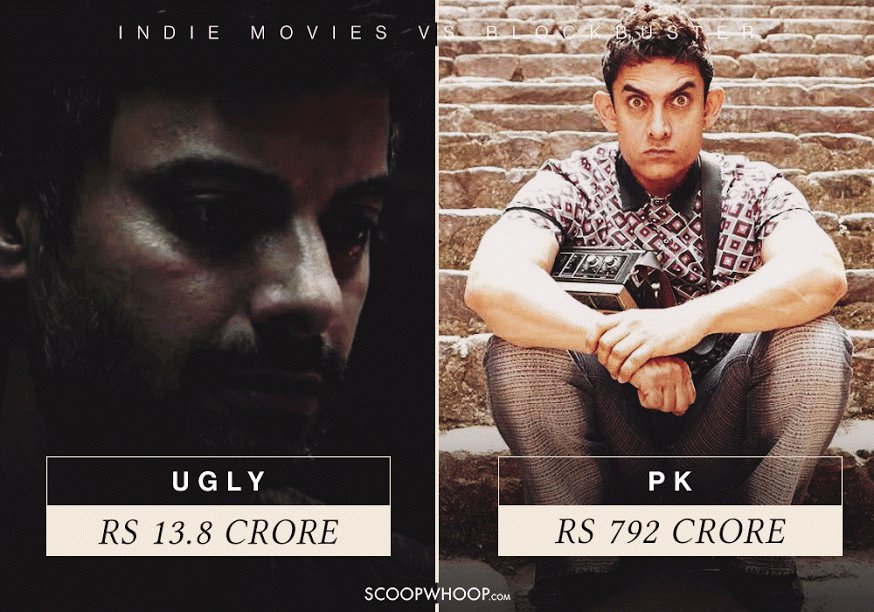 7. Transsiberian vs The Dark Knight
Release date: July 18, 2008
The Machinist director Brad Anderson who earlier directed Christian Bale came face to face with his lead actor, when his next film Transsiberain came out the same day as the second instalment Christopher Nolan's Dark Knight trilogy. Transsiberian had a stellar cast from Woody Harrelson, Emily Mortimer, Ben Kingsley to Kate Mara, and takes place aboard a train.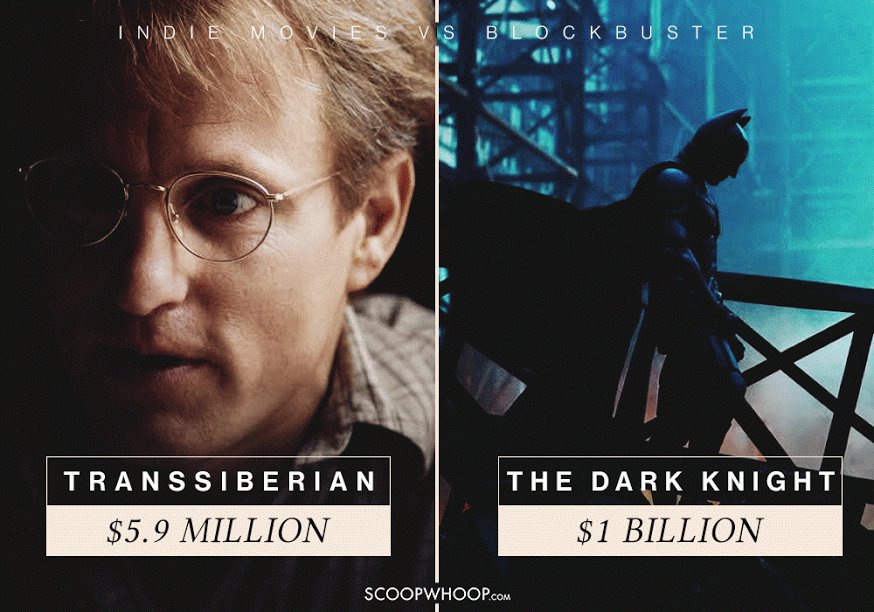 8. Shanghai vs Rowdy Rathore
Release date: June 8, 2012 and June 1, 2012
Dibakar Banerjee's Shanghai featuring a terrific ensemble including Abhay Deol, Emraan Hashmi, Kalki Koechlin, Prosenjit and the late Farooq Sheikh couldn't outlast the blazing starpower of Akshay Kumar's Rowdy Rathore. The latter directed by Prabhudheva went on to score a double-century in spite of scathing reviews, while Shanghai didn't find an audience given its serious premise and intense treatment.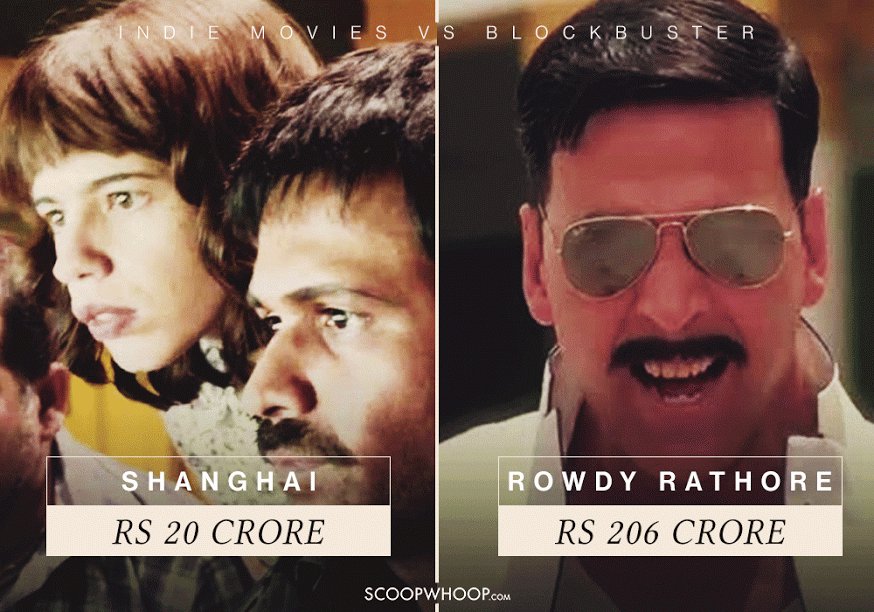 9. Born to be Blue vs Batman v Superman: Dawn of Justice
Release date: March 28, 2016
Born to be Blue was Ethan Hawke's rendition of Jazz great Chet Baker. The film is semi-biopic, semi-fictitious imagining the musician in a situation where he's hired to play himself. This independent movie for which Hawke got glowing reviews got trampled by the studio release of Batman vs Superman: Dawn of Justice which got mixed to negative reviews.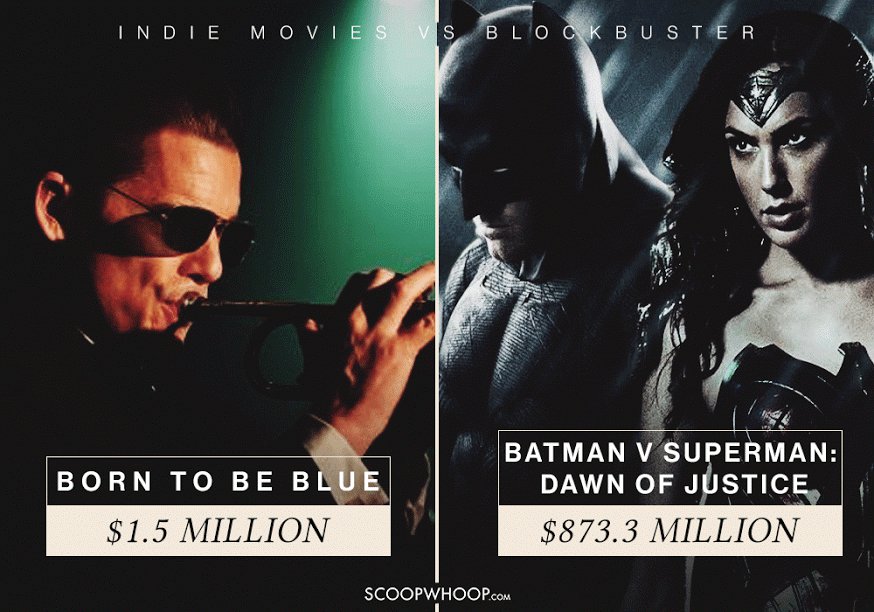 10. Crazy Heart vs Avatar
Release date: December 18, 2009
Jeff Bridges's Oscar-winning performance couldn't help the cash registers for Crazy Heart as it released with James Cameron's Avatar, which would go on to become the highest grossing movie of all time with a worldwide gross of close to 2.8 billion dollars. Crazy Heart got a good word of mouth, closer to the awards season.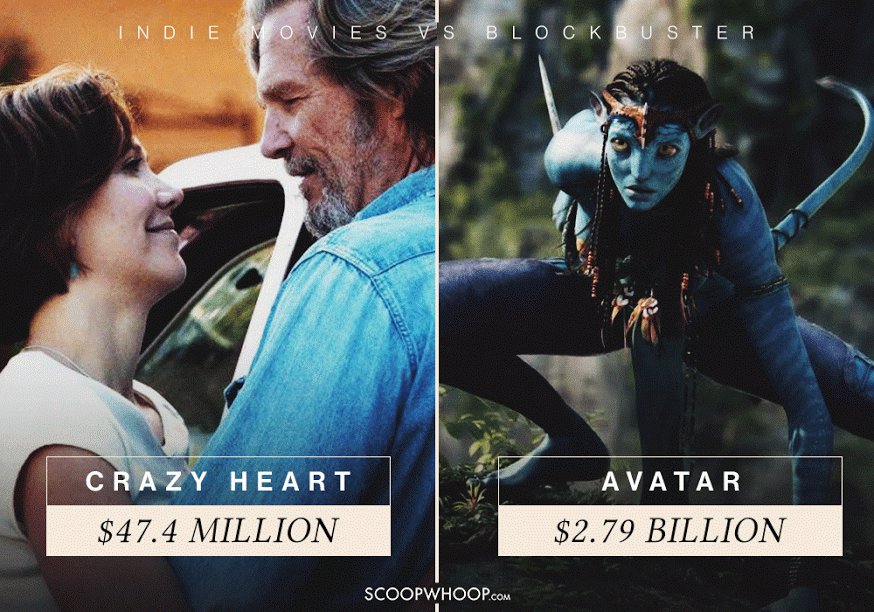 11. Before Midnight vs Fast n Furious 6
Release date: May 7, 2013
Richard Linklater's Before franchise saw its culmination with Jesse and Celine had their final rendezvous in Greece. The fans loved the final movie of the trilogy, but the majority of the film audience went for the sixth instalment of the Fast n Furious franchise featuring Dwayne The Rock Johnson along with Paul Walker, Vin Diesel and the other regulars.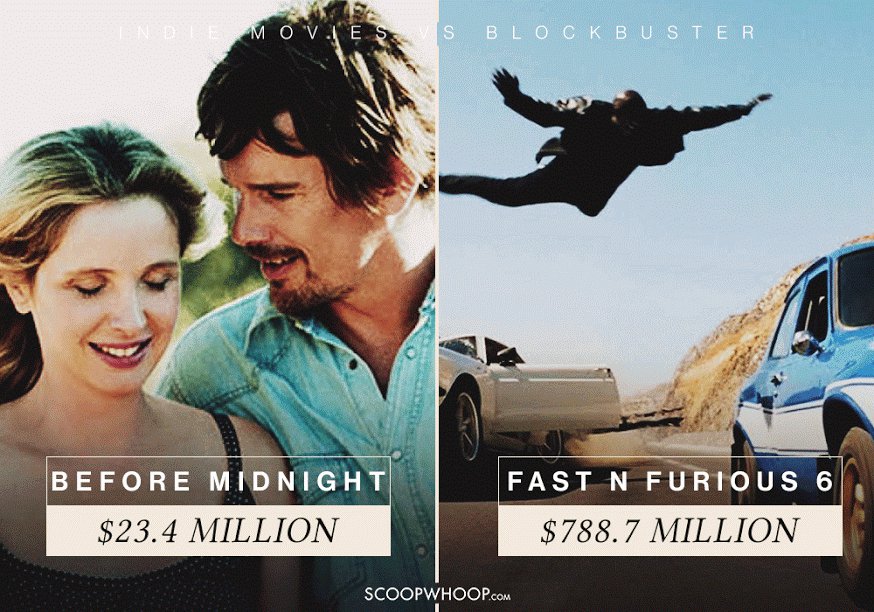 12. Bombay Talkies vs Shootout at Wadala
Release date: May 3, 2013
Producer Ashi Dua's experiment to get four established Bollywood filmmakers like Karan Johar, Dibakar Banerjee, Zoya Akhtar and Anurag Kashyap together to make an anthology of short films on Bollywood's completion of 100 years might have been marginally profitable. But Sanjay Gupta's Shootout at Wadala didn't make life for this experiment any easier with its 3 item numbers.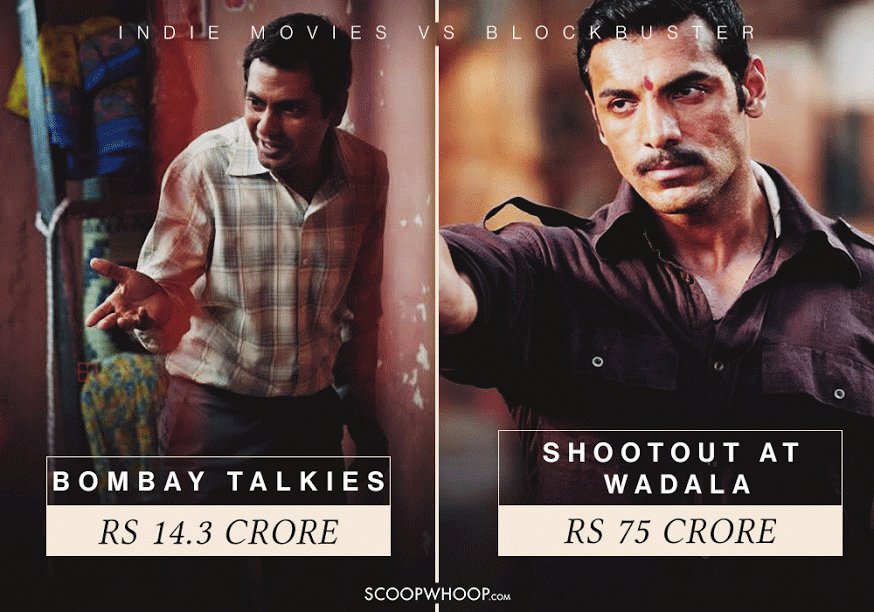 13. The Iceman vs Iron Man 3
Release date: May 3, 2013
The Iceman has an amazing star cast including Michael Shannon, James Franco, Chris Evans and as a critic of a major publication called it as 'Zodiac meets Goodfellas' didn't stand a chance in front of the much bigger Iron Man 3 directed by Shane Black.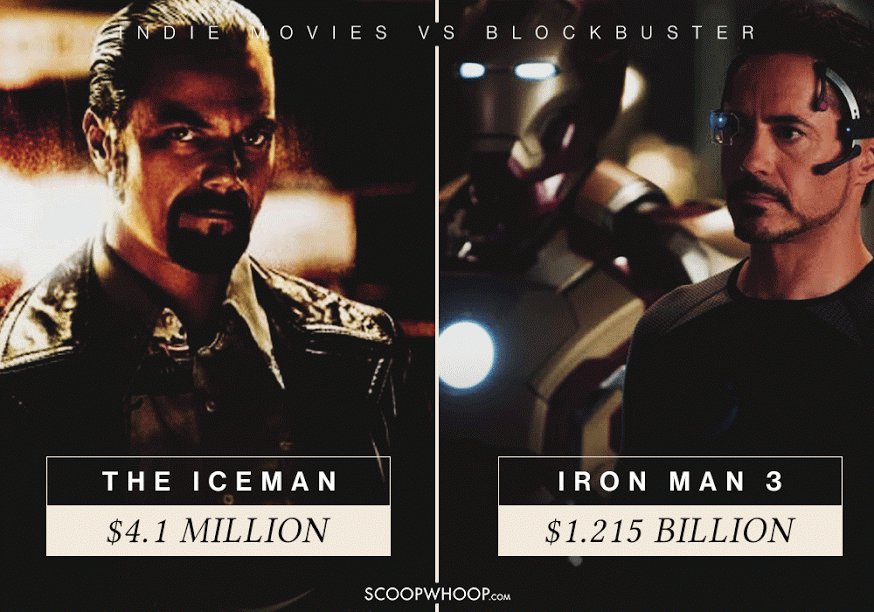 14. Room vs Spectre
Release date: November 20, 2015
Brie Larson's Academy Award win might have shone some light on this Canadian-Irish production but it had absolutely no space to breathe in front of the latest instalment of the Bond franchise which had director Sam Mendes making an encore, and Christoph Waltz as the villain. Spectre might have been panned but it didn't change the box office sentiment and Room found its fair share of the audience only post-Oscars.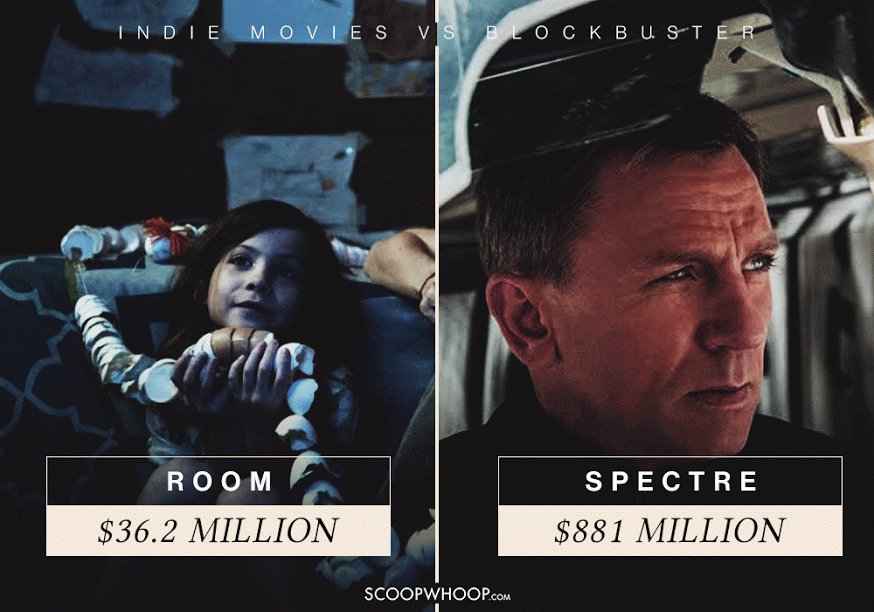 Watch the smaller films too.
Design credit: Aroop Misra