Movies have always been a great source of inspiration, then whether it is about finding the perfect look, planning the ideal date or even recreating an iconic proposal.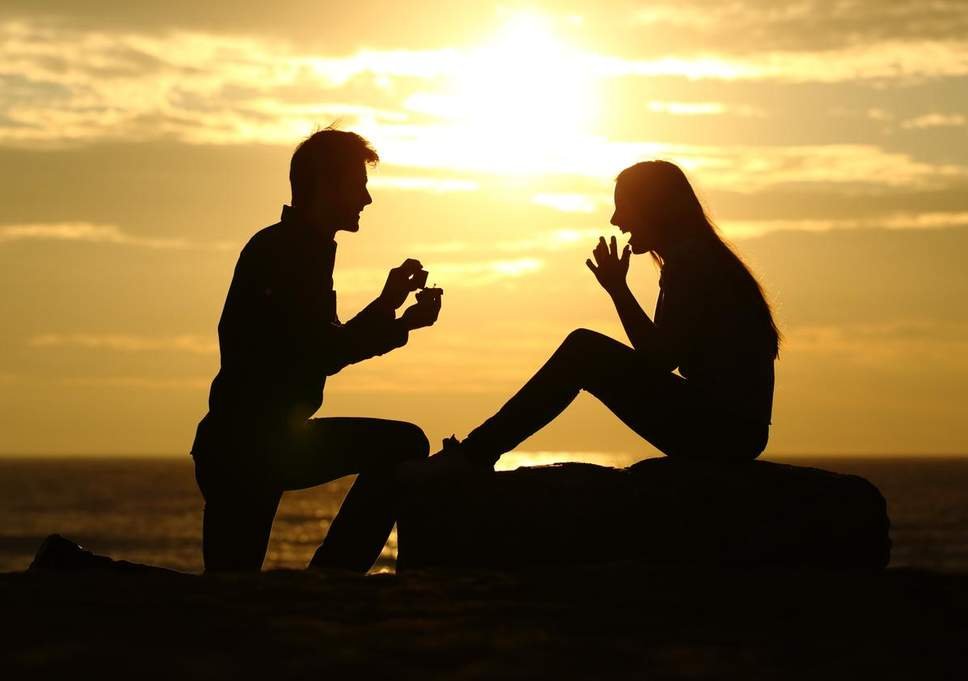 Here are some movies that have remained etched in our memories. And the proposals they presented rekindled our faith in the sappy, overpowering, and adorable feeling called love:
1. Runaway Bride
Maggie (Julia Roberts) spends all her time running away from marriage because secretly, she's running away from her own self. But once she understands which eggs she likes best (and everything else, of course), she wastes no time in rushing to Ike (Richard Gere) and proposing to him – by hanging up her running shoes, literally. 
2. When Harry Met Sally
After years of skirting around the idea of a 'forever romance', Harry (Billy Crystal) finally realizes that Sally (Meg Ryan) is the love of his life. He then does not wait for even a second before confessing his love for her – making it 'impossible' for her to hate him. 
3. Stepmom
When Luke (Ed Harris) decides to marry again, he knows he comes with emotional baggage and experience from his last marriage. And thus, he presents not the traditional ring, but rather a thread and a heartwarming speech to his then-girlfriend Isabel (Julia Roberts) signifying the bond that will tie them together. 
4. Notting Hill
Okay, it is perhaps only in a movie that a famous movie star falls for a book store manager she randomly meets. But as Anna (Julia Roberts) admits her love to Will (Hugh Grant), full of hope and free of inhibitions, she represented every girl's dream. 
Of course, it is ultimately Will (after a regrettable 'No' and a romantic chase) who asks her again. 
5. Bareilly Ki Barfi
We spend the whole movie watching Chirag's (Ayushmann Khurrana) transformation. But in a wedding set up solely to have him admit his feelings, he finally lets Bitti know why he loves her (albeit, under false pretense). Fancy proposal and grandeur are great but nothing really beats a heartfelt confession.  
6. 10 Things I Hate About You
In an attempt to apologize and win over Kat's (Julia Stiles) heart, Pat (Heath Ledger) serenades her by singing Sinatra's I Love You Baby, while the school band provides a background score. Of course, she says 'Yes', and of course, he faces detention. But some school misdemeanours are worth it! 
Yes, technically it wasn't a marriage or prom proposal. But let's face it – that's a pretty epic way to propose for anything. 
7. The Notebook
Noah (Ryan Gosling) and Allie (Rachel McAdams) definitely did not have it easy in love, but the love they had was as passionately real as love can be. So it made perfect sense that when Rachel and Noah finally overcame all the hurdles, they confessed their love by having yet another fight.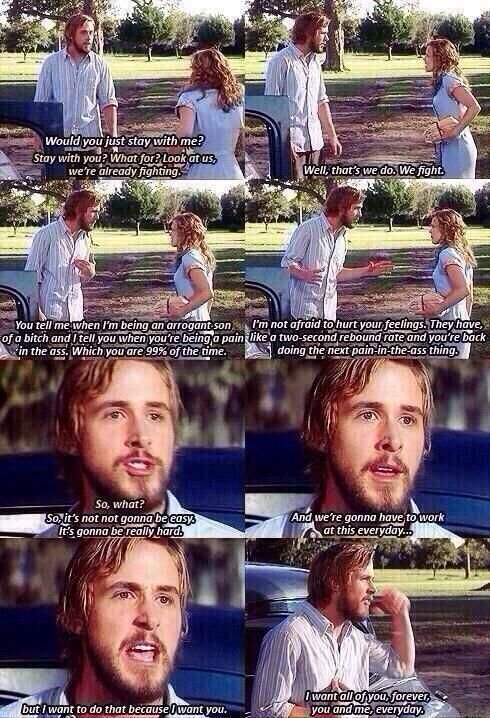 8. The Proposal
WithThe Proposal as title, the movie definitely did not let down. In the end, after faking a marriage, accidental romantic encounters, and a fair share of flying around, Andrew (Ryan Reynolds) finally asks Margaret (Sandra Bullock) for marriage, just so he can date her for real. 
9. Jerry Maguire
Jerry (Tom Cruise) did not get a lot of things right on the first go, just like his marriage to Dorothy (Renée Zellweger). But like everything else, he finally figured out that Dorothy was where his heart really belonged because she completed him. 
And yes, he did have her, and all of us, at 'hello'. 
10. Yeh Jawaani Hai Deewani
The movie that made 'following your passion' the millennial thing to do, also gave us a slightly funy and altogether sappy declaration of love. When Bunny (Ranbir Kapoor) finally realizes that his love and passion can coexist, he wastes no moment in admitting his feelings to Naina (Deepika) and wins her over. 
11. Rang De Basanti
Just like everything else in the movie, Ajay's (R. Madhavan) proposal to Sonia (Soha Ali Khan) was altogether relatable, and completely romantic. On a fort surrounded by their closest friends, he asks Sonia to be with him forever, and her shy smile says a million words. 
Checkout: Korean Romantic Movies
Of course, it was a Bollywood movie and so there was the perfect song – Tu Bin Bataye – playing the background. 
12. Love Actually
Among all the beautiful, sensitive, heartwarming, and adorable stories that Love Actually presented, it was Jamie's (Colin Firth) proposal to Aurélia (Lúcia Moniz) that left the audience smiling goofily. He learns a whole new language, simply so that he may be able to propose to her. And even when he fails to master the language, his love definitely carries through. 
A special mention for stories of Sam (Thomas Sangster) and David (Hugh Grant) who also had us rooting for them.  
13. The Wedding Singer
Yes, there are many grand proposals, but singing a song over a loudspeaker on an airplane has to pretty much top the list. And if you've written the song yourself, you've won the race and many hearts. Just like Robbie (Adam Sandler) wins Julia's (Drey Barrymore) heart in The Wedding Singer. 
14. Walk The Line
June (Reese Witherspoon) gives Johny (Joaquin Phoenix) an ultimatum that she will only talk to him on the stage and nowhere else. So Johny proposes to her in the middle of his onstage performance, because when it comes to love, even live concerts can wait. 
15. Sweet Home Alabama
Before Nick Jonas did it for PeeCee in real life, Andrew (Patrick Dempsey) did it for Melanie (Reese Witherspoon) in reel life – shut down an entire Tiffany store to pick out the ideal wedding ring. Now that's a pretty special proposal that can easily make you forget anything – including the fact that you're still married.
Only something as strong as true love could have eclipsed such an epic proposal. 
16. Jab We Met
You have to give it to Geet (Kareena Kapoor), she definitely had a unique way of living her life. Which is why her final proposal to Aditya (Shahid Kapoor) was impulsive and romantic, just like the person she was. 
17. Pretty Woman
When it comes to anything romantic, no list is complete without Pretty Woman in it. And of course, Edward (Richard Gere) braving his fear of heights and commitment and walking up to Vivian's (Julia Roberts) house is the kind of proposal that can make melt even the coldest of hearts. 
18. Socha Na Tha
Imtiaz Ali's debut romantic comedy was an adorable story that rekindled even our dying belief in crazy romances. When Aditi (Ayesha Takia) finally decided to pursue love over familial obligations, she interrupts Viren's (Abhay Deol) conference to declare her love. And then, without a second glance, the two literally just run away.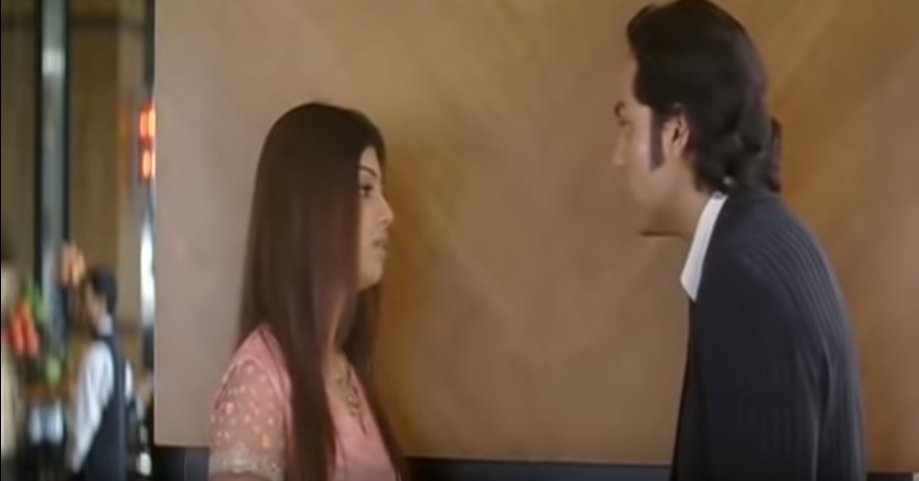 19. Dirty Dancing
'Nobody puts Baby in a corner'… and no one can take away the absolute romanticism of this iconic scene. In the end, Johny (Patrick Swayze) makes sure that he lets Baby's (Jennifer Grey) family know how much he really loves her. And of course, they launch into the perfect dance sequence because sometimes, love does make the world go round. 
Know of any other romantic movie proposal that left you waiting for that special moment, or even, that special someone? Let us know in the comments section below.