Priyanka Chopra is a woman of many talents, to say the least. Singer, actor, model, ex-Miss World, among many other things, she is a star with many sides. This extends to her sartorial persona as well, making her a style chameleon. That is why, when we saw this collage of a throwback photo of her first solo Femina cover and her latest Femina cover, we were stunned at how far she's come.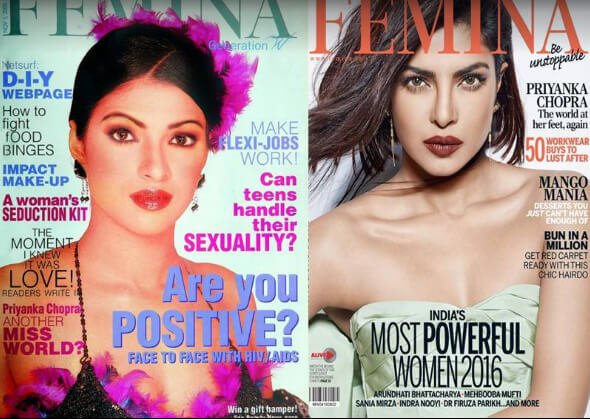 As a result, we felt we should chart Miss Chopra's 15 hottest magazine covers, to give everyone a glimpse of how far PC has come, especially in terms of her fashion evolution. Here is a comprehensive and chronologically ordered list of her various magazine covers.
Femina, 2000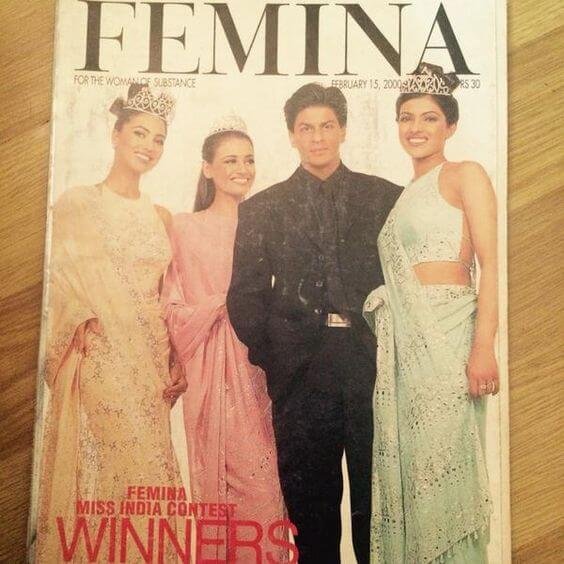 While this was not her first solo magazine cover, it was her first magazine cover. Here, true to her pageant-winner self, she is seen looking radiant in a pale mint green saree with Shahrukh Khan and her fellow Miss India winners, Lara Dutta, and Dia Mirza.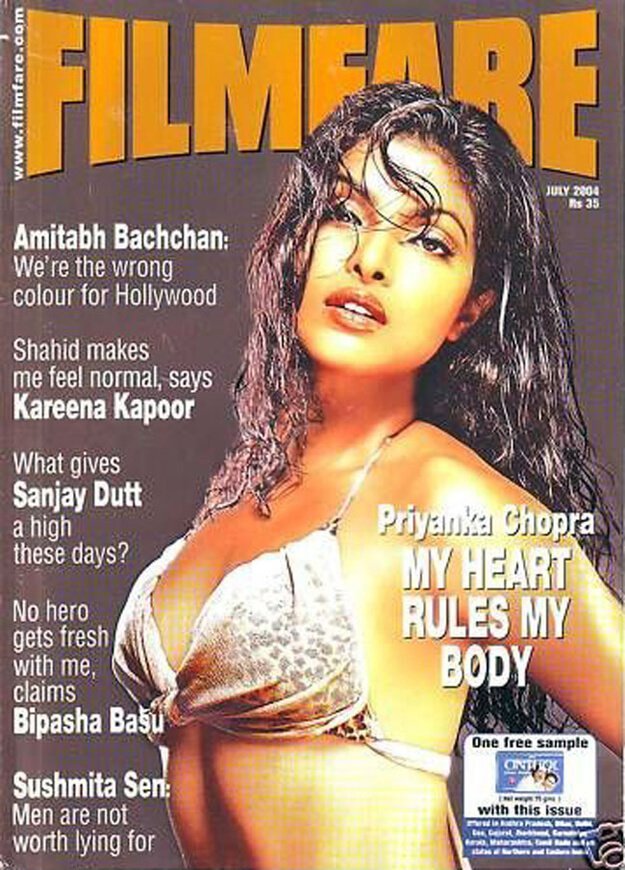 Priyanka was largely heralded as a curvaceous sex symbol at the very beginning of her career, when Bollywood was still using formulaic objectification of women to make commercially viable movies. This throwback cover demonstrates that unfortunate and cringeworthy phase clearly.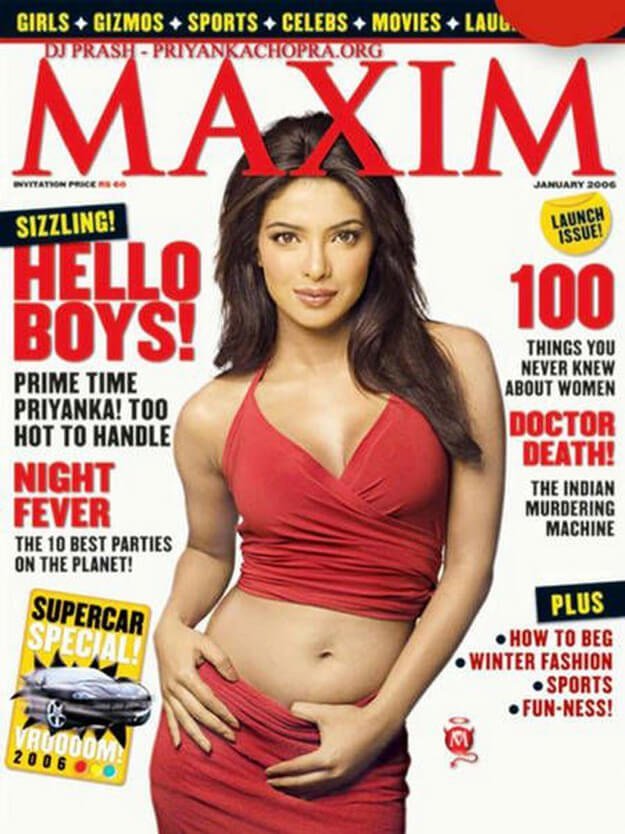 Priyanka, is that you? This cover truly seemed to feature someone people could barely recognise, which is all we can really say about it.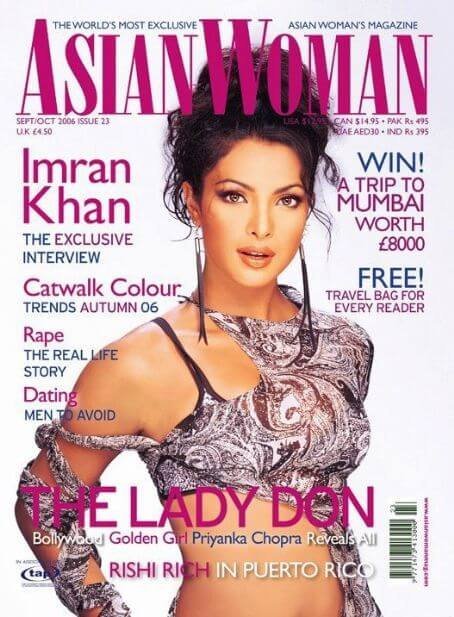 Somewhere between her full-blown advent into the fashion scene, and her status as an attractive pageant winner, sits this cover. To try and decipher the fashion philosophy behind the concept of this cover, we think, would be a waste of time.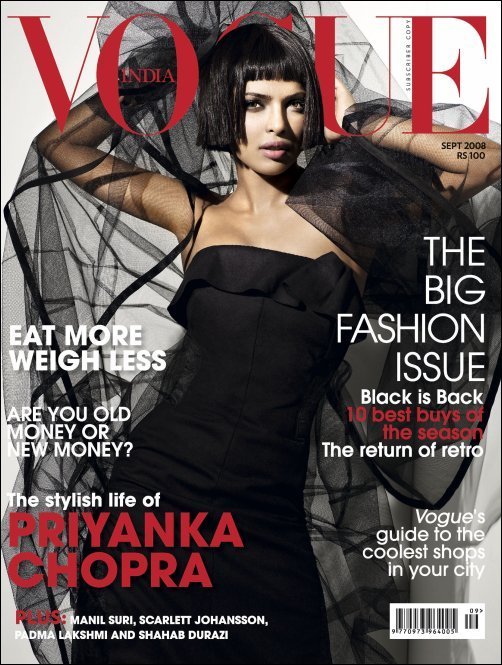 This was probably PC's breakthrough moment as a high-fashion glamazon who is not afraid to take risks. The edgy hair, severely sexy black jumpsuit, and smokey eyes here created a new Priyanka the world had not seen before. Moreover, she pushed her limits beyond just looking pretty, and entered avant-garde territory.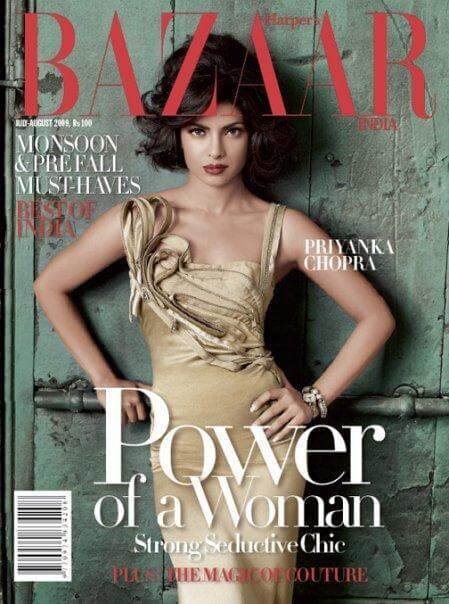 Priyanka's old-Hollywood star look for this cover lent a seductive elegance to her then still-evolving style in the best possible way. The voluminous curls, deep red lips, and curve-hugging gold gown made for a glamorous look that led one to think of her as an Indian Marilyn Monroe of sorts.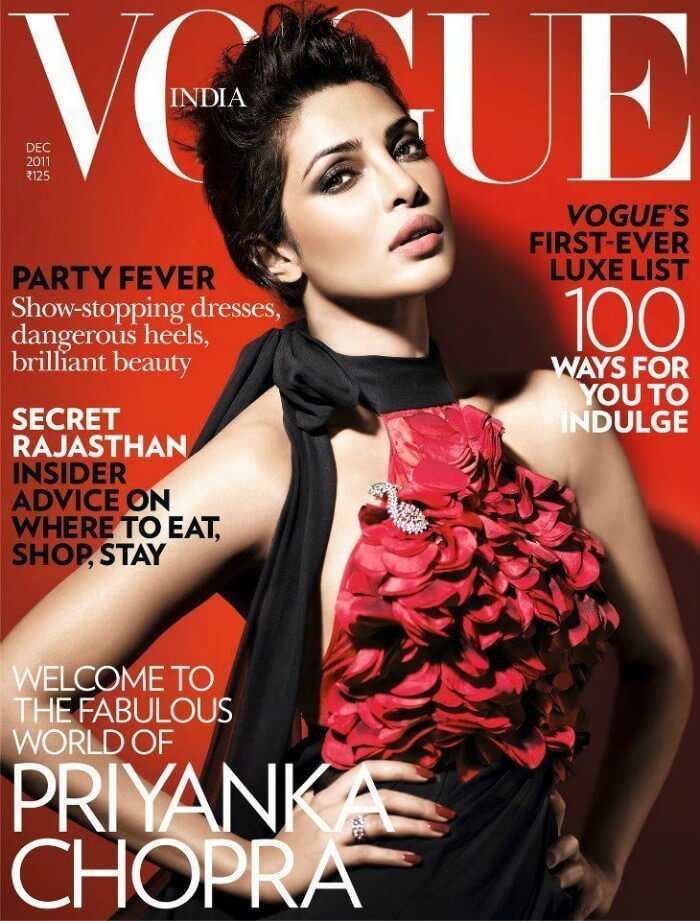 This cover was modern and stylish in every way possible. Here, Priyanka transformed into a fashionable supermodel, not a beauty contest winner, or a celebrity. The minimalism, PC's uber-glamorous outfit, and the punky puff coupled with smokey eyes, truly made for one of the most subtly visually stunning of all PC covers.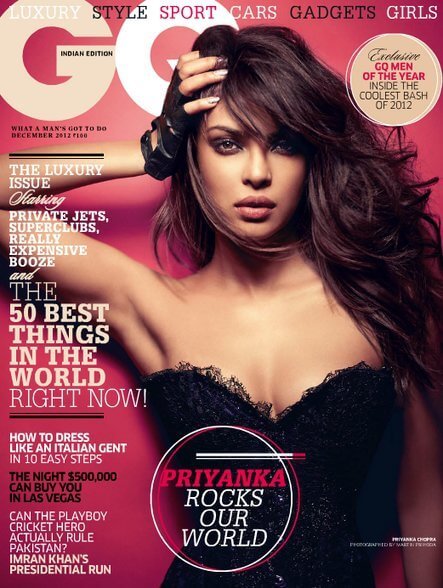 At the risk of sounding cliched, this steamy lace-and-leather shoot for GQ magazine made many women question their sexuality. Priyanka had officially entered femme fatale territory.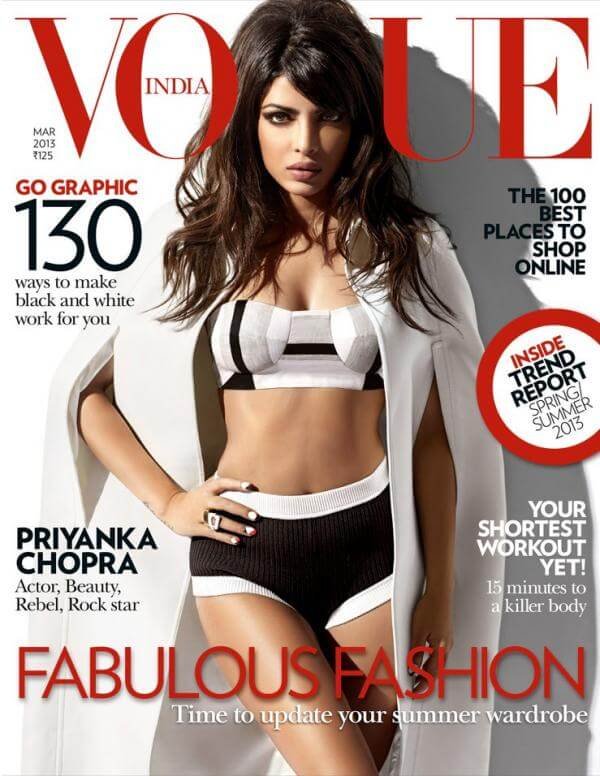 A gorgeous Bardot-esque blowout coupled with fashionably sexy cropped separates made for yet another Priyanka-Vogue match made in heaven. Her fitter body and sultrily sensual beauty look lent extra oomph to the cover.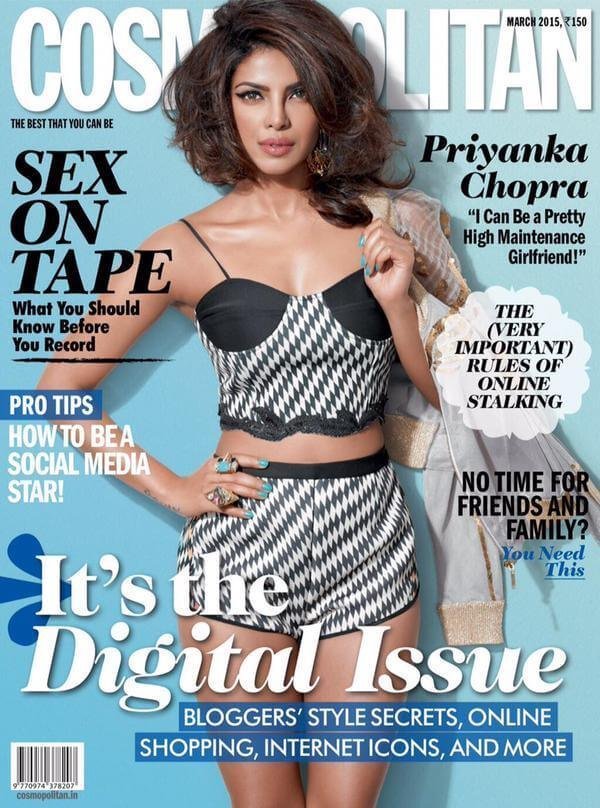 This magazine cover was what they call #beautygoals—winged eyeliner, glowing skin, eyebrows on fleek, the perfect nude lips, and a voluminous hairdo to boot. The retro vibe of the matching separates added to the sexy cuteness PC was channeling here, while that smoldering gaze reminded everyone what a flawless goddess she is.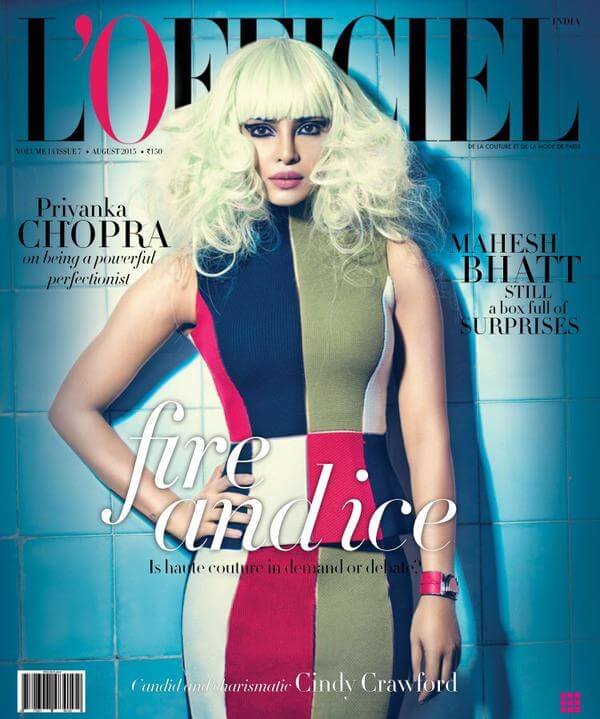 Posing in a platinum blonde wig with blunt bangs, wearing Cleopatra-style eyeliner, is not something every Bollywood actor has done, or will do successfully. Priyanka, however, managed to slay in this fiercely fashion-forward look for L'Officiel.
Harper's Bazaar Bride, 2016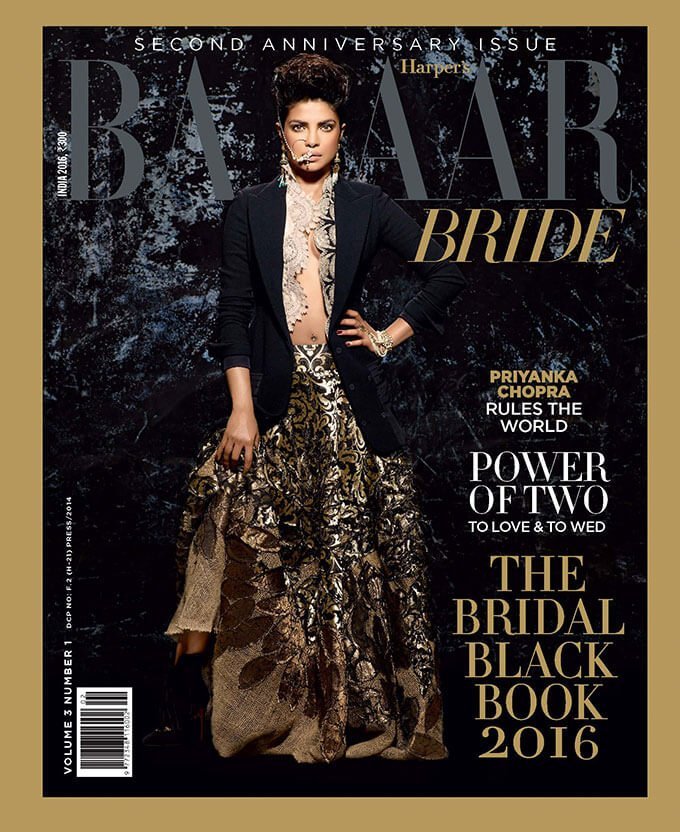 This glamorous cover saw PC don a front-open, lace-lined blazer over a gold lehenga, leaving our jaws on the floor. The drama and overall sex appeal were only further amplified by the elaborate hair, nose ring, and sexy Louboutin boots.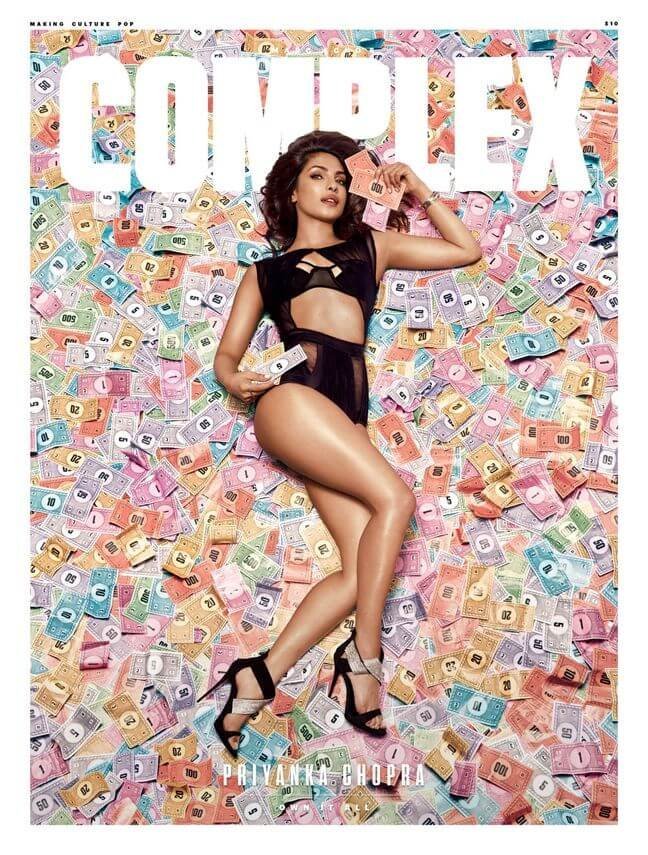 Beautiful, rich and famous, Priyanka channeled a modern-day Marie Antoinette-style devil-may-care attitude while clutching currency notes for this American magazine cover. What is a better sign that you have arrived, than rolling about in a pile of money, like Uncle Scrooge from Duck Tales? Priyanka's Complex cover screamed fancy modern-day aristocrat.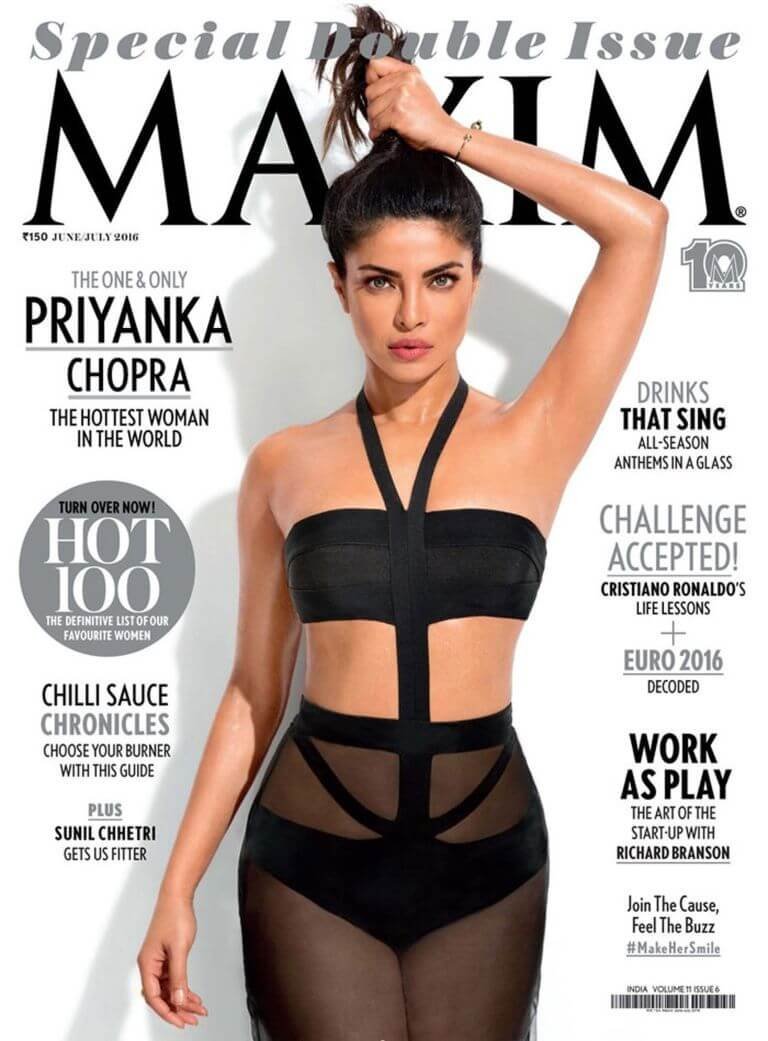 This might be Priyanka's most (in)famous magazine cover, which is saying something, since we're talking about someone who has been on the cover of TIME, Vogue, and GQ. The underarm photoshopping scandal associated with this cover made PC even more famous than she already was. We at Vagabomb couldn't help but add our two cents to it, as well!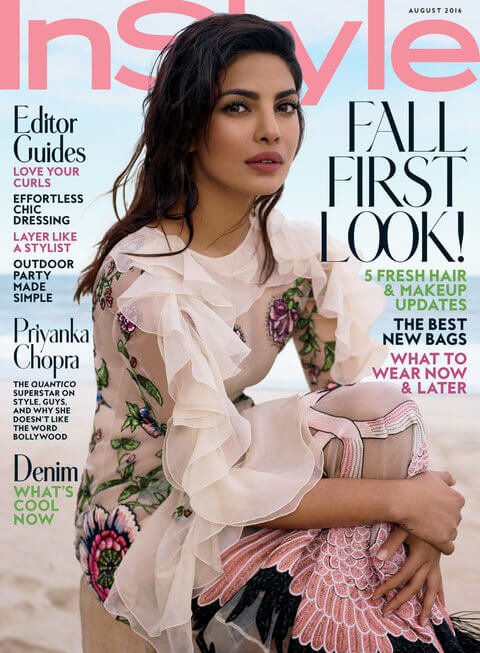 While this is not Priyanka's first cover for a major international magazine's American audience, the fact that InStyle does not cater to a non-American audience at all, made it a big deal. This cover was not only a huge deal because of the stunning pink mermaid vibes, but because it marked the fact that Priyanka was now a household name in the U.S.A. 
For more of this author's work, click here; to follow them on Twitter, click here.