Days after a sexist billboard featuring Ranveer Singh sparked outrage, the actor has now broken his silence on the issue.
The Befikre star, who is known for his antics and quirks, was embroiled in a controversy over his endorsement of an international apparel brand. 
The ad went up on hoardings in 30 cities earlier this week, and was criticized across social media platforms for disregarding consent and ridiculing women in the workplace.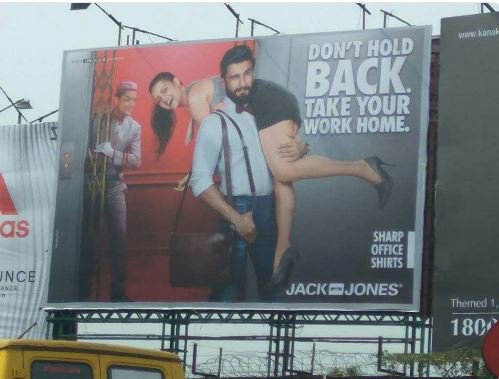 In a press statement issued to ScoopWhoop by the actor, Singh has apologized for having offended sentiments. 
He said:
'It was important to give the brand creative freedom while designing their campaign. But, I guess we got it wrong on one of those billboards. I'm sorry this happened but it's a thing of the past. We rectified it immediately by having that hoarding taken down asap from everywhere over 30 cities overnight. I treat all women with utmost respect both professionally & personally and would never do anything to disrespect them.' 
The brand in question had also apologized as soon as they started receiving flak for their questionable advertisement.
Regret that one of our billboards has caused distress, we did not intend to offend anyone. #NOTHOLDINGBACK and withdrawing it immediately.

— JACK & JONES INDIA (@JackJonesIndia) November 21, 2016
Earlier, actor Sidharth had also expressed his displeasure on the ad.