Let's get it out of the bag. Akshay Kumar is the biggest human cliche of Bollywood. After Kamaal R Khan maybe. Why, you ask? Can you think of any other actor who has consistently played the same guy with such consummate ease for almost 25 years? Rustom has Akshay Kumar playing the same guy he played in Mohra, who was a clone of the guy he played in Main Khiladi Tu Anari. You know, the guy who could resist the advances of a rain-drenched Raveena Tandon because he was on duty. Even if for a few minutes.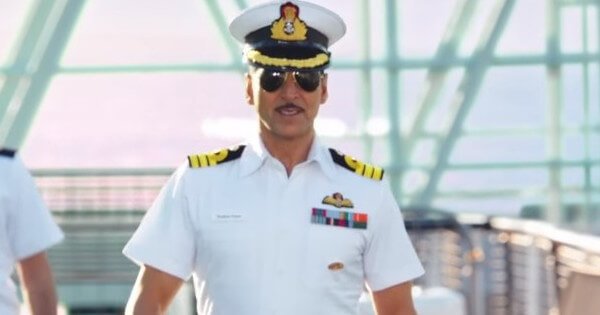 In Rustom that guy has time-travelled a bit. He has been air-dropped to Bombay of the 1950s where he has taken on the mantle of a cuckolded naval officer. Before we get into the depths of this review, it's important to talk about the real-life incident that inspired this film, the 1959 Nanavati case. This was a much-publicised trial of that time which involved a decorated naval officer accused of murdering his wife's alleged lover. So, good-guy Akshay finds out his his porcelain trophy wife (Ileana D'Cruz, who spends half her screen-time sniffling into handkerchieves) is getting it on with a playboy ( Arjan Bajwa) with questionable taste in clothes. When he is not wearing hats and suits borrowed from The Mask's wardrobe, he is walking around in silk robes and towels. 
When Rustom finds out about this affair, he does what every self-respecting Indian man should do, he goes and kills the lover. Now remember, this is a real life case. This happened about 60 years ago in our own country. But that shouldn't matter right? We are still a country where that's how a guy is supposed to react when his wife/girlfriend cheats on him. So yes, everyone from the kaamwaali bai to the defence minister keeps on saying the same thing. "Theek hi toh kiya hai usne!" You can almost hear director Tinu Desai shout in agreement. 
Eventually, he surrenders in a police station presided over by the most accommodating police officer (Pavan Malhotra) ever. He supplies Akshay Kumar with an exhaustive collections of books and visitors keep waltzing in and out of his cell. His cell is more easily accessible than my neighbourhood mall. At least Rustom's visitors don't have to bother about being frisked by two guys at the same time.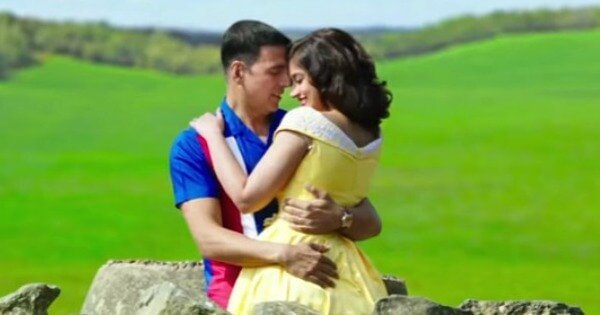 As he retires into his prison cell and sulks, his sniffling wife comes and apologises. She also guilt-trips him for leaving her for such a long duration of time on excuse of naval duty. She tells him how persuasive the guy was. How he impressed her with shayari that sounds like Nadeem Shravan songs from the 1990s. "Jeeye to Jeeye kaise " and the works. A lone tear trickles down Akshay Kumar's left eye. It probably says "I feel you". He forgives his wife and decides to fight his own case, without the help of a lawyer. 
Needless to say, the real guy, KM Nanavati, had better sense than fighting his own case. What follows is a court drama which looks like it's a spoof of most court-dramas Bollywood has ever produced. There is a disapproving judge saab, a devious opposition lawyer and a roomful of nodding attendees. But the most interesting thing in the courtroom is Esha Gupta, who plays the deceased lover's catty sister. She glowers, she snaps and then she glowers some more. When she runs out of these two expressions, she gives us a side view of her satin gowns. Yes, this is that kind of film.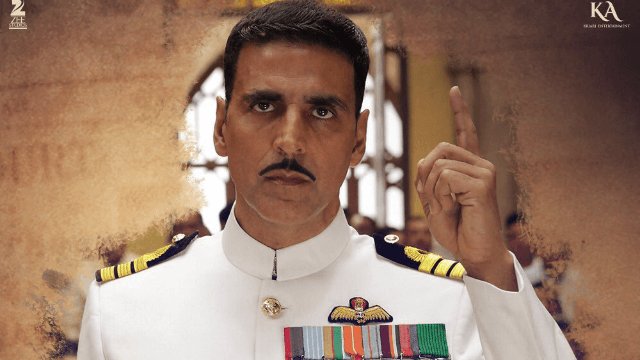 Yet, despite all this. Rustom has the makings of a decent film. If only it took itself less seriously. Because director TInu Desai decides that he has made a period film, he focuses only on the costumes and the sets. Which means we have a jar of "gluco" biscuits peeping out of a side, characters walking past CGI buildings. But really, where is the soul? Where is the tension in the court room scenes? Because it dwells in the unnecessary details, Rustom ends up being a caricature of a film it could have been.