When it comes to haircut ideas for men, the hair trends are fairly limited and you have to make do with the best option that is available. However, that does not mean that there is a dearth of hairstyle options that can make you look dapper. One of the classic men's haircuts that can flatter all face shapes and hair types is the low fade haircut. And it is a classic for a reason. Low maintenance, elegant, and sophisticated, the low fade is for practically everyone.
In a low fade haircut, the hair on the side of the head is tapered down from the ears to the lower portion of the head. The volume remains on the top. It is versatile and fits all occasions. Now before you rush to your hairstylist asking them for a low fade haircut, take a look at these 30 types of low-fade haircut ideas and options that we have curated for you. Browse through 'them 'em and pick the one that catches your eye.
What Is Low Fade Haircut?
A low fade haircut involves cutting the hair shorter and shorter as it goes down the sides and back of the head. The fade gradually tapers the hair down to the skin, creating a seamless transition from longer hair on top to a shorter length towards the bottom. Think of it as a more contemporary version of a military haircut for men.
In a low fade hairstyle, the hairline starts lower on the head compared to other similar fade haircuts. This makes it perfect for those who want some length but also a neat and trimmed look. You get the best of both worlds. It doesn't matter whether you have straight, wavy, or curly hair, the low fade haircut enhances your features and gives your jawline that 'snatched' look.
Type of Low Fade Haircut
Let's take a look at 30 types of low fade haircuts that you can choose from and get that makeover you have always wanted.
1. Low Drop Fade
In this low fade haircut, you can add contrast to the sides and give it some more character. In a low-drop fade, your hairstylist will shave the sides off almost completely while keeping a little more hair in the back. The prominent top gives your hair volume. For a professional setting, you can use hair wax or a gel and give it a sleek and polished look. And for a chill evening or a date, you can let those tresses loose and free.
2. Heavy Layers
If you have been blessed with thick and luscious locks, this haircut is just the right pick for you. The top is cut to give you well-defined layers and the sides are neatly trimmed down. This low fade haircut is a perfect blend of length and style. This high-volume top with a subtle low fade is perfect for men with wavy or curly hair.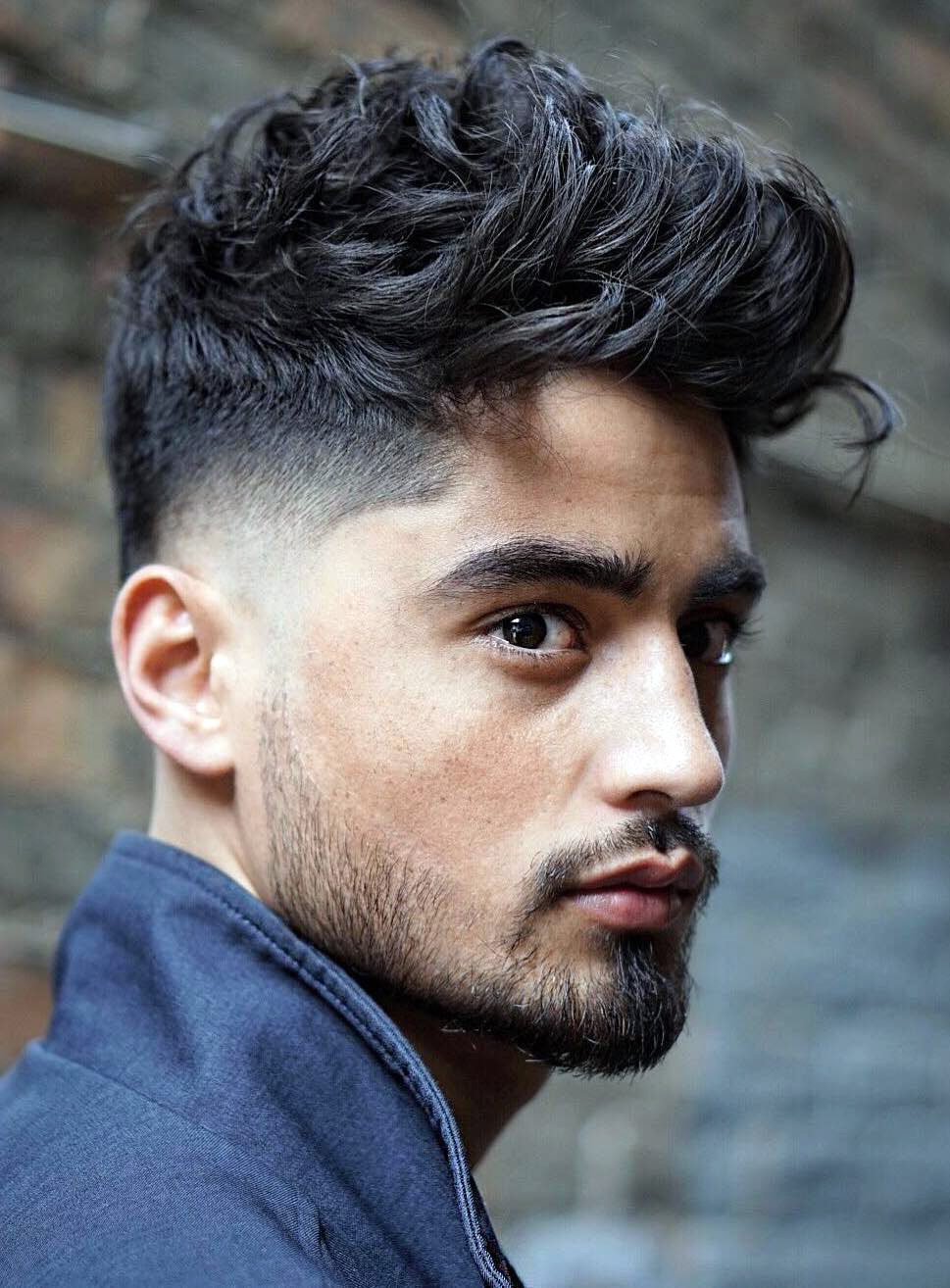 3. Bleached And Spiky Low Fade
If you are willing to do something extreme and give yourself a drastic makeover, a bleached and spiky low fade is the best pick for you. Get that hair bleached and opt for a low taper cut. In a low taper cut, the sides and the back are given a buzz cut. This hairstyle is short and it will give you a punk look. And because it is short, you don't end up spending a lot of time styling it.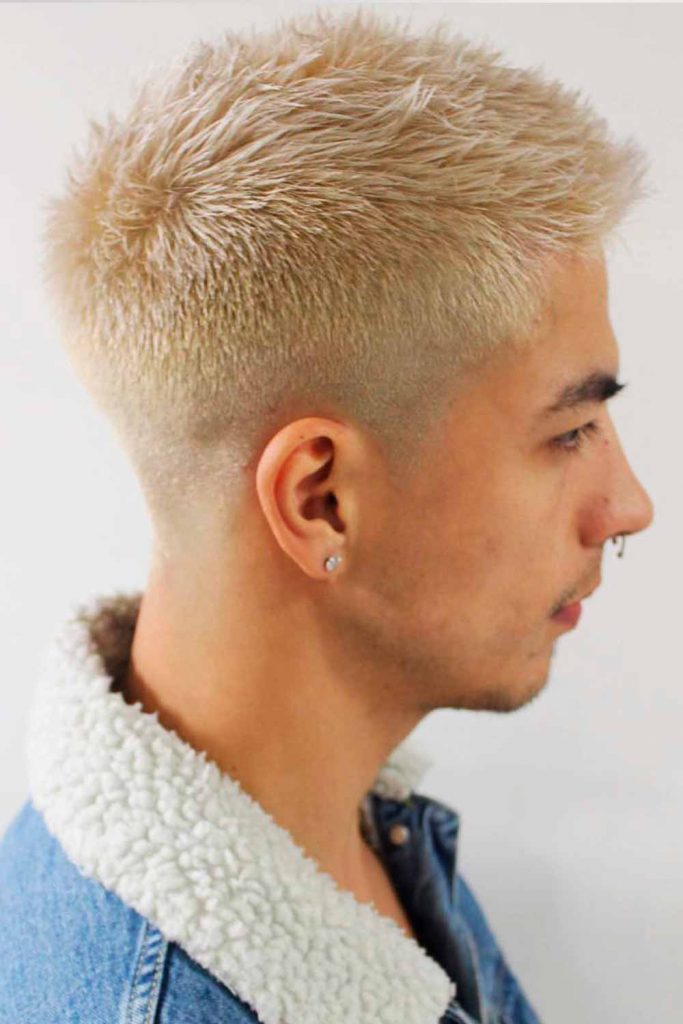 4. Low Fade Buzz Cut
Resembling a military haircut, this is for men who want something that is easy to handle but also chic and classic. A low fade buzz cut works perfectly well even on men with short hair. In this haircut, the hair on the back and sides is notably shorter than the top. It gives you a sleek and well-defined look and lets your confidence shine through, regardless of your hair length.
5. Undercut Low Fade With Design
This low fade haircut is unlike any other. In this haircut, the undercut creates a perfectly balanced and edgy yet bold hairstyle. To elevate the look further, add a subtle yet striking hair design. Keep the design simple with geometric lines or shapes to give it a sharp and polished look.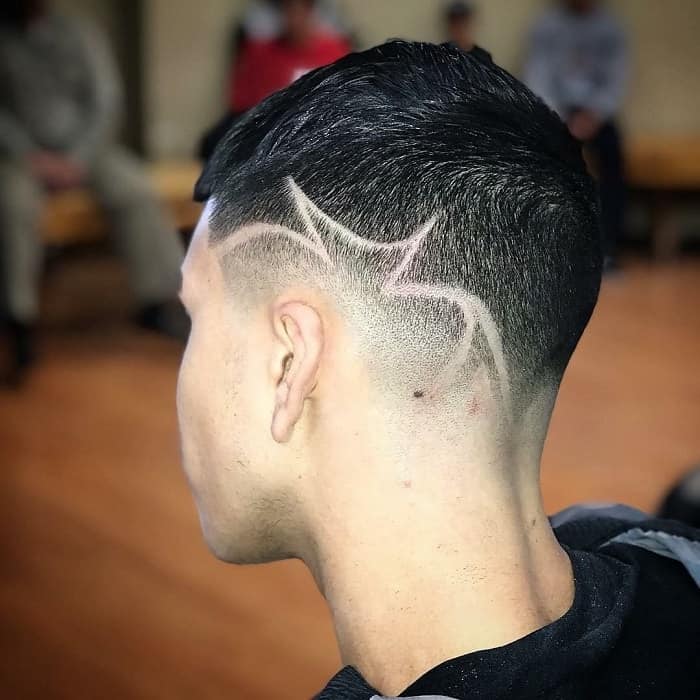 6. Straight Textured Fade
This is the perfect haircut for those who love to maintain a middle-length hairstyle, striking the right balance with not-too-clean sides and not-too-short top. The top hair is approximately three to five inches long, while the sides fade into the beard and give it a cohesive look. Use a blow dryer to give it the perfect volume and voila.
7. Low Fade and Medium Wavy Crop
If you thought low fade haircut works well only for straight here, you are wrong. You can keep a dense and thick top with your wavy hair. This gives you an extraordinary edge and makes you look unique and exotic. You can opt for a clean-shaven look but a thick beard with this hairstyle would be *chef's kiss*.
8. Low Fade With A Sneaky Quiff
If you want to try a quiff but you aren't confident about it, then choose this. With the low drop fade haircut, you will get ample length on the sides and top. This will allow you to brush it forward and create a subtle upward twist in the fringe.
9. Messy Fade With Fringe
Fringe hairstyles look extremely cool on men and this hairstyle is proof. Embrace your wavy hair and incorporate a low drop fade with long, wavy locks on top. The contrast between the flowing waves and the clean skin of the fade draws attention to the textured fringe. And that beautifully accentuates your facial features.
10. Low Fade Slit Shave With A Pony
If you want a ponytail but don't want to fully commit to it, try this low fade hairstyle first before you make that plunge. Keep the top length longer and tie it up in a slick ponytail. The low fade on the side adds an elegant touch. You can take it up a notch by adding a slit shave or even a design. This low fade haircut exudes confidence and flair.
11. Bald Drop Fade with A Fauxhawk
11. Bald Drop Fade With A Fauxhawk
Elevate your next haircut with a faux mohawk (or, fauxhawk) for a bold and eye-catching look. The fauxhawk perfectly complements a bald drop fade, as it allows the dramatic top to take centre stage and become the focal point of your style. Create sharp angles with the low fade to get a mix of contemporary and punk vibes.
12. Low Drop Fade With A Side Part
The low drop haircut already exudes a captivating charm on its own. However, the addition of a simple side part elevates its charm even further. It's a fade cut that you can confidently rely on for both days at the office and special events, adding a touch of old-school charm to your personal style. Embrace this timeless and versatile haircut and turn heads wherever you go.
13. Mohawk Fade
A mohawk is utterly dramatic. But in case you still want to try a less dramatic mohawk then this low fade haircut option is your safest bet. Unlike the bold lines of the punk-inspired style, the subtle shadow effect of the low drop fade adds a more understated and refined touch. This toned-down approach enhances its versatility, making it suitable for various occasions.
14. Fade With Pompadour
With a completely shaved back and sides, the focus of this low fade haircut is on the striking pompadour. The height and volume of the pompadour demand attention, creating a captivating and eye-catching look. Despite its boldness, this style maintains a touch of polish and refinement, striking the perfect balance between edgy and sophisticated.
15. Throwback Fade
A low drop fade haircut doesn't always need to be overly trendy or bold. A simple, yet slightly dramatic, crew cut offers a timeless style that never goes out of fashion. This hairstyle will leave a lasting impression wherever you go.
16. Layered Low Fade Haircut
A low fade haircut is stylish, but adding layers takes it to a whole new level. The layered low fade brings a dynamic element to the hairstyle, creating the illusion of volume that perfectly complements the balanced look of the low fade. This combination results in a haircut that's both sleek and full-bodied, making it even more visually appealing and versatile.
17. Multicolor Low Fade
If you want to do something bold and dramatic and take your makeover to the next level then add some colour to your locks. Choose any colour or colours that you want and add a touch of colour to make a bold statement. This colourful low fade allows you to showcase your vibrant personality through your hair.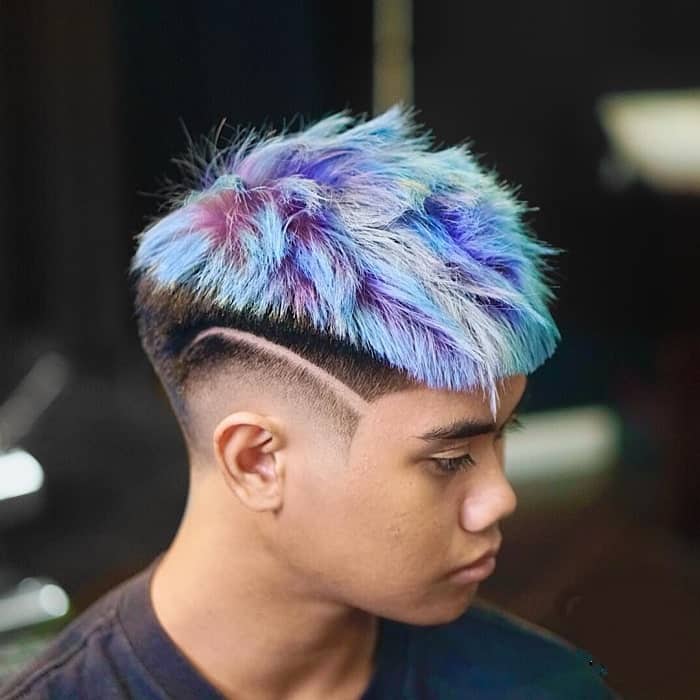 18. Finger Combed Low Fade Haircut
The combination of a low fade haircut with long hair is a match made in heaven. The longer strands add a touch of playfulness to an otherwise straightforward hairstyle. You can let the thin, long strand elegantly fall freely on the side, creating a chic and relaxed vibe.
19. Low Skin Fade With A Side Part Haircut
This haircut fades at the beard and is also called the beard fade. A remarkably cool and contemporary addition to the low fade, it effortlessly distinguishes the hair from the facial hair. This modern twist adds a touch of sophistication to your overall appearance. This versatile look suits men of all ages.
20. Rounded Flat Top With A Low Fade
This low fade haircut combines a look that is contemporary and eye-catching. It features a flat top, where the hair on the crown is cut horizontally and styled to create a flat, levelled surface. The flat top is rounded at the edges, giving it a softer and more modern touch. The low fade creates a seamless transition between the longer top and the shorter sides.
21. Undercut Pompadour With Low Fade
This is a striking and stylish hairstyle that combines the edgy look of an undercut with the classic elegance of a pompadour. All of this is further accentuated by a low fade. The hair on the sides and back is shaved or closely cropped and that creates the bold undercut. While the top is left longer and styled into a voluminous and swept-back pompadour. It is dynamic and eye-catching.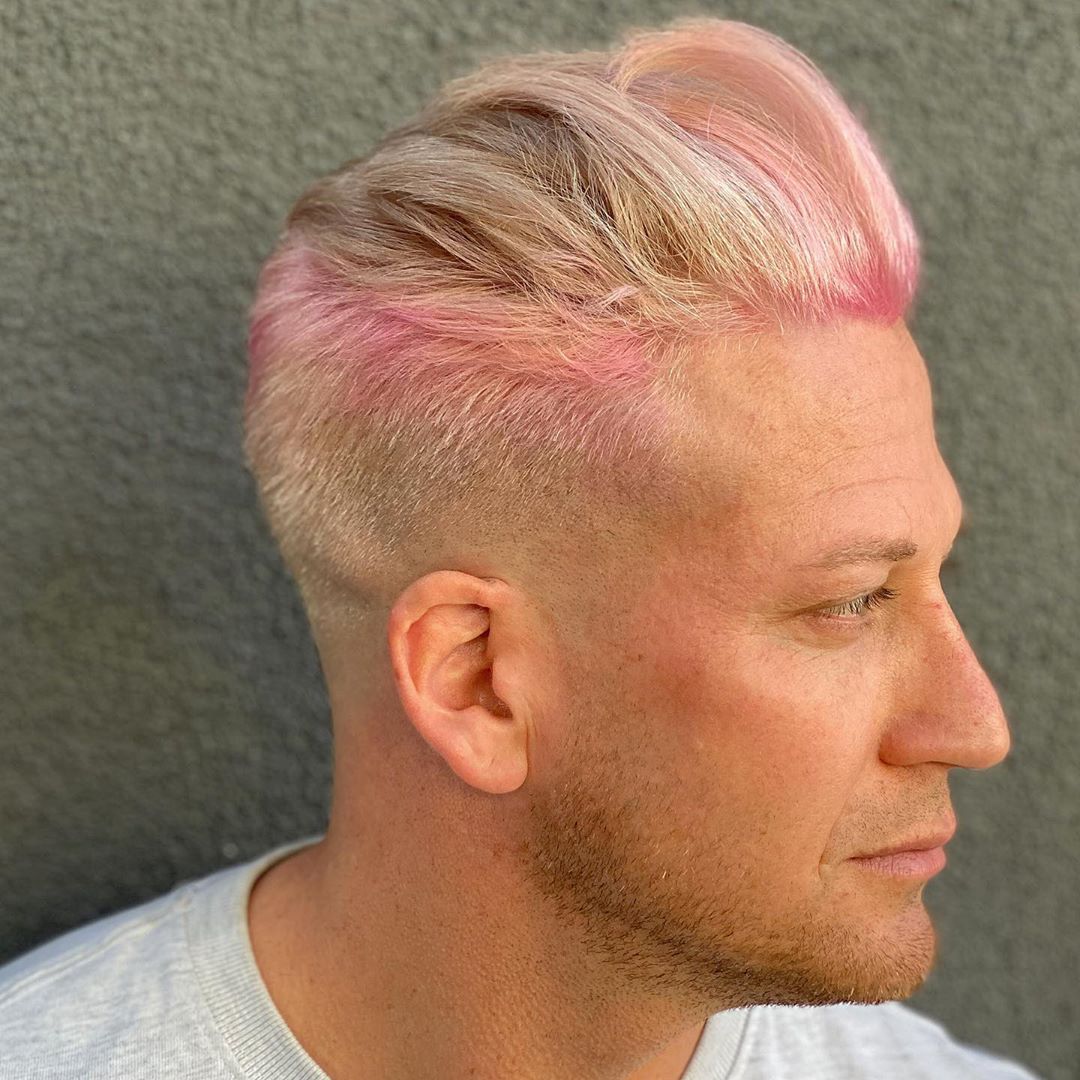 22. Low Fade Crew Cut
Just like the buzz cut, a classic crew cut can undergo a remarkable transformation with the addition of a low fade. The low fade not only adds shape and style but also provides a boost of fashion to the overall look. The fade seamlessly blends with the crew cut and maintains its sharp and professional appearance.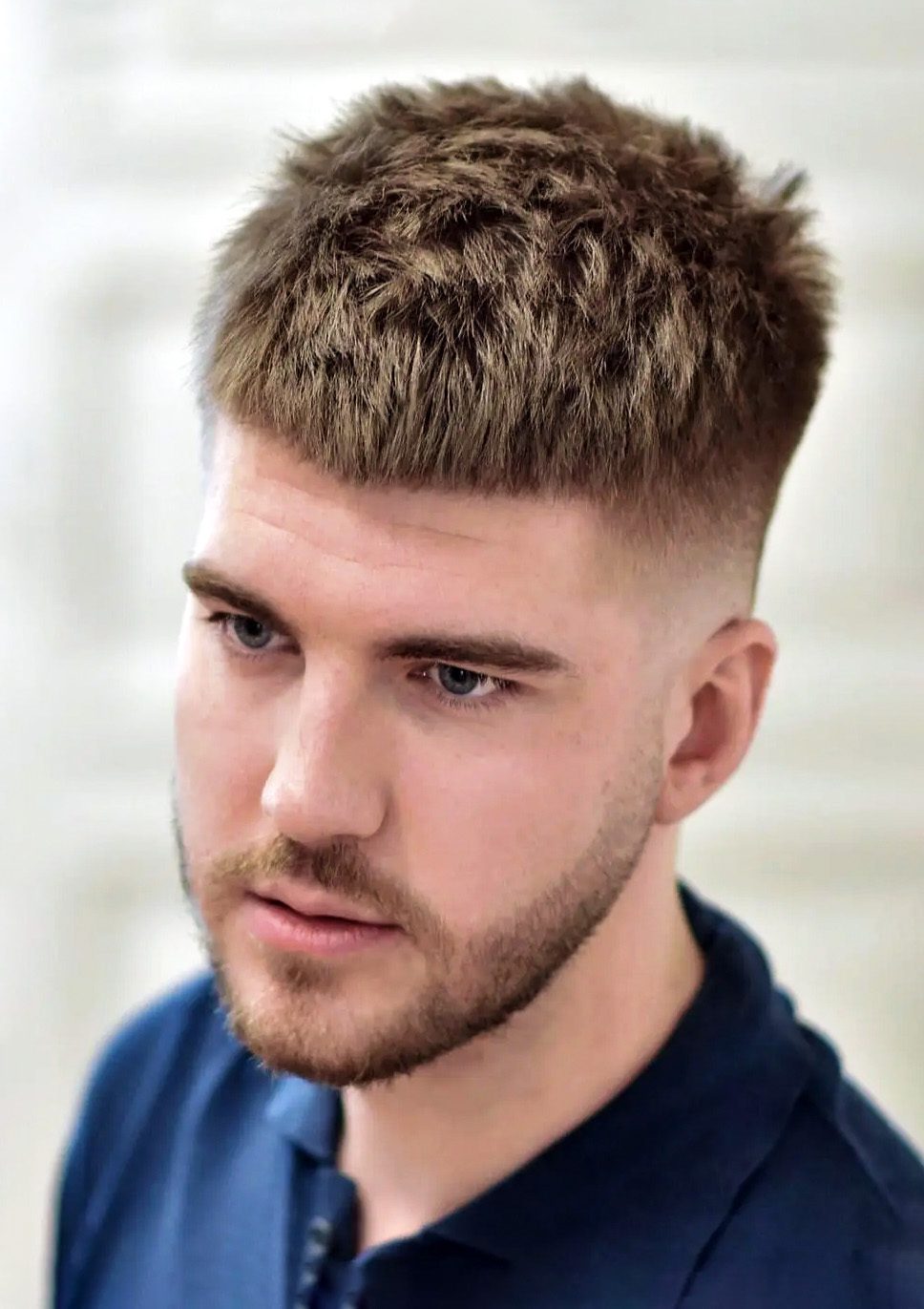 23. Low Fade Comb Over
The classic comb-over gets an upgrade in this hairstyle with a low fade. This haircut is a smart and fashionable choice, especially when paired with a full top. This combination exudes not only a timeless but also a contemporary and on-trend appearance. Embrace this sophisticated haircut with its perfect blend of classic and modern elements.
24. Low Fade French Crop
The French crop is incredibly versatile. To give the French crop a modern twist, consider pairing it with a low fade. The low fade gradually tapers, placing emphasis on the bottom inch of the hair. This frames your face. It creates intriguing proportions and contrast. Additionally, the fade makes the hair easier to style.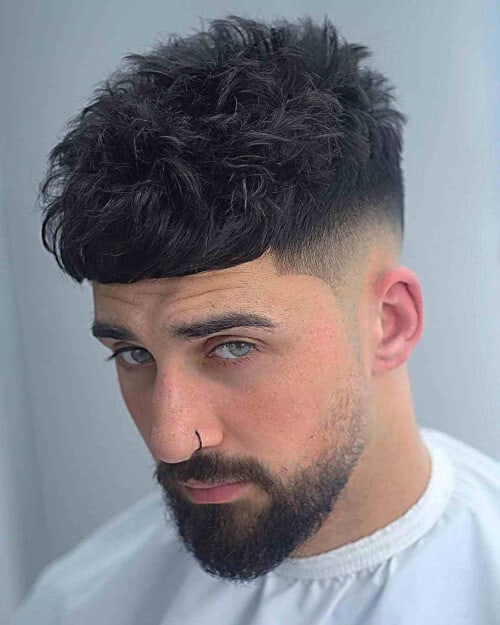 25. Low Fade With Line Up
The low fade and line up combo effectively accentuates the hairline. The intricate shapes or angles cut into the hairline add a touch of edginess, instantly elevating even the simplest haircut to a modern and stylish finish. This combination creates a subtle contrast in length around the ears. Groom your facial hair to the T in order to rock this chic hairstyle.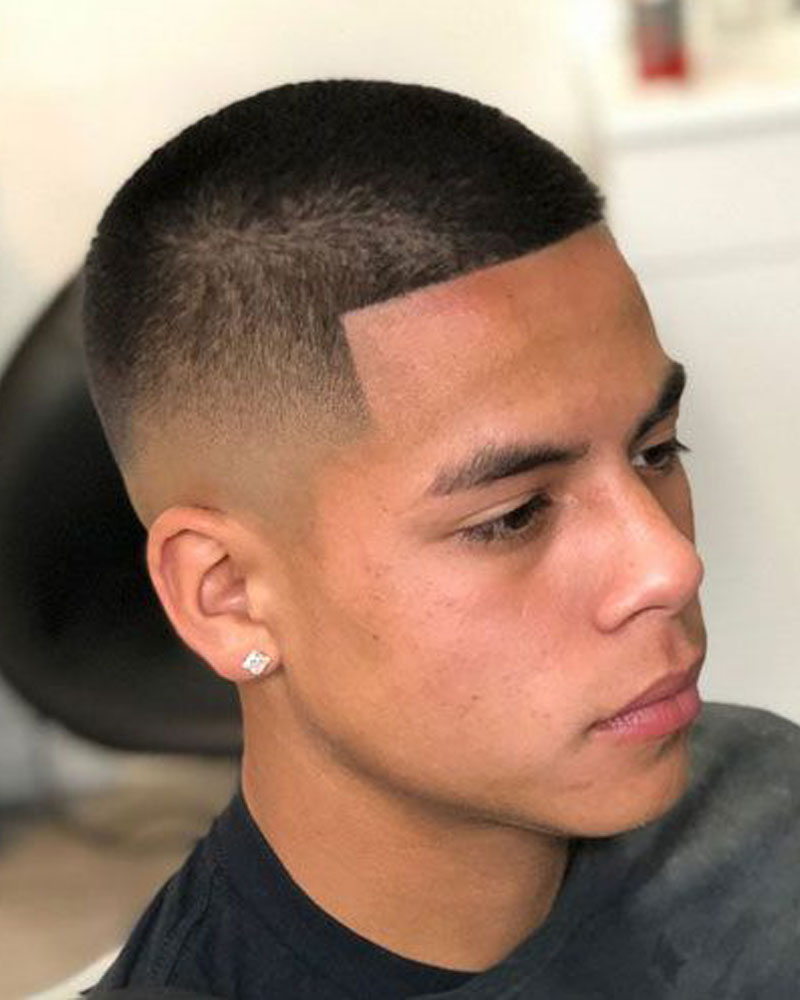 26. Low Fade With Edgar
The low fade paired with an Edgar haircut is a perfect combination. The Edgar haircut is typically matched with a high fade and features a short, vertically cut fringe. While the Edgar naturally complements various types of fades, the low fade takes it up a notch by creating a more subtle and adaptable finish compared to the high fade. This makes it an excellent choice for those seeking a more natural and versatile look.
27. Low Fade Two-Block Haircut
The two-block imparts effortless coolness and youthful charm. Originating from Korea, this hairstyle derives its name from the distinct block shapes created by cutting the hair into two sections – one on the top and the other at the bottom. To add a stylish twist, just add a low fade. The low fade complements the two-block haircut perfectly and gives a youthful look.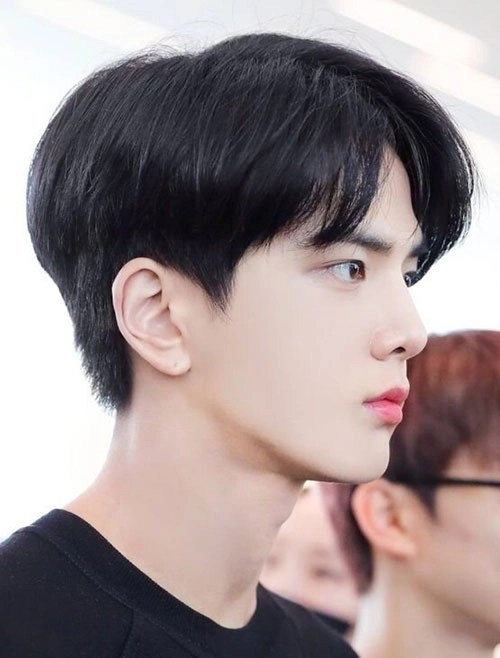 28. Low Neck Fade
In a low-neck fade haircut, the hair is tapered down very close to the skin around the back of the neck, just above the hairline. The low neck fade gradually blends the hair from a slightly longer length at the top of the neck to a shorter length towards the skin. This creates a smooth and polished transition between the longer hair on top and the shorter hair on the neck.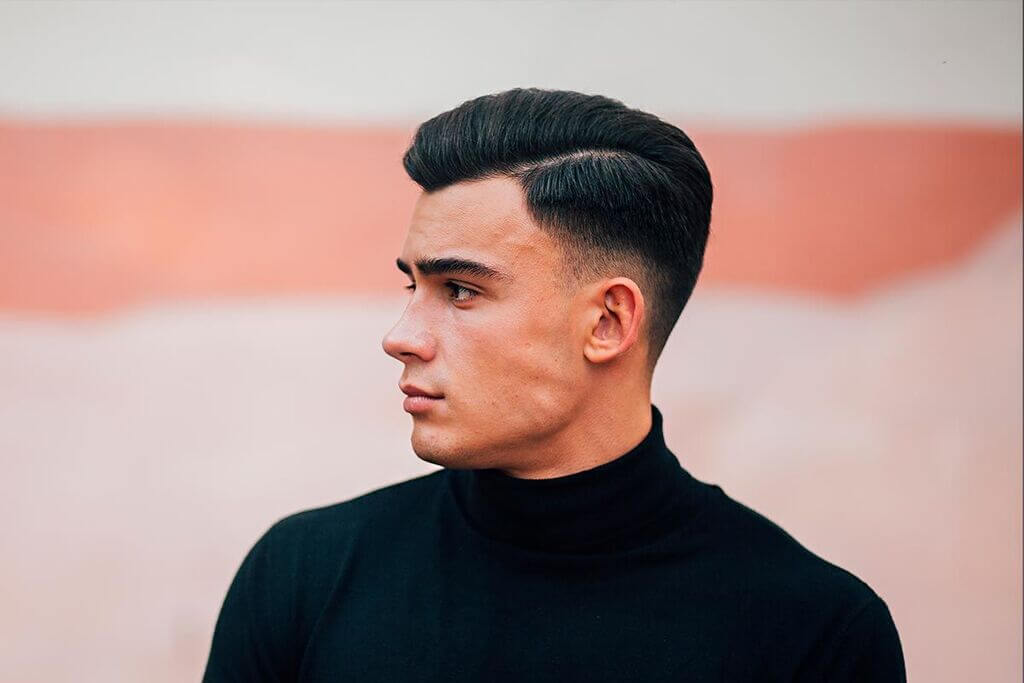 29. Burst Fade For Long Hair
A burst fade is characterized by a circular or "burst" pattern of hair tapering around the ears and back of the head. If you have long hair, the fade is skillfully blended into the longer hair on top, creating a seamless transition from the shorter sides to the lengthier top section. This hairstyle offers a harmonious and balanced look, combining the clean and polished appearance of the fade with the versatility and appeal of longer locks.
30. Low Diagonal Fade
This is a modern and creative variation of the traditional fade haircut. In this, the fade is cut diagonally across the head, starting at a lower point on one side and gradually tapering up to a higher point on the opposite side. This diagonal fade adds an interesting and unique dimension to the haircut, creating a visually striking and dynamic look. This low fade haircut can be seamlessly tailored to your preferences.
How To Maintain A Low-Fade Haircut?
Maintaining a low-fade haircut is relatively simple and requires regular upkeep to keep it looking fresh and polished. First and foremost, schedule regular visits to your hairstylist for touch-ups, ideally every two to four weeks, to maintain the clean and sharp appearance of the fade. Secondly, consider investing in high-quality hair products, such as styling pomades or gels, to keep the top hair in place and add texture and definition to the overall look.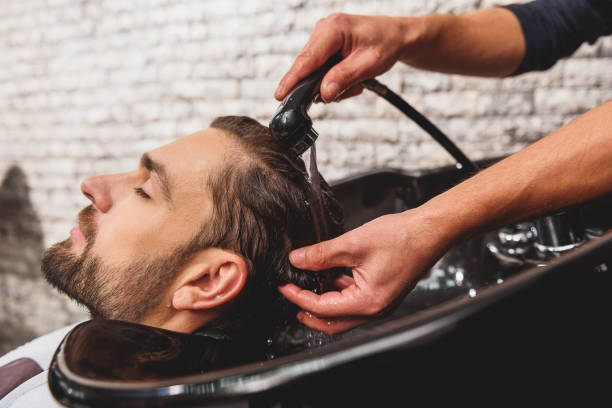 Regularly wash and condition your hair to keep it healthy and manageable. If going to the salon is not possible, try an easy but effective hair spa at home. If you are losing hair at an alarming rate, don't forget to oil your hair before every wash. Don't forget to trim or shape your facial hair to complement the low-fade haircut from time to time. It will give you a well-groomed and cohesive look.
Also Read: Reasons Why You're Losing Hair
A low fade haircut is extremely stylish and easy to maintain. Choose from any of the top picks listed above for your makeover and make heads turn with your confidence and style. This haircut is timeless and versatile. And judging by how popular it is, trust us, it is not going out of trend any time soon.
Frequently Asked Questions (FAQ):
Q: What is the lowest fade?
A: Low fade haircuts are subtle and an expert hairstylist will make sure that the low fade will be an inch or two above your ears. However, the lowest fade will be just above your ears.
Q: What does a low fade haircut look like?
A: A low fade haircut is characterized by the gradual tapering of hair from the top of the head to the neckline. The fade usually starts around the ear level or slightly above it and gradually tapers down towards the nape. The top has the most volume while the sides are trimmed short.
Q: How to do a low fade haircut?
A: In case you want to do a low fade haircut at home, start by sectioning your hair into three sections – top, sides, and back. With a long guard, trim the hair on the sides. Switch to a shorter guard to trim the hair as you move toward the neckline. Blend the top and the sides with scissors to create a seamless look. You can use a trimmer to define the neckline.
Q: How to maintain your low fade haircut?
A: Regular trims and touch-ups are the best way to maintain your low fade haircut. Apart from this, you can use your hair trimmer at home to keep the fade in shape. Don't forget to condition and oil your hair regularly.