In association with
Croma
While New Year's is all about looking ahead, it doesn't quite happen until we've reflected on the year that has gone by. And we don't just mean on Instagram reels! 
Taking time to recognise the feats achieved and the lessons learned in the last twelve months can give us a better understanding of how to make the most of the new and exciting opportunities coming our way. Which is why even Croma, India's first omnichannel electronics retailer, is looking back at 2021 and has decoded the consumer electronic shopping trends for the year with '
Croma's 2021 Unboxed
'. 
We went through the trends and some of the facts about how India shopped this year are pretty darn cool. Check them out. 
1. Blue replaced Black as the most sought-after smartphone colour of 2021
Yup. It seems blue is officially the new black with 4 out of 10 consumers opting to buy their new smartphones in the colour of the Indian cricket team jersey. 
2. Men picked up more grooming products than womxn in 2021
Whoever said womxn take forever to get ready, kindly pay attention. Looks like we weren't the ones holding up the queue to the bathroom this year. For every womxn,13 men bought grooming products in 2021. Well, as long as you're taking care of the scraggly danglers on the nose and ears, it's all good. 
3. The PS5 console bagged the title of the 'Most Elusive gadget'
This one is pretty obvious. The futuristic PS5 has been a genuine leap forward in console gaming with its powerful DualSense controller and the lightning-fast SSD allowing gamers to have an unmatched immersive experience. Besides, have you looked at the magnificent beauty? 
4. Indians are drinking more coffee than ever!
Looks like our tea obsessed nation is finally falling for the freshly ground heaven of coffee beans. And we say that because coffee maker purchases have gone up by 2 times in 2021. Brew-ti-ful, isn't it? 
5. Soundbar speakers was the fastest growing home audio gadget
With so many of us still spending a lot of time at home and not feeling confident enough to step out in public, building ourselves a movie theatre inside the house was the last resort. Soundbar speakers come with incredible sound enhancement features to give you a multidimensional audio experience. Here's your cue to stop dancing to your neighbour's playlist across the wall and maybe get your own soundbar.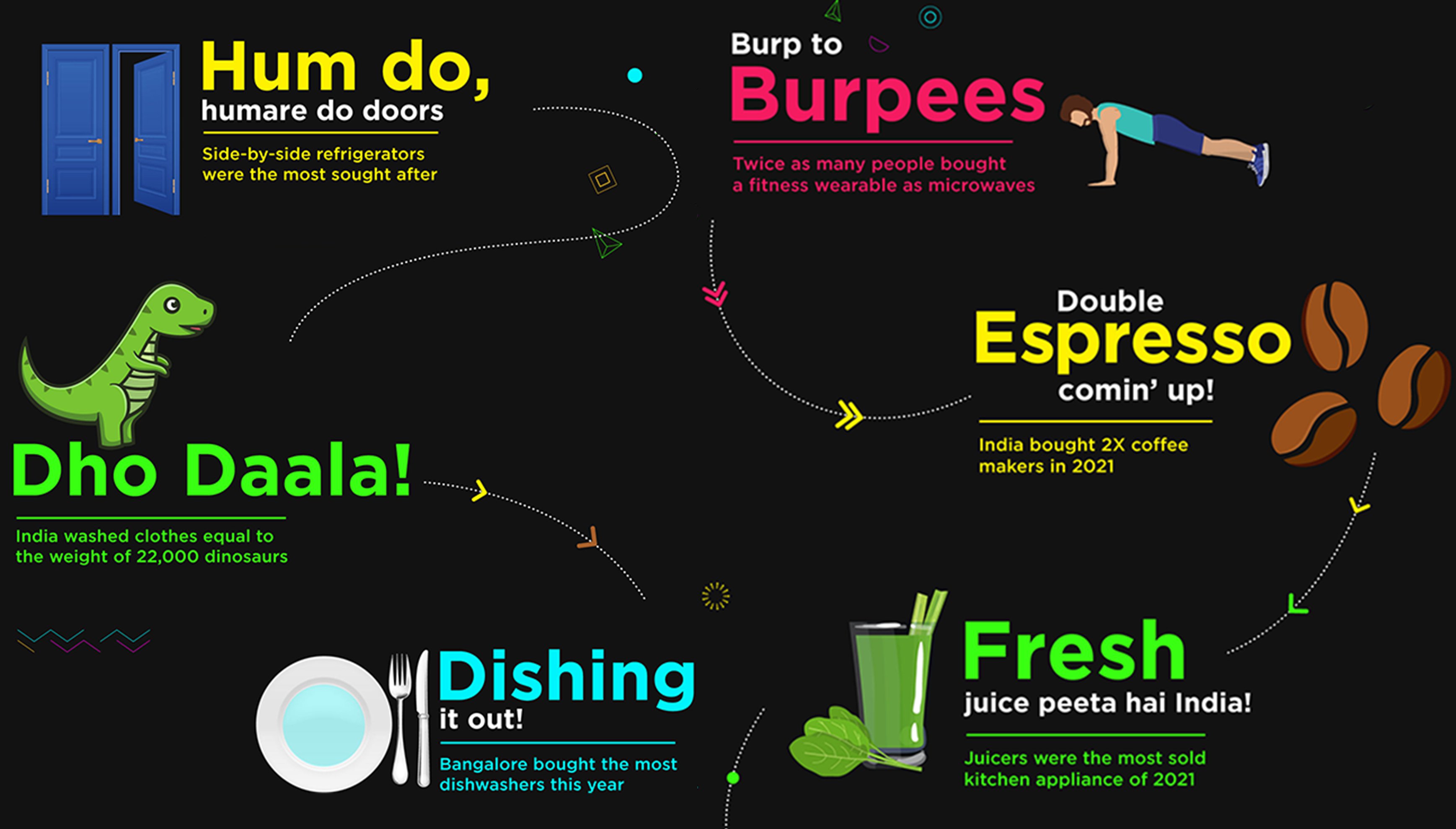 Looking at these shopping trends is sure to provide you with proper insight into what electronic products the rest of India has been obsessing over. Not going to lie, but sometimes when there's a constellation of impressive offers by various electronic brands to choose from, it can get a little overwhelming to make up your minds about what to buy. But 'Croma's 2021 Unboxed' has got you covered. So you can now make a more informed decision and choose the right product for your needs, be it a gadget, an appliance or an accessory. 
Honestly, we think this is a really cool way to weigh your options before deciding which item or offer to go for. Moreover, now we're just intrigued to find out what the next year holds for us Indians. Are we going to become more health-conscious and replace aloo paranthas with fresh juice at the breakfast table? Will coffee become our official beverage? (Don't mind though!) Who knows? But meanwhile, before you buy all the gifts for your loved ones this holiday season at the nearest Croma store or croma.com, don't forget to go over the 2021 shopping trends. Here's wishing you all a very Happy New Year!