You may not be closely following the spirited Uttar Pradesh poll campaigns, but you may not want to miss out on this special detail: The BJP and the Samajwadi Party are throwing 'donkey' jibes at each other. 
It all started with Akhilesh Yadav taking a subtle dig at PM Modi using a new ad of the Gujarat government featuring Amitabh Bachchan. 
Bachchan, who has been the brand ambassador of Gujarat tourism for the longest time, recently appeared in an advertisement promoting Indian Wild Ass Sanctuary in Little Rann of Kutch, which also happens to be PM Modi's home state.
Here's what Akhilesh Yadav said at an election rally in Rae Bareli on February 20: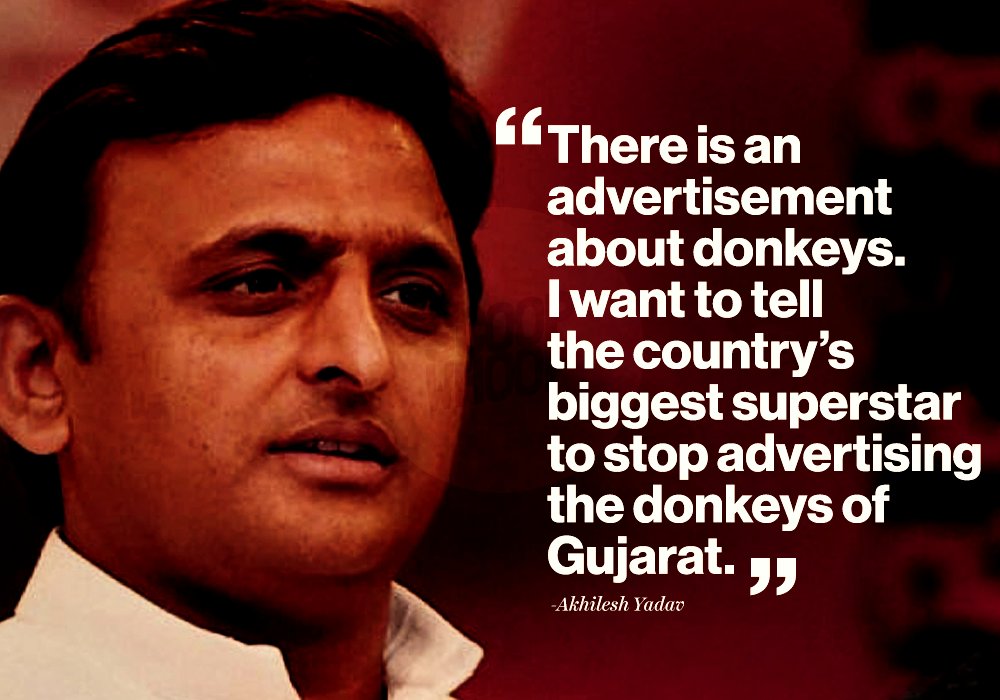 "Tell me, is it all right to advertise donkeys?" Akhilesh further asked. The remark drew loud cheers from an enthused crowd. 
But voices of protest soon began to emerge. Union Minster Venkaiah Naidu first reacted to the snub saying Akhilesh was disturbed and hence was making such derogatory comments. 
"He is disturbed hence using such language and making such comments. He is insulting the people of Gujarat. I don't know from where this donkey comment came in between," said Naidu.
"This only shows Akhilesh's jealousy on the progress Gujarat has made," Vaghani added.
The most scathing criticism came from BJP youth leader Amit Thakkar, also director of Gujarat Tourism Corporation, who said: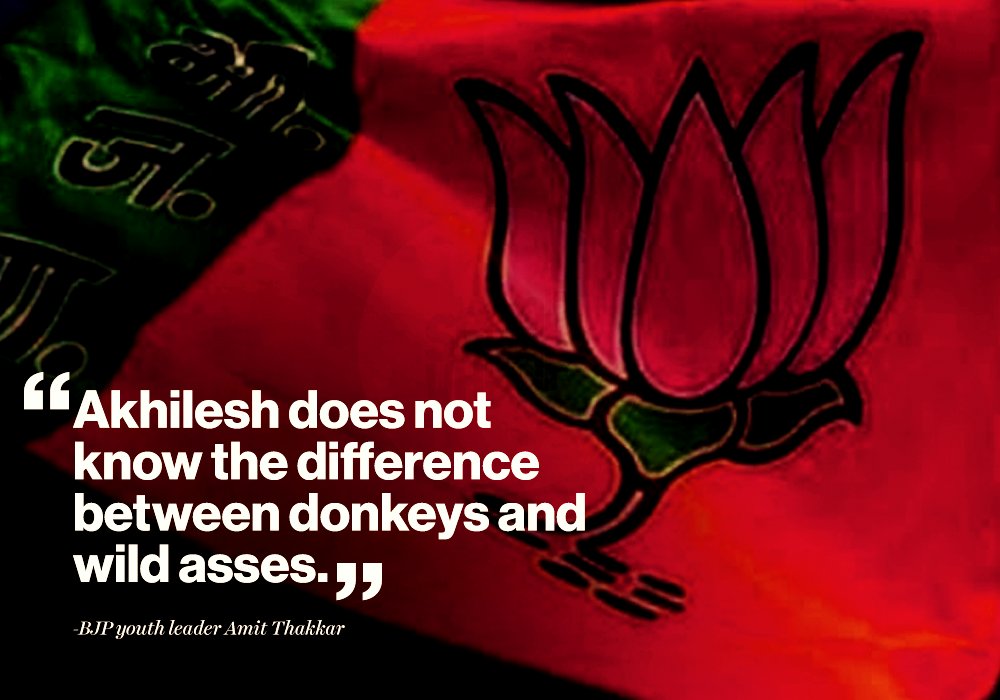 "Wild asses, called 'Ghudkhar' in local parlance, are a different species from donkeys, and are uniquely found in Gujarat only. Gujarat has a dedicated sanctuary for them. However, I don't expect a UP leader to understand the difference," Thakkar said.
Soon, Gujarat Chief Minister Vijay Rupani also hit back at Akhilesh, saying that Yadav made such statements out of 'frustration'.
Akhilesh reacted to the criticism a day later on February 22, at an election rally in Bahraich: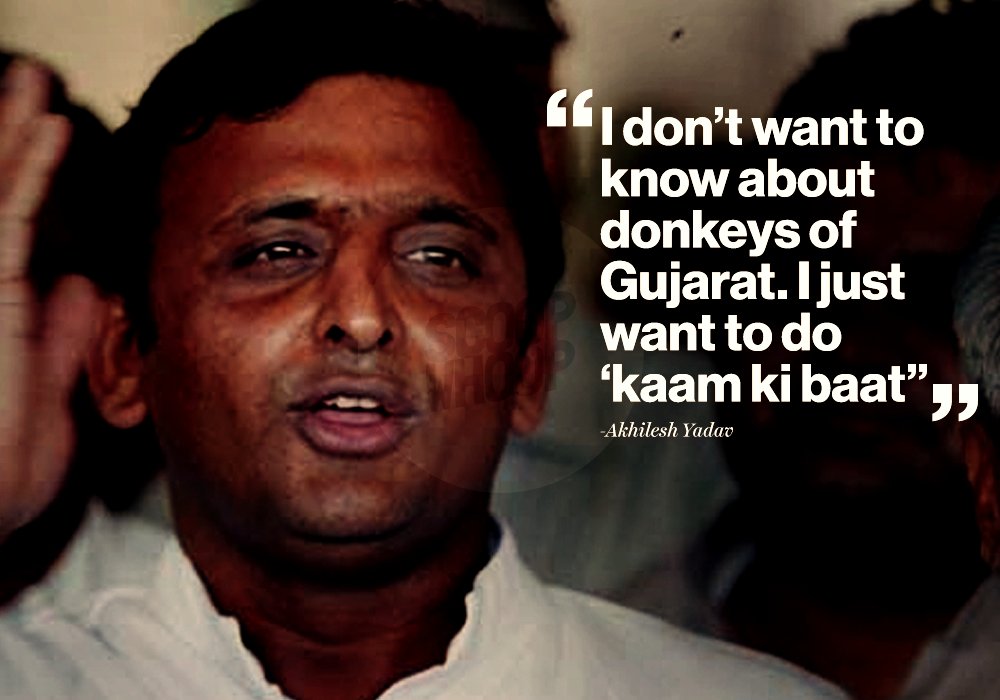 "We have tigers, leopards here in Bahraich ... We also have alligator in Katarniyaghat (wildlife sanctuary). I have no wish to take this thing forward," he said.
And then came Modi's sharp jibes:
There was no way that PM Modi, who is extensively campaigning in UP, was letting it go. At an election rally in Bahraich on February 23, he said, "Akhileshji, you don't know that even the donkeys inspire us. You can take inspiration from a donkey if your heart and mind is clean."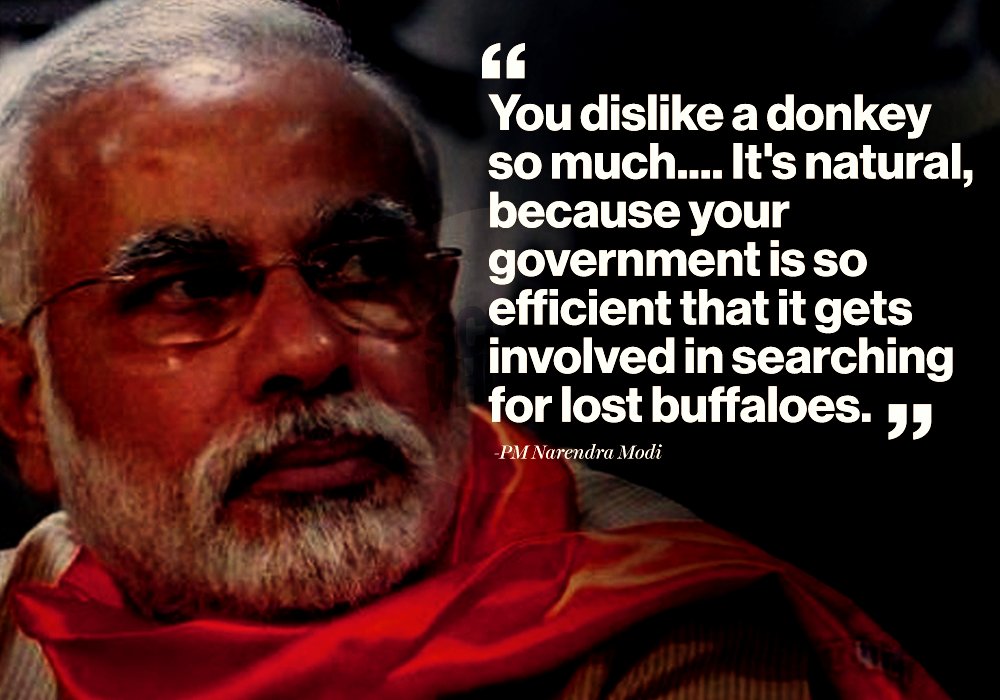 And that wasn't all. Modi further said, "I am amused that you have attacked donkeys...are you afraid of donkeys, that too these are thousands of kilometres away?"
"A donkey is loyal to his master. Even an unwell, hungry and tired donkey completes the task assigned by its master. Akhileshji, this country of 125 crore people is my master."
"Akhilesh ji, these donkeys belong to the same land which gave the country leaders like Mahatma Gandhi and Sardar Vallabhbhai Patel. This was Krisha's 'karmabhoomi' too," he said. 
After PM Modi's rebuttal, the ball is in Akhilesh's court and it remains to be seen if he retorts back or leaves the so-called 'donkey debate' at that. 
(With inputs from PTI)
(All image sourced from PTI)