A disturbing video of a man being physically dragged off from an overbooked United Airlines flight has left the internet seething in anger. After the video went viral, people all over the world voiced their disgust on social media calling out the airlines for the outrageous treatment of the passenger.
Twitter exploded with hilarious memes and bitter admonishments
Board as a doctor, Leave as a patient#NewUnitedAirlinesMottos https://t.co/4GoVtnXkKx

— Stuffy (@StuffyGamer64) April 11, 2017
United Airlines is pleased to announce new seating on all domestic flights- in addition to United First and Economy Plus we introduce.... pic.twitter.com/KQjPClU2d2

— McNeil (@Reflog_18) April 10, 2017
United Airlines latest tag-line. #newunitedairlinesmottos #ua #UnitedAirlines pic.twitter.com/1wjkpg4f2O

— alvin foo (@alvinfoo) April 11, 2017
Merriam-Webster Dictionary joined in the trolling by reminding United Airlines that the word "volunteer" doesn't mean what the airline thinks it does
📈'Volunteer' means "someone who does something without being forced to do it." https://t.co/qNAcMyplhZ

— Merriam-Webster (@MerriamWebster) April 11, 2017
Many others too mocked the airline's unusual definition of the word 'volunteer' and 're-accomodate'
Casual re-accomodating after refusing to volunteer #unitedjourney pic.twitter.com/TionNPmx0R

— Miguel (@migueldarko) April 10, 2017
I love learning new words! Like how "re-accomodate" means "beat into a bloody pulp." #unitedAIRLINES

— Taylor Bornstein (@bornsteintaylor) April 11, 2017
@United Airlines apologizes for the overbooking. #unitedjourney #flight3411 pic.twitter.com/WoGSYsBWin

— Linquel Isswell (@linquel) April 10, 2017
united's list of special in-flight deals makes a lot more sense now pic.twitter.com/UvkRVFppKz

— Bob Vulfov (@bobvulfov) April 10, 2017
When United Airlines "re-accommodates" you pic.twitter.com/A8ndyHPoea

— 9GAG (@9GAG) April 11, 2017
Many called for boycotting the airlines


The trolling only got better with the Internet standing united against United Airlines
#BREAKING: #UnitedAirlines Crew Training Video Leaked. 😉#United #Flight3411 pic.twitter.com/GzpMohPmEM

— Motivation (@motivation0907) April 11, 2017
starting tomorrow, #UnitedAirlines will be offering complementary mouthguards to their passengers instead of peanuts. pic.twitter.com/p3sNbPMues

— MacMally🍀 (@MarcusMacCowan) April 11, 2017
.@United Pretty soon #UnitedAirlines will be asking us for "protection" money...like the mafia. pic.twitter.com/UQxKHtJMcG

— Cornelia (@PaladinCornelia) April 11, 2017
Some suggested that the bruised passenger should sue the company for good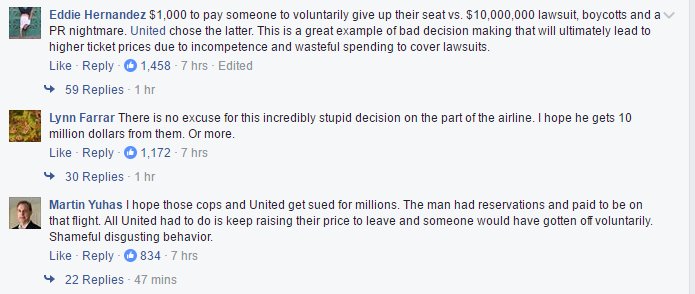 This is not the first time United has landed in trouble for its bizarre treatment of passengers. Just last month, the airline came under fire for kicking two teenagers off one if its flights for wearing leggings.