He's making a list, and checking it twice; gonna find out who's naughty and nice. Santa Claus is coming to town...

'Tis officially the season of marshmallows dipped in hot cocoa,
all-wrapped-up-in-a-cosy-quilt
, and our favourite TV show marathons. At my place, it's a tradition to watch all the Christmas episodes of
Friends
. I know the season when
Monica, Monica had a happy Hanukkah
to the season when Ross dressed-up himself as an Armadillo. Come on, you love the holiday Armadillo, don't you?
When you inevitably reach that time in your holidays when you're looking at plenty of scrumptious hot food and a good time with the fam, watching a good TV series and relishing all the hilarious and naughty hijinks you've done the entire year is the best holiday cheer.
Just when I thought that this vacay season couldn't get any better, I stumbled upon this hilarious quiz that tells us how naughty we've been this year. I mean, who wouldn't want to know where we lie on the naughtiness meter? It seems like Santa has been sleeping all year and now he's making us take this quiz to put us on his 'Naughty And Nice List'. We all have done some weird merrymaking this year, right? Why not take a fun quiz based on this and see how crazy we all are? Trust me, it's for all us binge-watchers. Well, you guys take the quiz, I'll go back inside the cosy layers. BRB, watching S5, EP 10 on Hotstar Premium.
I hope Y'all are not as naughty as Phoebe Buffay...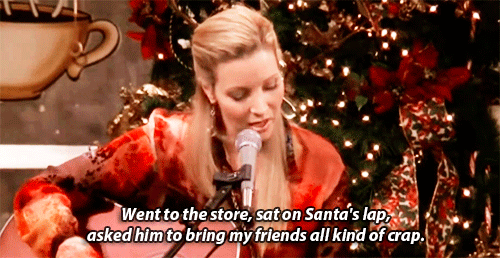 What's the most memorable meal you had this year?
Have you ever started any fights?
How many times did you marathon FRIENDS this year?
What's one thing you've learnt this year?
How far along are you with 'adulting'?
On a scale of Camille Preaker to Cameron Tucker, how extra are you?
How many F-bombs do you drop in an hour?
What is the most Joey thing you did in 2018?
What are you getting your parents for the Holiday season?