The latest season of the Indian Premier League (IPL) might be one of the most popular events on TV, but all of us can agree that a lot of weird stuff is going on in an effort to make it glamorous. 
So even though Sunil Gavaskar has danced with the cheerleaders, I'm surprised the 'cricket contest' has hit a new level of WTF.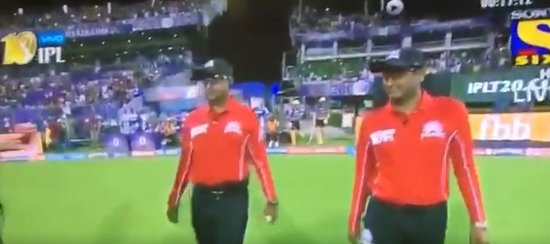 In last night's match of Kolkata Knight Riders (KKR) against the Rising Supergiants Pune (RSP), the umpires were greeted by a lady who offered them a variety of apples before giving the ball to be used in the match. 

Awfully suggestive, one has to wonder whose idea this was, and who was the wise guy to approve such an idea.

In an event which has been christened as tamasha cricket from its very first season, one has to wonder what we'll get to see next, in the name of adding glamour to the sport.
Watch the whole video here:
Yes, even we are still trying to understand it.