There are some who fall under the 'gem of a person' category and then there are the ones who do things differently because being a gem is too mainstream. Take for an instance the guy who put up 'Useless' Pakistani PM Nawaz Sharif for sale on eBay, because while you can sell almost anything on the internet, only on eBay you can sell a whole personality with a single line description. From entertainers to entrepreneurs, we have a lot of people in our country who have the skills to multitask as mass entertainers. They may or may not rock it, but they deserve our applause… and a spot on eBay!
Here are such people we think should be put up for an online sale sooner or later (whether someone buys them or not is a different question all in all).
1. Highly Delusional Movie Critic And Champion Douchebag, KRK
Now we know that is quite an obvious thing and sounds too cliche, but what to do? KRK has earned it with all his hardwork!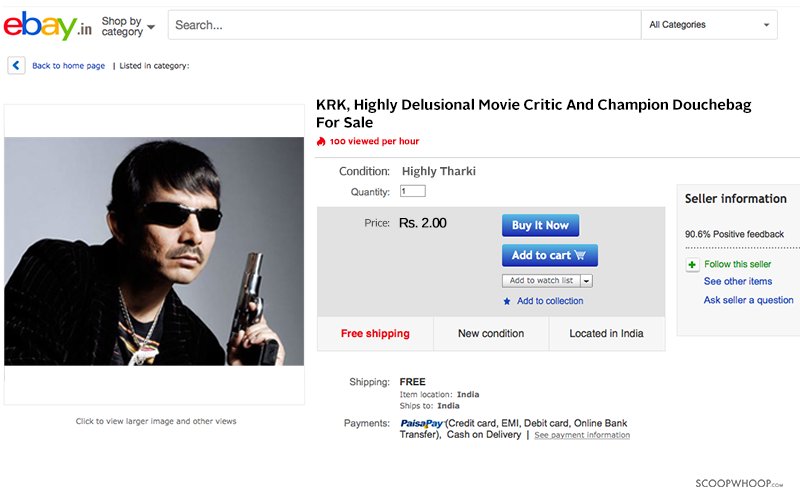 2. Part Time Cricket Commentator and Full-Time Laughter Machine, Navjot Singh Sidhu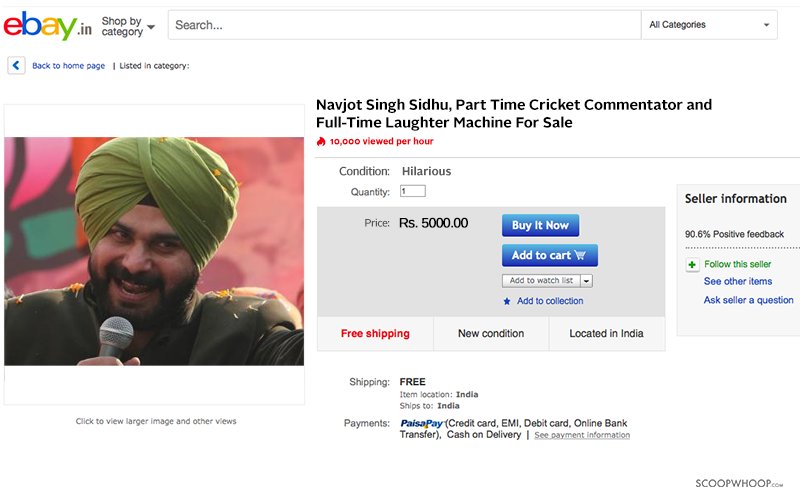 We love his laugh better than his commentary. Waise bhi, chacha, chachi and moochein do not interfere when we are really serious about that over.
3. Publicity Hungry Helium Balloon, Dolly Bindra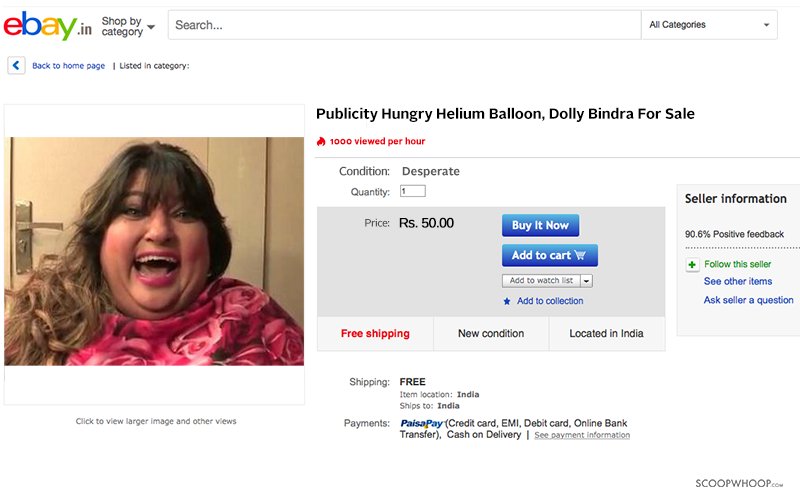 A co-worker commits suicide and all she can think of is to record a call and publicise it. For someone who needs a random life long project, she is the best one ever! 
4. Half Human. Half silicone. Totally Insane. Rakhi Sawant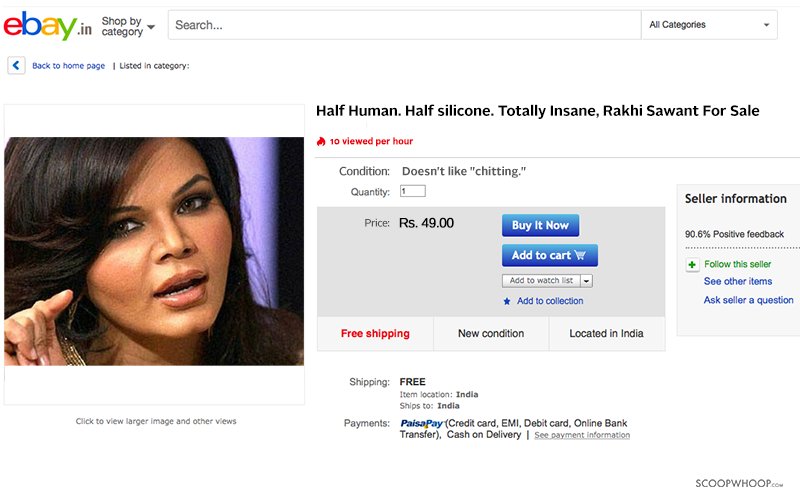 Oh, you want lips like Anushka and suffer concept theft often? She'll be your BFF. No doubts.
5. Weight-Loss Evangelist And Natural Mosquito Repellent, Himesh Reshammiya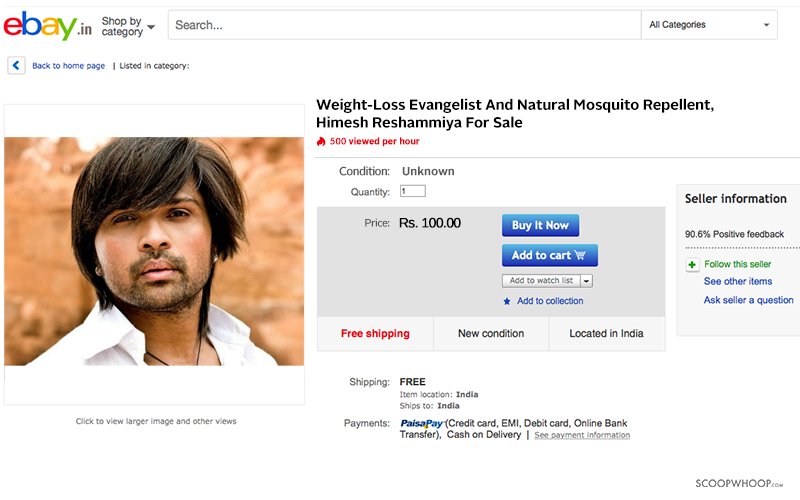 How do you define consistency? Himesh Reshammiya. Period.
6. Bullshit Factory And Professional Swindler, Arindam Chaudhuri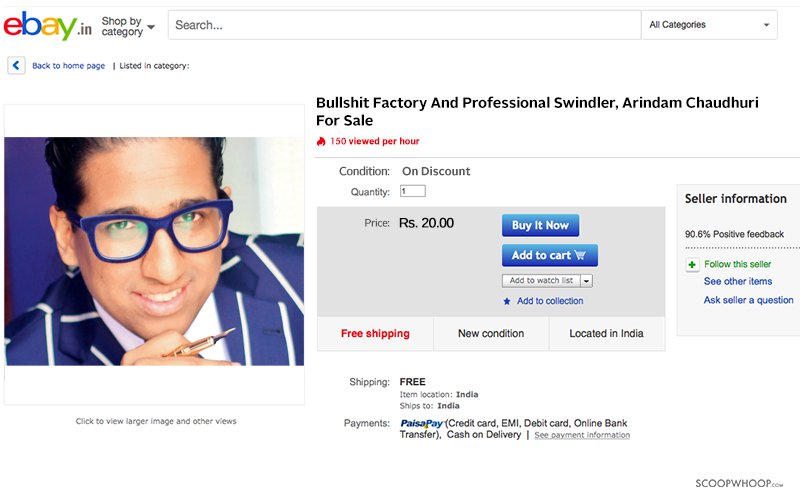 Unrealistic career goals, anyone?
7. Former Mildly Talented Music Composer Turned Senile Reality Show Judge, Anu Malik.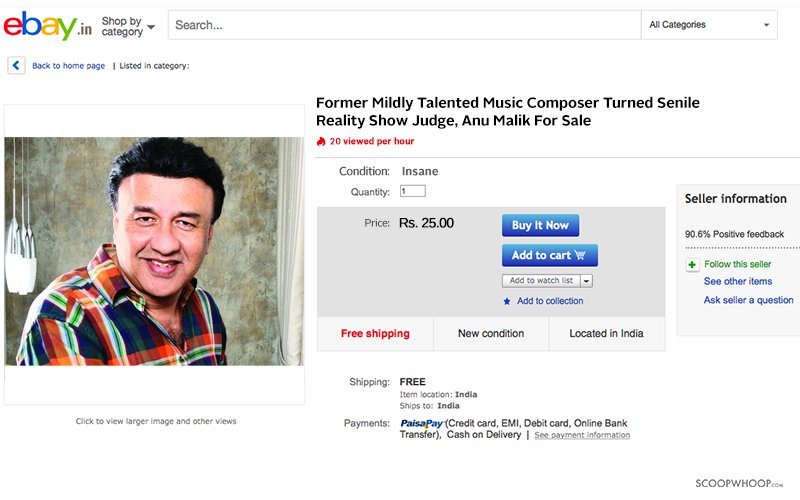 Because he's just too good for us.
Design Courtesy: Utkarsh Tyagi