When Bhuvan said the words, "Shart mazoor hai", the English must have felt so happy inside. Facing someone who couldn't even pronounce the name of the game with triple the tax on the line. What more could you want? But they went out and messed it up. Kind of pays testament to why England has never won the cricket World Cup, doesn't it?
Come on lads, you created the sport for God's sake! When you have an opportunity and don't seize it, you alone are to blame for it. Having said that, here's how Captain Russell & Co. could've won the game but botched it up and have no one but themselves to blame:
1. They should've opted to bowl when they won the toss.
Your opponents are playing for the first time ever! Make them bat, get 'em out for a low score and race to the total. But no, Captain Russell goes: "Hum pehle ballebaazi karega". What a moron!

2. If an action like Goli's was legal, why not employ that while you're bowling too?
You saw how effective his action was. You may have figured out the trick, Russell so why didn't you use it instead of just countering it? Don't tell me you were playing fair, you egoistic maniac.

3. Lt Smith, what an idiot! You got an entire over to bowl to a man who is handicapped and can't bat at all. You couldn't bowl a single delivery at the stumps?
Kachra couldn't even hold the bat properly and he bowled him balls outside the off stump.

4. Not to mention the runs he gave away while trying to infuriate Arjan. He may have gotten his wicket but he did get hit for a couple of boundaries, which proved vital in the end.

5. The run out you missed towards the end? Come on, you could've walked to the stumps and dislodged the bails.

6. Why would you keep a 70-year-old in your team? That guy did not bowl, came in at number 8 and got out for a duck. Don't tell me you kept him for his fielding.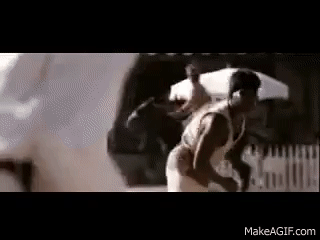 7. Tipu (Ismail's runner) was taking a start before every delivery from the beginning. Why not do that disgraceful act earlier? Not like you cared about your reputation.

8. Since you weren't being 'gentlemen' as it is, just bowl a negative over. There are no wides on the leg side in Tests so just waste an over.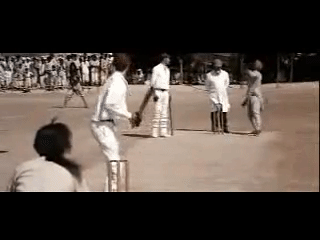 9. Ohh and Captain Russell, that ball you kicked to the boundary, gave the Champaner team 3 extra runs. But that tactic did not work out too well, did it?

10. No ball on the last delivery? Really? All you had to do was just bowl a ball. There's no way Kachra would've cleared the boundary. 

11. Or you could have bowled another bodyline delivery or a bouncer on the last ball as well, instead of a slow short ball. Not like there was a regulation on bouncers.

If you think about it, they deserved this. Not because they weren't being sporty but because they invented the sport but didn't figure out how to play it. And come to think of it, they still haven't!